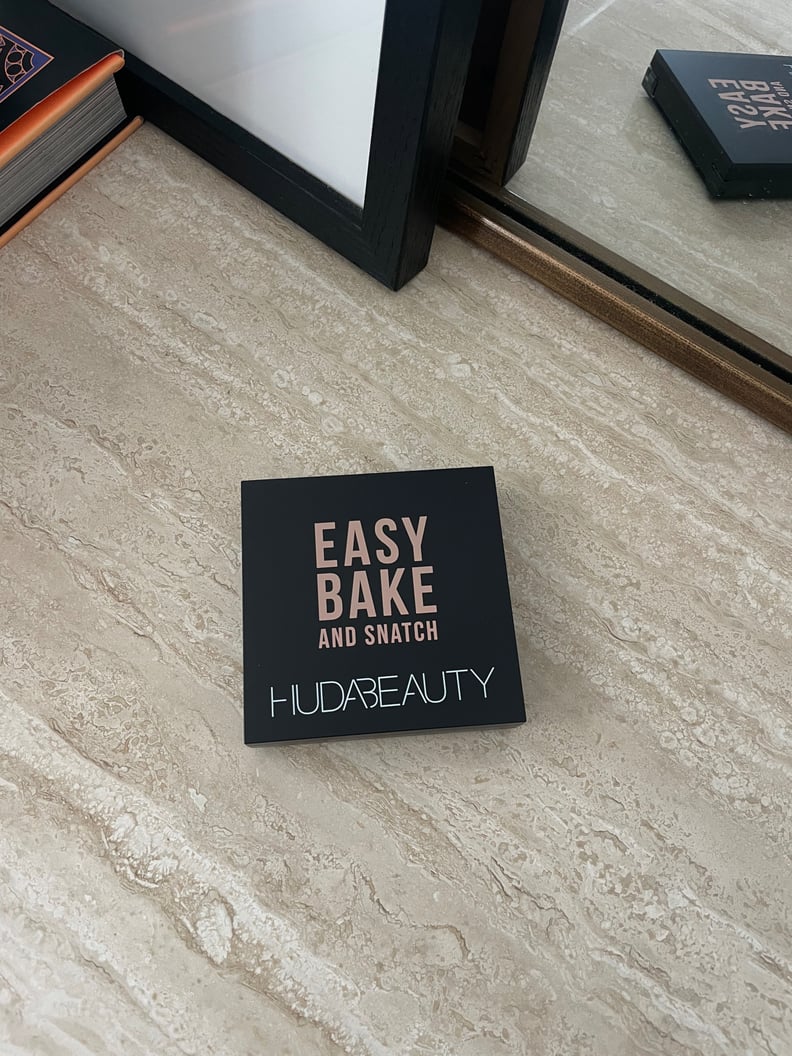 POPSUGAR Photography | Renee Rodriguez
POPSUGAR Photography | Renee Rodriguez
As POPSUGAR editors, we independently select and write about stuff we love and think you'll like too. If you buy a product we have recommended, we may receive affiliate commission, which in turn supports our work.
As someone with perpetually dry skin, I usually avoid matte makeup products like the plague and instead lean on creamy, hydrating formulas, like liquid blushes and tinted moisturizers. For that reason, you'll rarely catch me using a powder foundation — or even a setting powder — anywhere on my face, with one exception: my undereye area. As I've gotten older, I've noticed my dark circles have gotten more pronounced, so I almost always apply a bit of concealer before going anywhere. I've found that if I don't set it with powder, it wears off fairly quickly, but if I bake it, the coverage can last for hours.
My favorite product for this is the viral Huda Beauty Easy Bake Loose Setting Powder ($38), which I'm sure most makeup-obsessed people are familiar with. It's beloved by celebrities, influencers, and regular people like myself because of its nondrying formula that makes baking a breeze. It's been my go-to for setting my makeup ever since I first tested it out years ago. So when I heard the brand was launching a new pressed powder that offered similar results but in a quicker format, I was intrigued. After testing it, I was obsessed.
Keep scrolling to read my full review of the Huda Beauty Easy Bake and Snatch Pressed Setting Powder ($38) and find out why it's landed a permanent spot in my makeup bag.
About the Huda Beauty Easy Bake and Snatch Pressed Setting Powder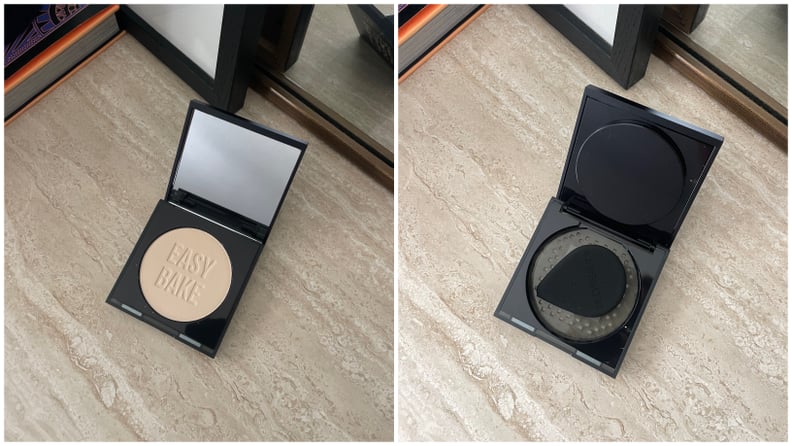 This pressed powder offers medium to full coverage meant to last eight hours.
It comes in eight different shades.
The product is housed in a compact with a triangle-shaped beauty sponge for easy application.
Key ingredients include hyaluronic acid and an avocado derivative to ensure a nondrying formula.
It's talc and fragrance-free.
What I Like About the Huda Beauty Easy Bake and Snatch Pressed Setting Powder
I bake my undereye area when I can, but I don't always have the time to do it because I'm almost always running late. I love this new formula because it sets the area immediately, and I don't have to wait around for it to finish. Plus, it blends seamlessly onto my skin and gives me an immediate brightening effect. It makes my undereye area look matte and almost airbrushed, and it doesn't dry out my skin or accentuate any of my dry flakes, which is something I've experienced with other powder products in the past.
The compact is also perfect for slipping in my purse and bringing it with me on a night out, so if I do happen to need a touch-up, I can quickly make it happen and I don't have to worry about loose powder getting all over the inside of my bag. Although I've found that it creases a tiny bit after I've been out all night, I blame that on the singular wrinkle that lives underneath my right eye.
How to Use the Huda Beauty Easy Bake and Snatch Pressed Setting Powder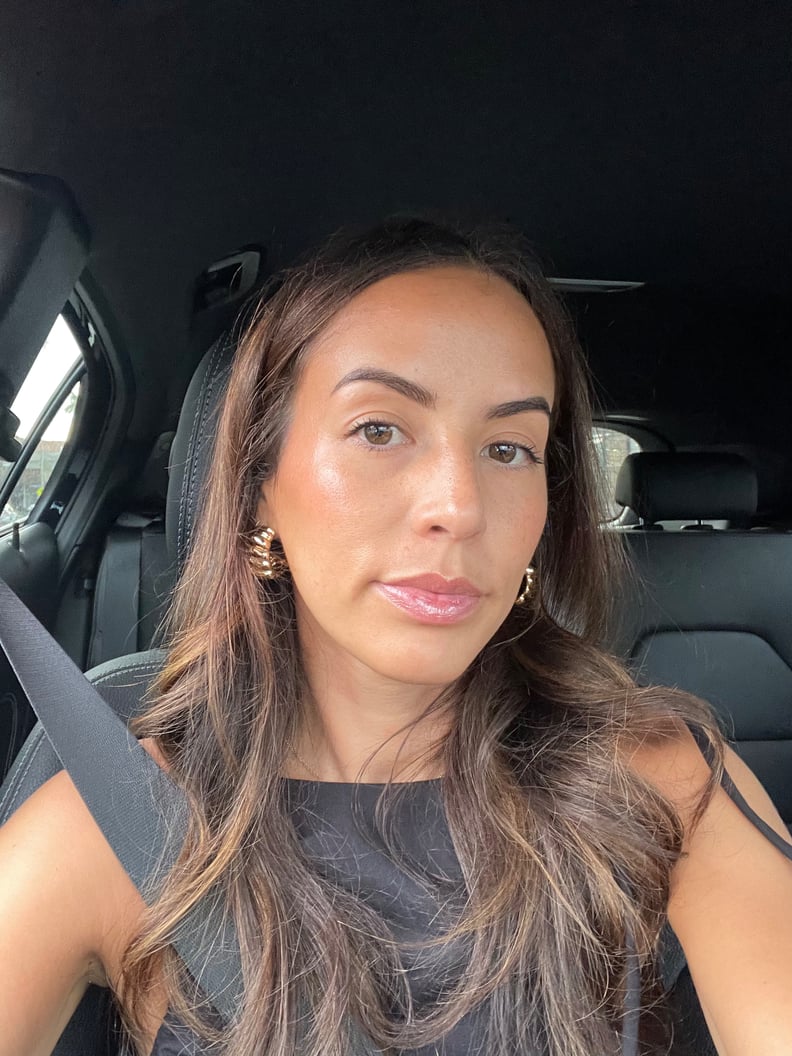 The brand recommends taking the included makeup sponge or a sponge of your choice and using a tapping motion to pick up a small amount of product. From there, gently press it onto the undereye area and blend. Huda Beauty notes you can use the product around smile lines to brighten the area, as well as the T-zone to soak up excess oil. It can also be layered on top of the Huda Beauty Easy Bake Loose Powder.
Because I have dry skin, I don't use powder on any area other than my undereyes and occasionally my neck if I'm looking to set my base makeup. Whenever I use this product, I like to start out by using a hydrating eye mask like the Loops Weekly Reset Eye Masks ($5), and then I go in with eye cream. From there I apply concealer, let it marinate, and then blend it out with a beauty sponge. Once that's finished, I go in with a tiny bit of powder and press it underneath my eye.
What to Consider Before Trying the Huda Beauty Easy Bake and Snatch Pressed Setting Powder
It took a little trial and error to figure out what my shade was, so if you have the opportunity to test out the product in person, I'd suggest doing that. I was waffling between Pound Cake and Banana Bread, but after testing both, I found that the latter was a better fit for my skin tone. Luckily, there are eight shades to choose from.
Where the Huda Beauty Easy Bake and Snatch Pressed Setting Powder Is Available
The Huda Beauty Easy Bake and Snatch Pressed Setting Powder is available directly on the Huda website as well as Sephora.
Rating:
★★★★