As POPSUGAR editors, we independently select and write about stuff we love and think you'll like too. If you buy a product we have recommended, we may receive affiliate commission, which in turn supports our work.
I Care a Lot, premiering on Netflix on Feb. 19, introduces us to a corrupt court-appointment legal guardian named Marla Grayson (Rosamund Pike) whose elaborate scheme to defraud the elderly goes awry when she messes with the wrong old lady. As things go from bad to worse in the thriller, Grayson has to fight like hell to protect everything she's built.
"There are two types of people in this world," says Grayson at the very start of the film. "The people who take, and those getting took. Predators and prey. Lions and lambs. My name is Marla Grayson, and I'm not a lamb — I am a f*cking lioness."
In the instance of I Care a Lot, the "lioness" is an impeccably dressed woman in power suits and a sleek, blond, blunt-cut bob that looks sharp enough to cut you. It's a haircut that makes you feel intimidated and in awe of Grayson at the same time (even if you kind of hate her for what she's doing). Opposite of Grayson you have Fran (Eiza González) with her curly shag haircut and fringe bangs; she's badass and commands respect but in a very different way. And then you have Roman Lunyov (Peter Dinklage), a fellow villain who faces off with Grayson. Each one has a very distinct and methodical look, and we're breaking down the meaning of each ahead.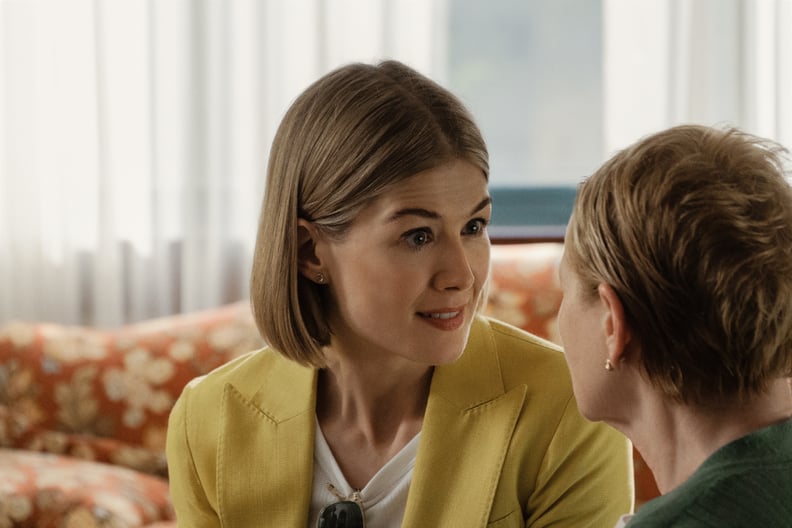 The Story Behind Marla Grayson's Sharp Blunt-Bob Hairstyle
It's hard to picture Grayson with any hairstyle other than her blond blunt bob but believe it or not, she was almost a redhead. "In the end, we didn't want it to be predictable," Lori Guidroz, head of the movie's hair department, told POPSUGAR. "For her to be a redhead seemed almost too on-point or too obvious." Ultimately, Guidroz pulled inspiration from a severe bob that Rosamund had a few years ago and a baby's pure blond hair color. "I wanted it to be very streamlined," said Guidroz. "She's a very strong woman. She's very determined. She's not one to be messed with, and we wanted to portray that in every aspect of her look, from head to toe."
Because the bob haircut was so sharp and precise, it took a lot of styling to ensure not a single hair ever fell out of place. Guidroz would prep Rosamund's hair with a volume booster, blow dry it, then flat iron it straight until "you could see the line really strongly." Then she'd spray her hair with the Kevin Murphy Shimmer Shine Spray ($30) to boost shine. Dry shampoo was also a must, as a person like Grayson would never sport second-day hair. "I always wanted her hair to just look super clean and sharp," said Guidroz.
The Secret to Fran's Chic Curly Shag Hairstyle
Fran is much more carefree — in her looks and in her personality. "The idea behind Fran's look was that she wasn't like Marla, who had this very severe appearance and looked put together all the time," said Guidroz. "Fran's a natural beauty. She wore jeans, she wore T-shirts. She was just kind of this easy-going, grounding force for Marla." Guidroz said she wanted Fran to look like someone who would let their hair air-dry and it would end up looking just the right amount of messy.
In reality, it took quite a bit of styling to get González's naturally wavy hair to curl in that manner. Guidroz would defuse her hair every day, pin it in curls, and then spray her entire head with the Oribe Superfine Hairspray ($42). "She'd go to makeup with her hair all clipped up and then we'd pull the clips out, shake it out, and let it be really just curly and natural," said Guidroz.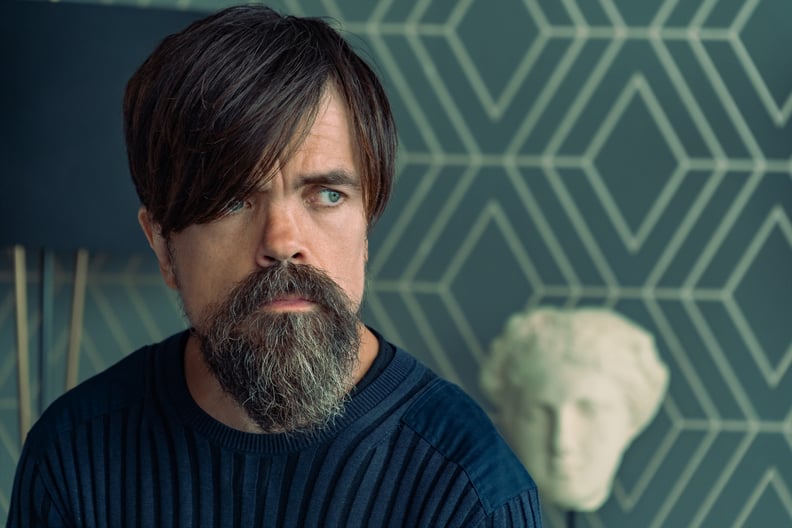 The Symbolism of Roman Lunyov's Ponytail Hairstyle
Even Dinklage underwent a bit of a makeover for the movie. His usually long, curly hair was straightened to give him more of a moody, sexy look, as Guidroz described. Despite their hatred for each other, Lunyov is not dissimilar to Grayson and that was symbolized in both of their hairstyles at one point in the film. (But if you don't look closely, it's easy to miss). "There were times when his hair was in this ponytail, and what we loved was we also put Grayson in a ponytail; it was a little nub at the back of her neck," said Guidroz. "In our minds, we were like, they connect, they're the same person."