Every editorial product is independently selected by our editors. If you buy something through our links, we may earn commission.
Listen, 2020. You may have thought you were winning this one. After all, our skin's drier than ever, our pimples are sheltering in place right with us and, despite all our self-care techniques, it can be pretty hard to relax these days no matter how many candles we light and baths we take.
But, if strangers could see our mouths right now, they'd see them hanging right open at this new beauty product we've just spotted at Sephora. Once again, 2020, you're full of surprises, and behold this Inc.redible Hydrating Boob and Bum Sheet Mask Duo.
We're no stranger to nontraditional (and perhaps a bit weird) beauty treatments, so we just have to laugh at this cheeky sheet. Sure, this isn't the first-ever butt mask we've spotted, but the melons for boobs and peaches for bums take it to the next level. Now, while we're here thinking up who can help "gently massage in the remaining essence" after the magic is done, find out exactly what its real purpose is ahead.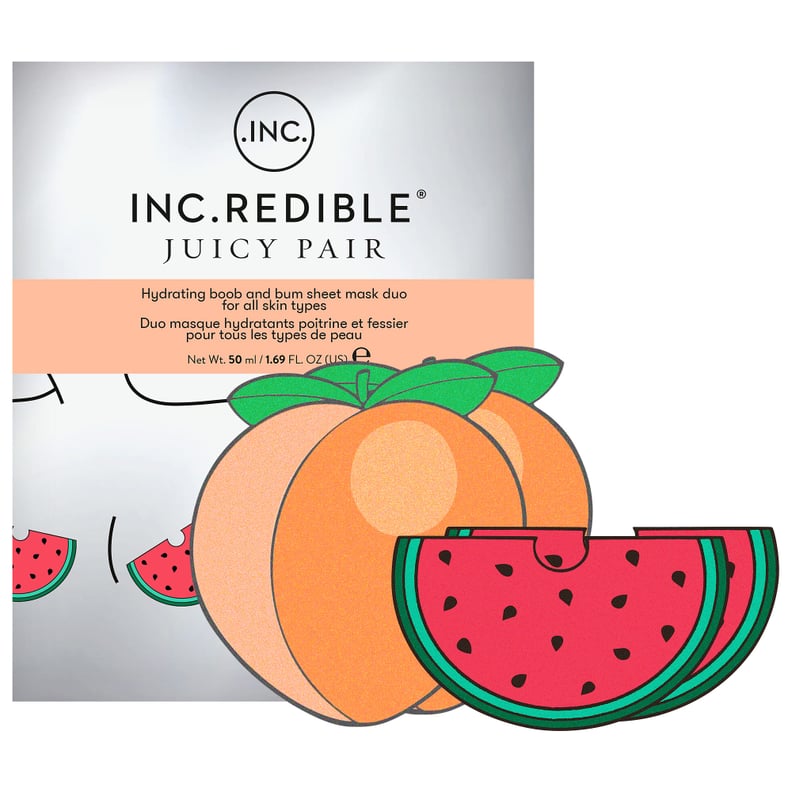 Inc.redible Hydrating Boob and Bum Sheet Mask Duo
Beside the laughs we definitely needed, there is an actual skin-care benefit to this new Inc.redible Hydrating Boob and Bum Sheet Mask Duo ($15). The fruit-shaped add-ons pack in a hefty dose of nutrients from peptides and allantoin to rose and watermelon extracts to nourish, firm, and moisturize skin. And, while the vitamin C works to brighten skin, this mask can also (hopefully, at the very least) brighten spirits at the same time.

Love all things beauty? Can't get enough products? Come join our Facebook Group, Real Reviews With POPSUGAR Beauty There are lots of fun conversations happening there, as well as all the product recommendations you could ask for — not just from us, but also community members, too.