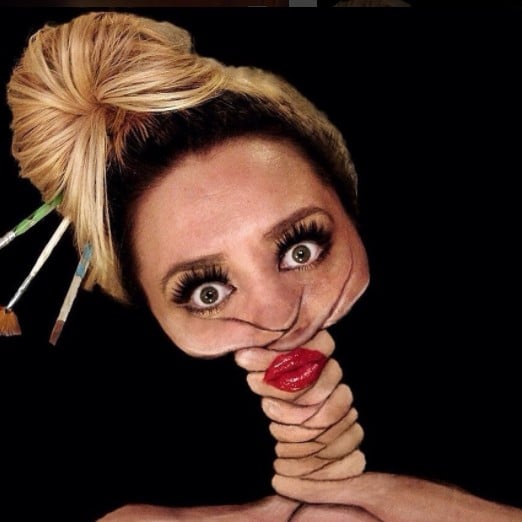 Don't get it twisted — Ines Kus's insane body painting is serious work. In fact, it takes the Croatian makeup artist up to 12 hours to create her stunning, colorful styles. The fan of surreal art takes absurdism to new levels with her kooky, warped styles.
Kus told POPSUGAR that she got her start in body painting while doing something a lot of us know and love: preparing for Halloween. "I got into [it] by accident, actually. On Halloween night in 2016, I was about to attend a costume party, so I wanted to paint my face." Kus liked the process enough to keep doing it, and 51,000 Instagram followers later, the rest is viral history.
Kus's swirly styles only look painful, but while it's all fake, the process sounds pretty exhausting. Most of her painting takes seven to eight hours to finish (that's a whole workday, folks), but for some styles, it's taken her up to half a day. Although Kus's breaks account for some of that time, most of her minutes are spent blending. "It is very tricky to blend the nose, lips, chin, and neck into a successful illusion," she said. One of her go-to brands for her tutorials is Beauty UK; she "loves" its Posh Eyeshadow Palette ($8).
Read on for more of Kus's most insane looks — you might just lose 12 hours of your own time scrolling through her Instagram.