We know Little Mix alum Jade Thirlwall is a fan of bold makeup and quirky outfits, but she also has an impressive array of tiny tattoos that showcase another creative way of expressing herself.
As the world awaits for news on Thirlwall, Perrie Edwards, and Leigh-Anne Pinnock's solo career moves following Little Mix's hiatus, all eyes have been on their social channels for updates on their lives. On Aug. 17, Thirlwall announced "Jade Day" on Instagram, posting snaps of her lifting up her blue-and-green crochet top to reveal some impressive ink in the form of an Egyptian pharaoh on her ribcage.
Of course, it's not the first time she's treated herself to some body art. The South Shields star has at least six known tattoos so far, each with a special significance. From a Little Mix anniversary tattoo to a matching friendship illustration, here's a guide to all of Thirlwall's tattoos and the meanings behind them.
Jade Thirlwall's Ribcage Tattoo
Lifting up her crochet top in an Instagram post, Thirlwall gave us a flash of an Egyptian pharaoh tattoo on her ribcage. Although she hasn't specified the meaning behind it, fans have speculated the ink links to her ancestors and Egyptian heritage. Her maternal grandmother was Egyptian, although she never met her, as she died when Thirlwall's mum was only 4 years old. In the post, captioned with "Jade Day. I exist. You're welcome 💚🦋🐛", the tattoo was front and centre. If the speculation is right, it's a touching tribute.
Jade Thirlwall's Spine Tattoos
Thirlwall also has a spinal tattoo in honor of her Arabic grandfather, thought to have been completed in 2017. From the back of her neck to her lower back, the tattoo reads, "Anyone can achieve their dreams if they've got the courage," in Arabic. Thirlwall can read and write the language, too.
Jade Thirlwall's Foot Tattoo
Back in 2019, Thirwall got an intricate, henna-inspired design etched onto her foot. On July 30 that same year, a video was shared on the Instagram Story of Danny Robinson, a tattoo artist on MTV's show "Just Tattoo of Us," who's inked a few of her tats. In response to a fan asking how painful the tattoo was on a scale of one to 10, Thirlwall tweeted from the official Little Mix account: "100."
Jade Thirlwall's Ankle Tattoo
Some of Thirlwall's tattoos are more subtle than others. The singer and three of her friends got the same simple tattoo in the same location on a 2016 trip to Ibiza: a thinly bordered heart on their ankles. Thirlwall's friend Samantha Donkin shared an image of their matching tattoos on Instagram, writing alongside the photo: "Now that our friendship tattoos have healed, we are marked for life with the most amazing memories ever! Ibiza 2016 forever, you girls are my most favourite girls in the world! I love you!!"
On the same foot as the friendship heart, Thirlwall has an inverted triangle. She hasn't spoken about what this means, but she got it in November 2019.
Jade Thirlwall's Side Boob Tattoo
In October 2020, Thirlwall showed off another tattoo (which now sits above her Egyptian pharaoh tattoo) located on her side. According to the comments section on her Instagram post, the lettering is Arabic for "queen."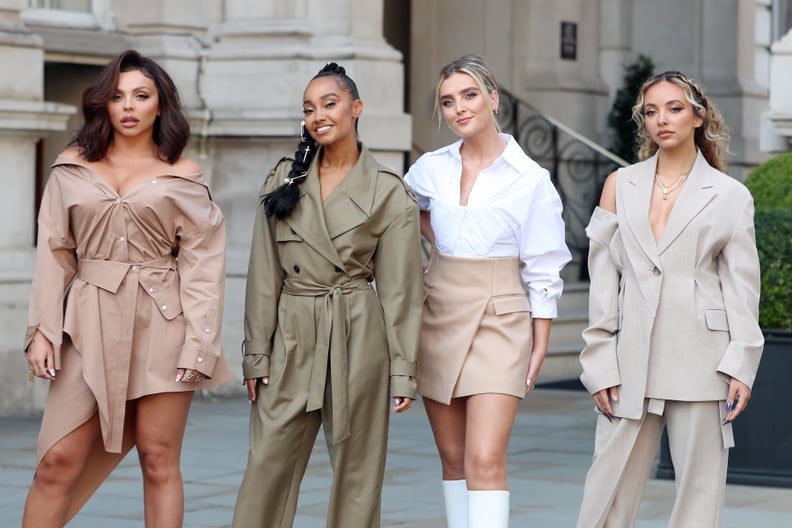 Jade Thirlwall's Calf Tattoo
Thirlwall is nothing but loyal to her band. She commemorated a decade of Little Mix with a tattoo of the anniversary date on the back of her calf. In a mysterious code, the tattoo spells out the date of Aug. 19 2011 — the exact day Thirlwall was put together in a group with Pinnock, Edwards, and Jesy Nelson to form the global phenomenon that was Little Mix.