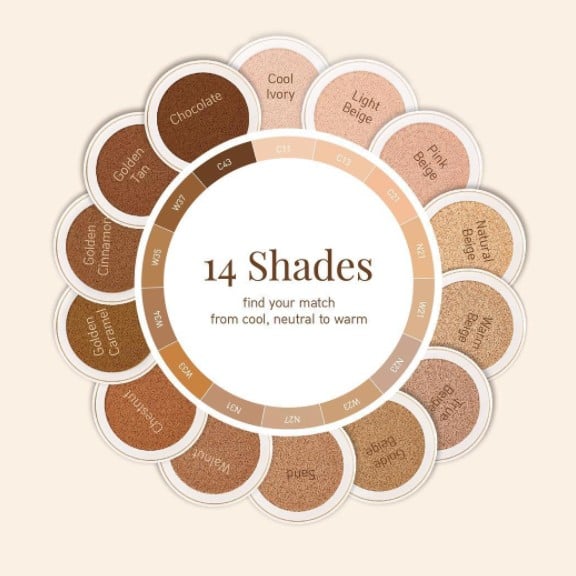 There's no denying that Korean beauty brands have been leading innovation in skin care. When it comes to makeup, however, there's one area where the industry has been lacking: foundation shades. Shop most K-Beauty makeup brands and you'll likely find a small selection running from fair to light medium (at best!). That makes sense, given a large population of Koreans are fair-skinned. Innisfree, however, is looking to change the game with 14 shades, and people are already singing praises.
The natural brand, which just launched its first U.S. store in New York City this September, is beloved for skin care best-sellers like the It's Real Squeeze Mask ($2) made with cucumber extract and the Intensive Hydrating Green Tea Serum ($25). For its stateside debut, Innisfree developed expanded shade ranges for both of its cushion foundations, the Aqua Fit ($12) and Matte Full Cover ($12). The company revealed them all on Instagram, where fans all had a collective freakout.

"This is the first time I've seen a cushion compact for those of us with deeper skin tones," user ripewithwords wrote. "Wow look at that range," maty_aka_ commented. Meanwhile, kenniejd reacted, "So excited to see Korean brands doing darker colors! Definitely wanna try this out." Ash.laf put it best when she wrote, "YASSSSSSS INNISFREE SWEETIE YOU'RE DOING AMAZING."
The liquid foundation has a velvety matte finish, and keeps skin moisturized thanks to green tea extract in its formula. It also has SPF 50+ protection. Beyond the skin care benefits and shades, another bonus is that there are over 100 compact cases ($10) to choose from in all prints, colors, and patterns.
Over on Twitter, there's been even more chatter and excitement over a K-Beauty brand offering darker foundation shades. See some of those reactions, ahead.