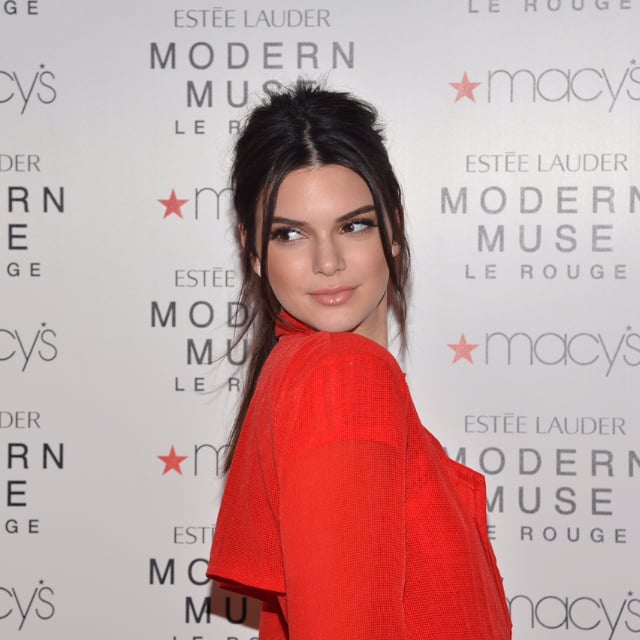 Estée Lauder
Say what you will about the Kardashian and Jenner sisters, but Kendall is undeniably gorgeous. Even I gave an eye-roll when she announced she wanted to be a runway model. Little Kendall? Boy, was I wrong!
First, she announced she wanted to drop her last name to make it on her own without the help of her family's fame. And while reality stars rarely break over the line from TV to fashion, Kendall is the exception. Quickly designers like Marc Jacobs and Diane von Furstenberg embraced her, adding her to their runway rosters. And within weeks, it seemed like she was arm in arm with top catwalkers, such as Karlie Kloss, Gigi Hadid, and Cara Delevingne. When Estée Lauder announced Kendall as its spokesmodel, I knew she had made it. The partnership ensured that Kendall would transition from a young Hollywood It girl to a fashion muse and beauty icon in her own right.
What makes Kendall stand out from her family is the simplicity of her look. While her sisters tend to rock serious highlights, rainbow hair colors, or make drastic changes (like the time Kim went from jet black to ice blond), Kendall keeps it consistent. She most frequently can be seen out and about with sleek strands, dewy skin, luscious lashes, and perhaps a red lip. While that may seem like more upkeep than the average woman, it's scaled back in Kardashian land. And it adds a bit of mystery to her public persona!
But we uncovered her secrets when we exclusively interviewed the 19-year-old at the end of New York Fashion Week Spring 2016. We sat down with Kendall in a VIP room at Macy's Herald Square before she hosted an event for Estée Lauder's Modern Muse Le Rouge fragrance. There, she revealed her dreams of having her own family one day, how top models deal with under-eye circles, and the best advice Kim ever gave her.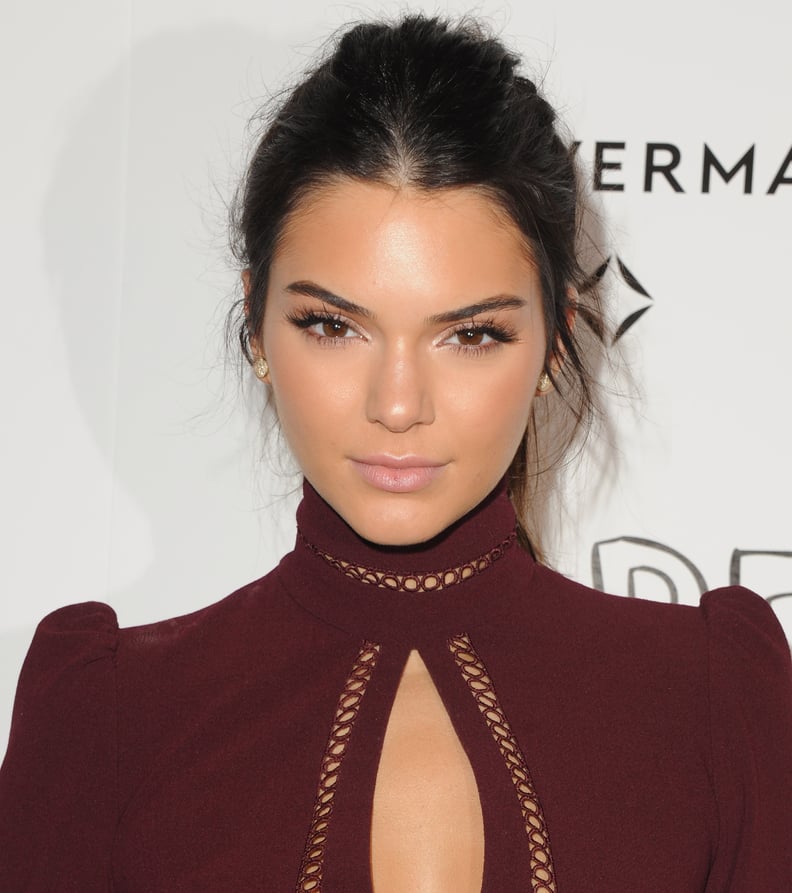 POPSUGAR: Obviously we're here to talk about fragrance since you're at Macy's to help celebrate the Modern Muse Le Rouge fragrance.
Kendall Jenner: This one especially is honestly really good for every day. It's awesome — it's like vanilla and raspberries and rose. So it's not too heavy so that you feel like you have to wear it at night only or to a special event.
PS: So you just launched a website — congrats! What else can we expect from it?
KJ: They're lifestyle apps and websites, so it's mainly what I'm into or what's happening in my life. We have a live stream thing, so people can check in every once and a while. I can show them what I'm doing in the moment. It's a lot of my behind-the-scenes life.
PS: How would you describe your beauty style?
KJ: I like to keep it pretty simple. I think less is more. I'm into more neutrals. So I think that makes it easy, because I always know what I'm into and what I want.
PS: Sometimes you do wear a fun lip color, like your orange-red Estée Lauder shade, Restless. How did you pick that color?
KJ: If I'm going to wear a bright-colored lip, it's probably a red. So I wanted to do my twist on a red. Obviously Estée Lauder was the perfect [company] to do it with. I did a reddish orange, and it's one of my favorite colors.
PS: When you want to play up one of your features beauty-wise, what do you go for and how do you do it?
KJ: Maybe my eyes. If you're going to ask whether I'm an eye or a lip girl, I would say a lip girl, but I think that playing up an eye is always really fun. But I don't like a black heavy eye. Like I said, I'm not into too many other colors other than red. I can't go much further than red.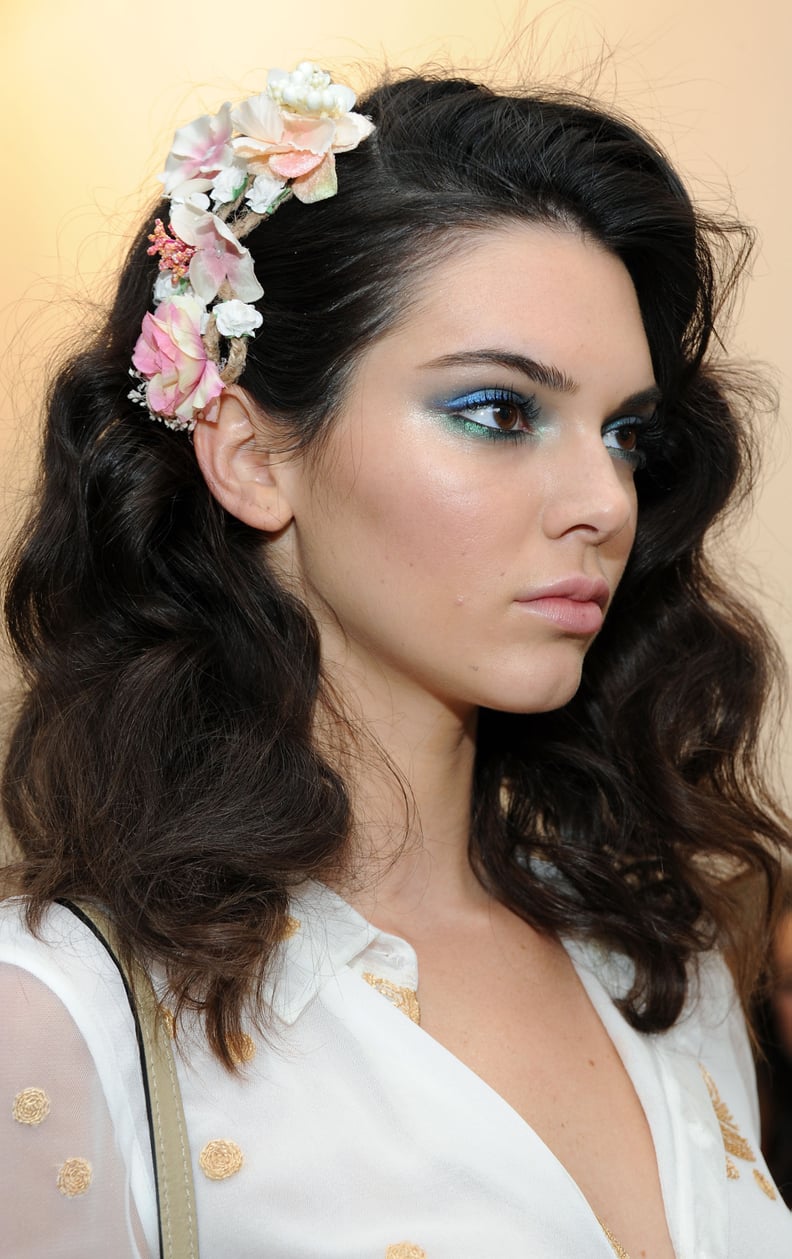 PS: Which of your sisters gives the best beauty advice and what do they tell you?
KJ: I remember when I was younger, I think Kim told me and my little sister, "Never touch your face too much. Don't pick at it." Ever since then — I think I was 10 — it has stuck with me.
PS: What is your skin care routine like?
KJ: I wash my face morning and night, and I wear sunscreen every day. Keeping hydrated and drinking a lot of water is always good for your skin. Eating right and all of that.
PS: So you're headed to more Fashion Weeks. What's your best tip for avoiding jet lag?
KJ: There's not really much you can do to avoid jet lag. Honestly, my body has gotten more and more used to it, because I've noticed sometimes I won't even get jet-lagged. Or if I do, I can learn to adjust to it really quickly. My body has just gotten so used to being on whatever time zone it's on, [that] it's not even on one.
PS: Do you have any in-flight beauty rituals?
KJ: Yeah, mine is kind of gross. I have this medicine that my nutritionist gave me, and it's a thing that you break and put it in your nose so you don't breathe in that terrible airplane air. Well, you do, but you breathe in the medicine instead of the airplane air. But it actually works — it prevents you from getting sick on planes.
PS: That's fascinating. Do you contour?
KJ: I do contour. Contouring is my favorite.
PS: What's your contouring trick? I know Kim creates an E shape from her forehead to her cheek and chin.
KJ: Yeah, I'm not specifically doing an E, but I do hit those spots [points to the top of her eyebrows, cheekbones, and jawline]. And then my nose.
PS: Do you strobe?
KJ: I don't know what strobing is!
PS: It's extreme highlighting to make your features pop.
KJ: I would rather use bronzer, but I do highlight. I highlight and bronze, but I'd rather use bronzer than strobing.
PS: You recently tested out a blond wig. Would you actually ever go blond?
KJ: I don't think so. I think I'm definitely a brunette girl. I like having fun with things like that, not so much on Kylie's level of having fun with hair — she does crazy things. But I mean it's fun to play around.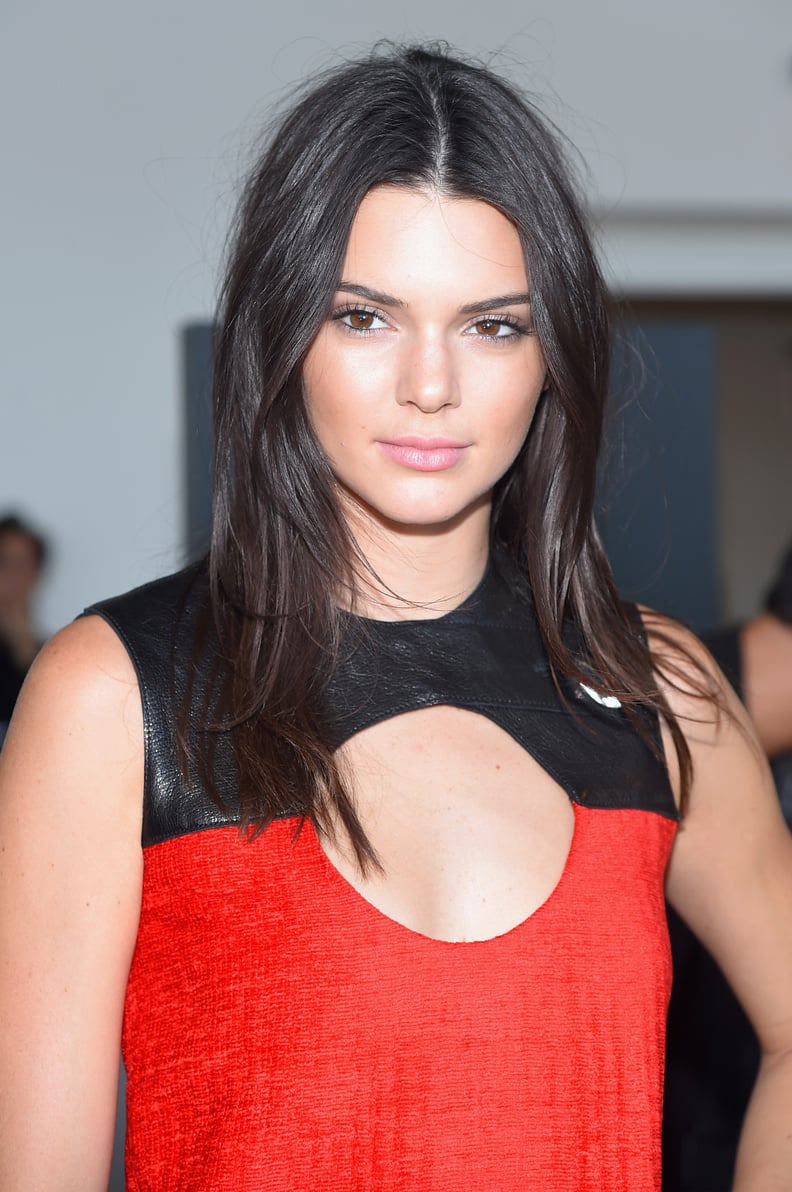 PS: So do you actually have freckles? You shared an Instagram showing them off.
KJ: No, that was for a photo shoot. I had a week of working every day, and for some reason, everyone put freckles on me. I have freckles, I've always had freckles, and when I am in the sun, they stand out more, but I'm pretty sure what you're talking about is the selfie that everyone freaked out over. Not going to lie and say they were my freckles.
You have such glossy hair. Do you use any hair masks or products to keep it that shiny?
KJ: I don't. Every once in a while, I use Moroccanoil or something, but I really don't. I'm not even using some expensive shampoo — it's something from Rite Aid. It's really not anything crazy. I think I've just been blessed with good hair.
PS: That's awesome. I know that you're an "on-the-go" type of person. You posted that video of you shaving in the car. Are there any other beauty tasks you have to do on the go or quick fix beauty tips that?
KJ: Yeah, especially during Fashion Week, I think that happens a lot. The other day I had the Michael Kors show, and right after, I had to go watch Kanye [West]'s show. So I literally had my hair and makeup people in the car from the Michael Kors show to the Kanye show, and they did my hair and makeup in the car.
PS: If you have to get ready really fast, what are the three things that you'll do makeup- or hair-wise?
KJ: I'll throw on the lightest foundation I have — nothing basically. A little bit of bronzer and mascara.
PS: Do you like cream or powder foundation?
KJ: Cream.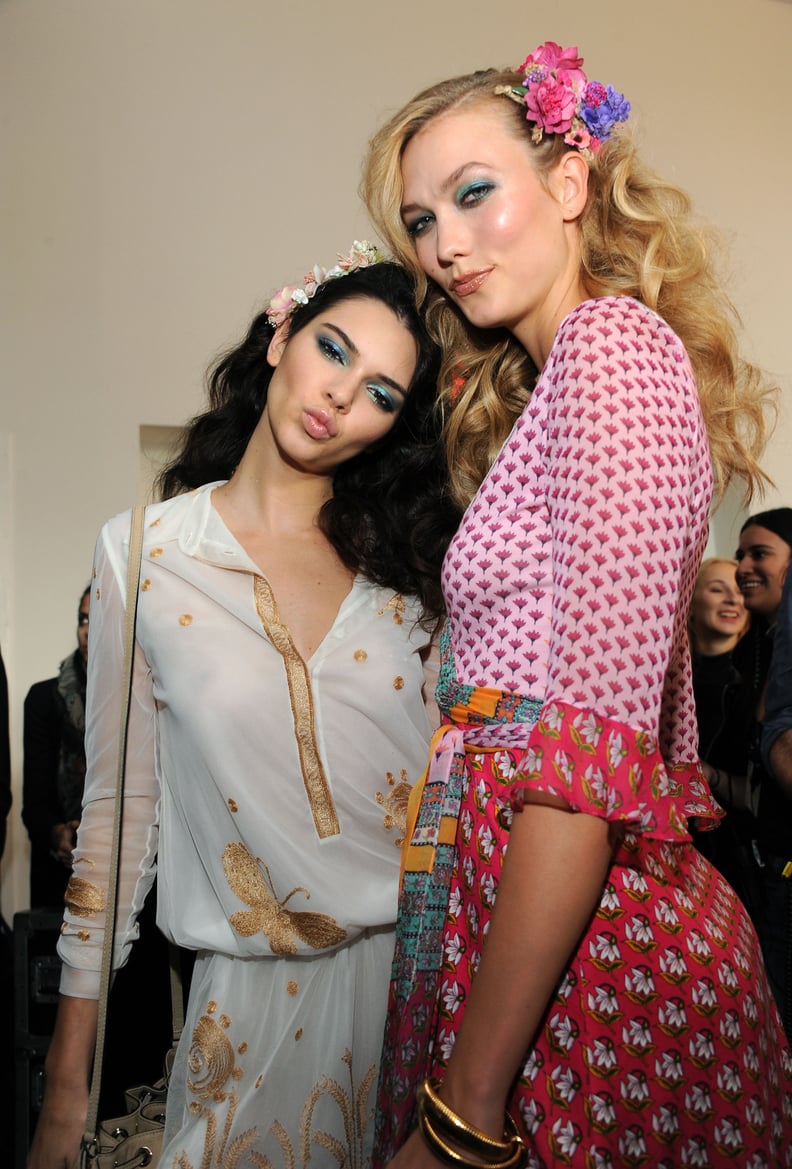 PS: You have so many cool model friends. What are some of the best tips you've learned from hanging out with this gorgeous crew?
KJ: You all kind of bounce ideas back and forth for tips. I also have a lot of model friends who've been doing this much longer than me, so they give you advice and tips. It's just awesome to have those people around to help you out. If you get confused with something, you can always call one and be, like, "Have you been through this before? Because I don't know what to do."
PS: What beauty tips have you learned from the models?
KJ: This is kind of funny. I ran into Karlie Kloss on a plane once, and we happened to be sitting right next to each other. I think it was from London to Paris. She was, like, "Here, do you want some of these?" And they were the under-eye patches. She was, like, "Wear these — they'll help you." We were really tired.
PS: Those under-eye patches are great. Who do you think is the most inspiring person in beauty right now?
KJ: Kim is definitely one of them. She loves makeup, and she's very involved with is. So I think that she can inspire everyone with it. She knows what she's talking about.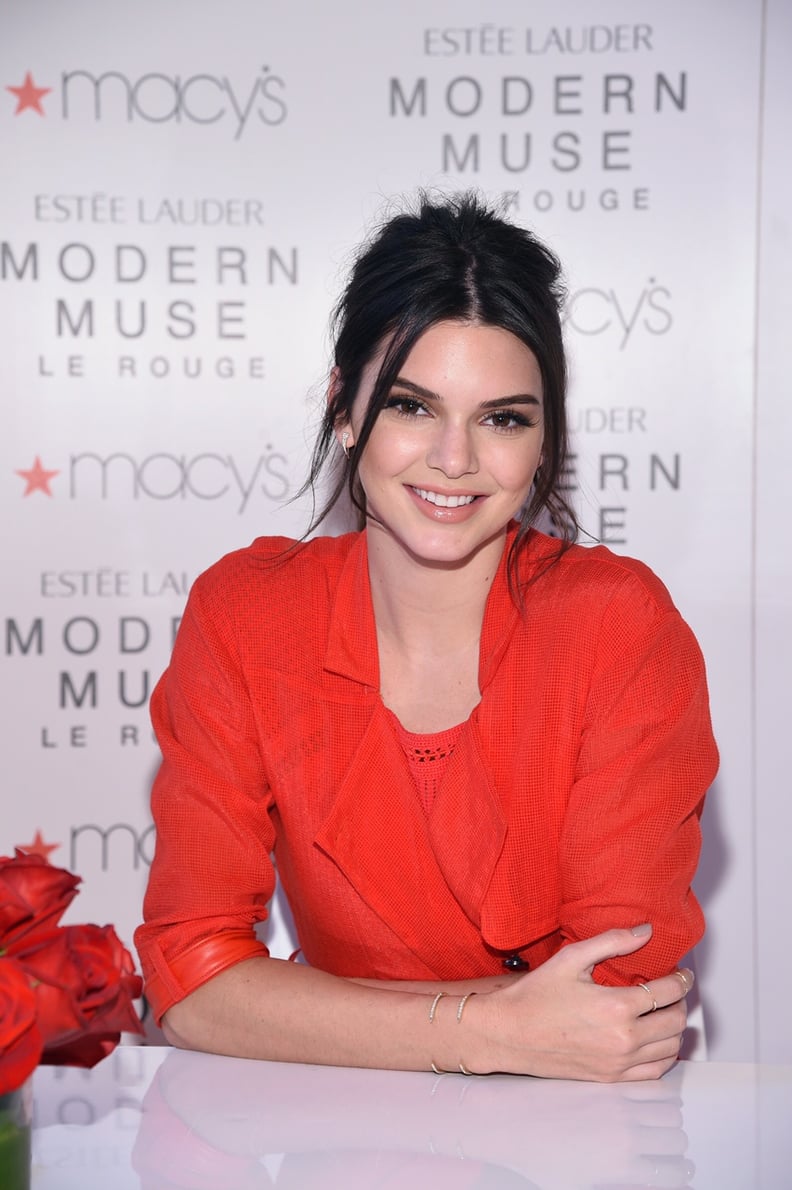 PS: You've taken the fashion world by storm. What other goals do you have that people wouldn't expect?
KJ: I have a lot of goals in life. I have my goals to be extremely happy and have everything that anybody would want: a great family and great kids and all of that. Clearly I'm getting really comfortable with our conversation [leans back, rests legs on another chair]. But yeah, happy. Longevity and all of that.
PS: It's important to have life goals in addition to career goals. What do you do to stay in shape?
KJ: I've been trying to cut down on the bread situation. I used to eat so much bread, and I've successfully cut down on it a tiny bit. But I still eat a good amount of bread. I also have a trainer in LA, who I am always working with. I box out here in New York. I haven't done that in forever though; I need to get back into it. I never have time. Whenever I can get the time, I'm on a hike or walking around or doing something of that nature.
PS: It must feel nice to unplug. What's your biggest beauty regret?
KJ: I really don't think I have any . . . Actually, I really didn't think my hair went well with my face, like two years ago at the Met Ball. It was too much.
PS: What advice do you wish you could tell your younger self?
KJ: Not to pluck my eyebrows off! When I was 13 or 14, I literally plucked my eyebrows off. They were the thinnest eyebrows. When my sisters saw me, they were, like, "Kendall, what did you do?" I was so embarrassed, and then I had to grow them out. Thank God, they grew back! I was so embarrassed every time I talked to someone because having that much hair to grow back out is not cute. Once it all grew back out, I went to my first eyebrow appointment. Ever since then, I've never touched my eyebrows.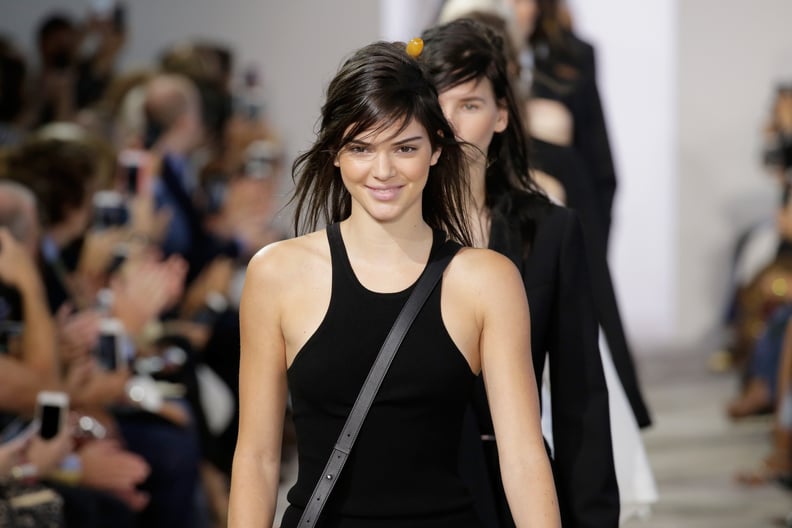 PS: How do you get your brows tweezed now?
KJ: Down the middle, and then she plucks them down here a little bit [points to under the arch]. But I don't wax, because I heard waxing them makes your face droop.
PS: And your eyelashes are amazing. Do you have any mascara application techniques?
KJ: My eyelashes are pretty long, so they get kind of annoying sometimes. Some days are better than others. It's really weird. I'll apply my mascara sometimes, and they'll totally not look good — they're all over the place. Then some days they're perfect, so it kind of depends on my day.
PS: They have a mind of their own.
KJ: It depends on how I sleep on them, too.
PS: Is your hair naturally curly? Because sometimes that makes lashes curl.
KJ: It's stick straight — my hair is literally stick straight.
PS: What's the best style advice that you've ever gotten?
KJ: To be comfortable. Physically and in what you're wearing. Don't wear something that makes you uncomfortable or that you're embarrassed to wear.
PS: Do you have a favorite Fashion Week memory?
KJ: Being able to walk Chanel for my first season ever was really awesome. And not thinking I would get it. I remember walking to the car outside Chanel, and you [turns to her agent] were, like, "You got the show!" and I was, like, "I know!"
PS: If you had to pick a favorite wear-with-anything bag, what would it be?
KJ: My black Céline. I wear it all the time.
PS: Heels or flats?
KJ: Flats.