Kiehl's Cleanser: Sensitive and Combination Skin Review 2021
I Tried the Kiehl's Rare Earth Deep Pore Daily Cleanser, and My Sensitive Skin Is Glowing
As POPSUGAR editors, we independently select and write about stuff we love and think you'll like too. If you buy a product we have recommended, we may receive affiliate commission, which in turn supports our work.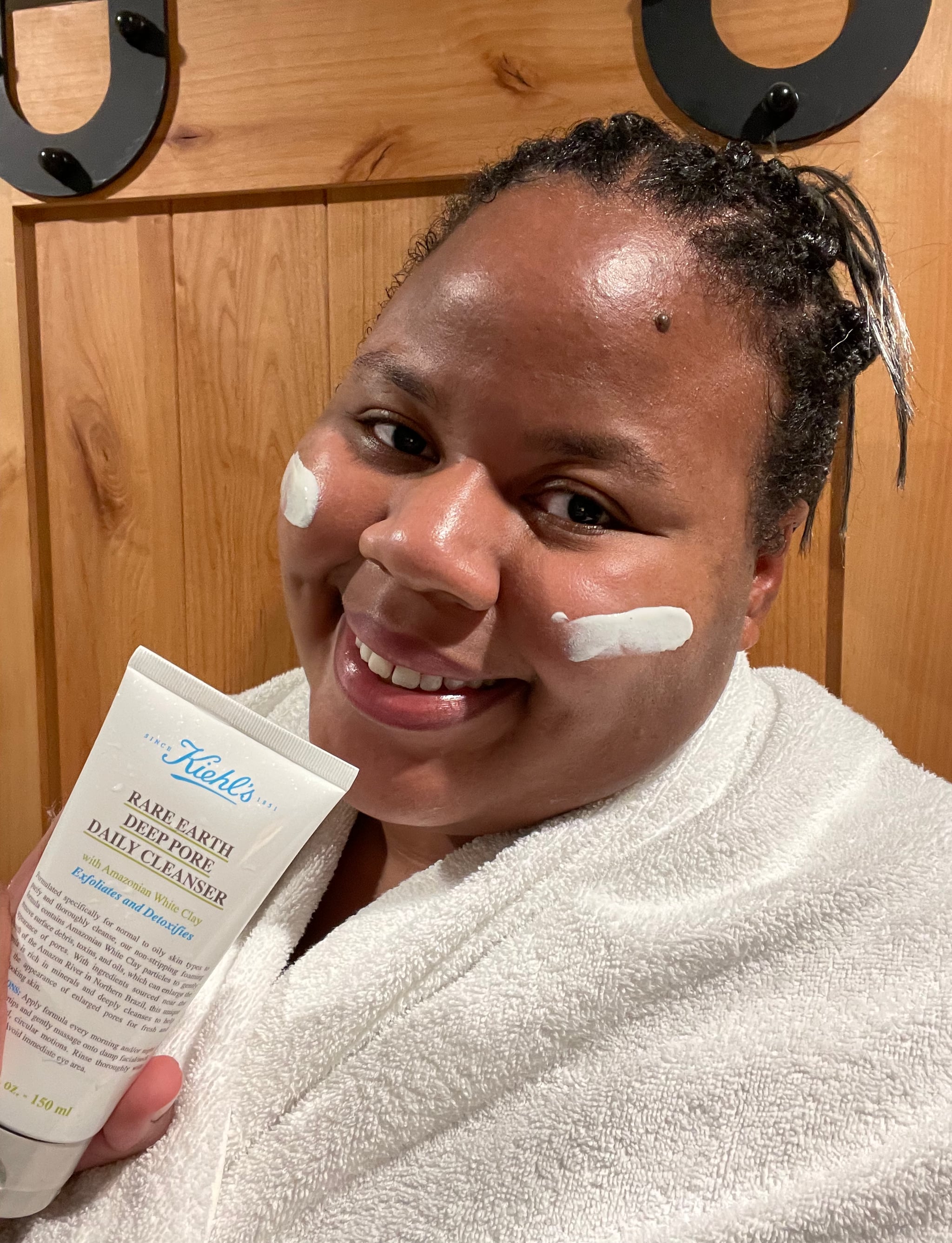 Having both sensitive and combination skin makes cleanser shopping feel like searching for a needle in a haystack. My combination skin craves exfoliation, especially since I sweat often from working out, while its sensitivity is very picky about the method of exfoliation I use. So when I find a cleanser I like, I tend to review the ingredient list before giving it a two-week trial to determine whether or not I'm truly sensitive to the formula.
Recently, I got to try Kiehl's Rare Earth Deep Pore Daily Cleanser ($25). After analyzing the ingredient list, I found that this was a cleanser I'd be open to trying. Keep reading to find out how my sensitive, combination skin responded to the two-week trial.
Here's Why My Sensitive, Combination Skin Likes Kiehl's Rare Earth Cleanser
Looking at the ingredient list, I saw that it was fragrance-free and contained salicylic acid — two things that let me know my skin might not fight me on this one. Fragrance (natural and synthetic) tends to irritate my skin, so I was so glad to see that this cleanser is fragrance-free. Salicylic acid is a known anti-inflammatory and antibacterial ingredient that can promote exfoliation and, in low quantities, avoid irritation. With those two elements in sight, it was time to try it out.
How Does Kiehl's Rare Earth Cleanser Feel on the Skin?
When I first put this cleanser on my skin, I could already feel the granules of the Amazonian white clay. Then I began to rub in circular motions around my face. I felt that the clay was evenly distributed throughout the product so my whole face was being evenly cleansed. I wouldn't say the granules were sharp. They felt more like sugar suspended in a creamy formula, only the clay doesn't dissolve as you rub. As I rinsed the cleanser off for the first time, and every time after that, I never noticed any redness or dryness.
Does Kiehl's Rare Earth Cleanser Cause Breakouts?
With any exfoliating product, there will be skin purging. Meaning in the first few uses, there may appear to be more tiny bumps on the skin as the dead skin and gunk from the pores are slowly being brought to the surface. This is another reason I do a two-week trial.
By the second week, the majority of old gunk has been brought up and out of the skin, so the continued use of the cleanser then becomes more like maintenance since there is less stuff to bring to the surface. At first, my skin did purge, but since I'm used to this ritual, I stuck it out to find that my skin was not breaking out, just bringing up what was piled within it.
Since the two-week trial was a success, I've continued to use the Kiehl's Rare Earth Deep Pore Daily Cleanser and plan to use it until the tube is done. I may even grab a tube once this one is finished.
Image Source: POPSUGAR Photography / Angelica Wilson