You probably saw this meme plastered all over Instagram when Kim Kardashian notoriously dyed her hair platinum blond during Paris Fashion Week.
And with good reason — going from one end of the color spectrum to the other is extremely damaging on the hair. Kim lifted her hair color four to five levels; color professionals recommend lightening two to three shades at most in order to keep the integrity of your hair intact. She spent a lot of time (and money) to get her hair to ice-queen status.
While Kim loved being a blonde, she admitted that her three weeks of the hue really damaged her hair. "Dyeing my hair blond to going dark was really hard on my hair," she told E! News. She went back to brunette so she could have dark hair in Armenia, but she wished she had kept the platinum shade a little longer. "It damaged my hair so much," she confessed. "I'm trying to get my hair to be as healthy as possible." She also revealed that she'd likely be wearing hair extensions (which she loves!) for the Met Gala.
With all that said, it should be considered the eighth wonder of the world that her hair didn't burn off — or at least look like it. And now we know why. Colorist Lori Goddard used b3 Brazilian Bond Builder (prices vary) treatment when coloring Kim's mane to strengthen her hair. It's added to the hair color formula to avoid severe breakage.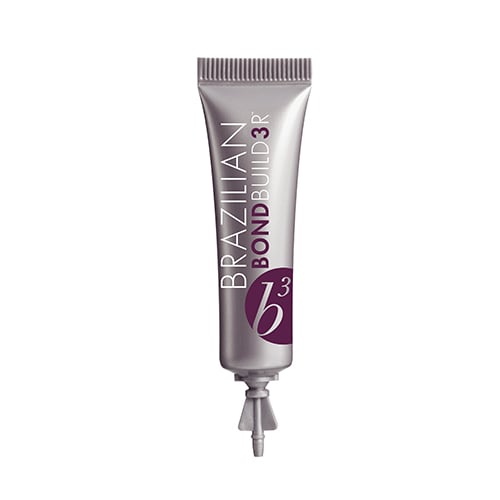 The science is this: the Brazilian Bond Builder reattaches and builds the bonds that make up the cellular membrane of the hair, which helps strengthen your hair cuticle. (That's the outside of your hair — the part that you notice the most damage.) By restructuring the cuticle and the cortex of the hair, you're building it up so it can support the coloring process. And because you add it to any hair color formula, it's one step — meaning you don't have to add any additional time to your appointment, which can be upwards of six to eight hours if you're making a dramatic change.
Colorists, it's important to note that if you start to use this product on your clients, that you bump up your developer strength a level. For instance, if you would usually use 10 volume developer, you'd go with a 20 volume developer when including b3.
And now you know how Kim's hair was kept intact!