Kim Kardashian Is Going Back to Matte With Her New '90s-Inspired Makeup Collection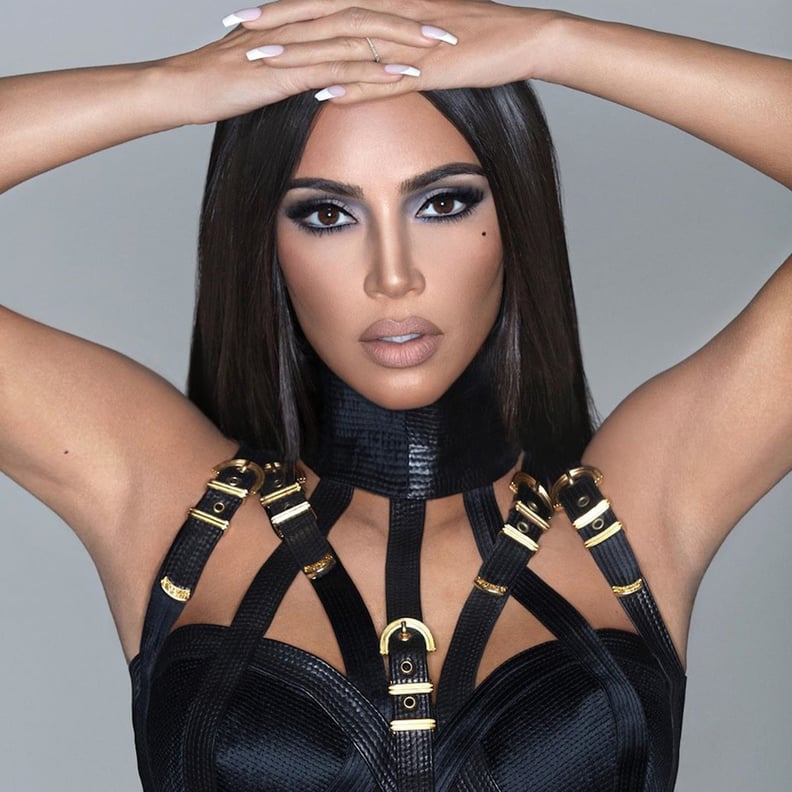 Kim Kardashian is launching a new makeup collection inspired by one of the most iconic beauty decades: the '90s. KKW Beauty's new launch is all about matte formulas, which is in stark contrast to the dewy, glowy, highlighter-heavy trend that's become more mainstream the past few years.
Kardashian announced the collections on Monday with an Instagram post, saying, "I'm so excited to announce my new '90s-inspired collection of all matte formulas — The Matte Smoke & Matte Cocoa Collections!!! I get a lot of my makeup inspiration from the '90s and love how nostalgic this entire collection is."
The whole collection features two 10-pan eye shadow palettes, six lipsticks in a new matte formula, six lip liners, and five eyeliners — all of which are broken up into two colorways, Matte Smoke and Matte Cocoa. Matte Smoke showcases darker colors including matte black eye shadow, while Matte Cocoa offers brown and pink hues. Before Kardashian revealed the products, she teased a clip of her PR list for this launch, which is a lengthy list of prominent '90s celebrities: Fiona Apple, Jennifer Aniston, Queen Latifah, Kate Moss, Tia & Ta Mowry, Mary J. Blige, and many more.
Remember that YouTuber who made the viral parody about if beauty vloggers existed in the '90s? She'll definitely want to get her hands on these lip liners. Get a sneak peek of all the products ahead, and shop the '90s collection when it launches on Aug. 16 at 12 p.m. PDT.
Kim Kardashian's List of '90s Icons, Including Janet Jackson and Gwen Stefani
A Sneak Peek at KKW Beauty's '90s Makeup Collection
KKW Beauty's Matte Smoke Collection
KKW Beauty's Matte Cocoa Collection
KKW Beauty's New Matte Lipsticks: '90s Runway, '90s Supermodel, and '90s Icon
Kim Kardashian Wearing Her New '90s Makeup