Of Course Kim Kardashian's Skkn by Kim Office Has a Glam Room
If you've ever wondered where Kim Kardashian works, she just gave a sneak peek into her Skkn by Kim office on YouTube. Similar to the decor in her home, Kardashian's office features neutral tones and concrete details throughout, giving the entire space a calm, welcoming vibe. "Every time someone comes in here, they say it really reminds them of my home," Kardashian says in the video. "It's really just soothing, and comfortable, and clean, and I love that."
As to be expected, the Skkn by Kim office boasts numerous amenities like an amphitheater, an in-house photography studio, custom furniture by Rick Owens, and, of course, a glam room. The space was decorated by Waldo Fernandez and Tommy Clements, the Kardashian-Jenners go-to decorators, who have also decorated Kris and Kendall Jenner's homes, as well as oversaw Travis Barker's recent home renovations.
Of course, the office has a few logistical pieces that just make sense, like the chair Kardashian keeps in her in-office bathroom for people to come and pick her brain as she showers, the Jeanneret chairs she got bleached so that they would match the aesthetic of the office, and the magazine wall that shows every single cover she's ever graced. See a few highlights of the Skkn by Kim office ahead, and watch the entire video to see your Pinterest mood board come to life before your eyes.
Watch the Skkn by Kim Office Tour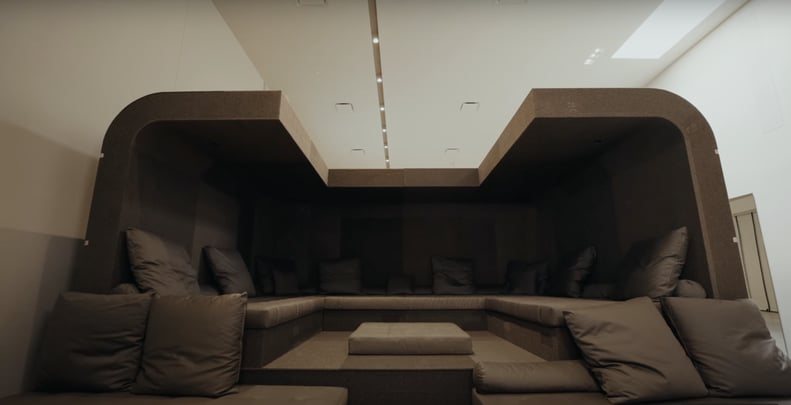 Kim Kardashian's Skkn by Kim Office Tour: The Amphitheater
Naturally, Kardashian's office features an amphitheater — equipped with custom couch and bed combo created by Rick Owens — that she created to keep her kids entertained when they visit her at work.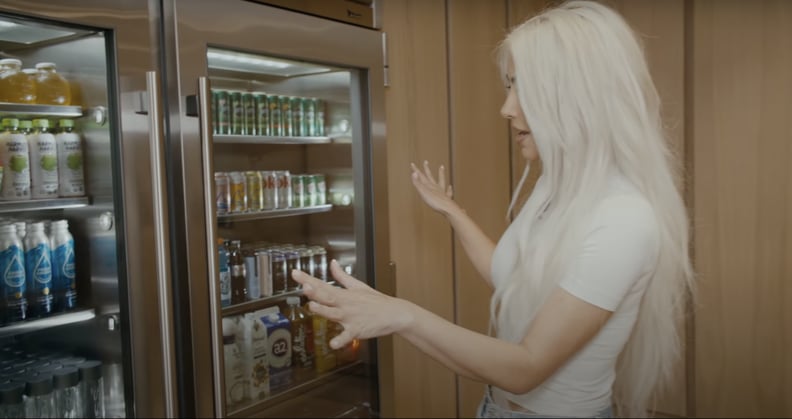 Kim Kardashian's Skkn by Kim Office Tour: The Fridge
Of course, one of the first things that you'll see is the fully stocked fridge that Kardashian keeps in the office kitchen. The fact that even her refrigerator appliances are organized to a T comes as no surprise.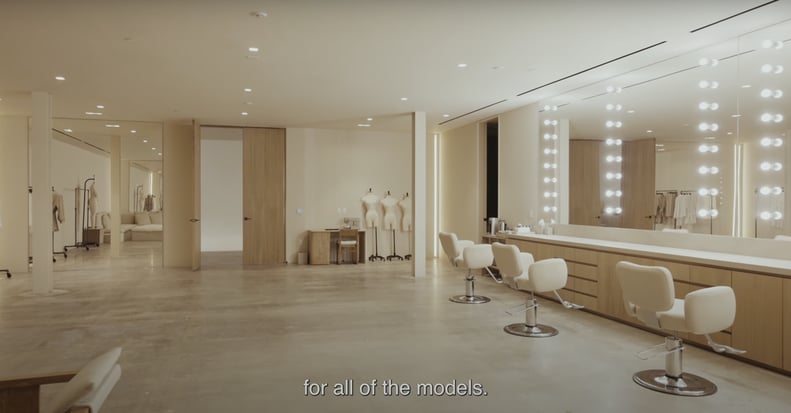 Kim Kardashian's Skkn by Kim Office Tour: The Glam Room
Kardashian also has a "glam room" where she and her models can get ready for photo shoots without ever having to leave the premises. The room also has an area where the model's clothing can be tailored on site, as well as a couch that looks like a literal cloud for staff to relax on between shoots.
Kim Kardashian's Skkn by Kim Office Tour: The Showroom
Kardashian's office also has walls filled end to end with products: one half of which features Skkn skin-care products and the other half with Skims products, just two of the companies in Kardashian's empire.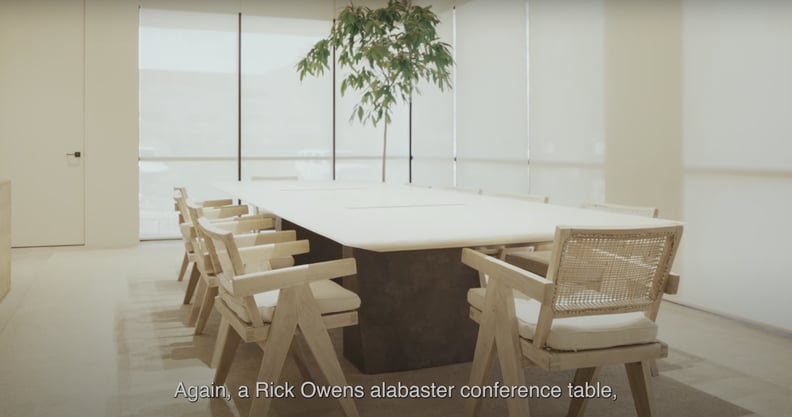 Kim Kardashian's Skkn by Kim Office Tour: The Conference Table
Kardashian's office conference table is another Rick Owens masterpiece, made completely from alabaster. Also at the conference table are Jeanneret chairs that she bleached to go with the look of the space.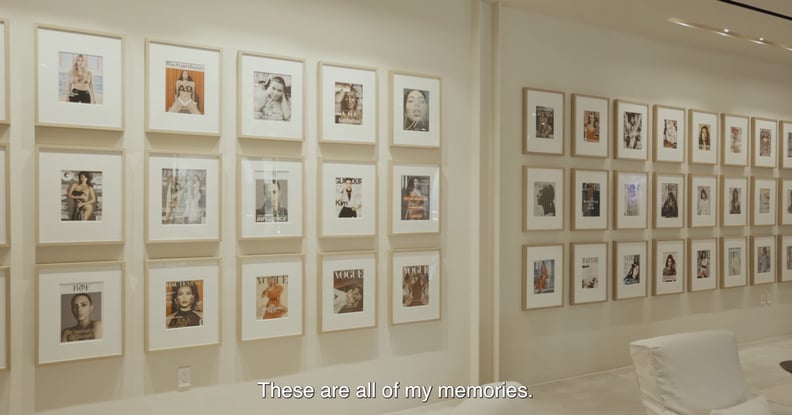 Kim Kardashian's Skkn by Kim Office Tour: The Magazine Wall
Kardashian's office has two magazine walls, one of which she says is a throwback wall which features her very first cover on K9 magazine and the other with her more recent covers with publications like Business of Fashion.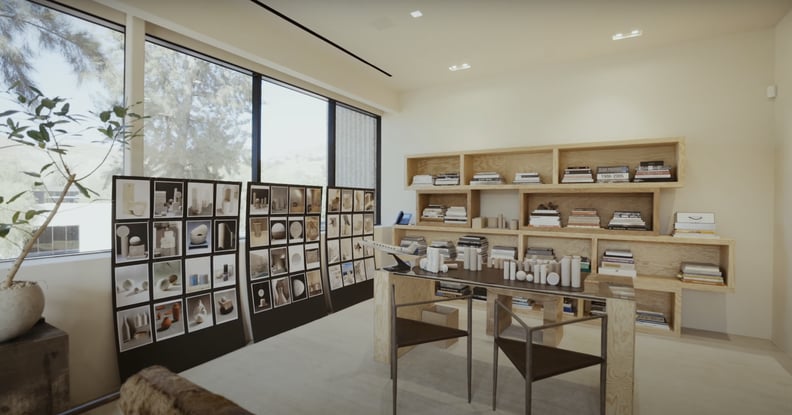 Kim Kardashian's Skkn by Kim Office Tour: The Ideas Table
There is a dedicated space where Kardashian brainstorms her products as well as conceptualizes their corresponding packaging, which is her proclaimed favorite part of the process. The area is surrounded by books and pictures that she uses for inspiration.