What Is Lamellar Water in Hair Products?
Why Lamellar Water May Just Be Your Ticket to "Liquid" Hair
As POPSUGAR editors, we independently select and write about stuff we love and think you'll like too. If you buy a product we have recommended, we may receive affiliate commission, which in turn supports our work.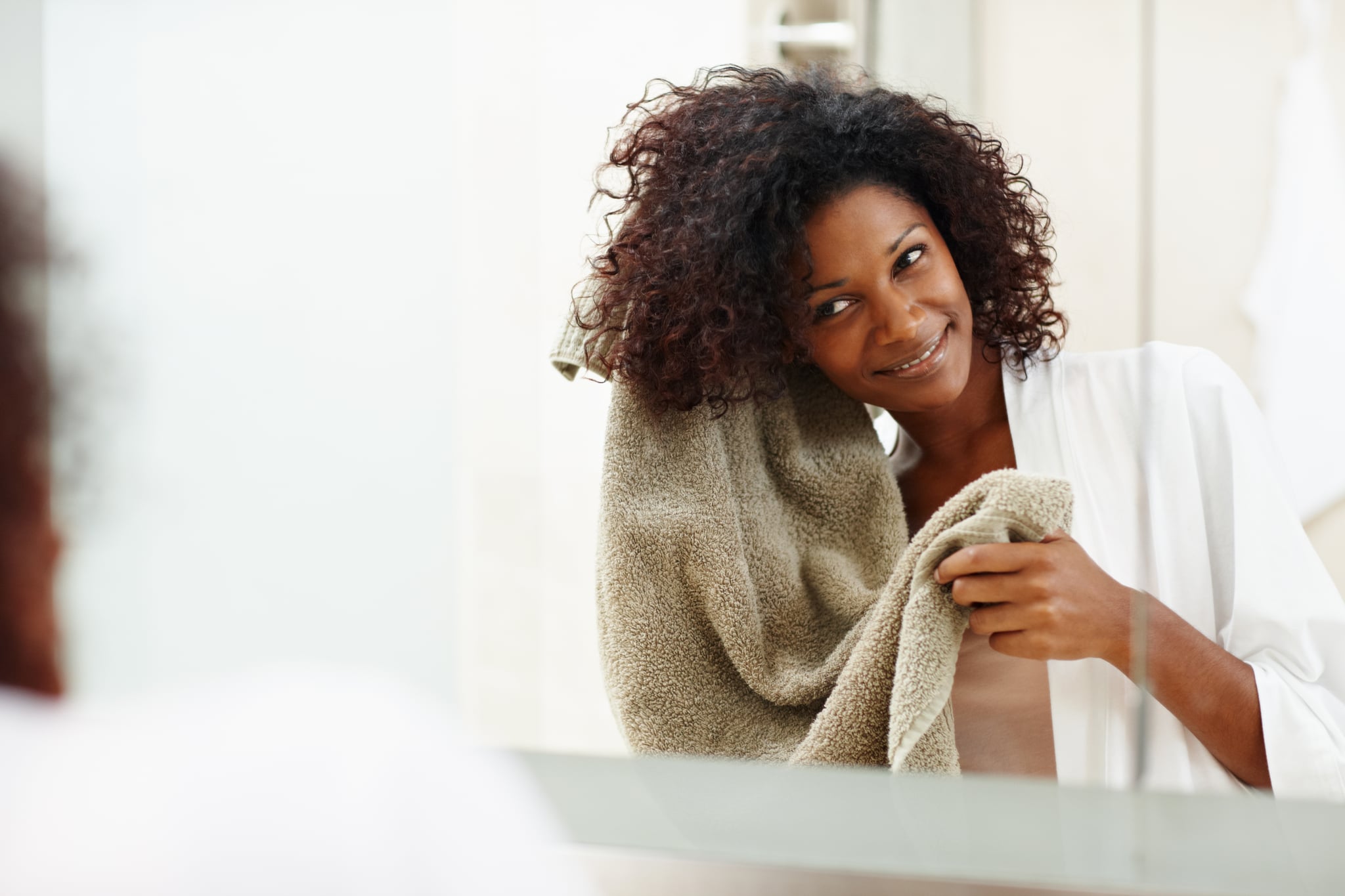 "Liquid hair" is everywhere right now: on red carpets, all over Instagram, and at the drugstore. This could be why products like the Garnier Sleek & Shine Glass Hair Water ($8) and the L'Oréal Paris Elvive Dream Lengths Wonder Water ($9) have become increasingly popular this last year, often being called "miracle water" by people who have tried the treatments. The reason why they are so effective is all thanks to something called lamellar water. But while everyone is downright obsessed with the products (and resulting look), no one really knows what on earth lamellar water actually is — except cosmetic chemists.
Hailed as the newest hair hero ingredient, we wanted to know exactly what makes the treatment so special. We asked cosmetic chemist Esther Olu to answer our burning questions about the technology and whether lamellar water lives up to the hype flooding our Instagram and TikTok feeds. Keep reading to find out.
What Is Lamellar Water?
Lamellar water is a rinse-out conditioning and repairing hair treatment patented by L'Oréal Paris — meaning they're the only beauty conglomerate with lamellar technology. And the technology was first introduced in 2019 by Kérastase (which is owned by L'Oréal) as an in-salon only treatment called K Water, which — just like the new L'Oréal Paris Wonder Water — promised to "repair hair fibers and give hair a glassy surface," making it an instant salon favorite.
Fast-forward to today: the technology was developed to be a safe and effective at-home treatment — making it more affordable and more accessible. The few lamellar water treatments out there right now include the aforementioned L'Oréal Paris Wonder Water and Garnier Sleek & Shine, as well as the Redken's Extreme Bleach Recovery Lamellar Water Treatment ($27), all of which have very similar technology but are targeted for slightly different hair concerns. "I really think that the difference is how they are marketed," Olu says. "Redken's formula might have added additional actives to treat bleached hair, but I am sure both would treat the hair in a very similar way."
How Does Lamellar Water Work?
"Lamellar water is a technology that targets the damaged areas of the hair by depositing concentrated active ingredients — such as amino acids and proteins — that are beneficial to repairing strands," says Olu. As you'd expect, lamellar water is super lightweight, just like the water that comes out of a tap.
This is what makes the treatment so special. "The hair actives are distributed in very thin layers, called lamellae, which allows them to be deposited onto the hair and penetrate the hair cuticle," Olu says. "Instead of coating the entire hair strand, lamellar water is designed to target the areas where it is needed and where the damage occurs."
"It's all about positive and negative charges," L'Oréal's UK&I senior scientific adviser Kerys Mullen says. "The lamellae is how the Wonder Water liquid is structured; it's structured with various layers. It works because it can pack conditioners into a smaller space, so a fine layer of conditioners are delivered to the hair shaft. The damaged areas are a different charge to the conditioner, and so [the conditioner is] attracted to the damaged areas and tackles these intensively."
How Is Lamellar Water Different From Conditioner?
You might be wondering if there's much difference between a lamellar water treatment and conditioners. The short answer is yes, the two are certainly different when it comes to the formulations. "The main differences between lamellar water and conditioners is that lamellar water targets the damaged parts of the hair, not the entire hair strand where the hair would be considered healthy and undamaged; typically at the roots," Olu says. By lamellar water coating only the damaged part of hair strands and providing active ingredients directly to those areas, it avoids weighing hair down by only targeting areas in need of extra TLC.
Conditioners, on the other hand, have a much thicker consistency to lamellar water. Because of this higher viscosity, in addition to the addition of ingredients such as silicones, traditional conditioners can sometimes overcoat hair, making it feel heavy or weighed down, Olu says. Lamellar water and traditional conditioning treatments are both technically still considered conditioners, but lamellar water is much lighter, making it an especially great option if you find traditional conditioners make your hair feel heavy, weighed down, or greasy.
Does Lamellar Water Work on All Hair Types?
L'Oréal Paris states that the lamellar wonder water works for all hair types: thin, thick, curly, and coily. "We tested Elvive Dream Lengths Wonder Water on all hair types, including Afro hair, and our results confirmed that it works on all hair types," says Mullen. "It's ideal for people who have dry, brittle, or damaged hair, which can occur from color treating, bleaching, over styling, or heat damage," Olu says.
How to Use Lamellar Water
Just like any traditional conditioner or mask, a lamellar water treatment should be applied onto the midlength and ends of your hair after shampooing. After waiting a few seconds, you just simply rinse out and you're all done. Since lamellar water is obviously water based, it doesn't have the creamy consistency that you're likely used to from a regular conditioner; however, it does lather very slightly.
There you have it. The fairly basic-looking lamellar water formula is actually incredibly hard-working and might just be your ticket to conditioned and repaired hair without weighing it down. What's more is that, as far as hair treatments go, the lamellar water treatments out there are pretty affordable. One more thing to note is the scent. The scent is strong, a really nice fruity smell, but if you're sensitive to fragrance in your products, this is a good thing to keep in mind.