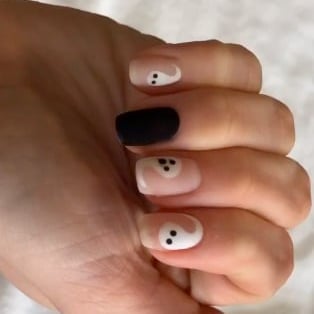 Tom Bachik is a celebrity manicurist and the mastermind behind the nail polish colors and designs you see on Jennifer Lopez, Hailee Steinfeld, and Selena Gomez (including her recent rhinestone french tips for the "Look At Her Now" music video). He is also the artist who is about to save you from trying to book a last-minute appointment for Halloween nail art.
Bachik posted a tutorial on how to DIY ghost-themed Halloween nails on his Instagram. The look features two black accent nails and ghost designs on what appears to be a sheer beige nail polish.
Bachik's hyperlapse revealed exactly how to get the look: after prepping your nails (by filing and laying down a base coat), sweep a black polish across your thumb and one accent nail. (Bachik chose the fingernail next to the pinky.) Then, using a detailing brush dipped in white polish, start your ghost along one side of your nail at its midpoint. Draw a round circle, then sweep a stripe from its center either along the cuticle or up the tip of the nail to create the ghost's tail.
Bachik alternated the direction the ghosts's tails faced, but choosing to paint the white polish along the tips of your nails actually creates a spooky spin of the classic French manicure, a look that's been popular among celebrities this year. Check out Bachik's nail tutorial, ahead.