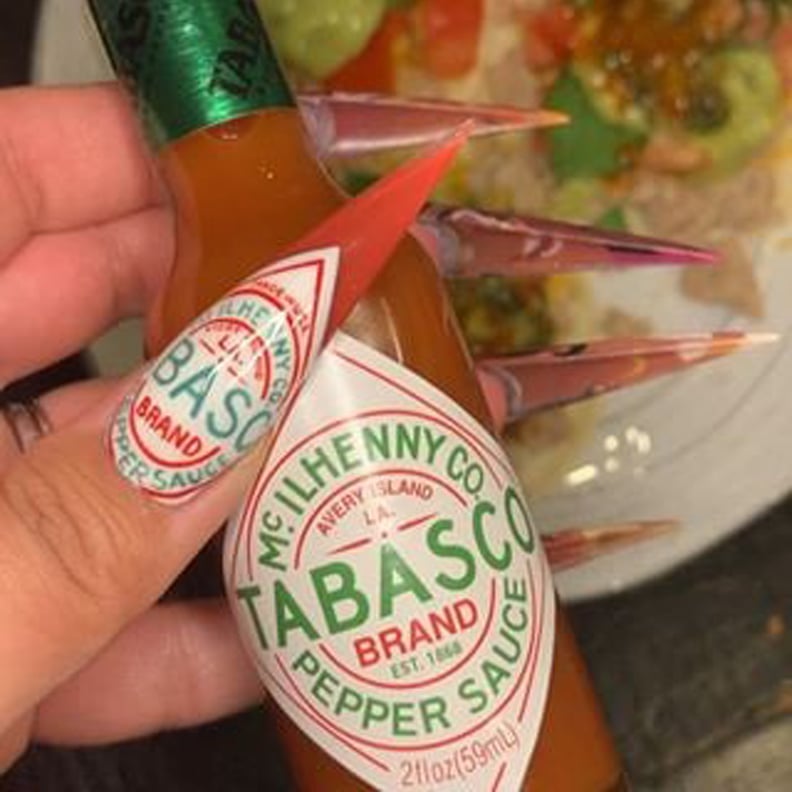 Love squeezing a bottle of Tabasco over most of your meals? Or maybe you'd rather spend a chunk of your time making additions to your BMW. Whatever brand it is that you're a big fan of, there is most likely a way to fit its logo across your nails at your next manicure.
Logo nail art is a simple way of showing your fandom of your favorite things. From the symbols that represent iconic fashion brands to your favorite fast-food restaurants, check out our picks for the most eye-catching logo manicures ahead.
Louis Vuitton Nails
These extralong nails are emblazoned with the famous Louis Vuitton pattern.
Chanel Nails
In this look, the iconic, interlocking "C" logo is drawn onto each nail.
Fendi Nails
Fendi fans, we've found the manicure for you.
Tabasco Nails
Fans of the spicy pepper sauce will love this Tabasco manicure.
Converse Nails
Show your love of your Converse sneakers on a few accent nails.
Gucci Nails
Have one of the most recognizable logos — with the most distinct colors — painted across your nails.
Pocky Nails
Whether you like Asian snacks or just have an affinity for logo nail art, you won't be able to stop staring at this one, which takes the logos of the chocolate- or strawberry-filled Hello Panda crackers and Pocky sticks.
Soda Nail Art
Maybe you like Pepsi, or maybe Coca-Cola is your go-to drink order. Whichever the case, this soda-inspired manicure will quench your thirst for a new nail look.
BMW Nails
Your friends will know how much you adore your BMW by just looking at your nails.
Corona Nail Art
This Corona nail art is as refreshing as the beer itself.
Fila Nails
This simple nail art is inspired by the Fila logo.
McDonald's Nail Art
We're lovin' this McDonald's-inspired logo nail look.
Google Nail Art
There's no doubt that Google's rainbow logo can create eye-catching nail looks.
Starbucks Nails
Now is your chance to match your next Starbucks order with your nails.
Honda Nail Art
This simple Honda manicure makes the huge statement that you love your car.