These Bath Bomb Tattoos Prove That Lush Is a Lifelong Obsession
As POPSUGAR editors, we independently select and write about stuff we love and think you'll like too. If you buy a product we have recommended, we may receive affiliate commission, which in turn supports our work.
Anyone who has tried one of Lush's effervescent, aromatic bath bombs knows how incredibly addictive they can be. Similarly, many people with tattoos report that after getting their first ink, they become preoccupied with acquiring more and more designs on their bodies. Now a group of Lush employees (known as Lushies!) in the Lancaster, PA, area are combining the two obsessions with magical results.
Lushie Brittney Minor and eight members of her "Lush family" all decided to permanently declare their love for their employer. "One shift, we were talking about how much the brand has had an impact on us," she explained. "I mentioned I wanted to get a tattoo to celebrate, and they all jumped at the idea." A tattoo artist friend of Brittney's, Shelby Golob of Blackthorn Gallery in Camp Hill, PA, agreed to ink them all.
The crew opted to get a wide range of Lush-themed masterpieces, including the brand's "fighting animal testing" symbol, sprigs of lavender, and, of course, bath bombs. Brittney shared the finished works in one of Lush's private Facebook groups and received major support from other employees. "I was overwhelmed by the 'likes' and comments from Lushies across North America saying how they now want to get Lush tattoos, too," she said.
Not only are we dying to get an inside look at that private Lush group, but we're pretty positive that this group of nine Lushies aren't the first to get tattoos inspired by the brand — and we want to see them all! Read on to see all the awesome ink, but don't be surprised if it inspires a Lush shopping spree, inking sesh, or both.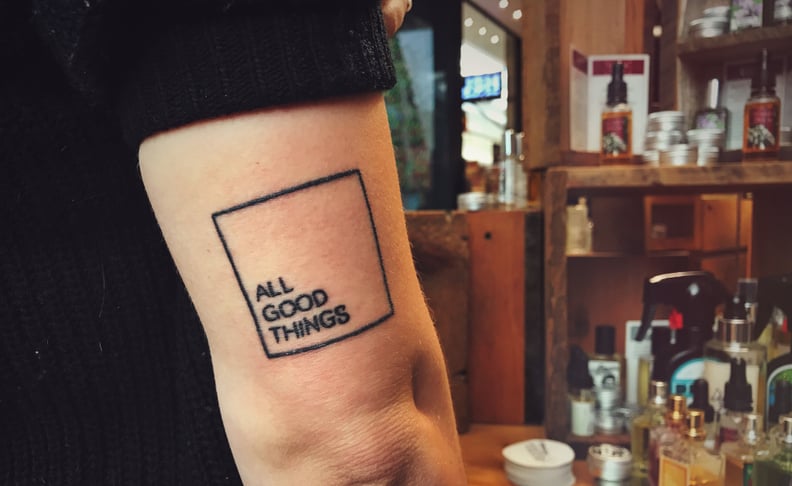 All Good Things Tattoo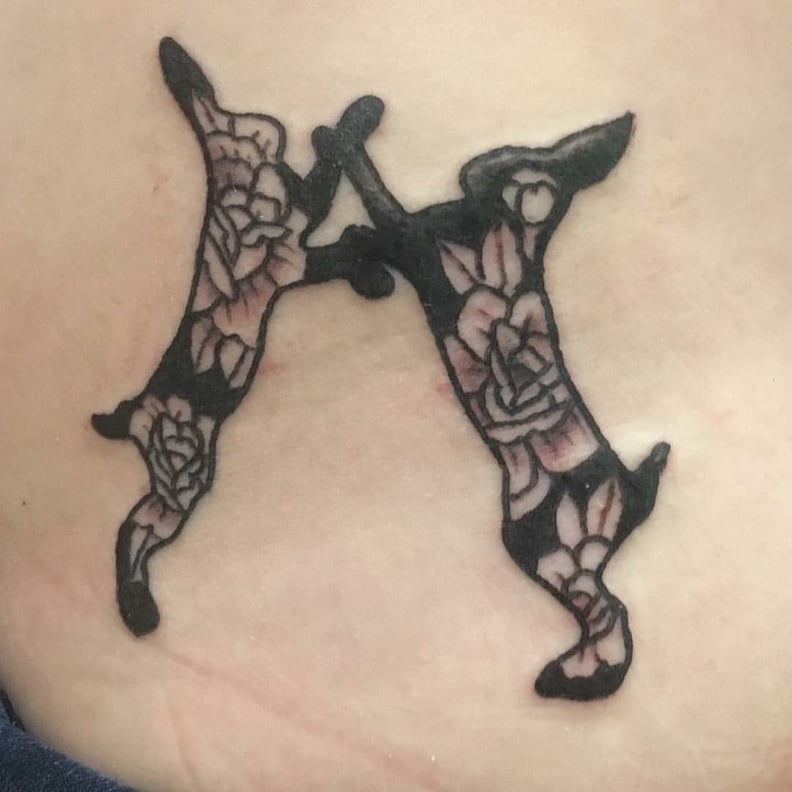 Fighting Animal Testing Tattoo
In a clever take on the Leaping Bunny symbol, this ink refers to Lush's strong stance on cruelty-free beauty. You can get a less permanent form of this image on these cotton tote bags ($13).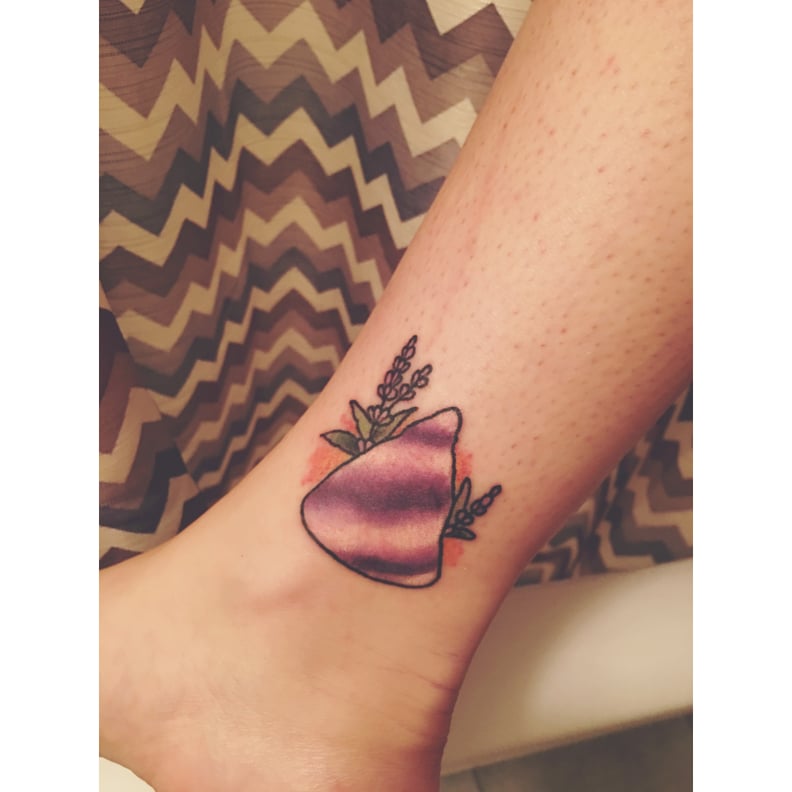 French Kiss Bubble Bar Tattoo
The popular product that inspired this image is the French Kiss Bubble Bar ($9), which infuses a lavender aroma and purple suds into your bathwater.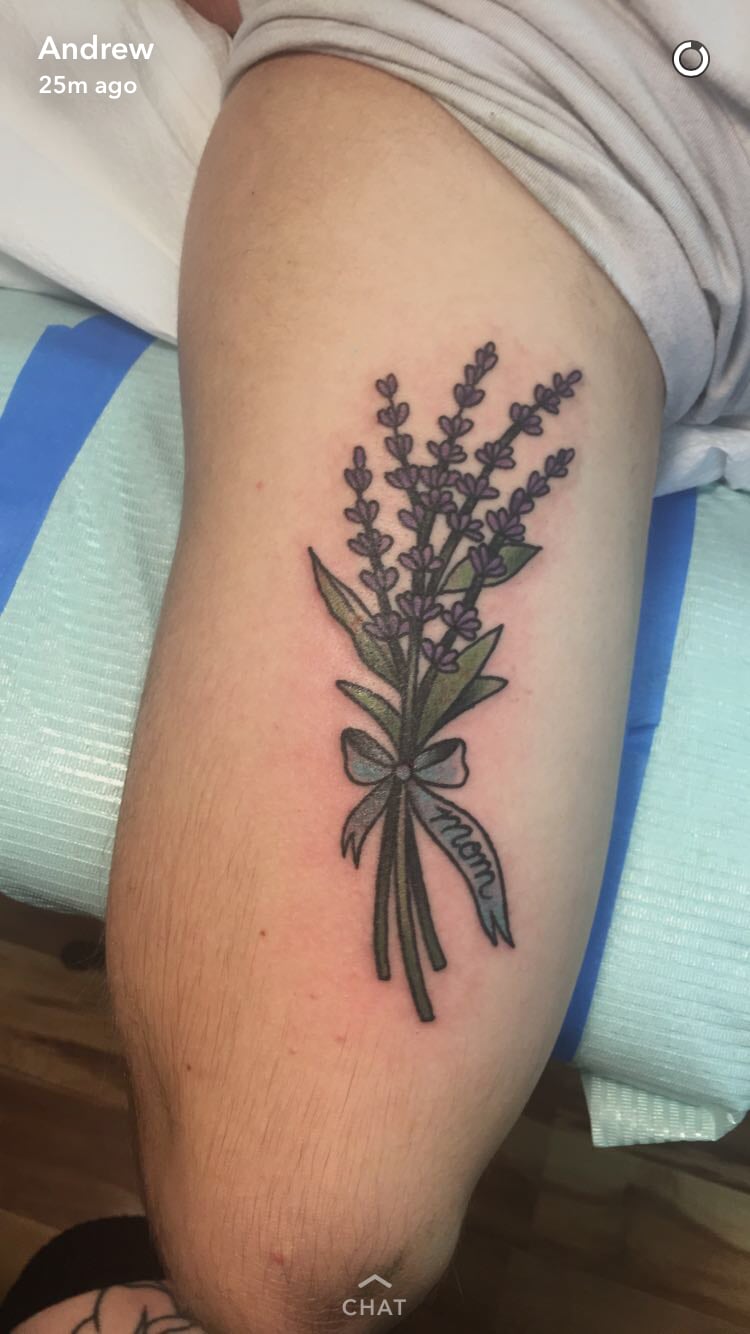 Sprigs of Lavender Tattoo
Lavender is a frequently used ingredient in Lush formulas, including face masks, bath bombs, and more.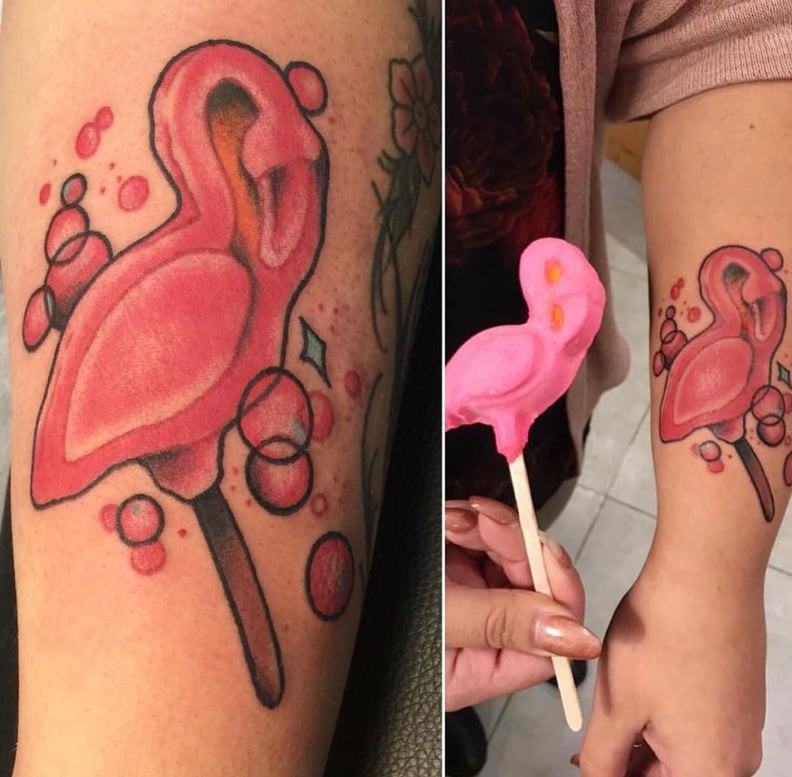 Pink Flamingo Reusable Bubble Bar Tattoo
This tattoo's inspiration (which is posed next to it in that second image!) is the Pink Flamingo Reusable Bubble Bar ($9). It adds loads of bubbles and skin-smoothing cocoa butter into your bathwater.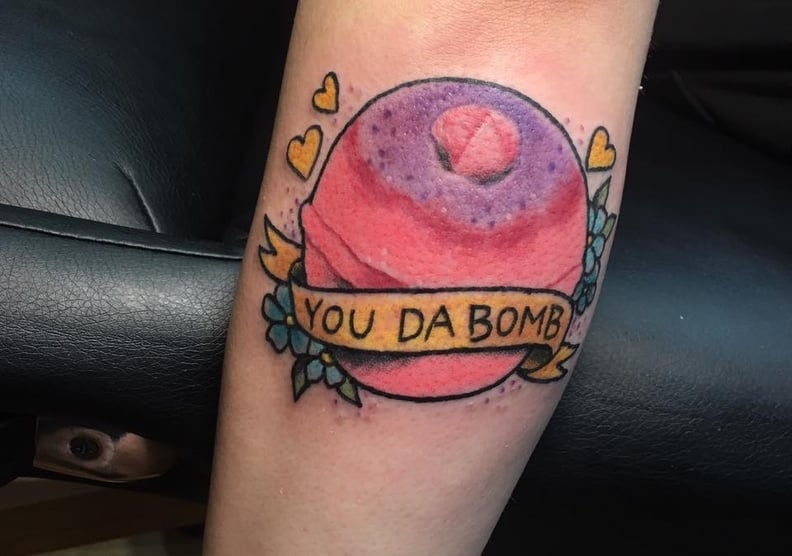 Sex Bomb Bath Bomb Tattoo
The Sex Bomb Bath Bomb ($8) is characterized by the peekaboo rosebud at its crown. It's packed with the seductive aromas of jasmine and ylang-ylang.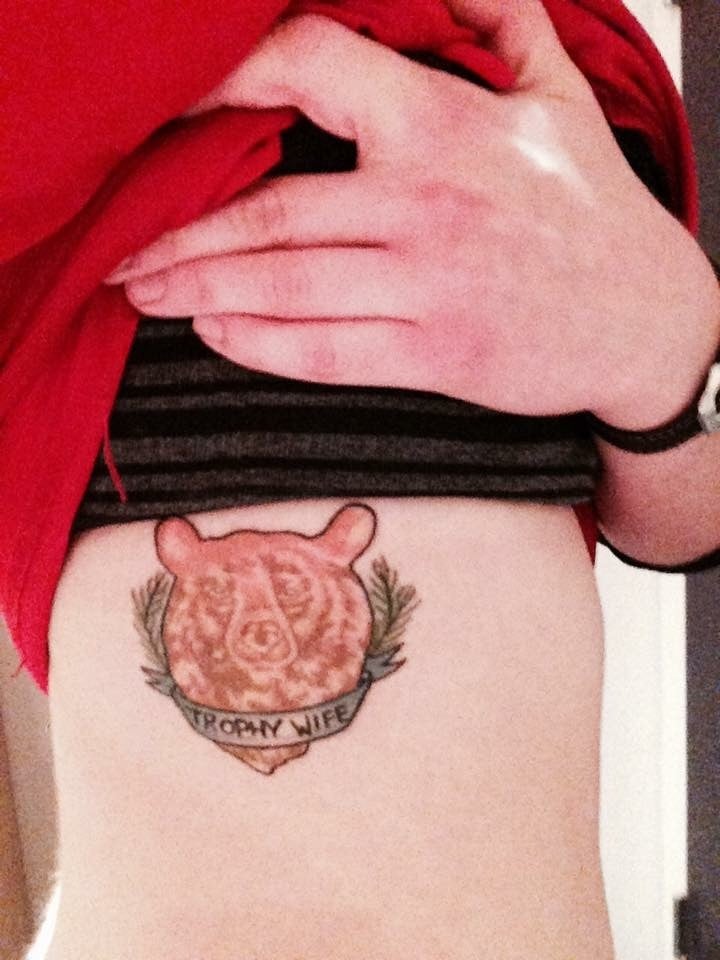 Trophy Tattoo
This body art was inspired by Lush's first documentary, Trophy, which spotlights the disheartening practice of hunting grizzly bears for sport.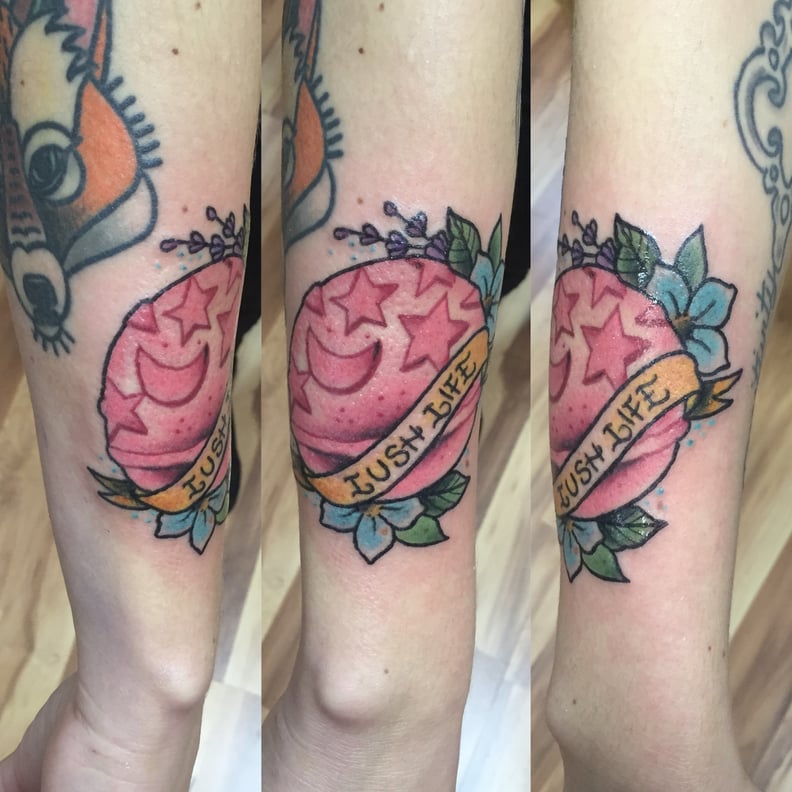 Twilight Bath Bomb Tattoo
Longtime fans of the brand will instantly recognize the Twilight Bath Bomb ($7) seen here, which is embossed with moons and stars and is designed to help you fall asleep.
Vegan Symbol Tattoo
Lush's formulas are approximately 80 percent vegan . . .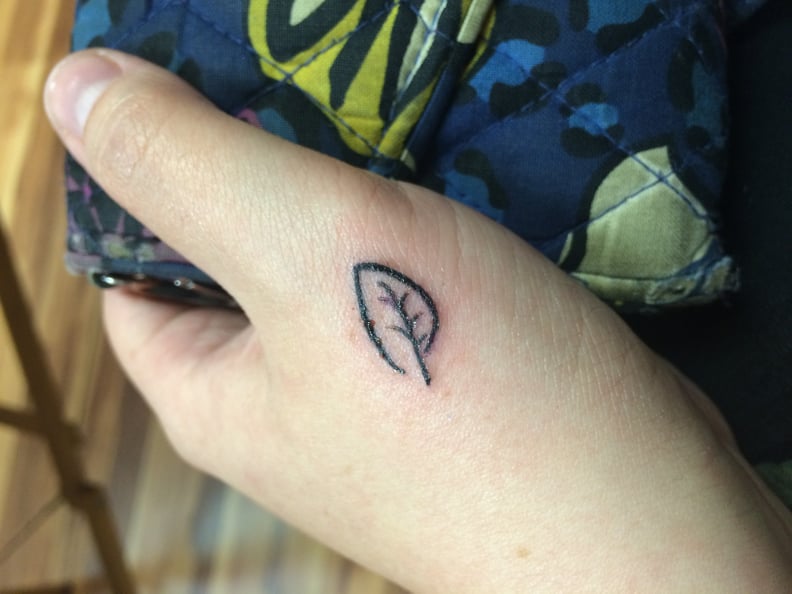 Vegetarian Symbol Tattoo
. . . and 100 percent vegetarian.