Ma Rainey's Black Bottom Hair and Makeup Interview
The Characters in Ma Rainey's Black Bottom Looked Anything but Glamorous — and That Was the Point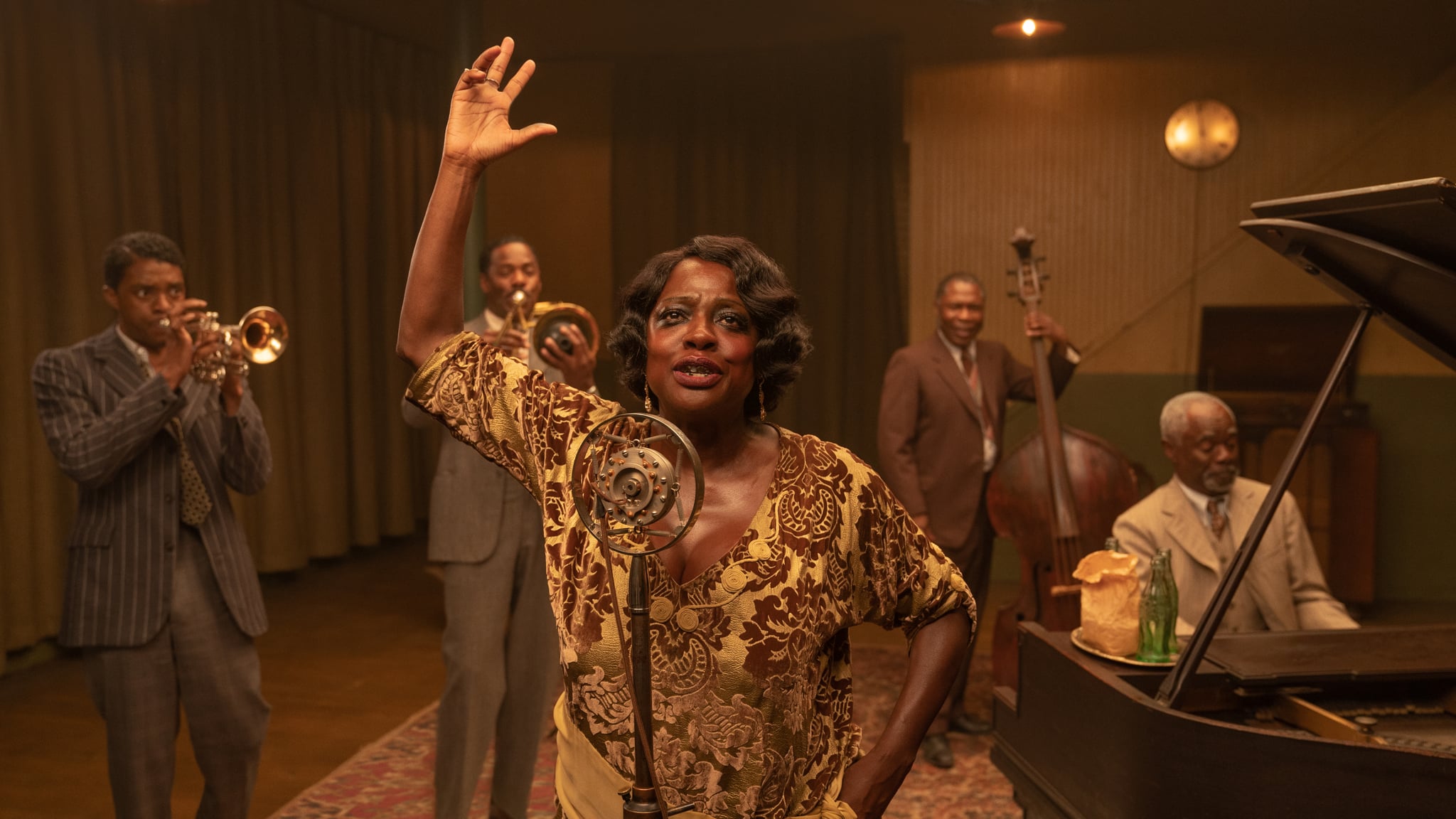 Viola Davis is nearly unrecognizable as the title character in Netflix's Ma Rainey's Black Bottom. Her super-thin, doll-like eyebrows, smudged black eyeliner, and slick complexion in the 1920s-inspired film may come off as jarring in comparison to the glamour normally associated with the era, but according to the film's hair and makeup team, Davis's transformation into the blues icon wasn't meant to be glamorous.
"The overriding detail we were faced with was to not over-glamorize the characters," Matiki Anoff, the film's makeup department head, told POPSUGAR. "So often in period films everyone looks fabulous. Every woman has the era's stereotypical look: arched brows and a red lip. This was 1927 Chicago in the heart of the Great Migration, still extremely hard times for Black [people], and we wanted to honor that throughout."
This meant creating looks for the characters that were as realistic as possible. At the time, most makeup and cosmetics were marketed and designed for white women, meaning that Black women had to improvise and create their own products using items in their households. "They often used coal dust mixed with lard to create the smudge eye effect and burnt cork to create a wax for their brows," Anoff explained. "Bright red rouge was accessible if you could afford it, but crushed berries mixed with lard or grease made for a great lipstick and blush."
While all of the products used to transform Davis into Ma Rainey are those that can be found in beauty stores today, they were applied in a way that mimicked the beauty trends that were popular at the time.
"It's the intention of the application and the choosing of textures and pigments that give the artist the freedom to replicate a period-accurate makeup," Davis's makeup artist, Sergio Lopez-Rivera, said. To ensure the most accurate depiction of the times, even more extreme requests were made: "I decided that [Viola] would shave her own eyebrows only to replace them with the doll-like, pencil-thin arches that were seen in magazines and movies of the time."
Along with her perfectly imperfect makeup, the team also brought the artist to life onscreen by building Davis a custom wig made out of — brace yourselves — a manure-covered, lice-infested bundle of horse hair, a task that hair department head Mia Neal claimed was one of the most challenging of her career so far.
"The mane of hair showed up in its natural state, tied from top to bottom and cut right off the horse, covered with [inactive] lice and manure," she said. "The hairs were so coarse and thick that I could only tie one hair through the lace at a time, or I'd rip it, so the entire wig is single strand."
Neal also had to boil the wig several times to clean it before placing it under a dryer so that the curls could set in place. "I realized why Ma Rainey wore horse hair wigs: they never lose their set," she added. "It's like today's synthetic wigs."
In case you're in for a lesson in making make magic out of manure, you can watch Ma Rainey's Black Bottom now on Netflix.
Image Source: Netflix / David Lee