From "Candy" to This Is Us, Mandy Moore's Beauty Evolution In Her Own Words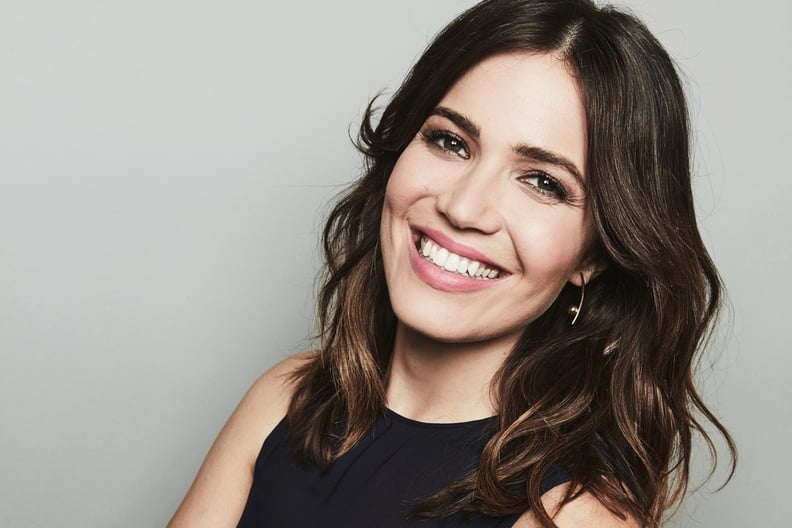 From the very moment her lip-glossed pout in "Candy" hit TRL in 1999, Mandy Moore has served endless beauty inspiration. Her range of looks are as varied as her roles, which run the gamut from a popular mean girl in The Princess Diaries to a cancer-stricken teen in A Walk to Remember to her most recent, a mother raising triplets on the Emmy-winning drama This Is Us. The singer-actress has truly done it all and, after 18 years in the spotlight, that definitely applies to hair and makeup history, too. She's been every imaginable hair color from pop star blonde to redhead: rocking a pixie cut, wearing intense lavender eye shadow, sporting orange and fuchsia lipsticks, and having a brow transformation any victim of '90s-era pencil thin arches would be inspired by.
We caught up with the star before the highly anticipated second season of This Is Us premieres, on Sept. 26, to chat about her red carpet beauty evolution, the one "unfortunate" hairstyle she will never do again, and how playing a 66-year-old on her show made her realize "aging doesn't scare me at all." Keep reading!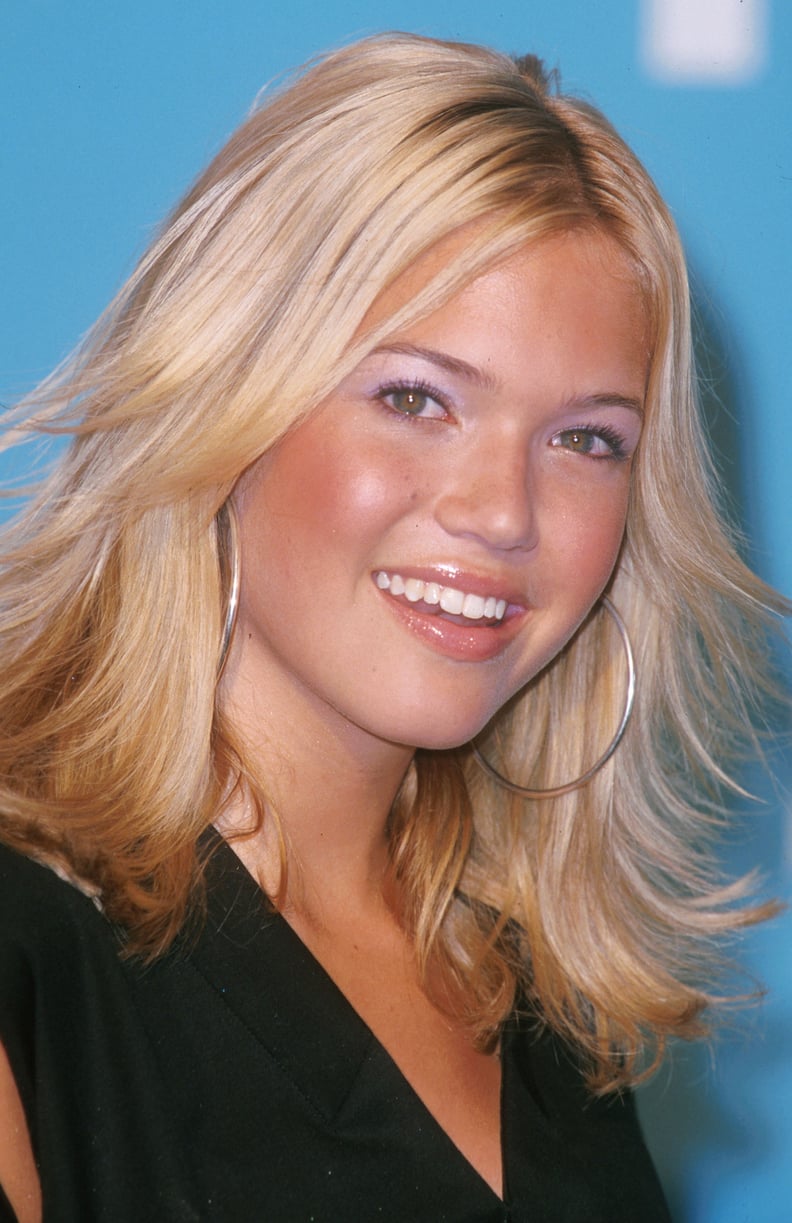 POPSUGAR: We loved your look at the recent Emmys, but we have to know: are there any red carpet beauty looks you regret?
Mandy Moore: Definitely stuff [from] when I was younger. You know, back in the days of bubblegum lip gloss and pastel eye shadows. I regret the hair way more than the makeup. Because I was a kid, it's not like I piled on the makeup by any means. There was definitely some dated hair that was no good. I look at anything [from] when I'm a blonde, and I shudder a little bit to myself. I know it's not terrible, and it was very of-the-moment, but it's so not me. It seems so like a completely different person.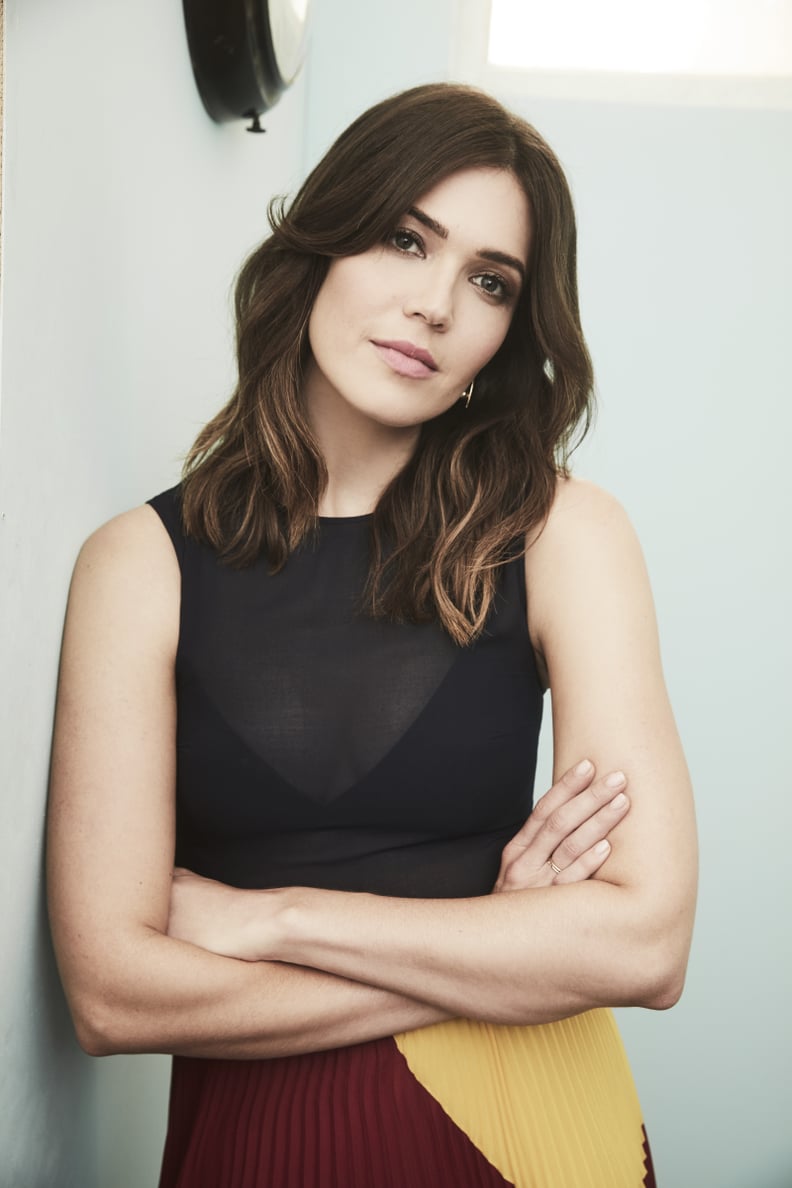 PS: Along with blonde, you've also been a redhead. Now you've got a chocolate shade. Which is your favorite?
MM: I definitely feel like where I am right now feels the most like me. It's a little darker than I think my natural hair color is. It's a bit warmer. I tend to be a bit ashier. [This is] the one that requires the least maintenance. And, at this point in my life, that's what I'm grateful for.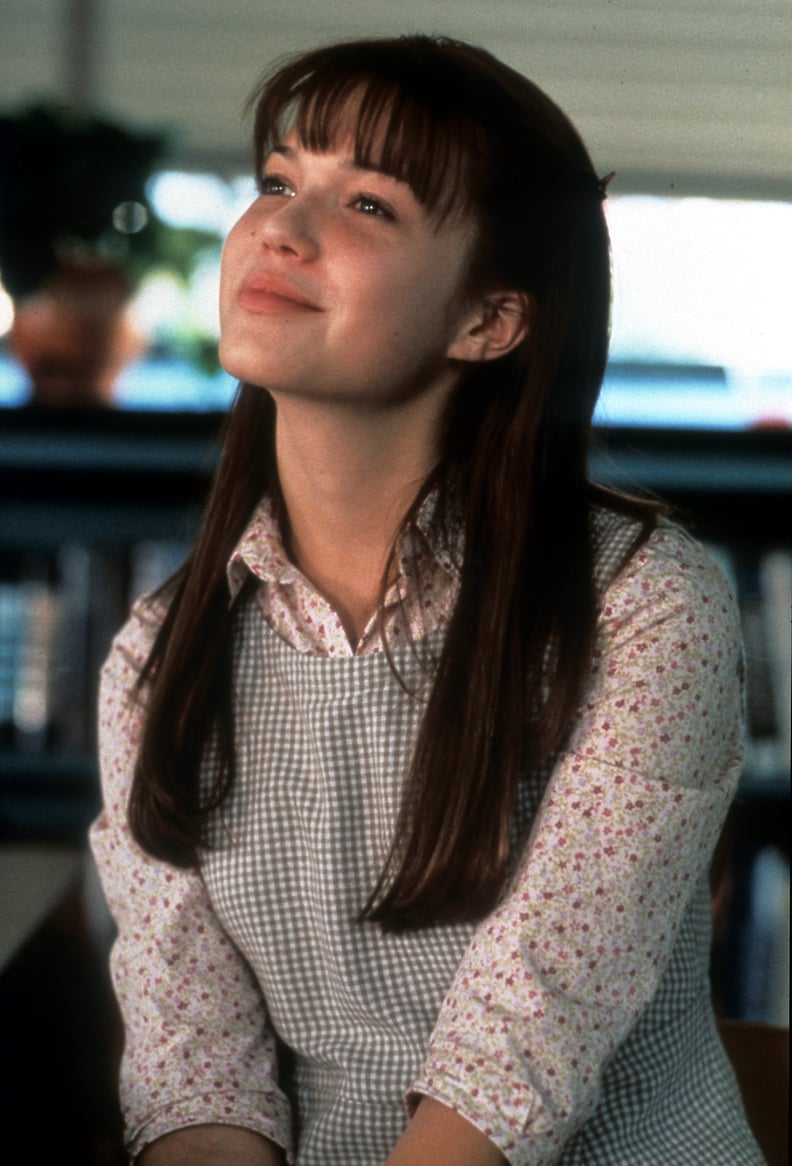 PS: You've said before that filming A Walk to Remember is when you decided you liked being brunette. But, can we talk about those iconic "Jamie" bangs?
MM: I have told my close friends and my boyfriend if I ever talk about cutting bangs again to pull me aside and remind me [not to]. Because, anytime I cut bangs, it's that immediate sense of, "Cool! I'm already growing my bangs out again." So that's what I think of when I look at those bangs. They're pretty unfortunate, and they were really hard to grow out — as all bangs are! There was that awkward [phase], the barrette, and twisting your hair . . .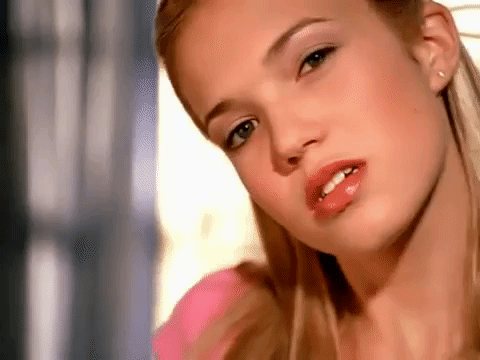 PS: Speaking of throwback beauty looks, lip gloss is back in a big way. It totally reminds us of your "Candy" music video — what do you think of the trend?
MM: For the younger generation, it's probably totally applicable. But for me, it's just ugh. All I think about is how sticky it is. And how my hair gets stuck in it. And how it drags across my face. It's too much maintenance for me. I'm about keeping it as low-key as possible. So, I don't think I'll be jumping on the lip gloss band wagon.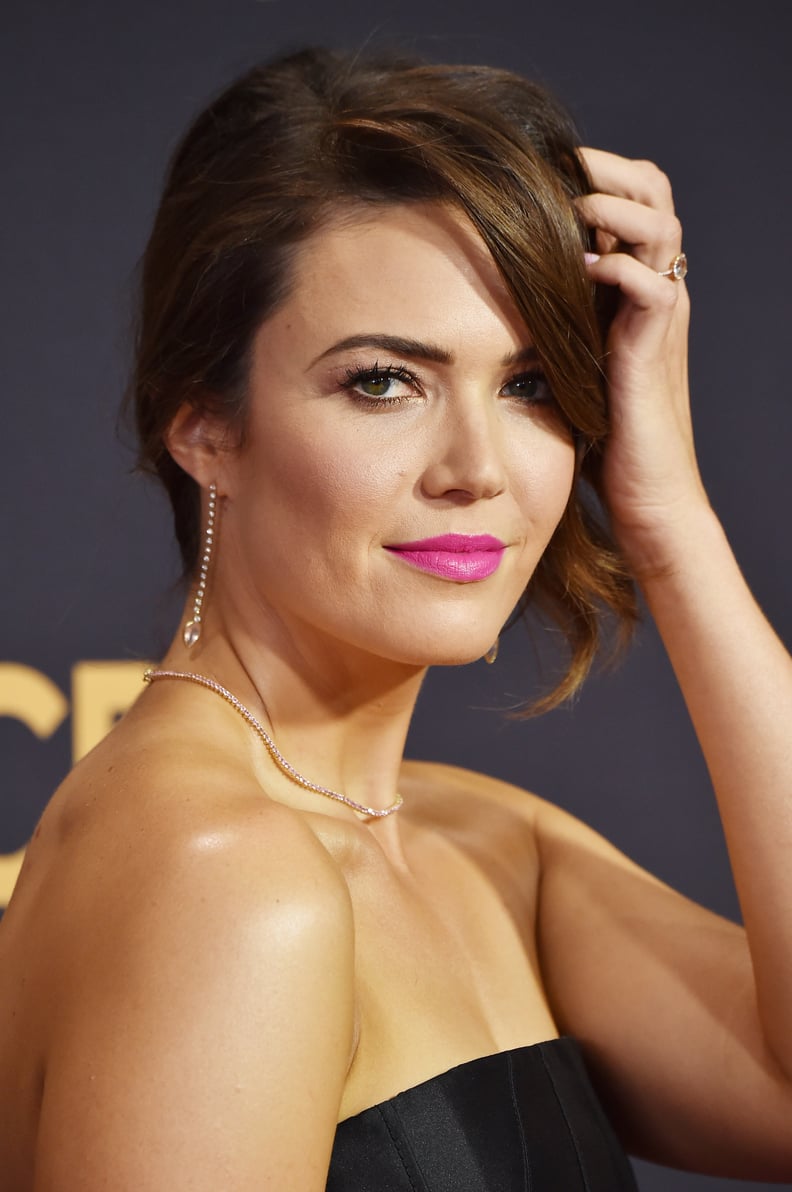 PS: These days, bright lipstick seems to be your beauty signature. Any tips for finding the right shade?
MM: I don't know if I have tips for the right shade . . . It's just whatever makes you feel good! I'm sure there are plenty of times when I don't gravitate toward the proper shade for my skin tone or what looks good with my eyes or my hair. But, it's what makes me feel great. It makes me feel put together. Sexy. Whatever you're going for, you can't fail with that philosophy. That's my rule of thumb. Whatever you put on and you go "Yup, that's exactly what I'm going for," you can't go wrong.
PS: Along with statement lips, are you a bold nails kind of girl? Any favorite shades for Fall?
MM: Oh gosh, that is a tough one because I don't tend to experiment because of work — I have to keep it pretty neutral. But, there is a Essie Gel Couture color that I love called At the Barre ($12), which is a really good neutral nude, but it's got a little bit more coverage than sheer Ballet Slippers ($9). Love, love that. That's one of my favorites.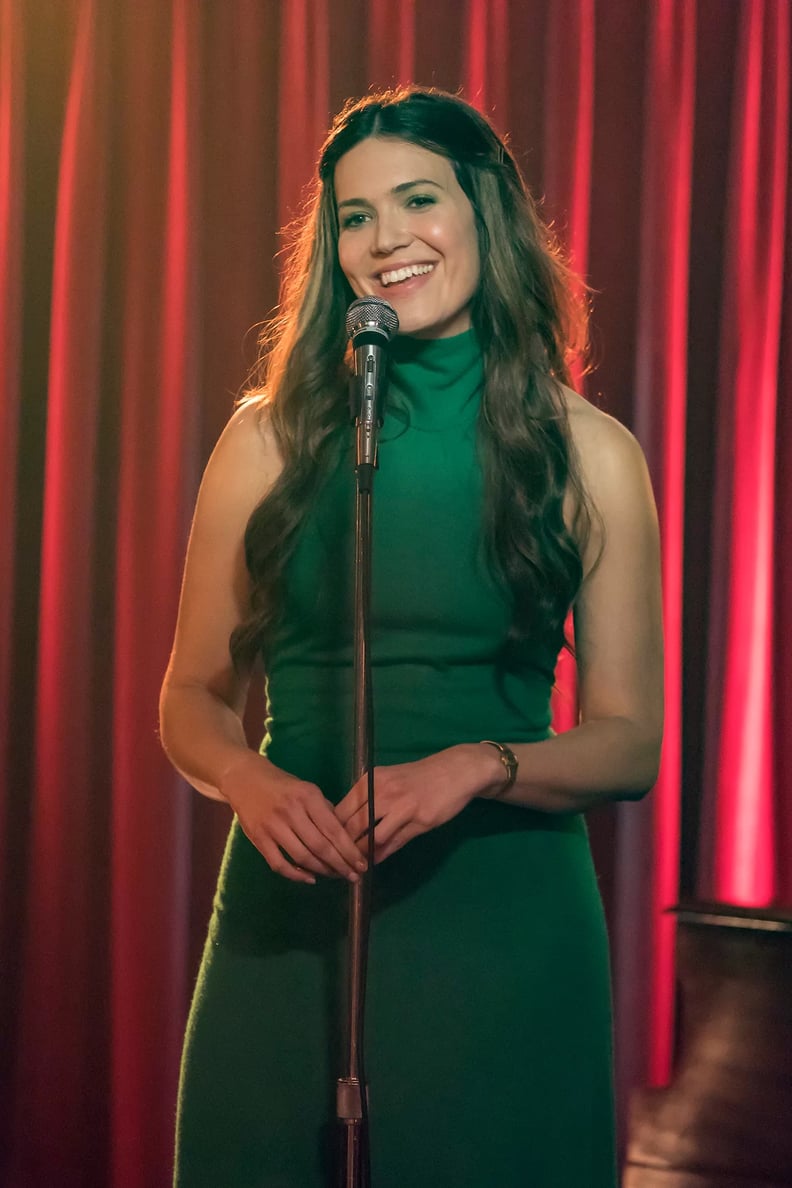 PS: On This Is Us, we see your character Rebecca through so many different decades. Which is your favorite era beauty-wise?
MM: I have a little bit of fun with everything, because they're all pretty distinct. We definitely have different palettes for the '70s, the '80s, the '90s, and present day. I would say the most fun is the '70s. Obviously, [my character is the] youngest then so they make me look as youthful as possible, which is always nice. The '80s, I sort of get to be myself —— without concealer. But, I love the colors. The purples and pinks and the more berry tones. In the '70s, there's a lot of green eye shadow and yellows and burnt oranges and rust kind of colors and that's fun, because it's really different from how I dress in my day-to-day life. The '90s are more on the nose of what's happening in makeup today — maybe a bit more lip liner, but I also have to be aged to look older. It just takes more time to get it off. Anything that requires me to be in aged makeup I'm less inclined to love.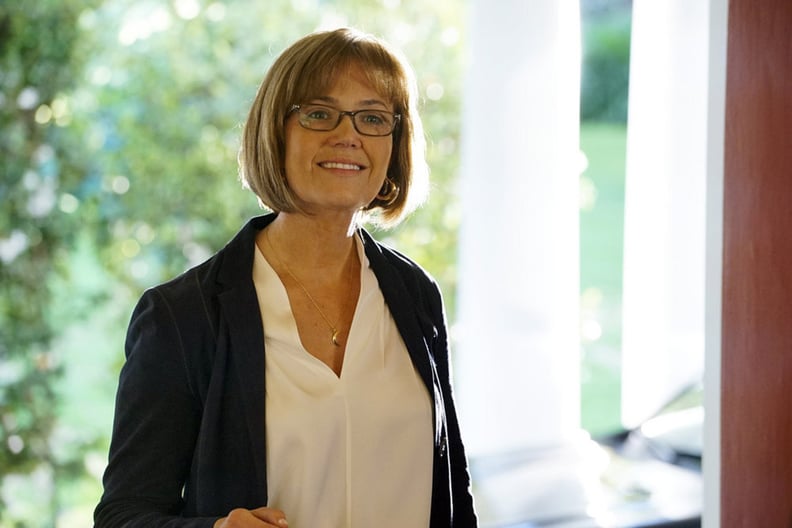 PS: You once posted behind-the-scenes videos of what the process of making you look elderly for This Is Us is really like. How did you feel when you first saw your "older" self?
MM: I loved it. I thought it was unbelievable, the job that they did because it feels like me, if maybe, just a glimpse into the future if I took care of myself well. Clearly, Rebecca is very hydrated and takes impeccable care of her skin, because I think she looks very good for her age! I loved it. Aging doesn't scare me at all. I'm embracing all of that and everything that comes along with it. I loved looking at myself in the mirror and thinking, "If this is any indication of what I'm going to look like when I'm 66, I'll take it."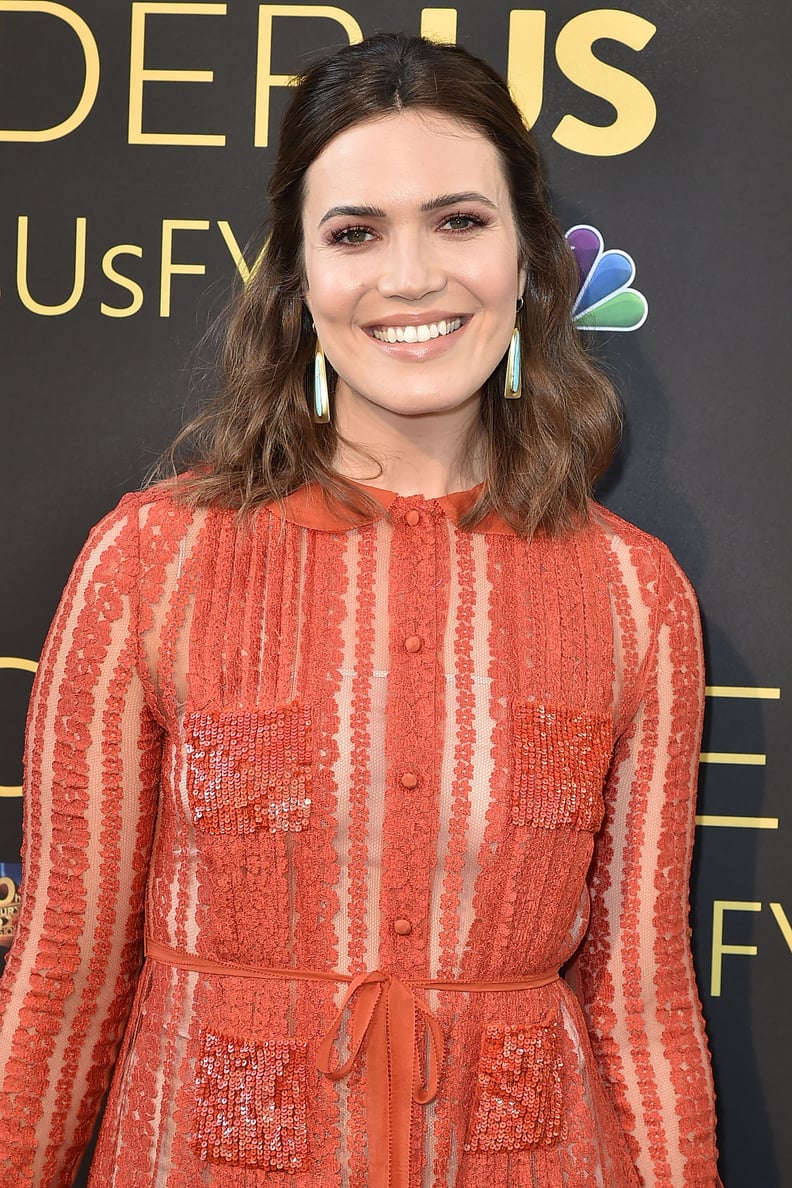 PS: How would you say your approach to beauty has evolved through your years in the spotlight?
MM: I think I have a bit more fun now than I used to. I used to hem and haw about getting ready for events because it felt so serious, in a way: "Well, this is my one and only shot! Such and such award show or premiere, or fancy event, and I have one time and one time only to get it 'right.'" I kind of just relied on my spontaneity, which is fine. But, now I think there's a lot more of collaborative spirit around it. With the girls that I get to work with all the time — [makeup artist] Jenn [Streicher], [hairstylist] Ashley [Streicher], and [stylist] Erica [Cloud] — we have fun with it and don't take it too seriously, but we are prepared. We definitely all want to have a say at what the approach should be. And, I think we can have so much more fun. [At the Emmys] we totally just had a little party and celebration as we were getting ready because we knew what we were doing, and were just enjoying the moment. We had, like, a charcuterie plate, and cheese and wine — that's important! — food and snacks are a requirement at this point.