Each Tiny Tattoo In Megan Rapinoe's Collection Has a Special Meaning
As you watch Megan Rapinoe compete in the 2021 Tokyo Olympics alongside her teammates, you might have spotted a few tiny tattoos scattered across the famous soccer player's arms. The U.S. women's national soccer team captain has a small but mighty collection of meaningful body art that she's been building for years.
All of Rapinoe's tattoos are very simple and use only black ink. Some of them are of designs, like the outline of California on her bicep or the lightening bolt on her wrist, while others are of impactful words and phrases. She has a few for her family, including her mom and her fiancée Sue Bird. In an interview for her June/July 2021 Harpers Bazaar cover, Rapinoe explained she added on to her body art collection as recently as last year and is itching to get more.
Get a closer look at Rapinoe's eight meaningful tattoos ahead.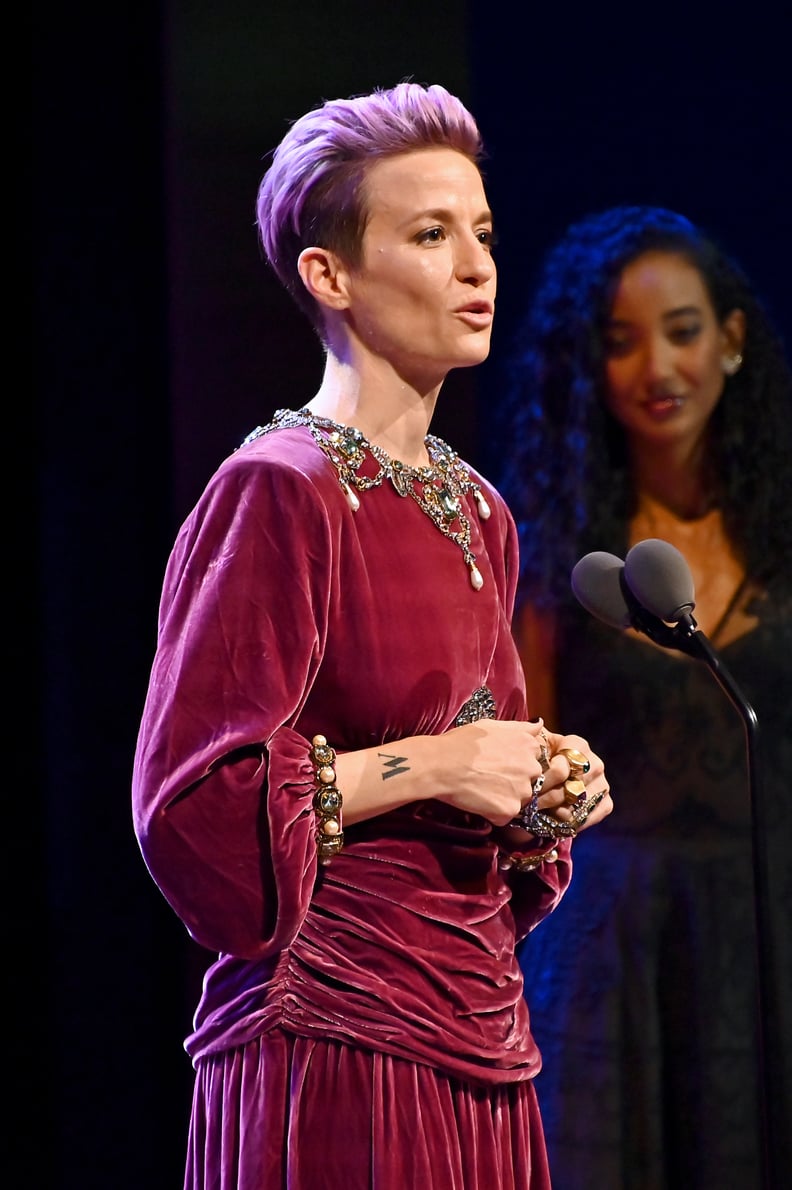 Megan Rapinoe's "W" Tattoo
Possibly Rapinoe's most easily spotted tattoo is the large "W" on her right wrist. Her sister, Jennifer Brooks, told Harpers Bazaar, "The line of the women in our family, we're warriors. That 'W' on her wrist is for 'Warrior Woman.' We're just driven, and Megan has always been overdriven."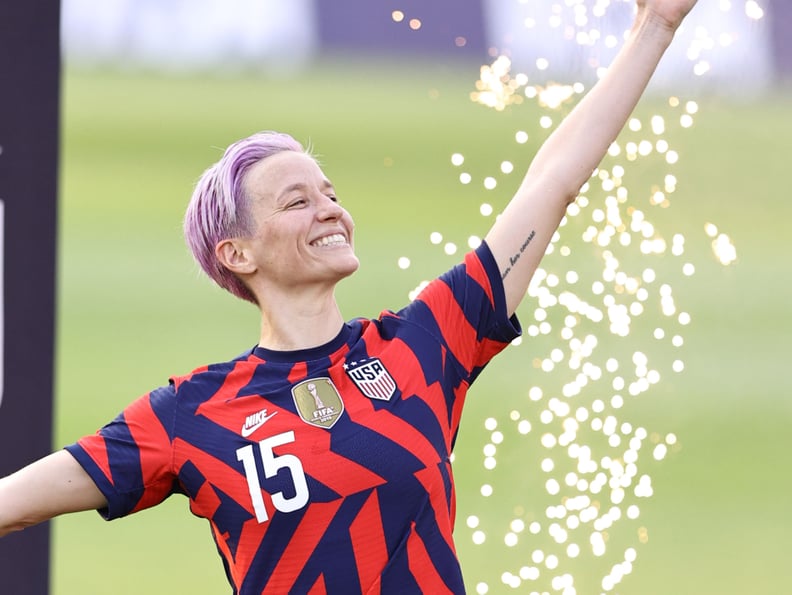 Megan Rapinoe's "Nature Ran Her Course" Tattoo
On the inside of Rapinoe's left bicep is the phrase, "Nature ran her course." The empowering quote is not easy to spot, but you can occasionally get a glimpse when she lifts her arms.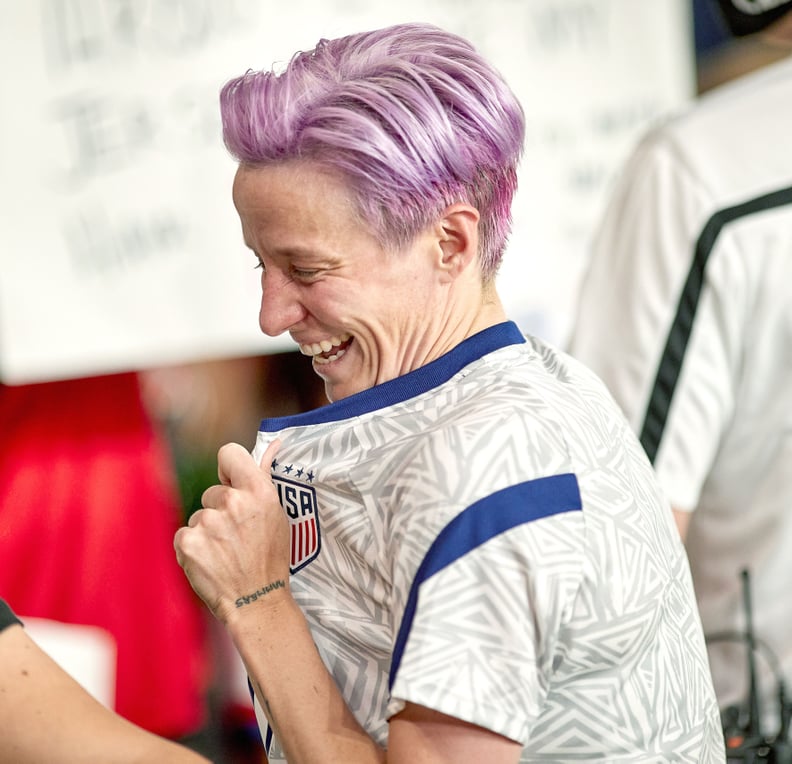 Megan Rapinoe's "Mammers" Tattoo
In the Harpers Bazaar interview, Rapinoe explained she has the word "Mammers," which is short for her mother's nickname, "Mammer Jammers," tattooed on the outside of her left wrist. "And it's in Sue's handwriting, so that's kind of special too," she said.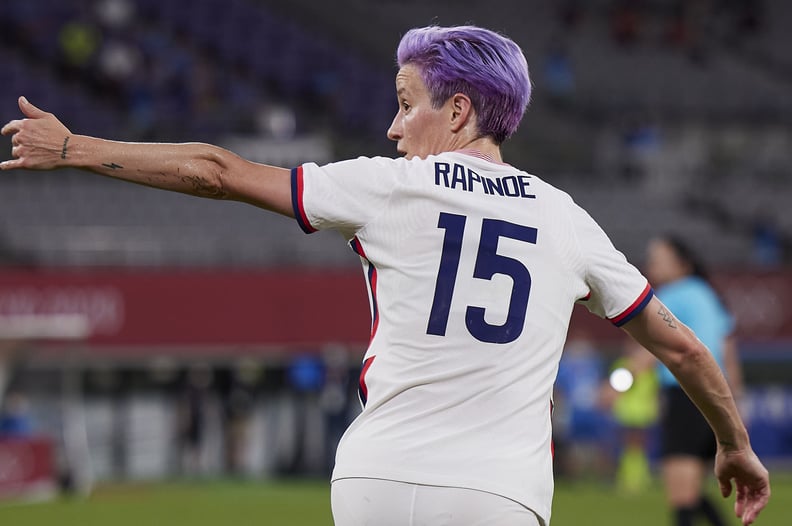 Megan Rapinoe's Three Triangle Tattoos
On the back of Rapinoe's right arm are three interconnected triangles. She's never disclosed the design's exact meaning.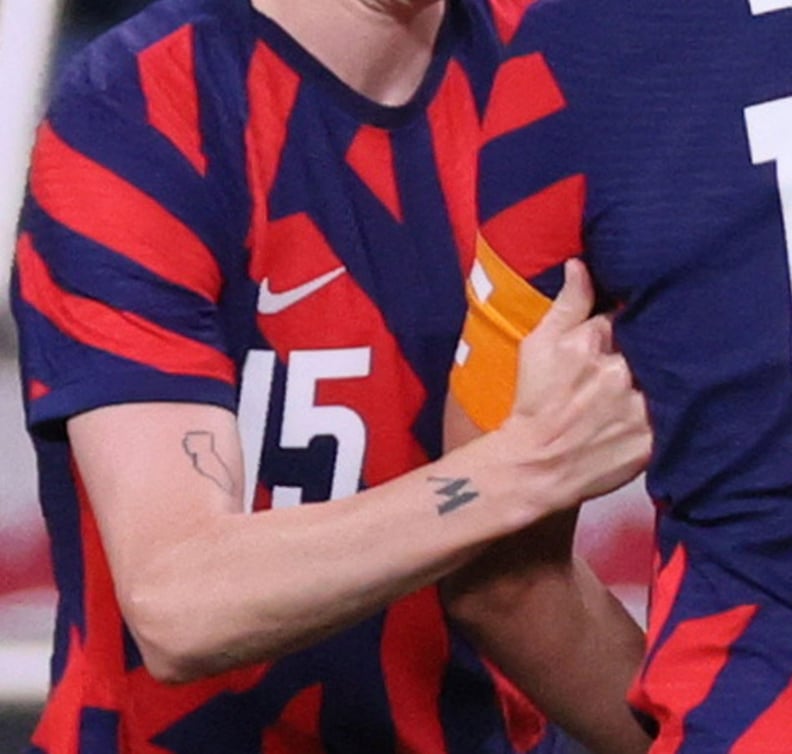 Megan Rapinoe's California Tattoo
The outline of California can be spotted on Rapinoe's right bicep. The tattoo represents her hometown of Redding, CA.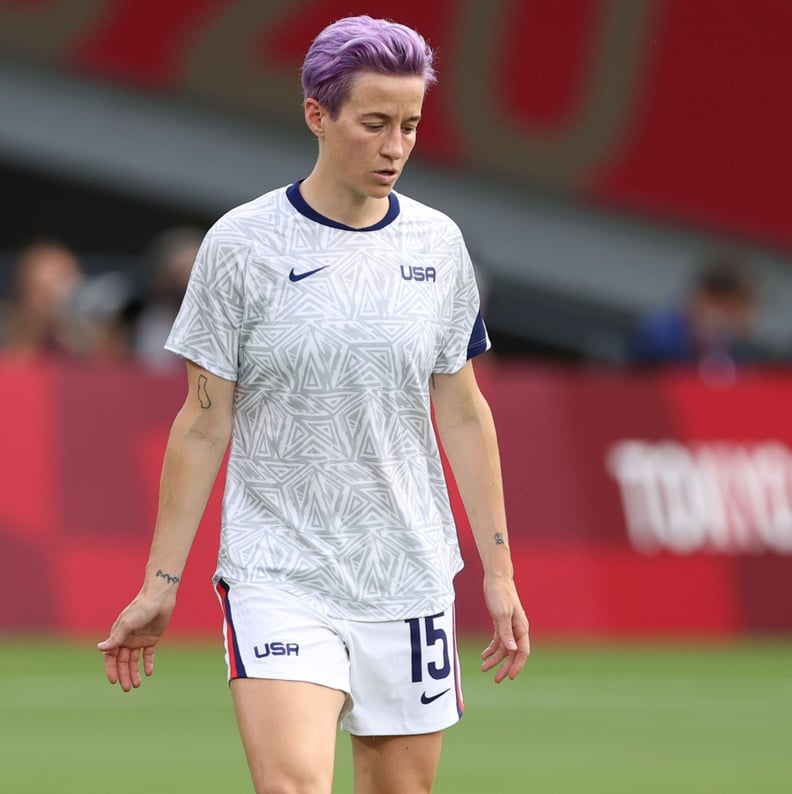 Megan Rapinoe's Left Wrist Tattoo
On Rapinoe's left wrist is a small design in all-black ink. It's hard to make out what it is in photos, and she hasn't shared its meaning yet.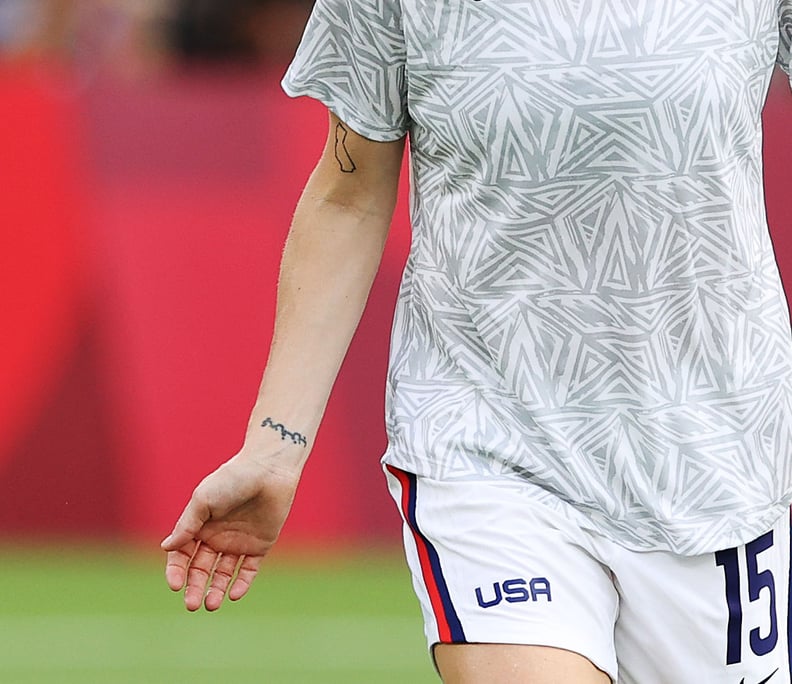 Megan Rapinoe's Arabic Wrist Tattoo
On the inside of Rapinoe's right wrist is a word written in Arabic. It reads, "Trust yourself."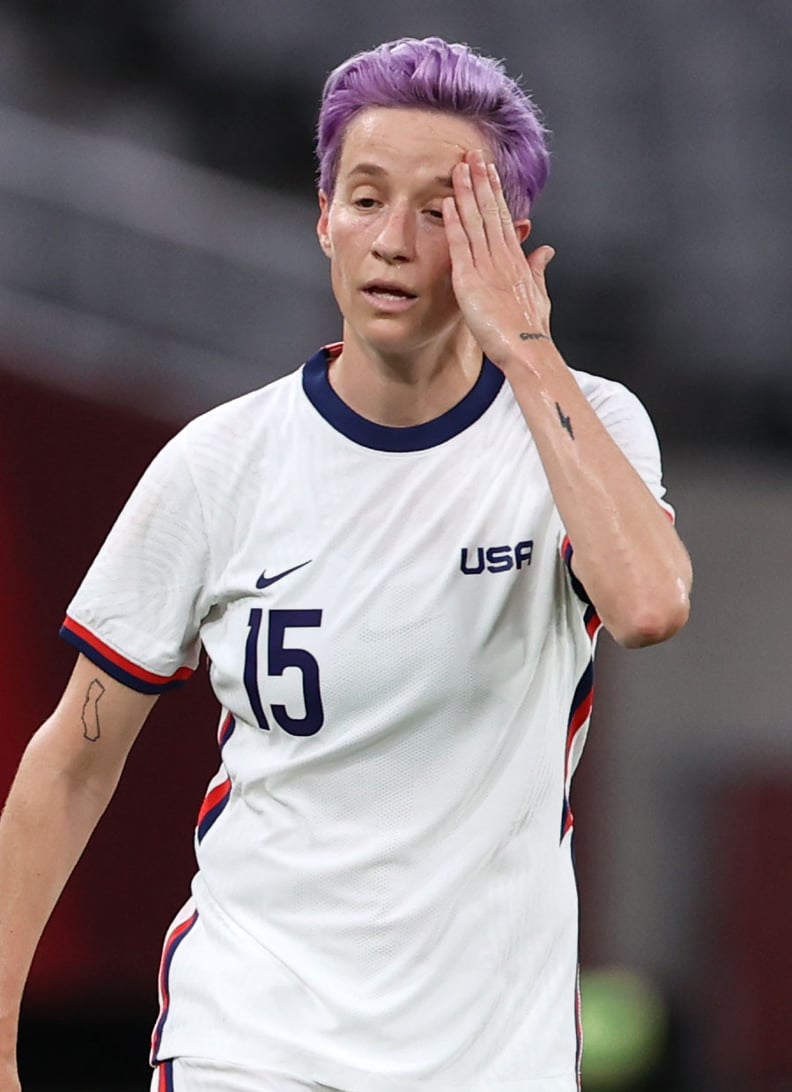 Megan Rapinoe's Lightning Bolt Tattoo
Rapinoe has a solid black-ink lightning bolt tattoo on her left forearm. She's never shared its meaning.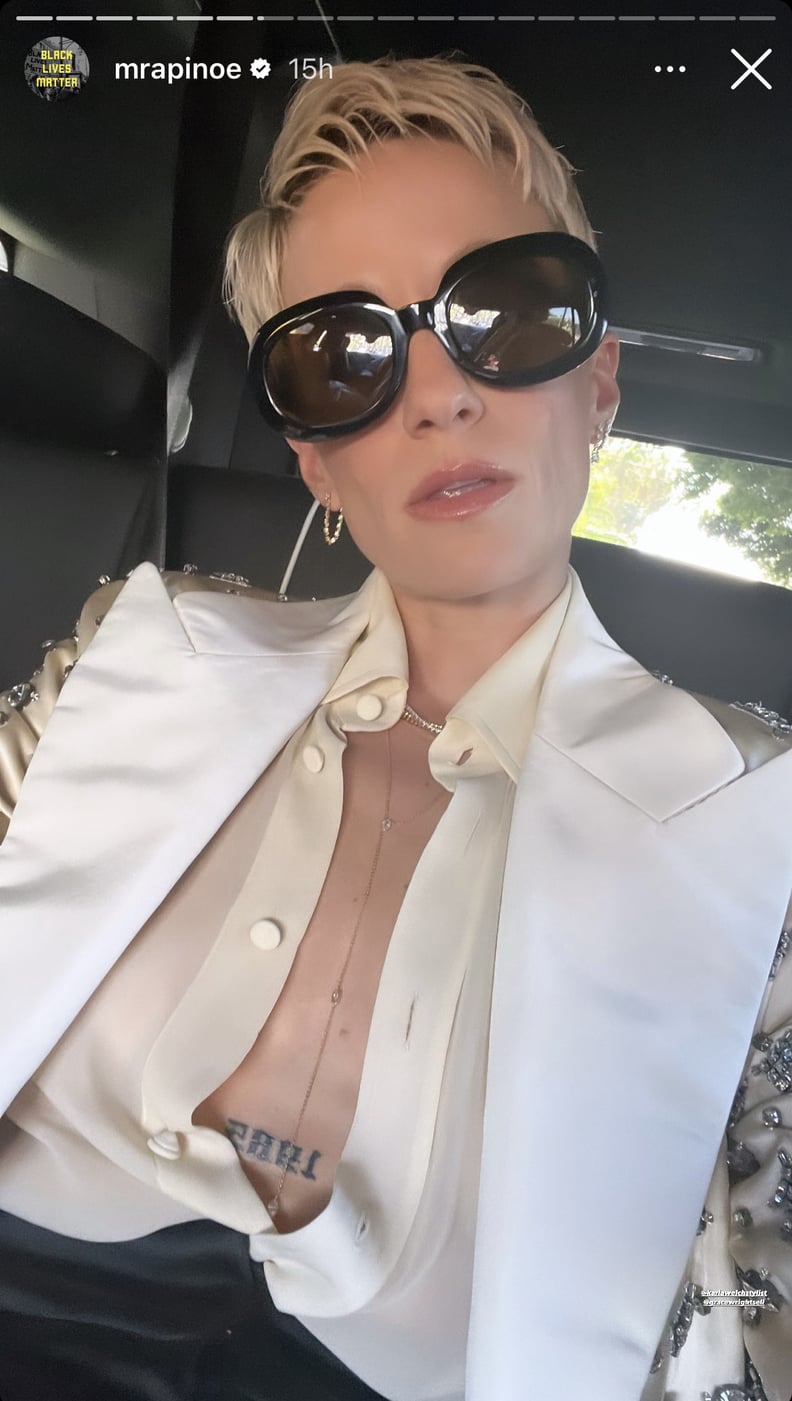 Megan Rapinoe's 1985 Chest Tattoo
At the 2022 ESPY Awards, Rapinoe showed off her new tattoo of the year 1985. The ink is on her chest in thick, black, Old English font. She also revealed on Instagram that she got a tattoo on her arm of "M8" that same day.