Minnie Mills Shares How "The Summer I Turned Pretty" Impacted Her Confidence
As POPSUGAR editors, we independently select and write about stuff we love and think you'll like too. If you buy a product we have recommended, we may receive affiliate commission, which in turn supports our work.
For Minnie Mills, acting is a true passion, but beauty was her first love. For as long as she can remember, her mom has been imparting skin-care advice to her, like the importance of wearing sunscreen, and makeup has been her favorite way to bond with her sister.
That's why when Joah Beauty approached her for a partnership, it was an easy yes. "I just love makeup," Mills tells POPSUGAR. But even more than that, working with Joah felt right given the brand's Korean roots. K-beauty, in particular, is one of Mills's favorite categories of beauty. "My friends are always asking me what I'm wearing or what kind of makeup this is, and I'm always like, 'Oh, it's Korean.'"
Ahead, Mills shares how playing Shayla in "The Summer I Turned Pretty" affected her self-confidence, how the film made her a huge fan of winged eyeliner, and a rundown of her favorite products in her skin-care and makeup routines.
Her First Introduction to Beauty Came From Her Mom
Growing up, Mills vividly remembers her mom taking care of her skin. "This was before skin care really became a big trend," she says. Masking was big in her household, and her mom would occasionally mix concoctions "with ingredients that you don't always find" for her and her sister to do, as well.
Her mom was a firm believer that good skin care was paramount. "She's always telling me, 'You are born with this skin, and you have to take care of it,'" Mills says. Thanks to her, Mills developed a great sunscreen routine much earlier than most. "I am so thankful now because I have never missed a day of sunscreen in my life." Her favorite is the Beauty of Joseon Felief Sun Rice + Probiotics SPF 50+ ($18).
As she got older, Mills began experimenting more with makeup. "For me, it was very empowering and something that I did to control my image and accessorize and have a little fun," she says. "I'm recently getting into fashion, but before I really had a grip on all of that, makeup was definitely my number one accessory."
Her eyes quickly became her favorite part to do, decorating them with glitter shadows and colorful eyeliner. That's something that carried over into her character Shayla's makeup in "The Summer I Turned Pretty."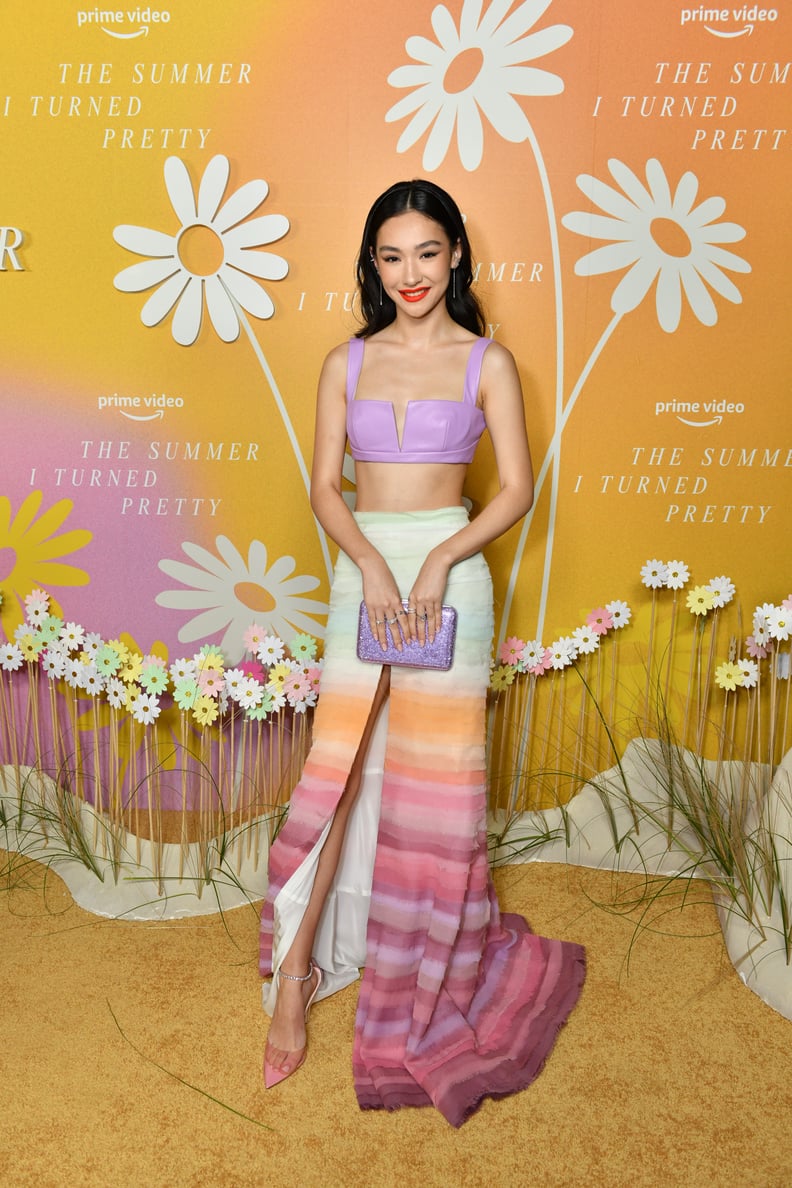 Shayla From "The Summer I Turned Pretty" Helped Her Feel Empowered
Playing Shayla in "The Summer I Turned Pretty" had a long-lasting effect on Mills. "She gave me a lot of confidence," she says. "She's the It girl, and she just happens to be Asian. It's not something she grapples with, it's a part of who she is . . . I carry that with me a lot more these days."
Mills and the show's makeup artist put a lot of thought into developing Shayla's look, which took inspiration directly from her own relationship with beauty. "I always like to define my eyes because it was something I grew up getting teased about and at first felt like I should be insecure about," Mills says. "That becoming a point of empowerment for Shayla was very important."
That's how black winged eyeliner became her character's signature look in the series. "Shayla never appears on screen without winged eyeliner on," Mills says. They referred to it as her "layer of confidence."
When Mills sat down in the makeup chair every morning, that eyeliner helped her channel Shayla's strong, confident energy and began to feel almost like armor. Now, in her everyday life, Mills continues to wear the look. "It just reminds me of what a privilege it was to get to play this character, who not only reached other people but really reached me too."
Her Makeup Routine Is "Simple and Easy With a Fun Twist"
Mills describes the rest of her makeup routine as "simple and easy with a fun twist." Skin tints or a light foundation are her base products of choice, and she'll occasionally mix her foundation with a little bit of moisturizer to thin it out. Blush is one of her favorite products to play with, often layering it with a cream highlighter as well to really up the glow factor. One she loves is the Joah Flamingo Garden Eyeshadow & Cheek Palette ($22).
"My makeup is never done without lashes," Mills says. "If I run out of the house with one thing, I really just want voluminous, curled lashes." She partnered with Joah for the launch of the brand's new High Roller Mascara ($10), which has become a fast favorite.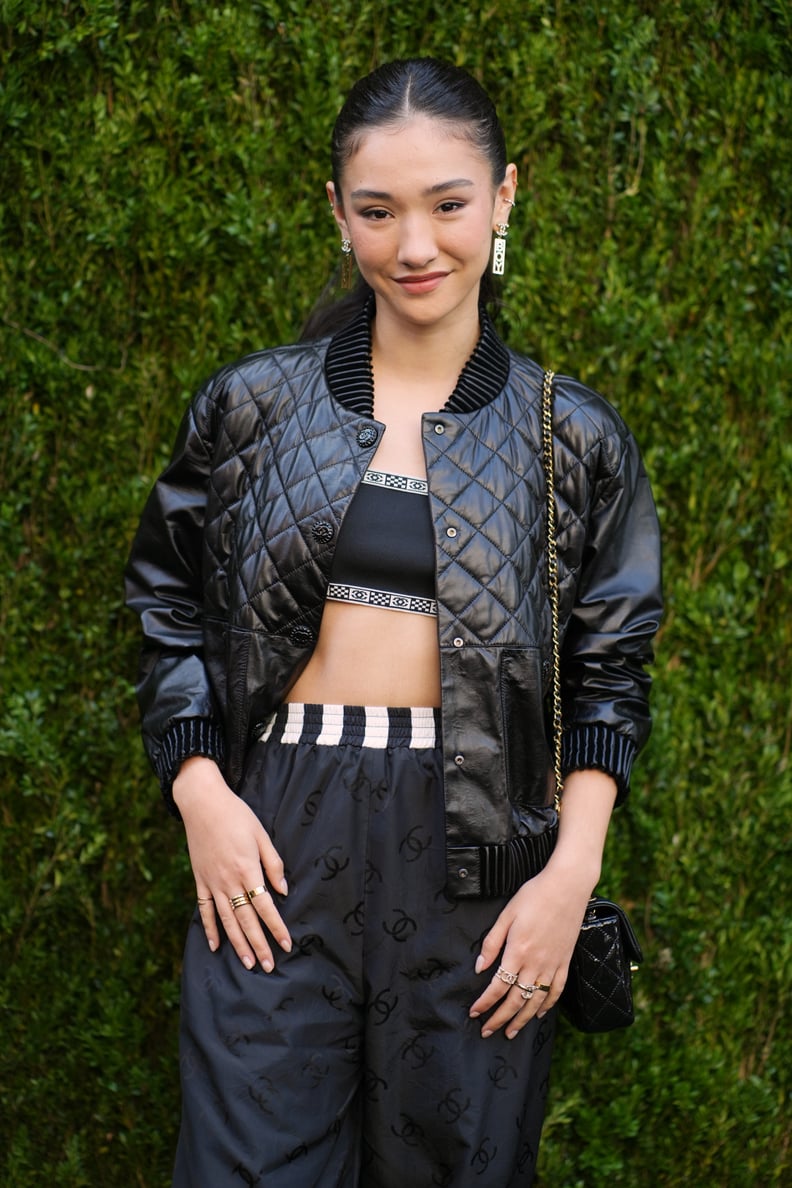 She Keeps Things Simple With Her Skin-Care Routine
Given that skin care was her first introduction to the beauty space, you might think that Mill's daily regimen is quite stacked, but she prefers to keep it simple. She uses just four steps: a cleanser, toner, moisturizer, and sunscreen in the mornings. "I don't wash my face with face wash in the mornings," she says. "I just rinse it with water and then apply a toner."
At night, her routine is a bit more involved. "I am very picky about how I remove my makeup," Mills says "[It's] really, really important to get everything broken down and clean, especially because of my job — I wear so much makeup when I do events or [am] on set."
She loves to use the Tatcha The Camellia Oil 2-in-1 Makeup Remover & Cleanser ($50) and then wipes everything away with a cleansing cloth. As the last step, she'll use a sleeping mask to really hydrate her dry skin. One of her favorites is the Laneige Water Sleeping Mask with Squalane ($29).
Makeup With Her Sister Is Her Preferred Self-Care Activity
When people think of self-care, taking a long bath or getting a massage often comes to mind. For Mills, the ultimate form of self-care is doing her makeup with her sister — especially now that they're both so busy and living far away from each other. "When she's home and I'm home, we can just sit in the bathroom and do our makeup and just catch up on life."
— Additional reporting by Ariel Baker