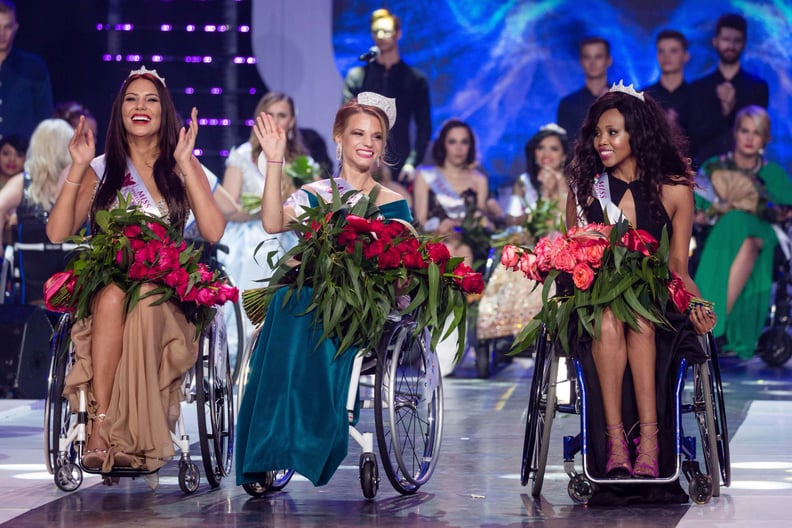 When you watch a beauty pageant, there's one thing you rarely see: a wheelchair. That's why it was so refreshing to not only see one, but 24 of them on stage, competing in the first-ever Miss Wheelchair World held in Warsaw, Poland. The competition crowned its winner, 23-year-old Aleksandra Chichikova of Belarus, on Oct. 8. She wrote an inspiring message about her experience on Instagram.
"The crown I have belongs to all girls, to those that were with me during preparation of the gala final," she wrote. "Miss Wheelchair World 2017 is not a beauty competition. It is not about who is prettier and better. It's a team work of girls united for one purpose, to change the world and fight for equal opportunities."
The pageant started as a follow up to the Miss Poland Wheelchair competition, which had been running for four years. Nineteen different countries participated, including the US, Poland, Angola, Guatemala, Russia, and Ukraine. The competition was started by The Only One Foundation, which was founded by two disabled women who aim to break barriers and change perceptions of women with disabilities. The organizers wrote on their site that they aim to "show that disability is not a limitation."
Like any global beauty pageant, the competition consisted of national costume and evening-dress portions. Contestants also incorporated dance routines using their wheelchairs during the fashion display.
The beauty pageant industry has a long way to go with representing and including women of all different backgrounds and body types, but this is a major step. See photos of the inspiring event, ahead.