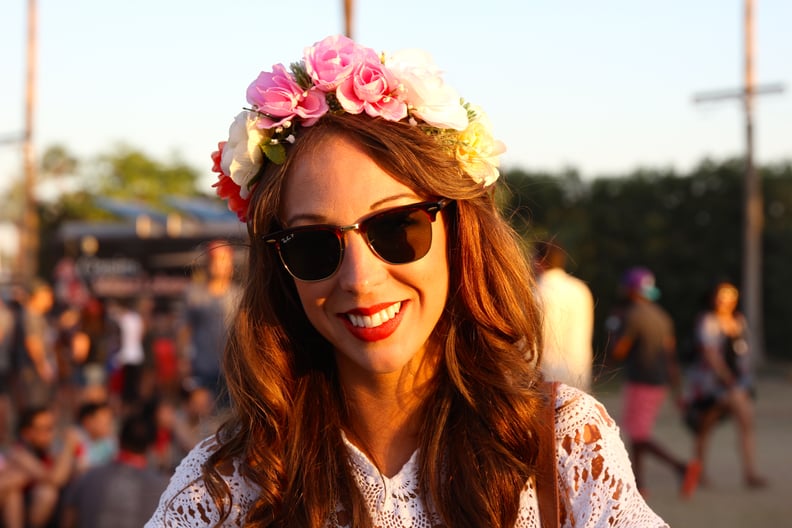 POPSUGAR Photography | Grace Hitchcock
POPSUGAR Photography | Grace Hitchcock
When it comes to your beauty routine, music festivals present a unique (and often frustrating) set of challenges. Even if you aren't camping, the long days, Summer heat, and dancing-induced sweat are enough to make you toss your hair into a messy topknot and give up.
Yes, we know you won't have your full arsenal of products, accessories, and hot tools. But that shouldn't prevent you from trying out a range of hairstyles during your event experience. You just need to know which ones work best for a music festival.
Thankfully, these YouTube tutorials prove that bohemian braids, beachy waves, and many of your other favorite looks are easily accomplished on the go — even if you don't have access to a blow dryer . . . or shower. Ensure that your hairstyle is a hit by picking up a few tips from these videos. By the time you've finished watching, you'll have curated a whole menu of festival-ready coif creations!
Long locks often present their own set of issues that make them particularly difficult to style for festivals. Thankfully, this tutorial from Jackie Wyers provides three different options for managing length: boho pigtail braids, a messy side ponytail, and a Queen Elsa-inspired long plait.
These five styles from Helen Torsgarden aren't only suitable for a festival — they work for any Summer occasion. From loose pigtail braids to half-up-half-down twists and every look in between, there's something for everyone in this helpful, varied video.
This fun-filled video is a collaboration between Helen Anderson and hairdresser Callum, in which they demo a lookbook of festival-appropriate hairstyles. This tutorial is especially ideal for those with short- to medium-length hair, though many of the techniques can be easily re-created on longer locks.
For those planning to camp, it can be a daunting challenge to find hairstyles that work with unwashed hair. But Holly Anastasia Edwards shows viewers that by wearing (and sleeping in) braids the first day and night, you can easily create loose waves that can then be worked into two additional styles — no shower necessary.
Zoe London focuses on no-stress hairstyles that are practical and simple, requiring few products, little time, and limited accessories. The thorough tutorial is designed for a four-day festival and geared toward those who will be camping. Thus, it's ideal for someone who will be without full-sized mirrors, showers, and a cabinet of hair care items.
If you love hair accessories, then this video from fashionista804 will show you how to put some of your favorites to use. She also highlights a variety of products that work particularly well with factors specific to a festival experience, including the elements, lack of showers, and need for durability.
The easy, step-by-step style of this video from clothesencounters is ideal for beginners and festival newbies. She details three supersimple looks, each of which can be customized with accessories like headbands or chains.
For those looking for a more professional-level style to DIY, this tutorial from Beauty at Tesco is a must watch. The finished look is a bohemian braided updo, a style that feels summery and fun while keeping your strands out of your face. Prepare for major compliments once you re-create this look!
Though women have been wearing hair wraps for ages, this tutorial from Milk + Blush updates the style with bright colors and a feather — the perfect way to customize the look for festival season.
For women with natural hair, this video from All Things Hair - US shows how to make the most of accessories that pair well with this type of texture and volume. She explains how to tailor festival-style hairpieces, like a flower crown or chain, to work with your coils.