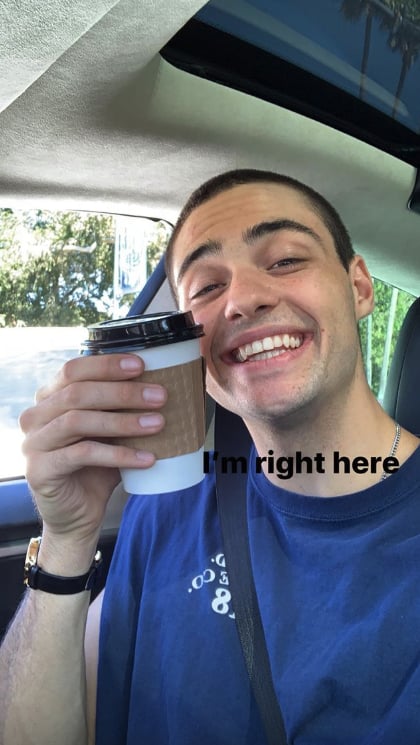 Instagram | ncentineo
Noah Centineo is known for causing heart palpitations for a few reasons, one of which is his hair. But the 23-year-old heartthrob has traded his luscious, curly hair for a shaved head, so you might want to prepare yourself. The big reveal was made in the afternoon on Tuesday with a simple image in Centineo's Instagram Story. He shared just one photo, signature smile included, but with a very different look overall thanks to his fresh cut. He wrote, "I'm right here," on the photo and held up a coffee cup. This was in response to his girlfriend Alexis Ren's Instagram Story of two coffee cups on a table outside with the caption, "Where's maaaahhh babyyyy."
This isn't the first time this year that Centineo has made a drastic change to his appearance. Just last month, he dyed his beard blond, which was an interesting choice. That was a short-lived phase, and the To All the Boys I've Loved Before actor is now clean-shaven — very much so, thanks to his new hair, or lack thereof. The popular actor's fans immediately noticed the big change and took to Twitter to ask the important questions: is this for a role? Just for fun? We'll have to wait until Centineo addresses it to know for sure. In the meantime, see how big this transformation really is.
Noah Centineo With Long Hair
Tweets About Noah Centineo's New Hair