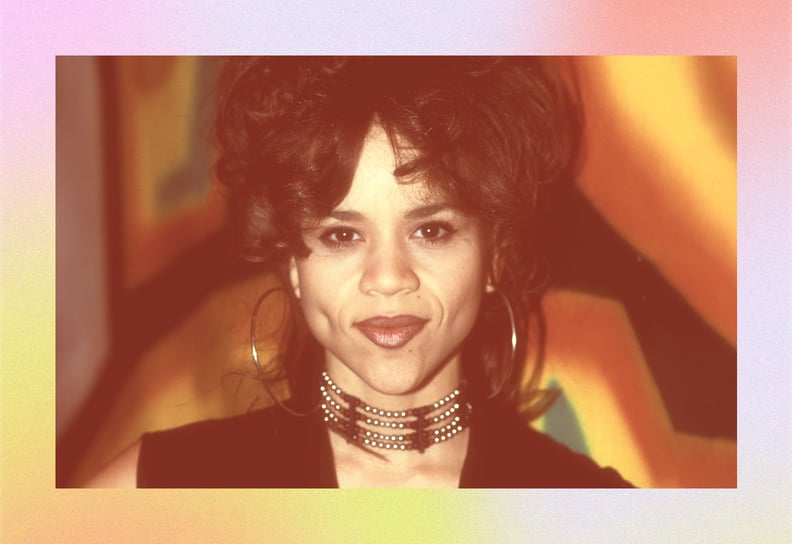 Celebrity Image: Getty | Al Pereira
Photo Illustration: Ava Cruz
Celebrity Image: Getty | Al Pereira
Photo Illustration: Ava Cruz
Last year, Hailey Bieber faced backlash after posting a video on TikTok about the dique "brownie glazed lips trend," with many pointing out that the look originated with Black and Brown women. It was far from the first time a white celebrity has been credited for starting a trend that began within Black, Latine, Asian, or Indigenous communities — just consider the recent buzz around the "clean beauty" look. There's no better word to describe how this feels for women of color than "exhausted." And while it unfortunately still happens year after year like clockwork, it seems as though people are finally listening when the inaccuracy is called out.
The reality is that a lot of these looks, despite being seen by some as "trends," are actually nostalgic throwback beauty staples so many of us grew up seeing and admiring, while at the same time being villainized as "hood," "ghetto," or straight up "unsophisticated" when wearing them. Whether it was the classic dark lip liner paired with a juicy gloss, brown lipstick, winged eyeliner, or artfully gelled edges, in many ways this aesthetic served as a form of resistance for so many Latinas, especially if you grew up in places like East LA or NYC. It's one of the many reasons why Black and Latina beauty brand owners have released collections reclaiming these trends.
Take Becky G's makeup brand, Tresluce, for example. It carries a number of products to help re-create the nostalgic looks the singer grew up with, including the Empower Me Matte Lipstick ($16), which comes in six shades like Rojo Azul (a classic and universally flattering red) and Dark Cafecito, Nudey Pink, Mauve, Nude, and Warm Copper (all nudes for various skin tones). The company also carries its Draw the Línea Dual-Side Lip Liners ($12) in shades that complement the Empower Me Matte Lipsticks. To celebrate that throwback eyeliner moment, there's also the Intenso Liner ($12), a vegan-friendly gel pencil liner with 15 shades, and the Eterno Liquid Liner ($15) that's designed with a petite brush tip for easy and precise application and is available in three shades.
"Latinas are the originators of wearing dark lip liner with gloss and even big, chunky nameplate hoops. It's unfair that they're only made popular and deemed cute when someone outside of the culture co-signs it." — Becky G
"It's no secret that trends get recycled and are known to make a comeback over the years, both in fashion and beauty," Becky G tells POPSUGAR. "And it's become an even bigger thing now that social media has given people of different backgrounds exposure and access to 'trends' and beauty rituals beyond their cultural upbringing. Latinas are the originators of wearing dark lip liner with gloss and even big, chunky nameplate hoops. It's a staple of the routines that make us feel beautiful and connect us as a community. They have been passed down for generations. I think it's unfair that they're only made popular and deemed cute when someone outside of the culture cosigns it."
The Mexican-American singer and entrepreneur says that growing up, she was constantly told that Chola culture was "ghetto," and notes how painful it can be for WOC when we see pop culture icons and influencers who take inspiration from these looks — and are also able to capitalize off them without giving proper credit. "It feels like an erasure of our impact as originators and visionaries in beauty," she says.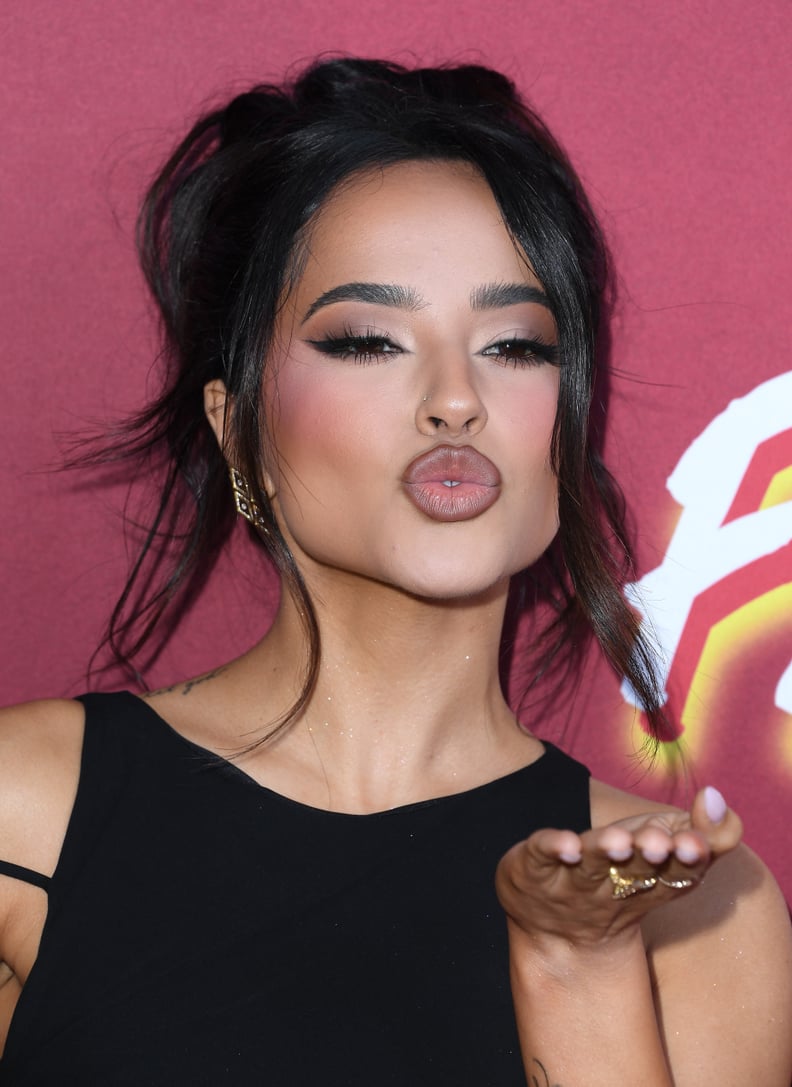 This beauty aesthetic hasn't always been embraced outside of our communities, especially in work environments or corporate spaces. For years, they were deemed as "unprofessional. Colombian-American makeup artist Karina Milan — who has worked with stars like Yara Shahid, Venus Williams, Gabrielle Union, ICE, Taylour Paige Angulo, and more — shares that she loves how Black and Latina women have spoken up about the appropriation they're seeing.
"Holding on to these looks was a form of resistance for us during a time when we were told we weren't beautiful enough," she says. "While that may not have overtly been the intention, there was defiance in highlighting full lips and long nails that took us out of mainstream. [But I also] don't believe in gatekeeping beauty trends; I really think they are for everyone to embrace, as long as they have an understanding of where the beauty standard actually came from so that you can celebrate and be honest about its history rather than appropriate it."
Alamar Cosmetics founder Gabriela Trujillo was born in Cuba to Cuban parents and was raised in Miami. Inspired by the Latina looks she grew up seeing, she attended Cosmic School of Makeup Artistry and became a makeup artist before launching her own beauty brand. Trujillo has launched products inspired by these enduring staples: the dark brown liner paired with lip gloss, the brown lipstick look, along with eyeshadow palettes and liners inspired by the vibrant colors she was surrounded by living among other Latinas in Miami. She even partnered with Disney to put out an "Encanto" makeup collection.
Her bestselling products are the ones that give her clients the throwback Latina vibes. This includes her DesNudeas Lip Gloss ($15), which comes in a number of shades that complement all skin tones and come in fun Spanglish names like Coqueta, Mami Spice Latte, Chula, Dulce, and Divina. She also sells lip liners in shades to match.
"A few decades ago, the only people in the position of power to create makeup were the huge Eurocentric brands [that] only made makeup designed for white women (though that has drastically changed over the years thanks to Latinas that work at these companies at a corporate level)," Trujillo says. "Black and Latina women had no choice but to use eyeliner — in some cases even brow pencil — as lip liner or black eyeshadow as lip liner 'cause there were no lip liners on the market that were deep enough to complement their skin tones."
Trujillo adds that Black and Latina women historically had to finish off the look with whatever gloss they could find at their local beauty supply stores, like the roll-on lip glosses that often came in fruit flavors. Clearly, large-scale cosmetics companies took notice.
"As time went on and makeup brands needed to freshen up their campaigns, they took this new technique and rebranded it, mass-marketed, and cashed in," Trujillo says, adding that by brands providing products that worked for WOC, it also turned them into a "trend" for white women that they could profit off of without giving credit.
"This has happened time and time again across so many industries," she says. "I am very grateful that the internet has leveled the playing field and now we all have the power to speak up and be heard and these practices are coming to light. This will inevitably make change and lead to Black and Latina women finally getting their praise for being true trendsetters."
Filmmaker and archivist Djali Brown-Cepeda launched Nueva Yorkinos after feeling frustrated about never seeing herself represented in media and felt inspired to amplify the experiences of Latinas especially in New York City. The mission was to reframe the past narratives of Latines, as well as the diasporic Blackness in New York City, which also consists of Latines.
"Our beauty trends as Black and Latina women have always been political statements that accentuate our features — features that despite being told at every turn we should hate, we love; features that have been scrutinized in beauty campaigns for generations; features we are encouraged to change but our connection to them and ourselves by proxy is unshakeable," Brown-Cepeda says. "So, we choose to use lipstick or eyeliner or other products to highlight these areas. What many see as new and trendy after its popularization by white celebrities [are] looks [that] are rooted in Black and Latina legacies of makeup as resistance."
Cepeda-Brown documents the proof in the old photos she archives for Nueva Yorkinos, which are mostly submissions she receives from Latines.
"One of the throughlines you can see in the images on Nueva Yorkinos is no matter what, people made sure they were fly," she says. "Whether it's an eighth grader ready for summer vacation, a mother and daughter, high school sweethearts, a group of women at Coney Island, siblings at their parent's shop, or sisters at a holiday party in the Bronx, these beautiful people wore outfits, rocked hairstyles and donned looks that went against the status quo through hair, nails, fashion [and makeup]. We expressed and continue to express our individuality."
While there's a shared opinion that it's OK to celebrate these looks even if you don't come from the communities where they originated, it's important to educate yourself about the history and respectfully credit the cultures that created these looks to avoid harmful appropriation.
"This is about the line between cultural appreciation and cultural appropriation," Brown-Cepeda says. "When you appreciate a culture that's not yours, you must respect and try your hardest to understand it. Appropriation is misunderstanding and exploitation; it's mockery of, and/or copying, a part of a culture for personal gain. For communities that have been systematically marginalized and economically disinvested in, it's important for people to know the origins of these looks. These looks were born out of necessity, adaption, and excellence. It hurts and frustrates us when we see white celebrities so removed from our cultures [and] copying our styles."
Brown-Cepeda has some advice for anyone who isn't part of the Black or Latine communities but wants to wear these styles: "When thinking of engaging in a culture that's not yours, from fashion to style and beyond, ask yourself, 'Why? What is the intentionality behind this?' Only you know the answer."