Disney's Encanto Makeup Collection by Alamar Cosmetics
Disney Collaborated With Latina-Owned Alamar Cosmetics For an Encanto Makeup Collection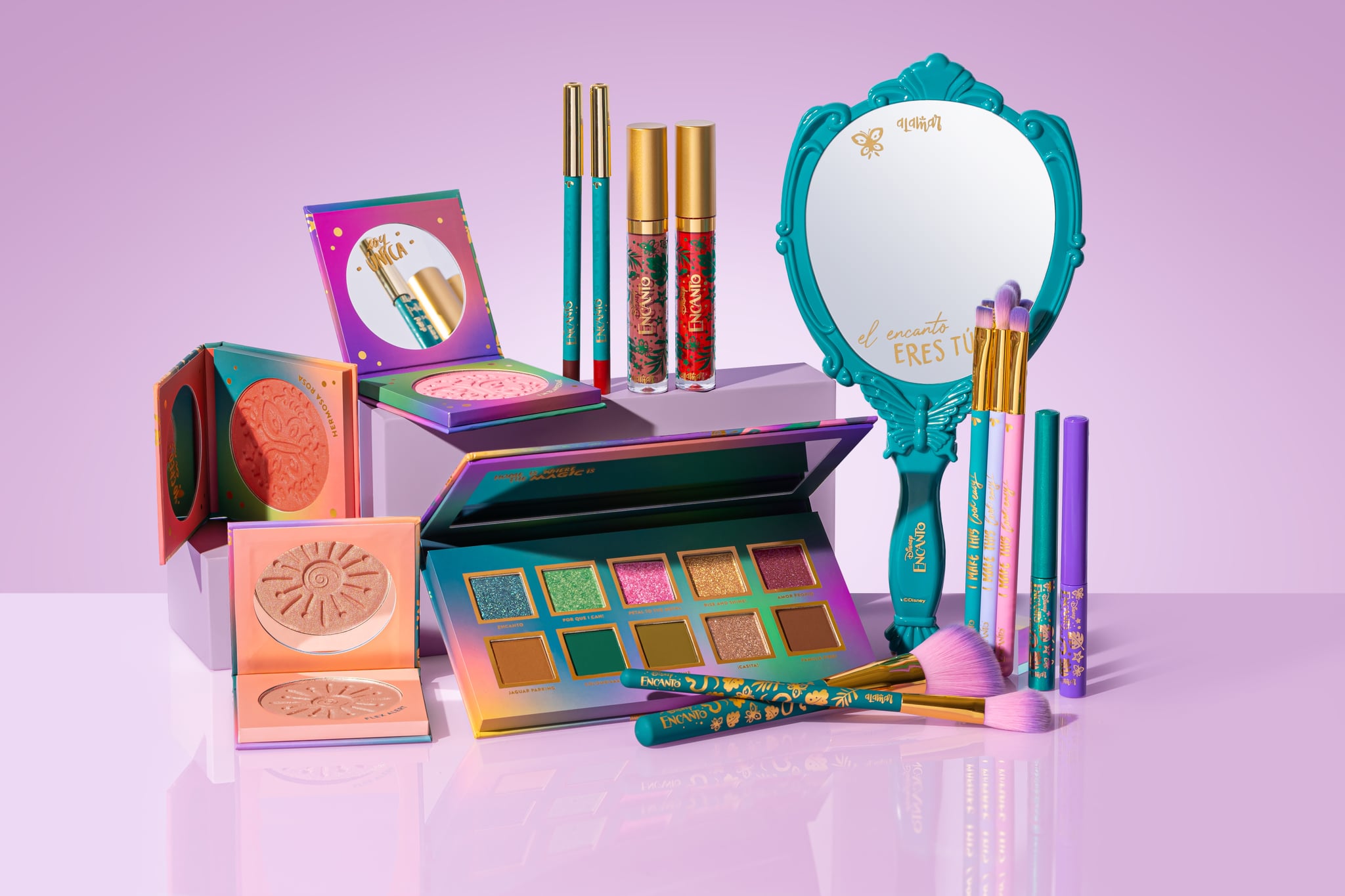 There are no words that can fully express the excitement so many of us felt when we learned about Disney's new animated film, Encanto. The movie, which released Nov. 24, takes place in Colombia and centers a big Latinx family, whose magical powers are sourced from La Casita — their house. Inspired by the beauty of the film, Disney Studios has partnered with Latina-owned cosmetics brand Alamar Cosmetics to create an Encanto-inspired makeup collection.
The story behind this new collaboration is pretty inspiring. Founder and CEO of Alamar Cosmetics Gabriela Trujillo received a DM on Instagram from Jan Coleman, the VP of global marketing partnerships and multicultural marketing at Walt Disney Studios, asking to hop on a call regarding a potential partnership. Initially, Trujillo couldn't believe it.
"It was like, this cannot be true at all, so we started looking at LinkedIn and Google, and this person was very much real," Trujillo told POPSUGAR. "We were like, OK, let's just see that it is. We took the call, and they let us know that they were looking for an exclusive beauty partner to create a beauty line that will launch alongside their new movie, which is based in a Latin American country, and we were like, wow. We really couldn't believe it. But it was true, and we kept getting on calls, and it got more and more real. Then we were able to sign a contract and get started on production."
The Alamar Cosmetics Disney Encanto Coleccíon, which is filled with brightly colored pigments and mystical shimmers, features 13 new products, all inspired by Colombia — where the film is set — and the family's magical world. It includes products like the Encanto Eyeshadow Palette ($32), inspired by La Casita; the Encanto Colorette Powder Blushes ($17), which come in I'm Blawesome and Hermosa Rosa, both inspired by the main character Mirabel's older sister Isabella; the Encanto Sun Soaked Highlighter in Flex Alert ($21), inspired by Mirabel's other sister Luisa, who is known for her strength and flexing her muscles; the Encanto Your Wings Liquid Liner ($14), available in Lilac Sin Limites and Emerald Eterno; the Encanto Longwear Lip Gloss ($16) in Mira, Bella and ¡Dimelo Cantando!; the Encanto Longwear Lip Liner ($13) in the matching colors; the Encanto "My Best Self" Complexion Brushes ($22); the Encanto "The Power Trio" Eyeshadow Brushes ($22); and one of Trujillo's favorites, the Encanto Madrigal Magic Mirror ($18), which features an affirmation, like many of the products in the collection, that reads: "El Encanto Eres Tú."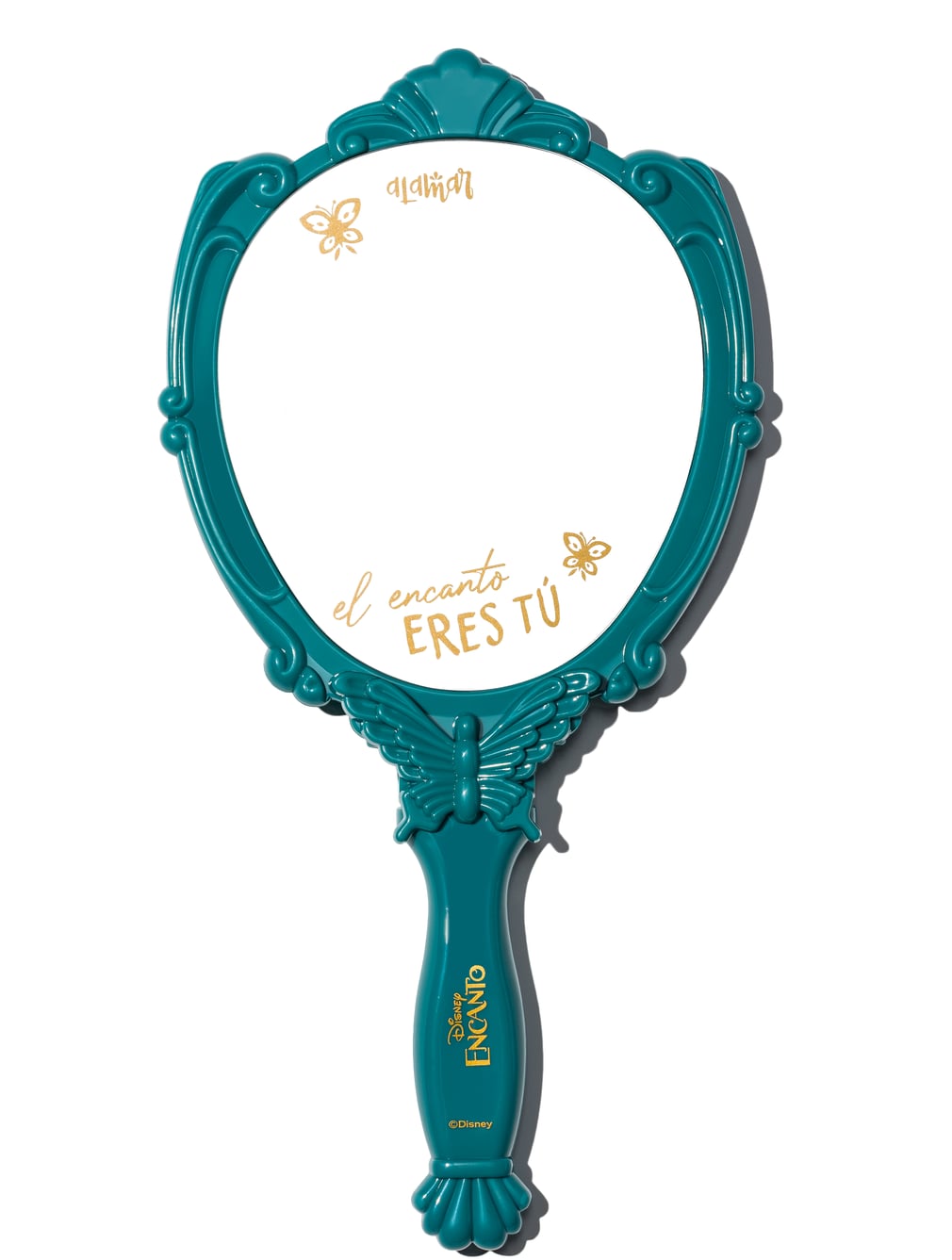 Trujillo, who migrated from Cuba to Miami when she was younger and developed a brand that speaks to the vibrancy of Latinx communities, feels a deep connection to the brand. It was especially important for her to develop a collection that's not just on brand for Alamar but that feels authentic. "I do feel very strongly about it, especially because I'm an immigrant myself. I was born in Cuba, and my family came to seek asylum. I came in 1996 when I was 3. And most of my team, they are all Latino, except for my graphic designer. All of us, we felt like, oh my god, Disney is doing an entire movie that portrays Latinos in such a positive light, showing the love that we have for each other and how strong our family bonds are," Trujillo said. "They even eat arepas in the movie. I'm like, this is major, because they are showing this to people who might not have ever heard of Colombia and think all Latinos are Mexican. This is such a major opportunity."
Trujillo and her team have been working on the collaboration for over a year. In fact, they were developing products when Disney was still just creating the film. Every single pigment or design — even the product names — was pulled directly from the film. Trujillo's goal was to make sure every item in the collection was reflective of the film. She wanted folks to feel like they are experiencing the movie through every detail in the products. She was even intentional about the shades, making sure every item works for all skin tones.
"That is very important for us, because in the movie, you'll see a whole family with different skin-tone ranges, and that's so true to how Latino families are. In my own family, I have very light skin, but my tias and my primos are very tan and have brown skin," she said. "And that's so true to how Latinos are, because we're so mixed. So I love that the movie captures that. In her [Mirabel's] own family, you see all skin tones. It's so special, and finally we see a real and authentic representation of Latinos and what we actually look like, how our families look like, and how the home is the center nucleus of the family, because that's where we eat and where we gather. I just love that — it felt so real. And thank god this is the Disney movie that I got to work on, because it's my favorite so far."
While the movie doesn't release until Nov. 24, the Alamar Cosmetics Disney Encanto Coleccíon is available to preorder as early as Nov. 18 at 2 p.m. ET on alamarcosmetics.com. We recommend jumping on it before all these gorgeous, stunning products filled with brightly colored shimmering hues sell out!