This Shower Oil Is the Only Thing That's Been Able to Rehydrate My Dry Winter Skin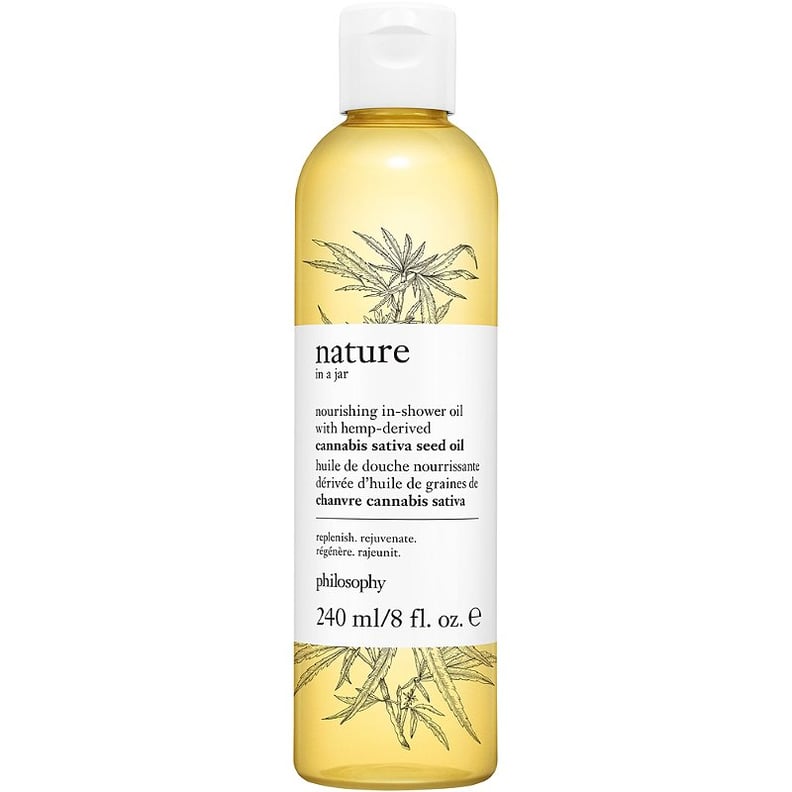 Philosophy
Philosophy
Every editorial product is independently selected by our editors. If you buy something through our links, we may earn commission.
Even though I've lived on the East Coast for several years, this California girl still hasn't gotten used to New York Winters. Exhibit A: the dry, chapped patch of skin that appears on my shins like clockwork every December.
No amount of lotion or balm seems to work. In one particularly desperate moment, I even resorted to slathering Vaseline on the area in hopes of stopping the itching. I needed a better solution — something that would keep my skin soft and moisturized no matter how cold and dry the Winter air gets.
Enter: Philosophy Nature in a Jar In-Shower Oil ($32). This vegan, cruelty-free product comes from the brand's naturally derived Nature in a Jar line and promises to lock in moisture in the shower, before your skin ever gets dry.
Needless to say, I was intrigued — and after just a few days of using the shower oil, I'm a believer. After showering, I turn off the water, wring out my hair, then slather about a tablespoon of the oil all over my damp skin. Instead of buffing myself dry, I just allow the oil to absorb as my skin air-dries. I have to admit that I was a bit skeptical at first — you're seriously telling me that an oil won't leave your skin greasy? — but my dry Winter skin soaks up the moisture in just a minute or two. Best of all, my skin stays moisturized and calm all day long, and those scaly, irritated patches are all but gone. One word of warning: spilling even a few drops of oil can turn your bathroom into a slip-and-slide, so apply carefully.
The shower oil gets its supermoisturizing status from hemp-derived cannabis sativa seed oil — an of-the-moment ingredient that's as useful as it is trendy. The omega fatty acids in this cold-pressed oil soothe and nourish dry skin, leaving it feeling soft and smooth. The subtle fragrance is also a major bonus: floral and slightly earthy, the scent is just strong enough to leave your shower smelling like a spa but won't follow you around all day.
Plus, the packaging for the entire Nature in a Jar line (excluding the caps) is recyclable and made from 50-percent postconsumer recycled material. Since I know that I'm going to need to restock before Winter ends, that's music to my ears. See ya never, dry skin.