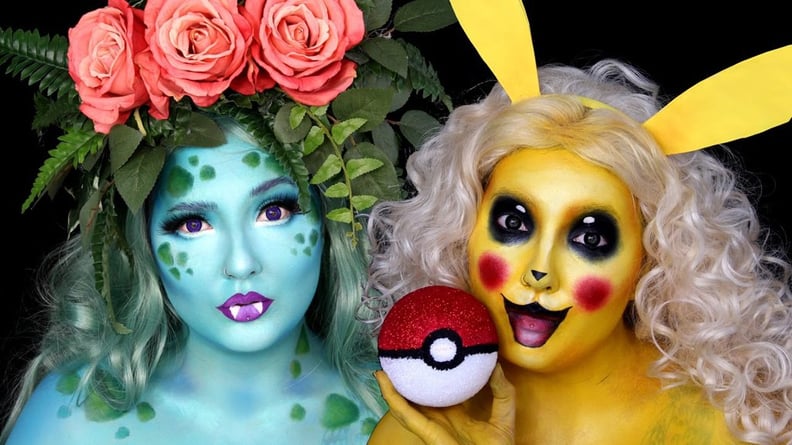 Though the chaos over Pokémon Go may have cooled down a bit, true Nintendo fans will always obsess over the original game and its characters. And for good reason: Pokémon are darn cute! YouTube beauty vloggers agree and are using their makeup skills to transform into their favorite creatures. We've rounded up 10 tutorials — ranging from sweet to scary — that are perfect for re-creating this Halloween.
Jigglypuff and Rattata
Halloween fanatic Jordan Hanz confessed that even she was freaked out by her transformation into rodent-like Rattata. Those looking for a more glamorous look will want to attempt her glimmering take on Jigglypuff.
Pikachu
Possibly the most complex Pikachu tutorial out there, vlogger Chrisspy's take on the look involves a bald cap and a cutout of the character's ears and body. The finished result is eerily accurate!
Pokémon Trainer
Vlogger Geekup demonstrates how to flawlessly re-create your trainer's appearance using makeup and body paint. Every last detail from her cat eye to the shadow under her "shirt's" collar is meticulously produced.
Eevee
Nickeil Genesis's precious DIY takes advantage of a furry scarf and pigtails for an apt re-creation of Eevee. We especially love her tiny eyebrows!
Pikachu's Accident
Special effects pro Ellimacs used her imagination and dreamt up this injured Pokémon tutorial. However, for your sanity's sake, you may want to mute the video: "Pikachu" narrates the entire DIY, which means you're in for seven minutes of hearing the word "pika."
Vaporeon
This advanced tutorial uses liquid latex, a glue stick, and serious applications of body paint for a full-body transformation into Vaporeon.
Gastly
Put leftover Halloween fangs to good use with Nickeil Genesis's masterpiece. Heavy dustings of vibrant purple shadow around the eyes added the effect of Gastly's poisonous-gas-haze.
Ivysaur and Pikachu
Jordan Hanz lent her makeup mastery to this two-for-one tutorial. Her use of white cream color for highlighting made her features — and the finished look — really stand out.