This Colorist's Hair Paintings Have Completely Changed the Mane Game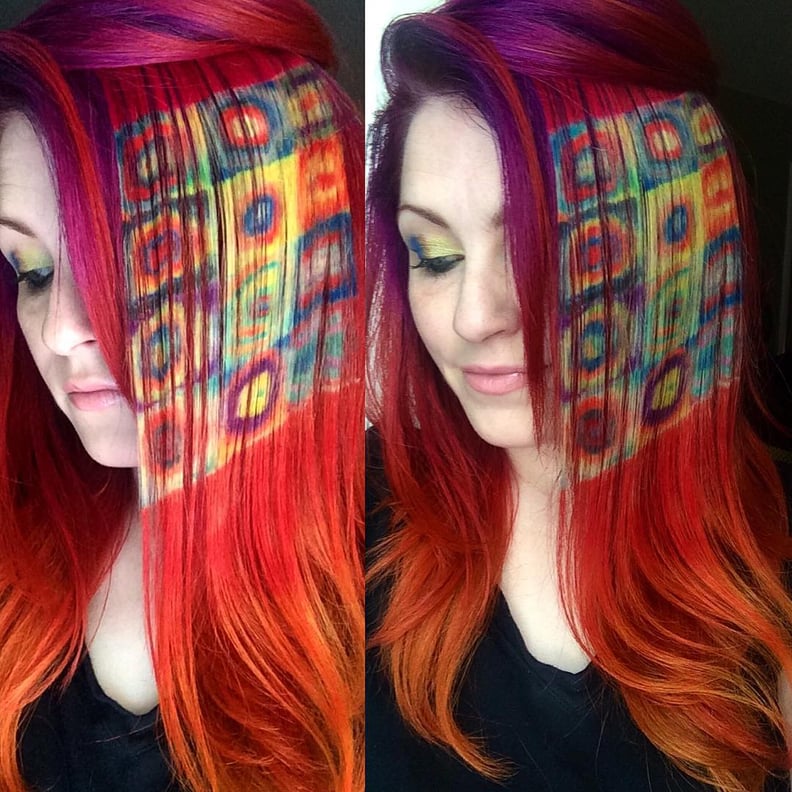 Thanks to their skillful blends of dye, colorists should be considered artists, but rainbow-hair aficionado Ursula Goff has truly outdone herself this time. She caught the beauty world's attention with her work that turned classic art pieces into rainbow strands. And now, she's upped her game by actually painting classic artwork, using hair as her canvas.
Unsurprisingly, the Kansas-based colorist has a background in art, which comes through in her mesmerizing hair transformations. From Vincent van Gogh's "Starry Night" to Wassily Kandinsky's "Color Study," Ursula uses hair dye and takes small strands at a time to make up her reproductions. On her blog, she explained the inspiration behind it all and her process. The idea first sparked while she was doing "Starry Night" rainbow color hair.
"I wondered how hard it would be to actually paint 'Starry Night' — the painting — onto some hair," she wrote. "So the next day, I started working on painting it onto a hair weft (a thin slice of hair like that used for certain types of extensions) to see if I could work something out."
After receiving some criticism about manes inspired by art pieces rather than painting the actual artworks, Ursula decided to dive deeper into her experiment. She also mentions how she used direct dyes and sometimes permanent colors for specific designs, including brands like Manic Panic, Redken, and Adore. "I typically watered them down a little, and then applied them to blonde hair with a paintbrush," Ursula shared. "That's it. That's my process."
Ursula's freehand skills are nothing short of impressive. We can't wait to see what she comes up with next!
Vincent van Gogh's "Starry Night"
Inspired by Roy Lichtenstein's Pop Art
Edvard Munch's "The Scream"
Wassily Kandinsky's "Color Study: Squares with Concentric Circles"
Mark Rothko's "Blue and Grey"