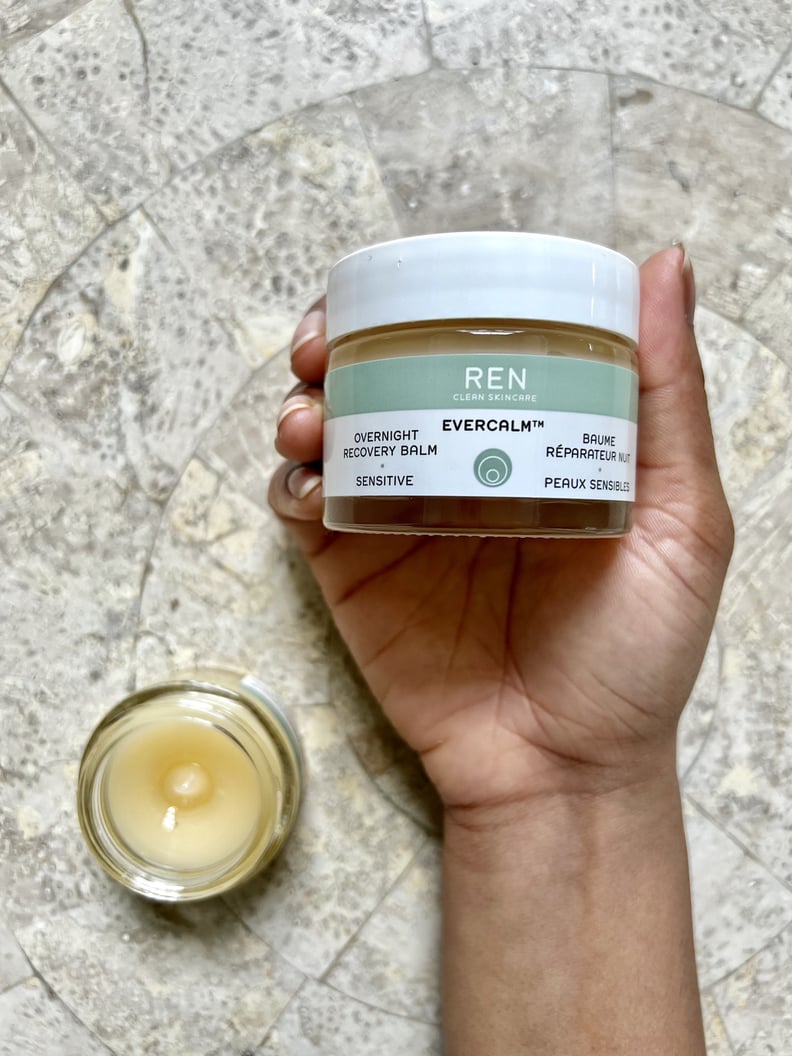 POPSUGAR Photography | Anvita Reddy
POPSUGAR Photography | Anvita Reddy
As POPSUGAR editors, we independently select and write about stuff we love and think you'll like too. If you buy a product we have recommended, we may receive affiliate commission, which in turn supports our work.
I tend to get a little aggressive in my skin-care routine, especially since I'm impatient and want results now. Piling on the retinol, exfoliators, vitamin C, and other products that help diminish my dark spots and hyperpigmentation is not doing my skin any favors. In fact, it backfires as I wreck my skin's protective barrier. I end up with sensitized skin that is irritated, dull, and excessively dry and inflamed breakouts, which turns into more dark spots. I came across Ren's Evercalm Overnight Recovery Balm ($52) and had to test it out to see if this is something that can aid my sensitive, reactive skin.
Ren's Evercalm Overnight Recovery Balm is an oil-based balm formulated for those with sensitive, reactive, or dry skin. It is supposed to calm and soothe the skin alleviating concerns like dryness, flakiness, irritation, and inflammation overnight. It's also supposed to protect and repair the skin and its moisture barrier. The balm is packed with skin-loving and conditioning ingredients, including almond oil, borage oil, linseed oil, jojoba oil, and sunflower oil, all of which are rich in fatty acids and help minimize dehydration and water loss. It also contains beta-glucan and vitamin E, which help soothe and minimize irritation and skin sensitivities.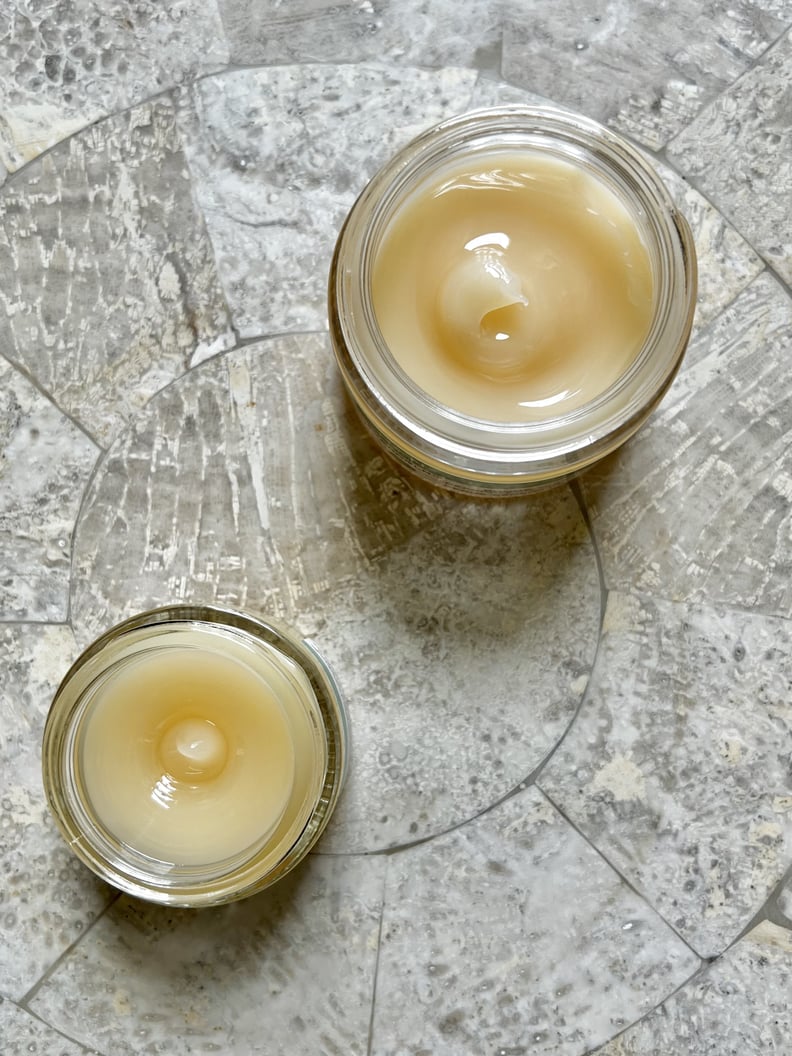 The Recovery Balm has a thick, oily balm texture that quickly thins out into a lightweight conditioning oil once I warm it up on my skin, kind of like a cleansing balm. I use a pea-size amount for my whole face as the last step of my nighttime skin-care routine. The balm seems like it sits on top of the skin, but I was really impressed by how it sinks into my skin, conditioning it in mere seconds. It's fast absorbing and nongreasy, yet my skin feels moisturized and softer with a plump and hydrated appearance. It has a light, fresh botanical scent; I don't know how else to describe it other than it smells green.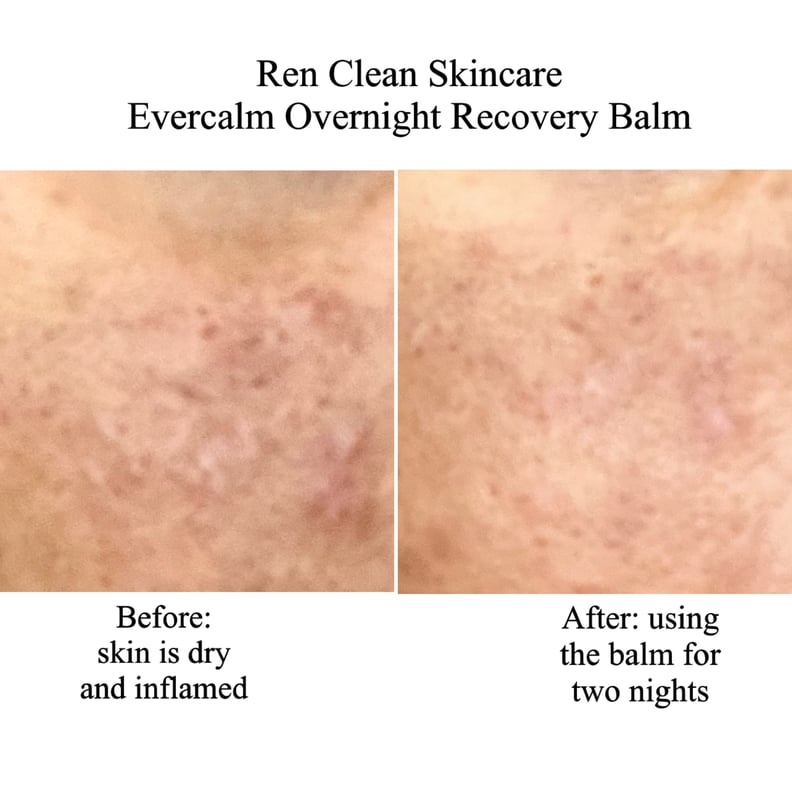 The balm's texture is unique; it has the best parts of an oil and a healing ointment, making it versatile and useful for a variety of reasons. The Evercalm Overnight Recovery Balm can be used all over the face like a sleep mask or as a spot treatment for areas that need some extra love. It helps moisturize and soothe my skin on days when it feels extra dehydrated and irritated, conditioning my dry patches and alleviating flakiness and inflammation. It was especially useful during allergy season when I needed to heal the skin around my eye area and nose. As pictured, within two days of using this recovery balm overnight, my skin looks smoother. I even use it on days when I use a retinoid treatment to offset the intensity and irritation.
Ren's Evercalm Overnight Recovery Balm is a product I always have on hand in my skin-care routine. It's not something I need to use every day, but it's a product that's there to help when I need it. I understand that the price point is on the higher end. However, the texture of this balm is something I've never seen before. Traditional healing ointments sit on top of the skin and get all over my pillowcases at night, whereas this balm quickly absorbs and soothes my skin while I sleep. It's something that doesn't move around all over my face, either. If I want to condition the outer corners of my eyes or alleviate a dry patch on my eyelid, the balm doesn't go into my eyes, making my vision blurry. It just stays where I want it, sinks into my skin, and does its skin-soothing job. Plus, a little goes a long way when using this product. If you have sensitive skin or tend to overexfoliate, having this in your skin-care stash can save the day.
Rating:
★★★★★