This "Reverse Air" Hair Dryer Is Worth Every Penny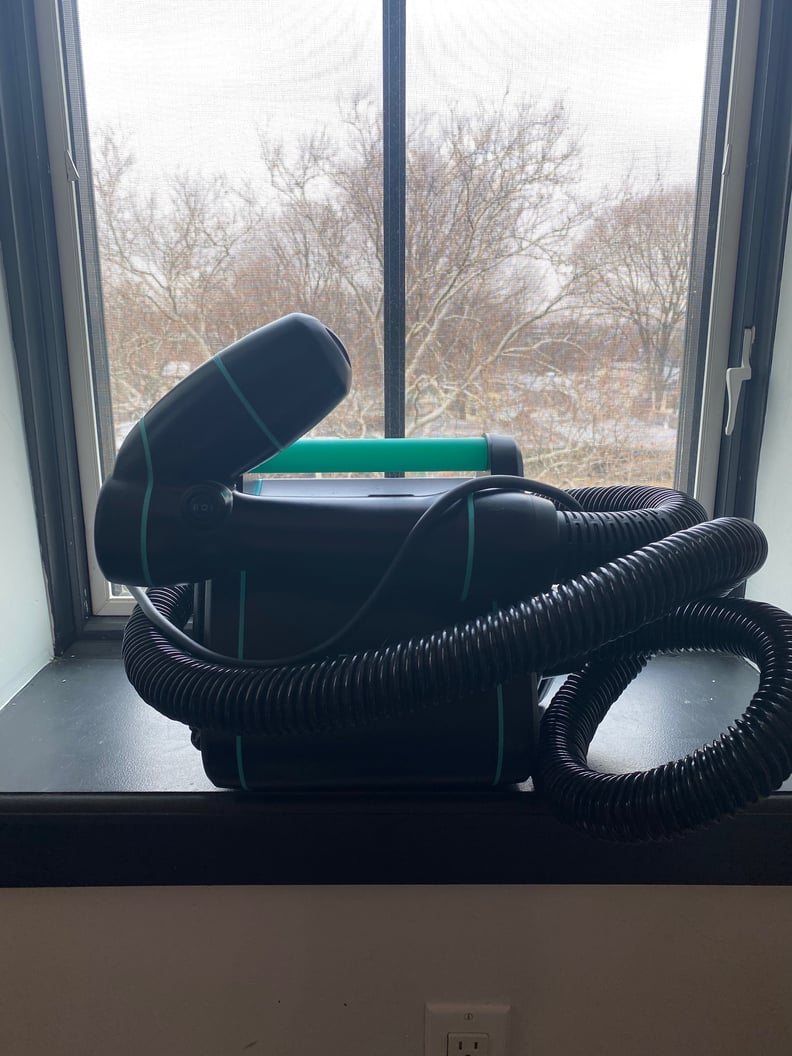 POPSUGAR Photography | Ariel Baker
POPSUGAR Photography | Ariel Baker
As POPSUGAR editors, we independently select and write about stuff we love and think you'll like too. If you buy a product we have recommended, we may receive affiliate commission, which in turn supports our work.
The Revair Reverse Air Dryer promises to dry, smooth, and straighten all hair types in half the time of a traditional blow dryer.

Customers swear that the product makes drying and styling hair much easier.
One editor put the hair dryer to the test to see if it lived up to the hype.
Blow-drying my hair has to be my least favorite part of my wash day routine. Still, for a few months now, I've continued to see people on Instagram talking about the Revair Reverse-Air Dryer ($400), claiming that it's one of the best hair dryers on the market. Curious, I checked the Amazon reviews, and many customers seem to agree. People with all hair types and textures have commented on how it significantly cut down on drying time and helped to straighten their hair. Even TikTok users have been shocked by the results. As someone willing to do almost anything to make wash day more bearable, I had to try it.
The blow dryer features patented technology that "reverse" air-dries the hair, which the brand claims is what helps stretch the hair and keep frizz away. The dryer itself is a bit bulky — it comes with a drying wand, the base, and a long hose to suction the hair — but with some creativity, I was able to fit it in my bathroom for my normal wash day setup. There are three heating options: no heat (just airflow), low heat, and high heat, as well as seven tension options, with each level stretching the hair more, the higher the level gets.
After trying all heating options, I decided to use low heat and tension level two to blow-dry my hair.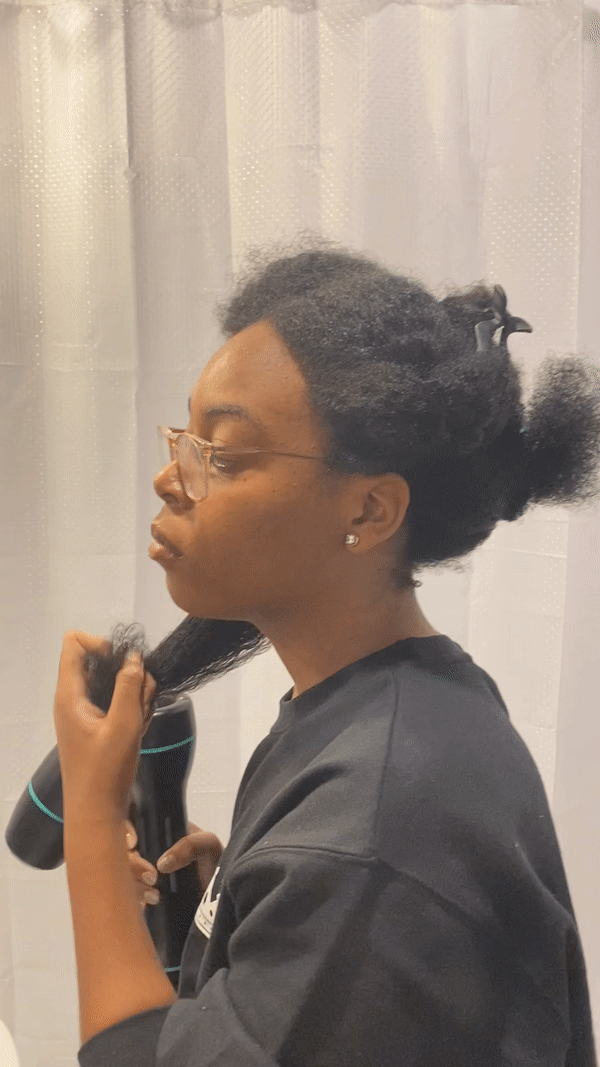 The head of the dryer sucks hair into the nozzle like a vacuum, something I'd never seen in a blow dryer before, but the process was completely painless. The nozzle never got hot throughout blow-drying, making for a very comfortable user experience.
On the previous settings, my hair was dry but still a bit wavy, so I increased the tension to level three, keeping the heat low. It turns out that adding additional tension was the secret to the smooth result that I was looking for. Not only was my hair was dry from root to tip, but it was also stretched enough to look like it was almost straightened. These are the results that I would get after a grueling blowout session with a regular hair dryer and a hair brush.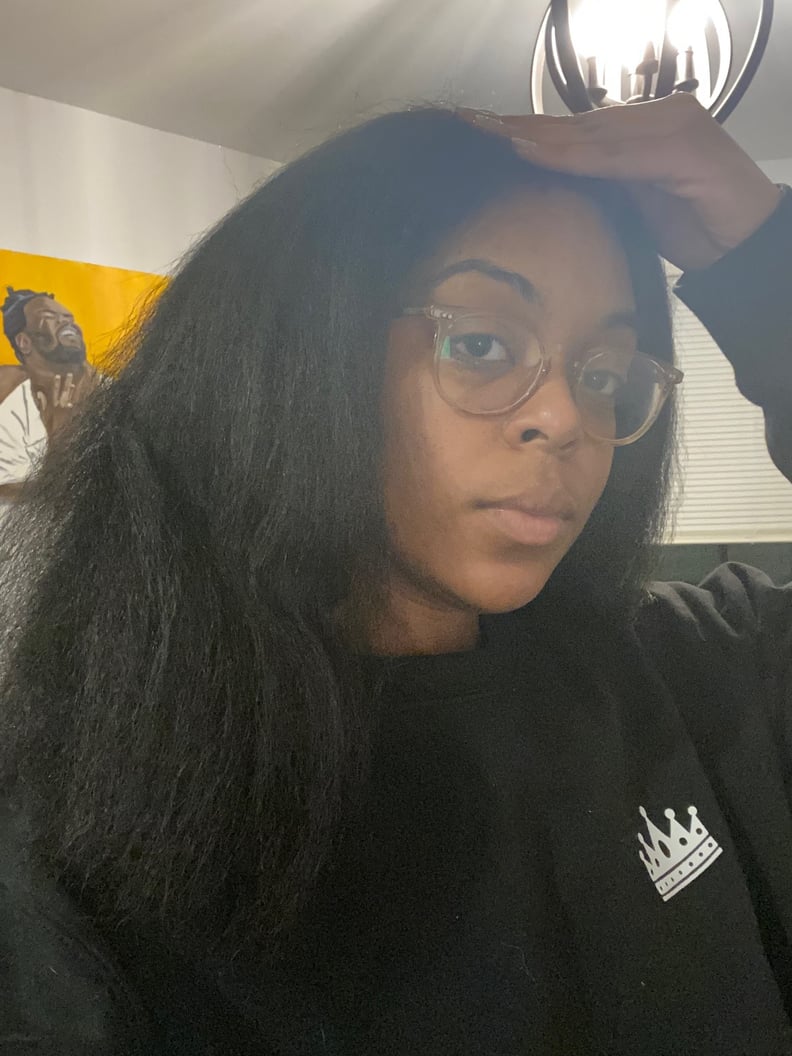 I continued with this tension throughout the rest of my hair and was impressed with the results. The fact that I could essentially blow-dry and style my hair with this one tool left me a bit incredulous, but the results were undeniable. Running my fingers through the entirety of my hair, I could feel that not only were the strands dry but the roots were as well. Other blow dryers would have me taking special attention to the roots, which adds additional drying time, but this tool fully dried my hair in the allotted 90-second increments. It's a game changer.
This dryer was incredibly fun to use and the results were next level, but my one gripe is the bulky design. Throughout the drying process, I would trip over the hose numerous times when putting the nozzle down to grab another section of hair. While not a deal breaker for me, a design that takes up less space would make this dryer a top contender for my favorite hair dryer of all time. I do, however, still highly recommend it for anyone who wants to make wash day much easier. While the price tag is steep at $400, to me, the results make it worth every penny.
Rating:
★★★★☆