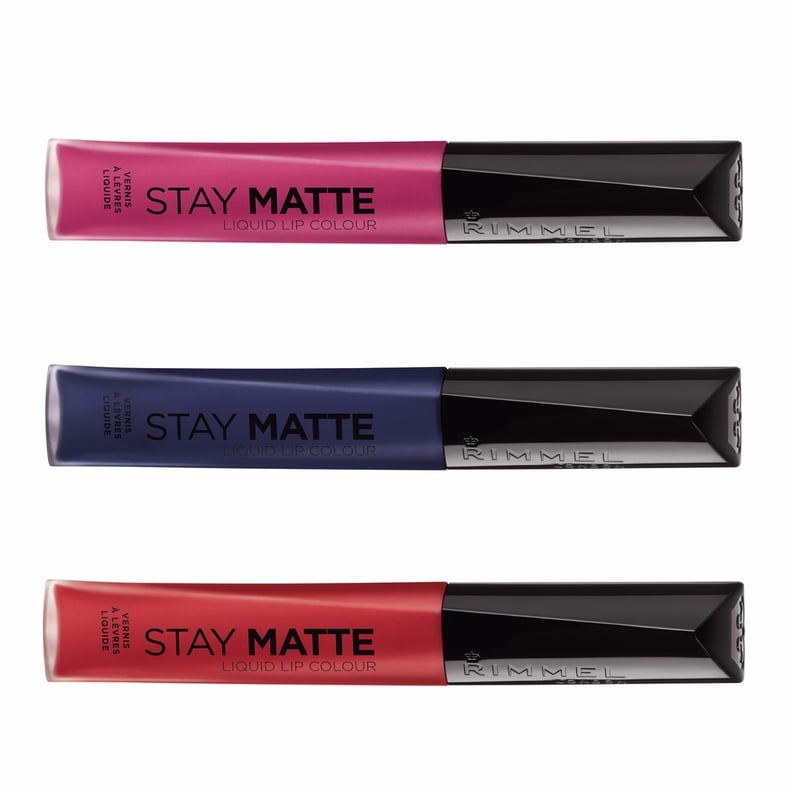 Glosses may be getting trendy again, but I'm not ditching matte liquid lipstick anytime soon. Just try to pry it out of my hands! I'm completely sold on the matte moment: it looks both sophisticated and edgy, and usually results in a durable, long-wearing application. So, as a flat-finished lipstick aficionado, I was psyched to get the exclusive first look at Rimmel London's newest formula, Stay Matte Liquid Lip Colour ($6).
My first observation was how easy it is to work with. Some matte liquid lipsticks dry lightning fast, leaving you mere seconds to perfect your application before your look sets. However, this mousse-like texture stays creamy and pliable for around five minutes (which I appreciated, as that generous amount of time felt damn luxurious). I used the precise, chisel-tip doefoot to line my lips first, then filled in using the broad side of the applicator.
Because the Stay Mattes don't dry insanely rapidly, its finish is far from being that superflat, dry, crusty finish that too many matte liquid lipsticks have. Instead, this leaves your pout with a velvety look. My lips reminded me of the beautiful silkiness of fresh rose petals when I tried Heartbeat, a fuchsia shade. Though that was my favorite, it comes in 14 hues, including neutrals, brights, and edgier tones like sapphire, slate, and black.
You should also know that even after several hours, this liquid lipstick feels majorly comfortable, a plus in a longwear formula. I have yet to put it to an aggressive test, but Rimmel London claims this lipstick will last for up to 12 hours, ideal for those of us so busy we forget to even brush our hair in the morning. Quite honestly, this is one of the best products of its kind that I've ever tried and outperforms many prestigious products, but at a fraction of the price.
By now, you're likely ready to stock up! Good news: the Stay Matte Liquid Lip Colour is officially launching in July, but Rimmel London is doing an early access, online pop-up sale with Ulta Beauty on May 6. At just $6 apiece, buying all 14 shades doesn't seem totally unreasonable. Keep reading to get a peek at them all, then shop the virtual pop-up on May 6 here.

Rimmel London Stay Matte Liquid Lip Colour in Pink Bliss

Rimmel London Stay Matte Liquid Lip Colour in Blush

Rimmel London Stay Matte Liquid Lip Colour in Pink Blink

Rimmel London Stay Matte Liquid Lip Colour in Rose & Shine

Rimmel London Stay Matte Liquid Lip Colour in Fire Starter

Rimmel London Stay Matte Liquid Lip Colour in Be My Baby

Rimmel London Stay Matte Liquid Lip Colour in Latte to Go

Rimmel London Stay Matte Liquid Lip Colour in Moca

Rimmel London Stay Matte Liquid Lip Colour in Midnight

Rimmel London Stay Matte Liquid Lip Colour in Plum This Show

Rimmel London Stay Matte Liquid Lip Colour in Heartbeat
Rimmel London Stay Matte Liquid Lip Colour in Blue Iris

Rimmel London Stay Matte Liquid Lip Colour in Pitch Black

Rimmel London Stay Matte Liquid Lip Colour in Shadow