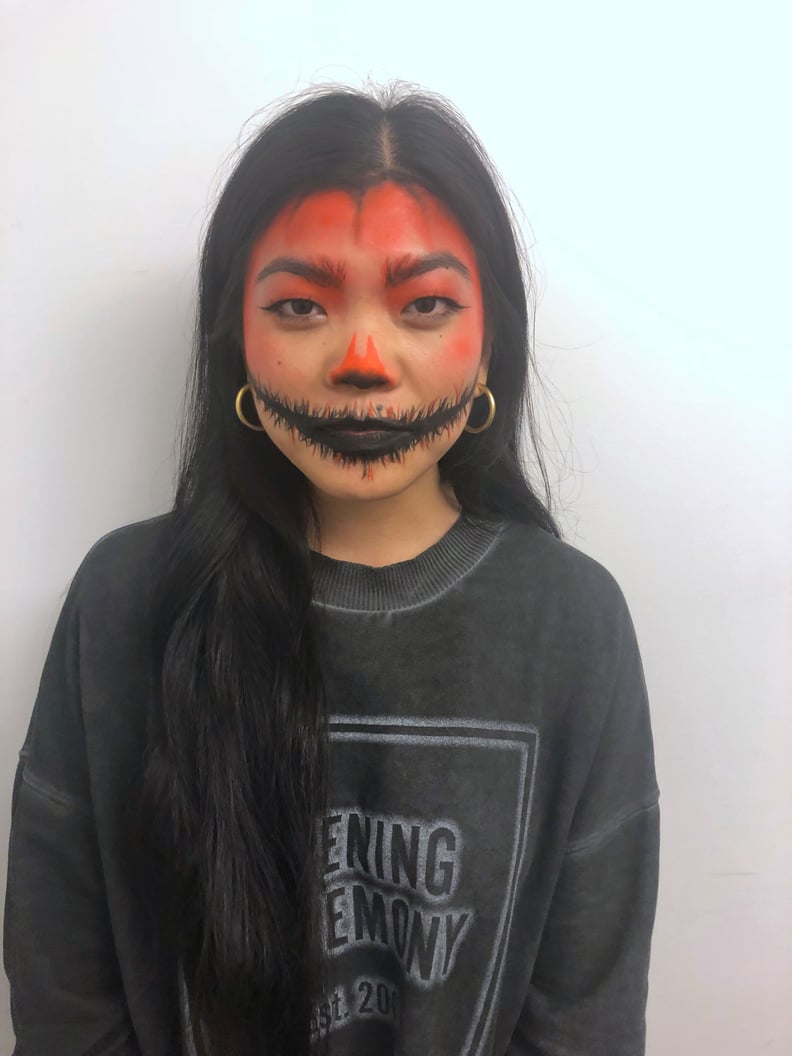 POPSUGAR Photography | Sarah Siegel
POPSUGAR Photography | Sarah Siegel
As POPSUGAR editors, we independently select and write about stuff we love and think you'll like too. If you buy a product we have recommended, we may receive affiliate commission, which in turn supports our work.
You might think that pumpkin Halloween costumes are reserved for small children, but once you see this scary makeup look on Reddit, you won't be able to sleep.
We reached out to Kat Von D Beauty makeup artist Steffanie Strazzere to find out how to re-create it at home using just a few products. To our surprise, it's extremely easy and totally worth the extra time. Throw on an orange or black ensemble to complete your horrific costume, and prepare to get tons of compliments from party guests. An added bonus? The products used are waterproof, allowing you to eat as much candy as your heart desires.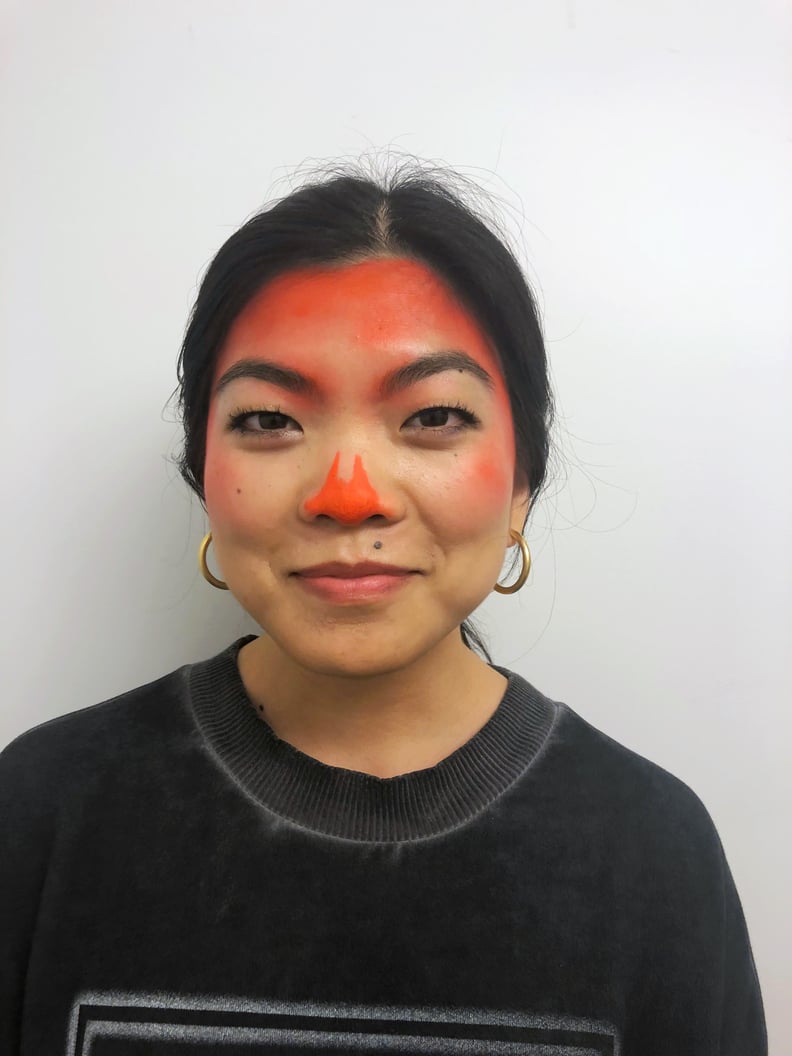 Step 1: Add the Orange
Using a damp cosmetics sponge and an orange liquid lipstick like Kat Von D Everlasting Lipstick in A-Go-Go ($20), apply the liquid along your hairline and temples, and blend toward the center of your face. Work in small sections to ensure the liquid doesn't dry down before you're able to blend it out. Add a little to your cheeks, and draw on a jack-o'-lantern nose using a coordinating lip liner like the Everlasting Lip Liner ($18).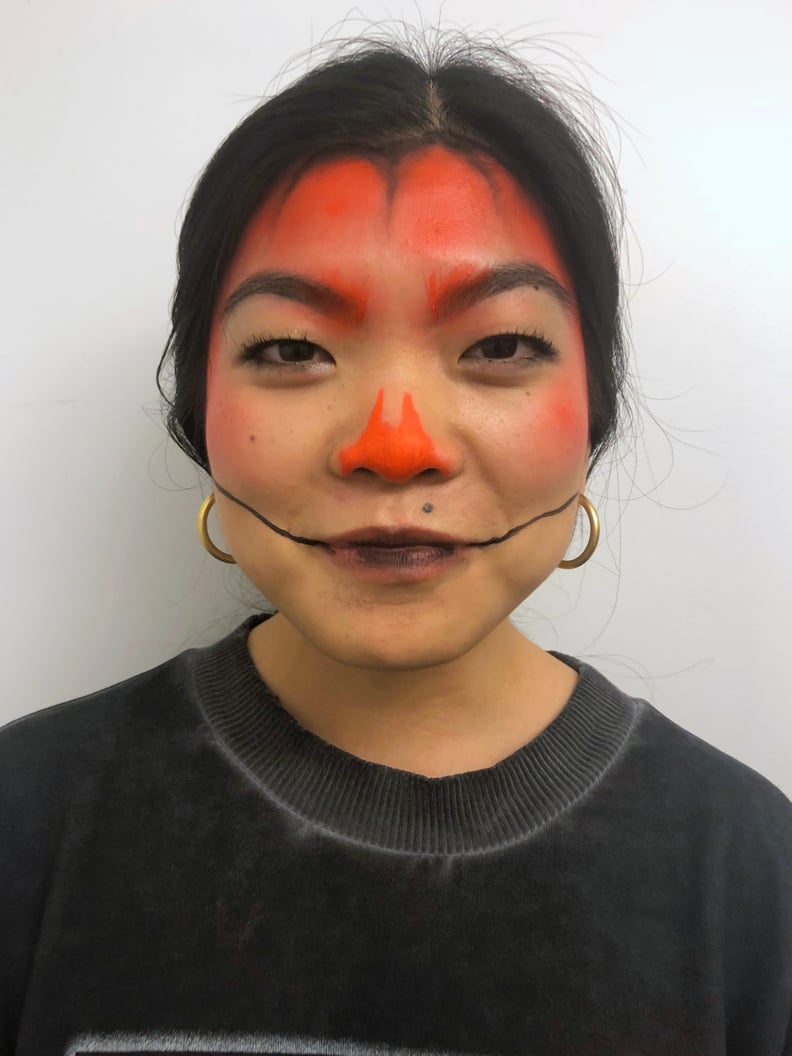 Step 2: Outline Your Features
Using 24-Hour Super Brow Long-Wear Pomade in Black ($19) and an angled brush, add the ridges of the pumpkin to your forehead and outline your scary grin, ear to ear. Dot a little bit of black on your lips, and blend with a sponge.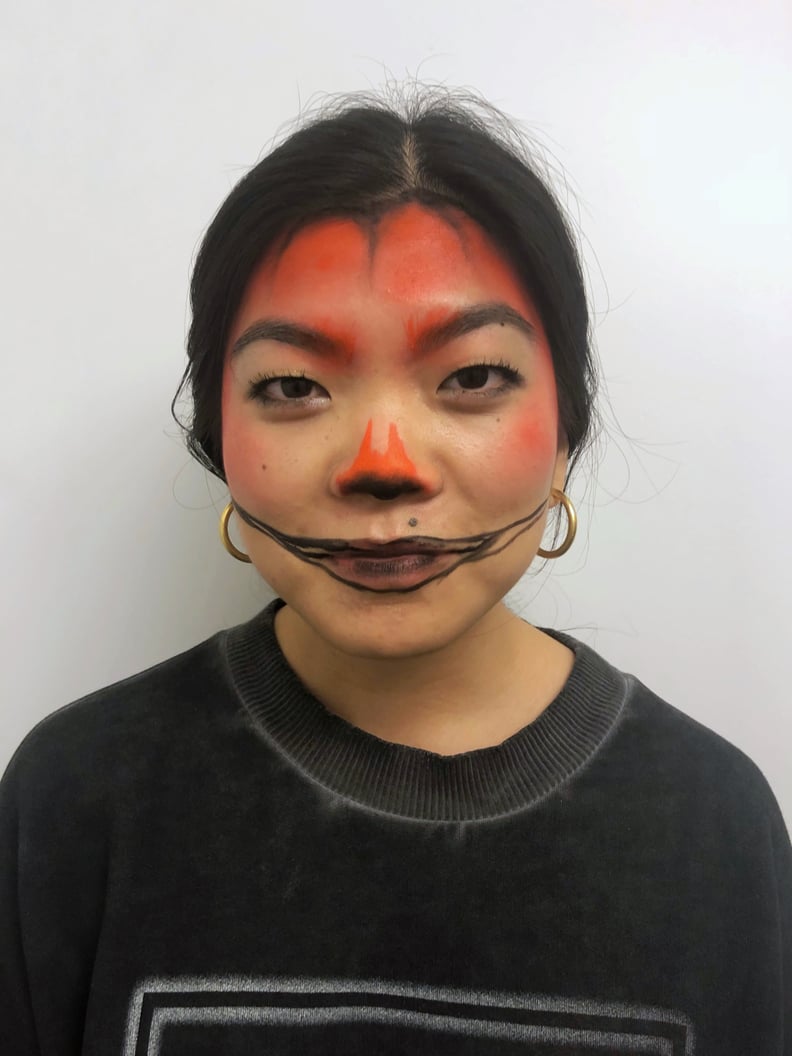 Step 3: Continue to Outline the Mouth
Expand the smile with the brow pomade, encasing your lips within the outline.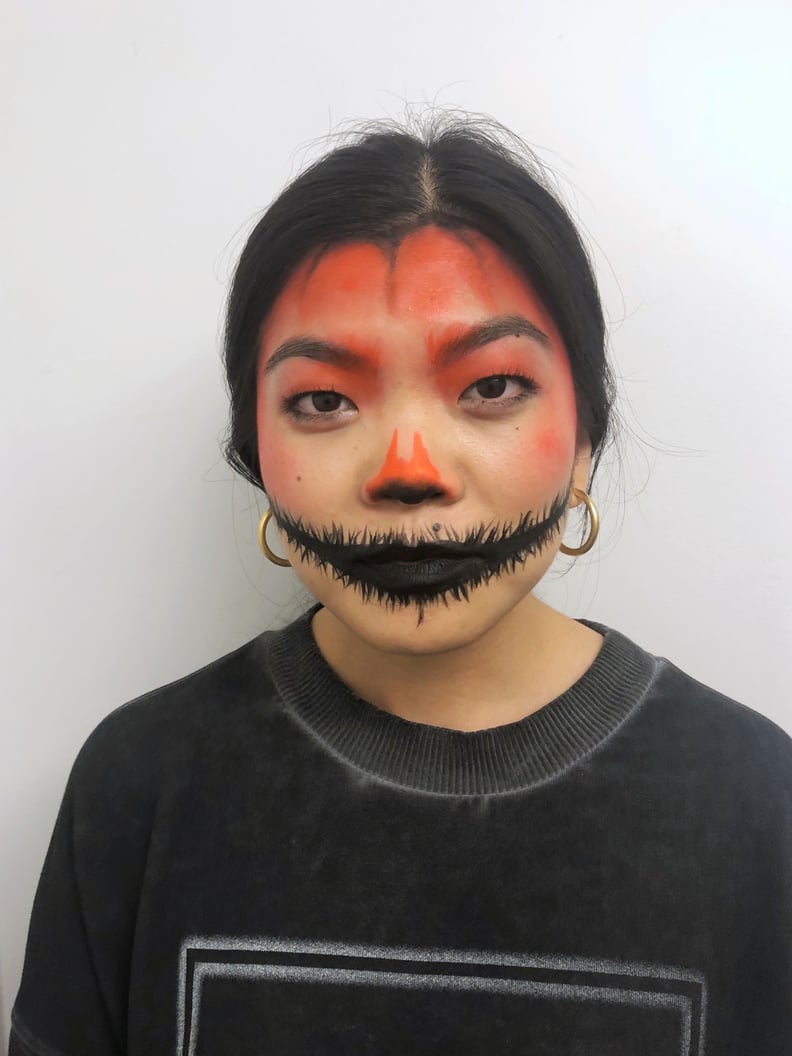 Step 4: Fill In the Mouth and Add Stitches
To give the pumpkin an even spookier quality, fill in the outline with the pomade and a brush and flick little lines at different angles around the mouth using different-size brushes. Add a few to your brows to pull the look together.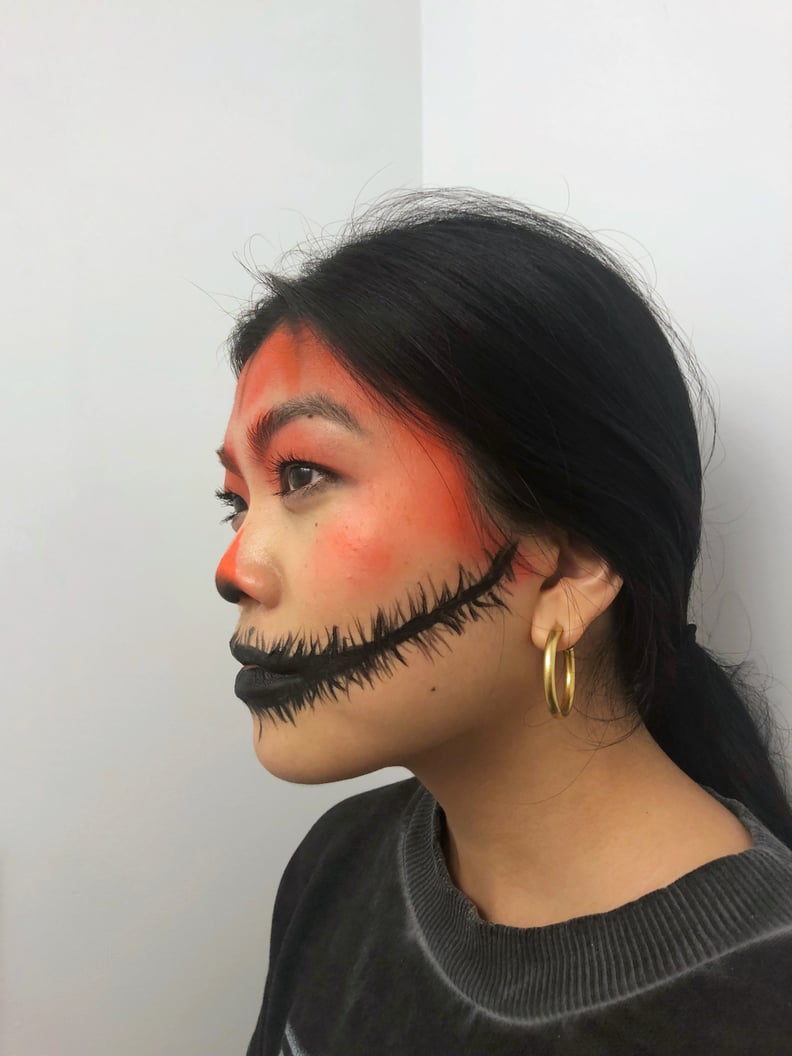 Be sure to extend the lines on both sides up to your ears.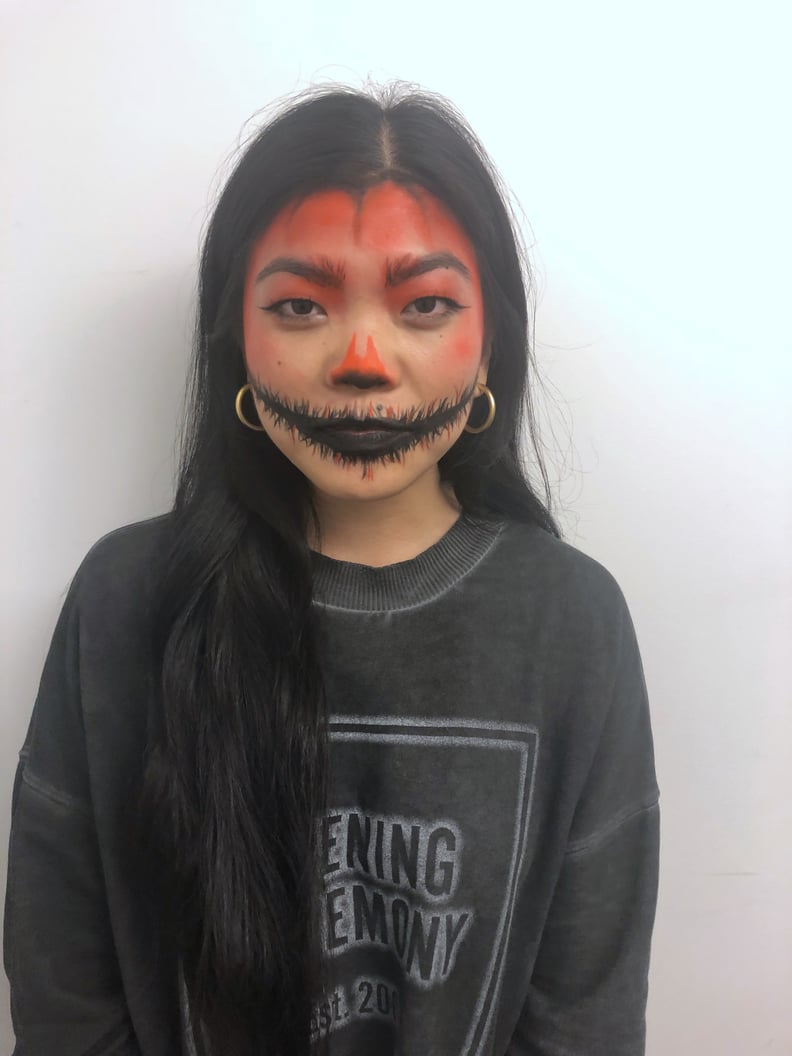 Step 5: Add More Orange, and Terrify Your Friends
To finish off the look, use a fine brush to add some more orange lines to your eyebrows and mouth using the liquid lipstick. Your terrifying look is complete, and you'll be the scariest pumpkin at your party.