Introducing Smith & Cult, a Sassy-Sweet New Nail Polish Line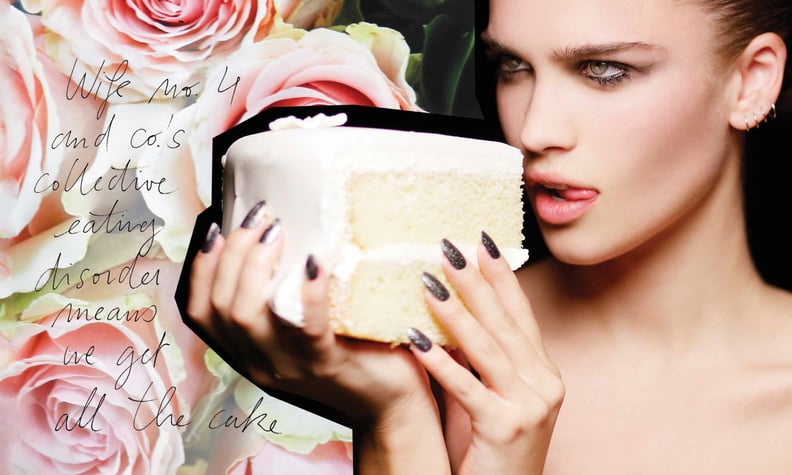 In the mid-'90s, Dineh Mohajer mixed two lacquer shades together to create a powder-blue nail polish ("Sky") that matched her Charles David sandals. And as the story goes, Hard Candy cosmetics and its premiere color were born. The brand developed a cult following, including actress-of-the-moment Alicia Silverstone, but after Mohajer sold it to LVMH in 1999, the label became more mass and lost some of its underground roots. After several more beauty ventures, Mohajer was ready to pour her heart into creating the perfect nail polish empire. This month, she achieves that with the arrival of Smith & Cult.
The name Smith & Cult is meant to express two sides within us: "Smith" is the good girl, "Cult" is the edgy one. Gorgeous, gold-hammered bottle caps reflect this as one side is smooth and pristine, the other side distinctly dented. The theme extends to a campaign dubbed Diary of a Beauty Junkie. There are 30 shades to start that include bold glitters, neutrals, neons, and everything in between, plus top and base coats. And for $18 a pop, they're a steal at high-end luxury shops like Net-a-Porter. Add in the fact that they're five-free (meaning no dibutyl phthalate, toluene, formaldehyde, formaldehyde resin, and camphor), and the cool moms are happy as well.
Need any more convincing these will be your new salon staples? Just keep reading to see every dreamy color and learn (exclusively!) what inspired each kitschy, creative name. Plus, score styling tips on how to wear these fresh shades.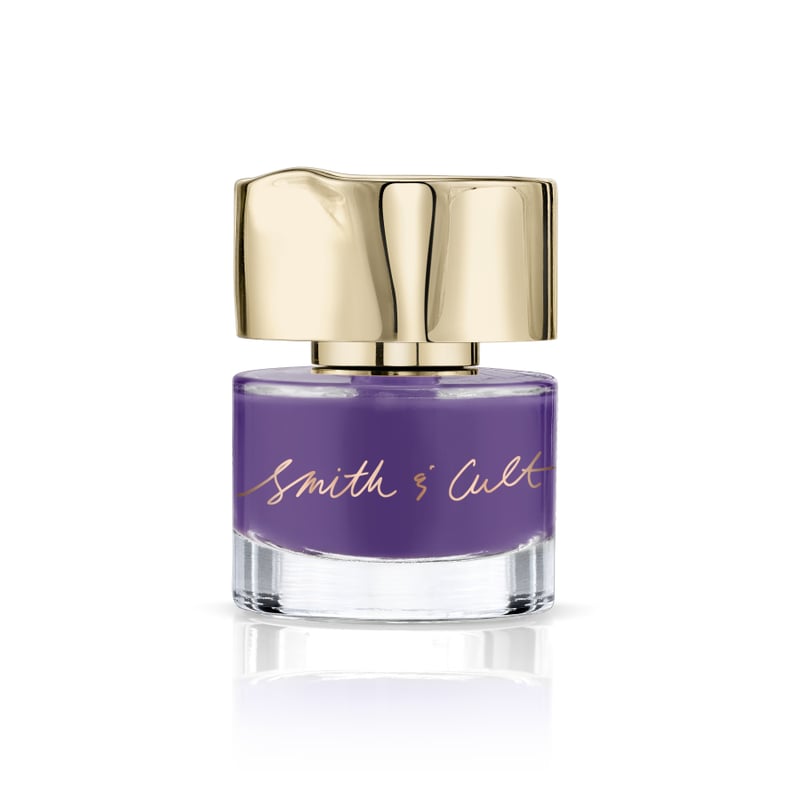 Smith & Cult Check The Rhyme Nail Polish
"Check The Rhyme is an opaque violet purple shade that was inspired by an ensemble of old school oversized bamboo hoop earrings, a vintage T-shirt dress and Air Jordan 3 [sneakers] (not re-issues) evokes Beat Street circa 1982. Can I kick it? Maybe."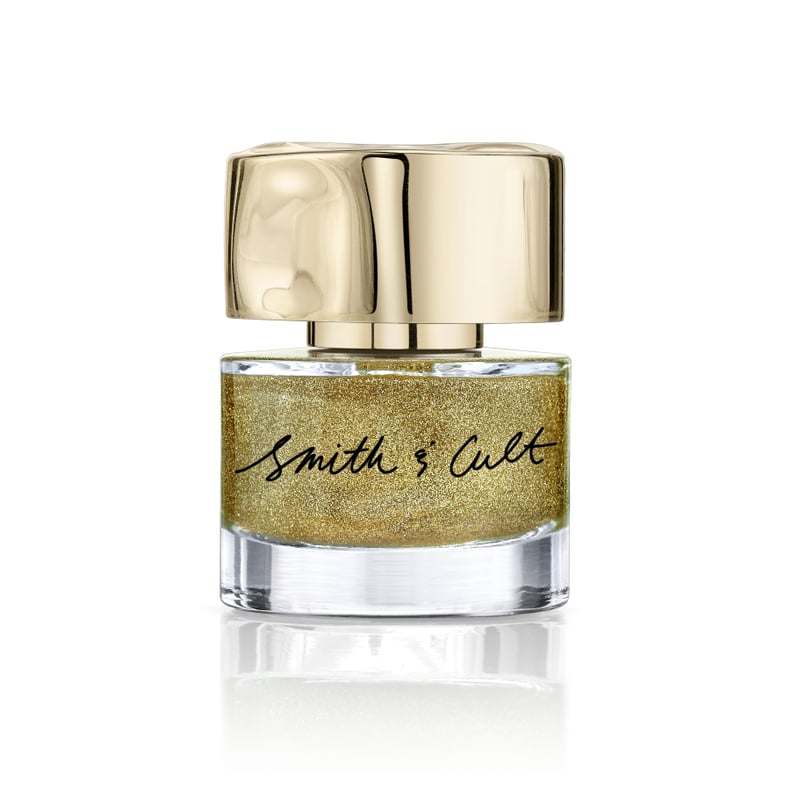 Smith & Cult Bridge and Tunnel Nail Polish
"Bridge & Tunnel is ultrafine golden glitter suspended in a clear base. The list of requirements to not fall into this category [being 'bridge and tunnel'] is endless. However, wearing this shade is the exception."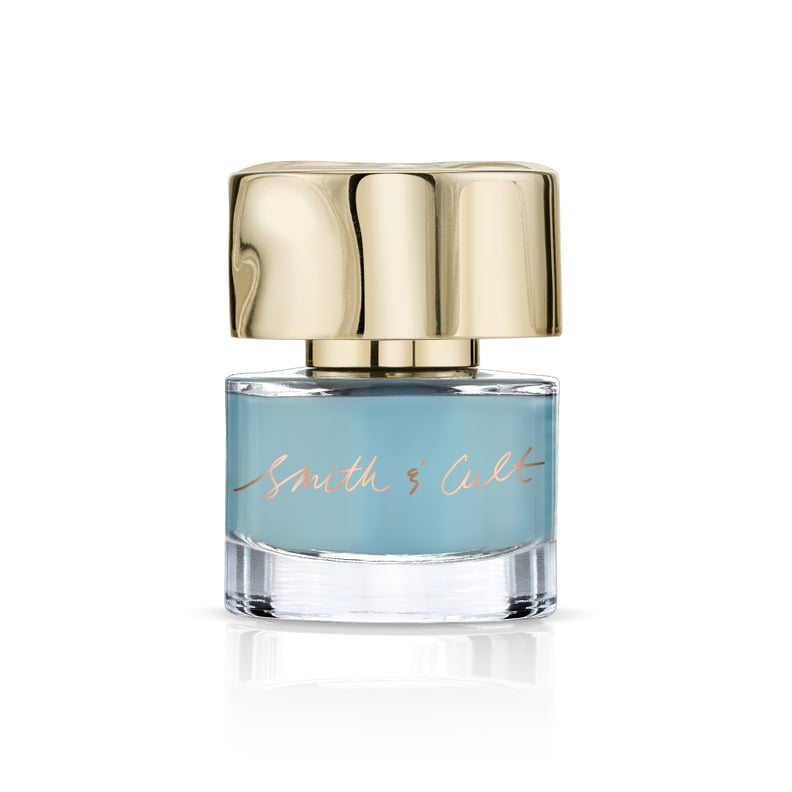 Smith & Cult Cut The Mullet Nail Polish
"Cut The Mullet, an opaque pastel sea blue, was my saving grace when my friend's art show was packed with wall-to-wall hipsters not looking at his genius art. The color is so beautiful — just wearing it transported me out of the room of hair tragedy."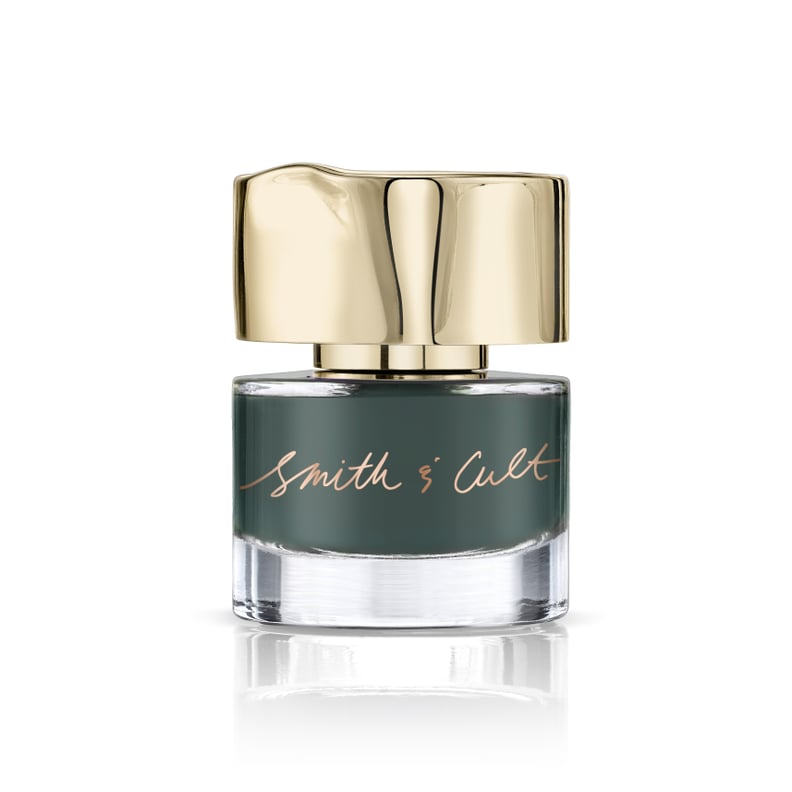 Smith & Cult Feed The Rich Nail Polish
"Feed the Rich paired with a bright, yet rich, red lip is one of my favorite fall choices. The deep teal green against the color-saturated red lip evokes the visual of a cinematic collision between a film noir moment, circa late 1940s and a droplet of Technicolor magic. It's Helmut Newton meets the Bret Easton Ellis set of Less Than Zero."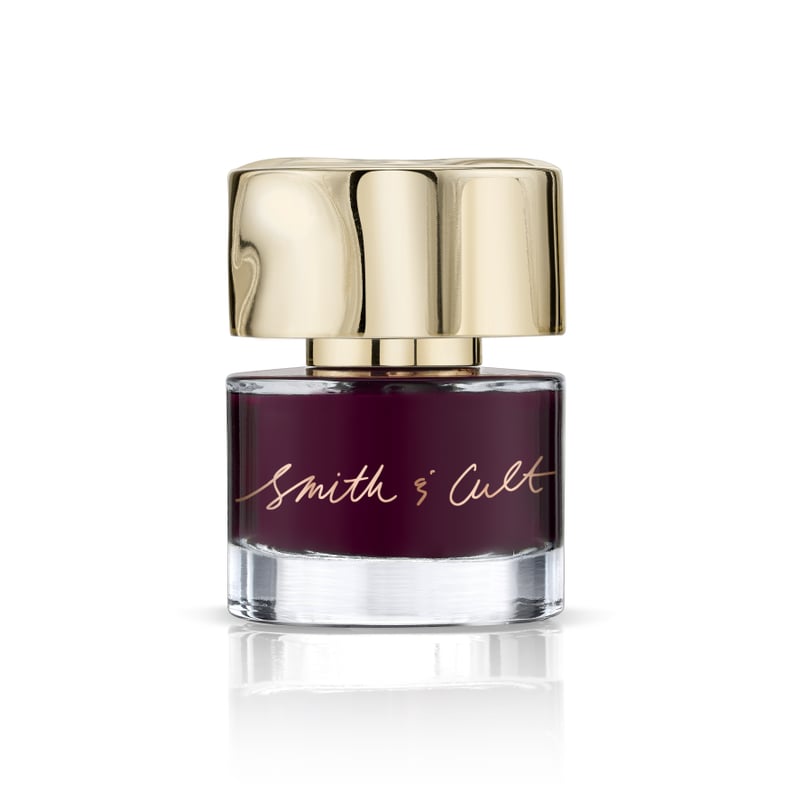 Smith & Cult Dark Like Me Nail Polish
"The timeless Dark Like Me aubergine nail shade, a smart white suit (post-Labor Day fashion guidelines are antiquated), deliberately minimal nude-ish makeup and loosely coifed hair makes an odd cocktail of perfection. I picture Bianca Jagger stumbling through a Haruki Murakami novel."
Smith & Cult Dirty Baby Nail Polish
"Dirty Baby is silver glitter suspended in an obsidian base. This textured yet smooth and glossy shade adds shine and glitz (hate that word, but it's accurate) to a staple Fall look: smoky eye/heavy lid (preferably day-old), messy mop of hair and a dark and stormy attitude problem (but not a real one, just make believe.)."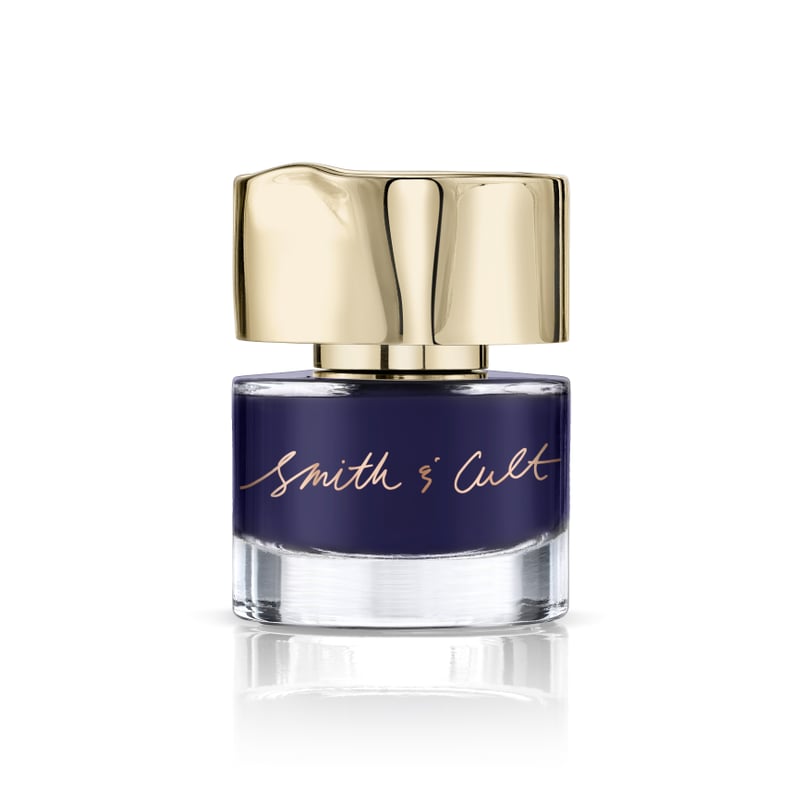 Smith & Cult Kings & Thieves Nail Polish
"Kings & Thieves is a dark ink blue shade that, when paired with a soft pink lip and rosy cheeks, can transform gloom into ethereal lightness. It's exactly how I imagine Cecilia Lisbon, the bravest of the five sisters in the film (not the book) The Virgin Suicides. I see her in a ghostly photo of a blown-out, sun flared autumn day."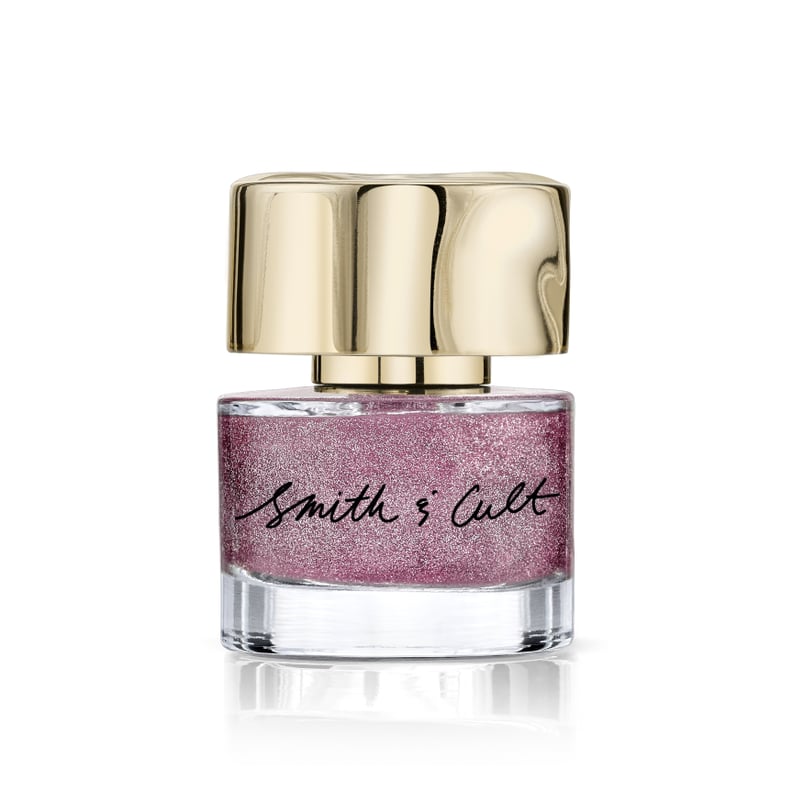 Smith & Cult Gay Ponies Dancing in the Snow Nail Polish
"Gay Ponies Dancing in The Snow is an ultrafine pink and silver glitter suspended in a clear base. It's a fusion of over-the-top My Little Pony girly pink with Tinseltown flash. I feel like I've been in an explosive collision involving gigantic ice cream sundaes and a gang of Studio 54 stragglers."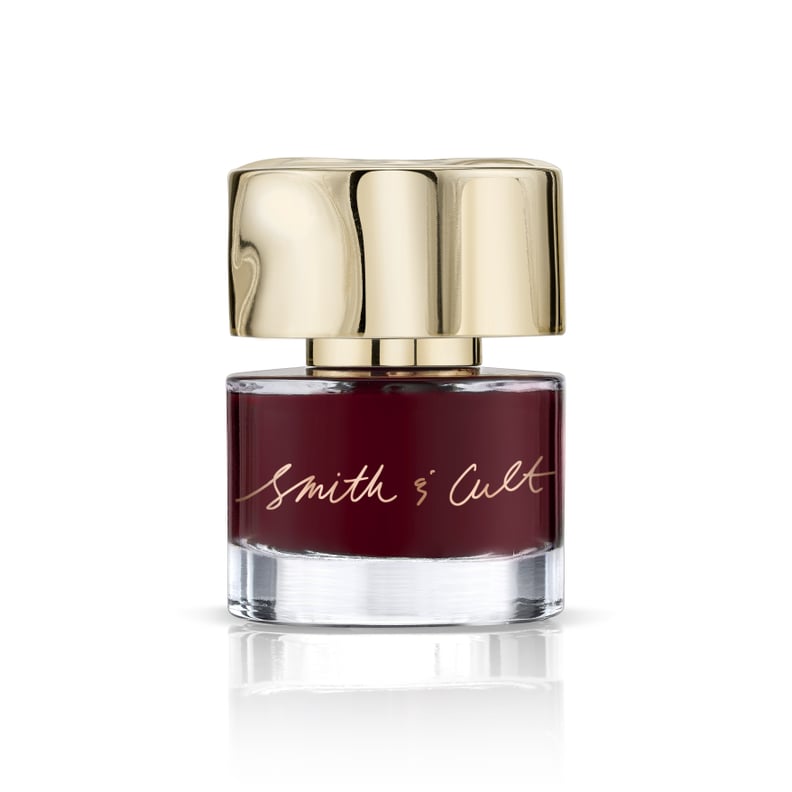 Smith & Cult Lovers Creep Nail Polish
"I wear Lovers Creep when I know I am doing something (or someone) that I will regret almost immediately. The rich opaque bordeaux nail shade, paired with my almost-falling-apart favorite vintage shirt, may ultimately lead me down a road of deep Google diving and cyber stalking, to the point where I'm familiar with his favorite brunch spots, his best friends, and can even predict what he will do for high holidays."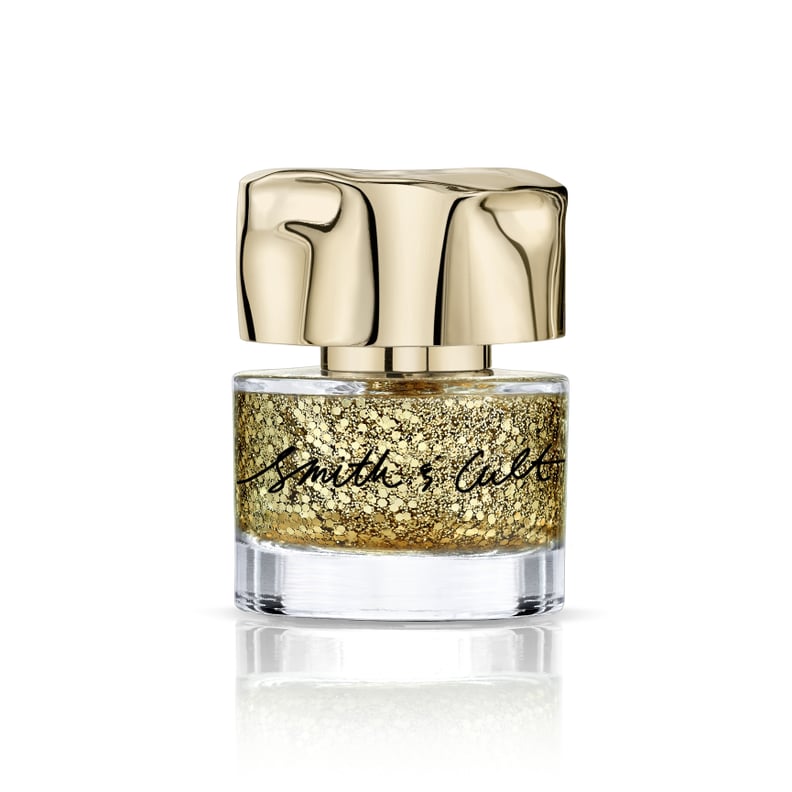 Smith & Cult Shattered Souls Nail Polish
"Shattered Souls is ideal for the hours before midnight. For me, the chunky gold glitter conjures up a nostalgic visual of '70s linoleum (the kind with little gold sparkles embedded in the floor), but also it feels super foxy to me when layered on Kundalini Hustle, a poppy red. It evokes the image of Humbert's most beloved muse, Lolita, while she discovers nail lacquer for the first time (not to mention other things.)."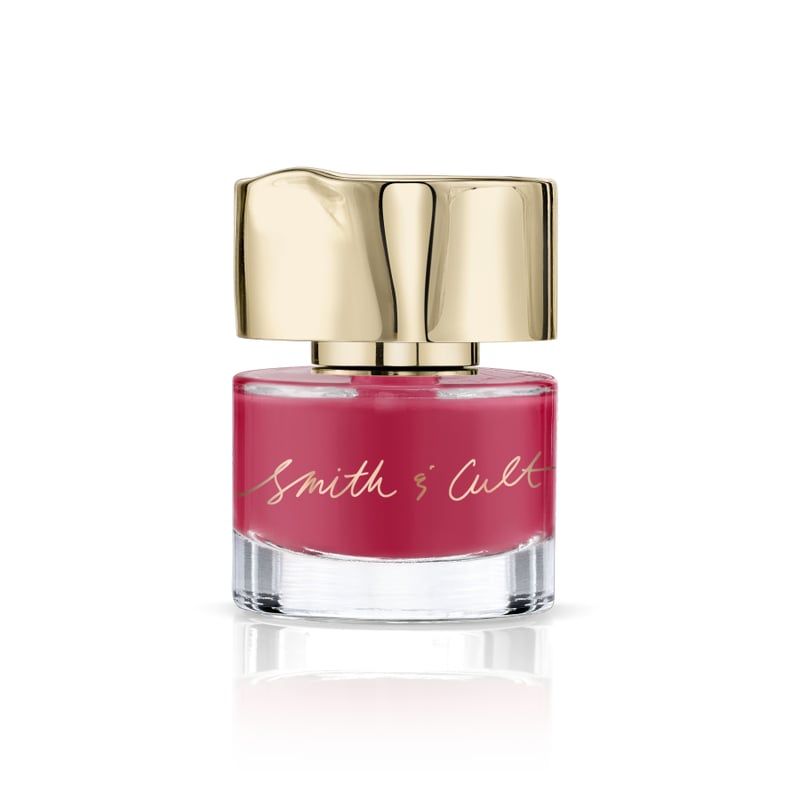 Smith & Cult Suburban Warrior Nail Polish
"Suburban Warrior is an opaque watermelon radish shade which reminds me of the combat vows I made to myself when I moved to the land of Stepford wives: to keep my unreliable vintage car, precious collection of jewelry from 7th grade (baubles and neons), and gigantic shoe collection. And to NEVER stop eating Hostess cupcakes . . . at least until next week."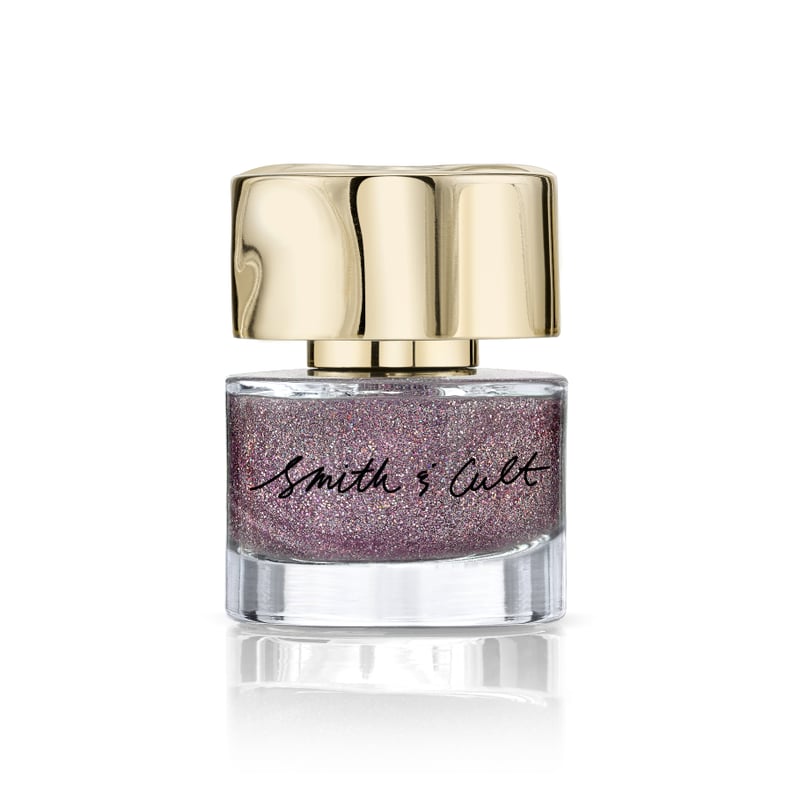 Smith & Cult Vegas Post Apocalyptic Nail Polish
"Vegas Post Apocalyptic is ultrafine holographic lavender glitter suspended in a clear base that somehow elegantly transforms tragic into magnificent. Being seduced by the city puts me at serious risk for needing to head straight back to LA to check myself into Cedar's mental ward, but my nails look so beautiful that I can't resist the temptation."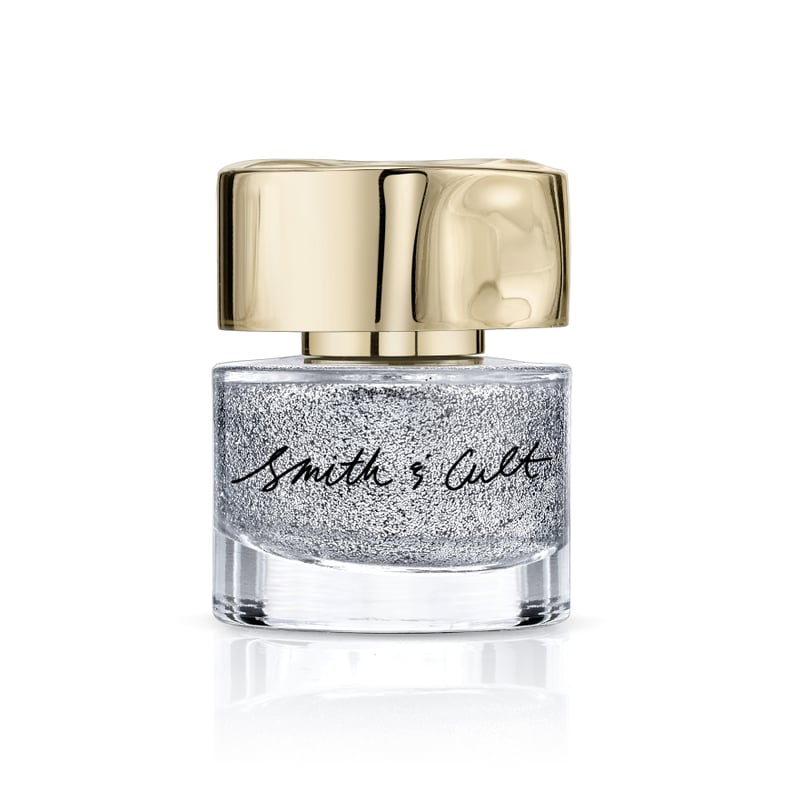 Smith & Cult Teen Cage Riot Nail Polish
"Teen Cage Riot is fine silver glitter suspended in a clear base. This sparkly yet smooth shade is what '90s supermodels (the real supermodels) were all about: glamorous, temperamental, silver, sexed-up angst. I dream of Linda Evangelista [in a] monochromatic [outfit from] head to toe. "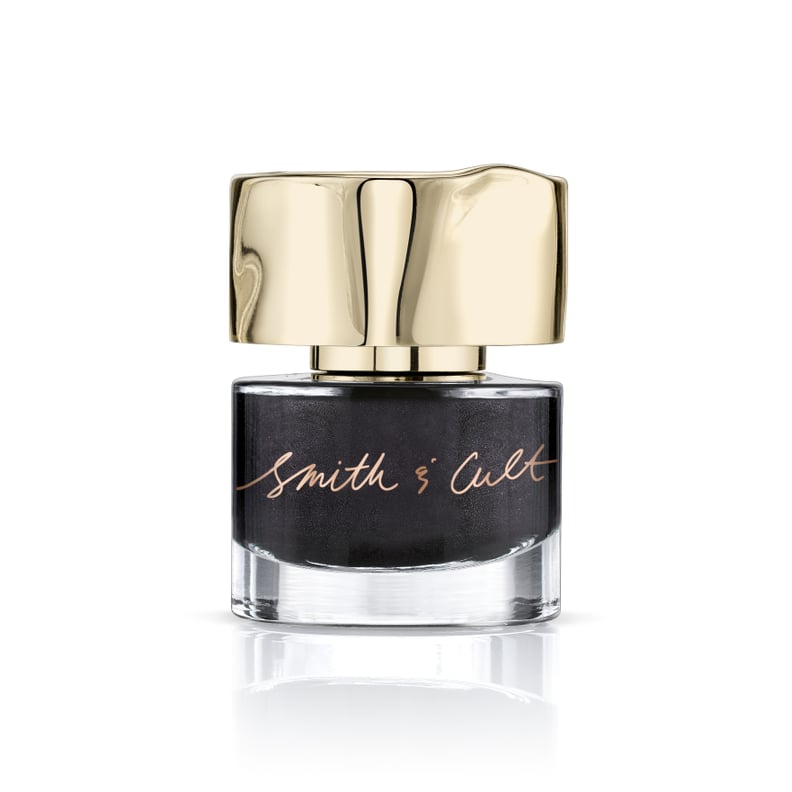 Smith & Cult Bang the Dream Nail Polish
"Bang the Dream is a sultry, opaque, metallic dark graphite I'm always wearing in a reoccurring (hopefully not prophetic) dream. Always set in the future, I'm at a party at my ideal modern home: seamless, stark, clean lines, and all white with walnut. Time slows down, the air around me becomes stifling, everything is closing in on me with no Xanax in sight. Cut to me on the floor engulfed in quasi-chaos. No one notices me – as I come to I discover that I've been thrust into a sea of selfies. At least my nails look amazing!"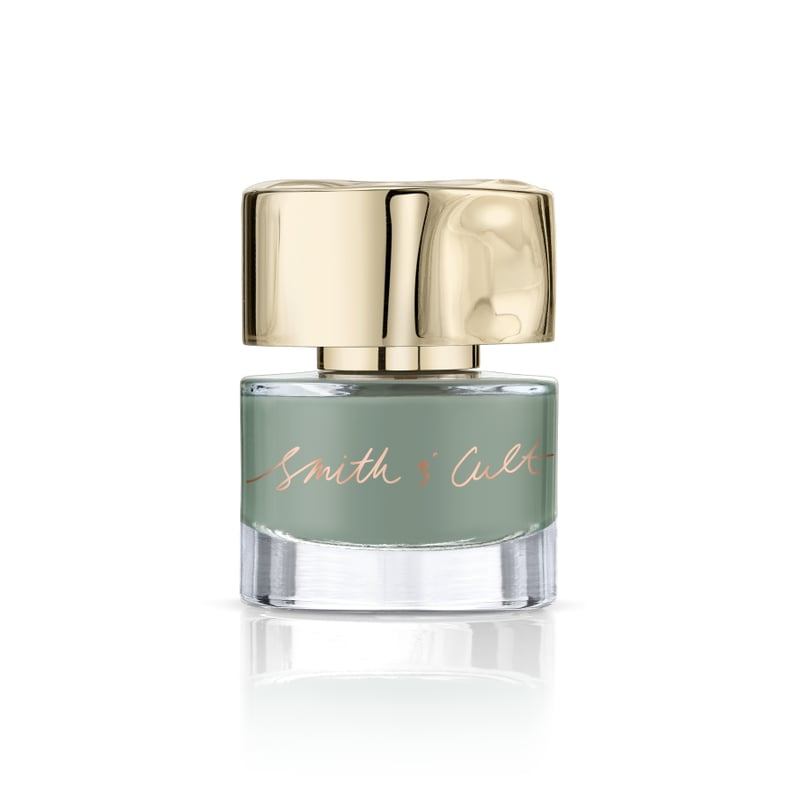 Smith & Cult Bitter Buddhist Nail Polish
"Bitter Buddhist is an opaque, celadon green inspired by a book signing I once attended. Yes, it was self-help. Yes, I read it because I was devastated after a breakup. Yes, I am a living, breathing, walking cliché. I stood behind this woman in line who immediately started talking to me. She was recently divorced, in her late 30s and starting a new life as a 'practicing Buddhist.' Right before her turn, some young, pixie-like girl in a fantastic vintage green jumpsuit cut in front of her (St. Germain – kill me, I love it), and the peaceful one almost murdered the little dodo. It was fun."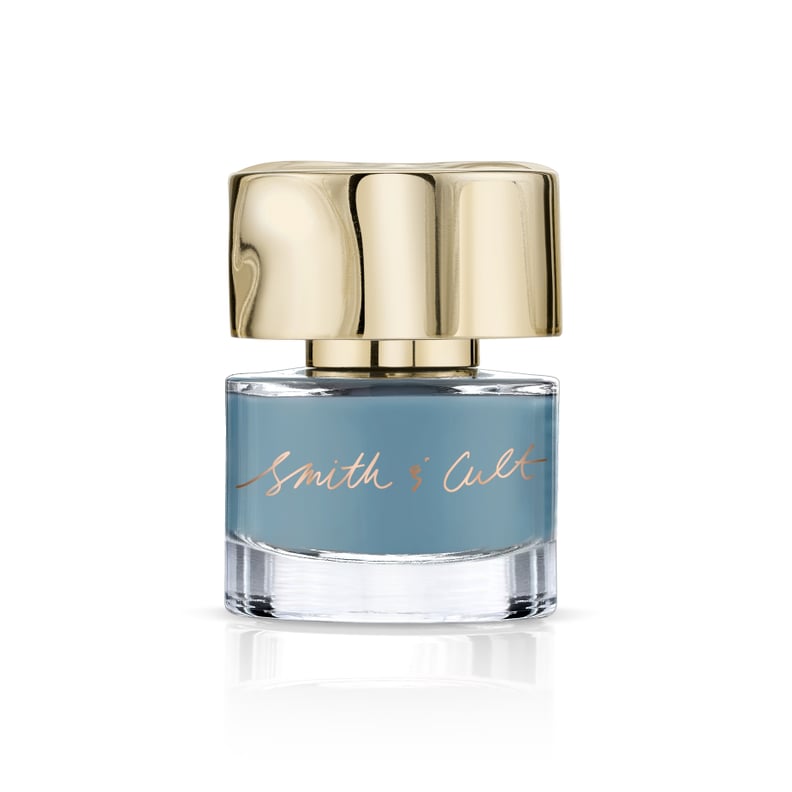 Smith & Cult Birdie Num Num Nail Polish
"Birdie Num Num is an opaque, bright turquoise blue. This pigment saturated hue is 100 percent inspired by Peter Sellers in the film The Party portraying Hrundi v. Bakshi, the best pretend Hindu that ever didn't live."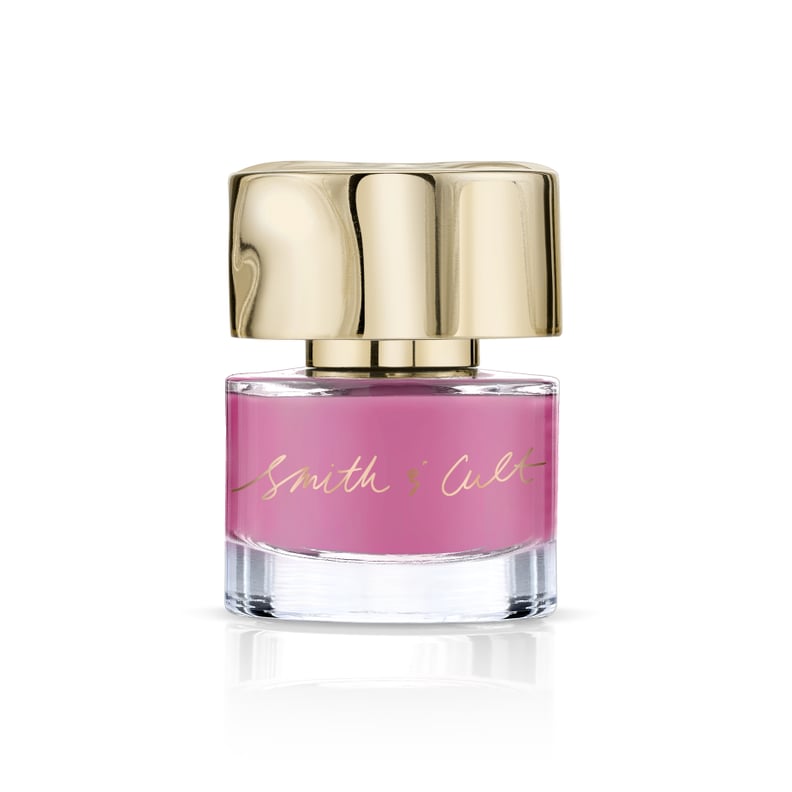 Smith & Cult City of Compton Nail Polish
"City of Compton is an opaque, mod, bubblegum pink. For years I've had this secret (extremely secret secret — as I share it here in writing) fantasy of being the video ho in an early '90s hip-hop video. Abundantly bounding flesh, overflowing gold, and beats galore. Everything is magically wrong and so perfect in this scene. My City of Compton manicure is the real star of this prolific snippet of film."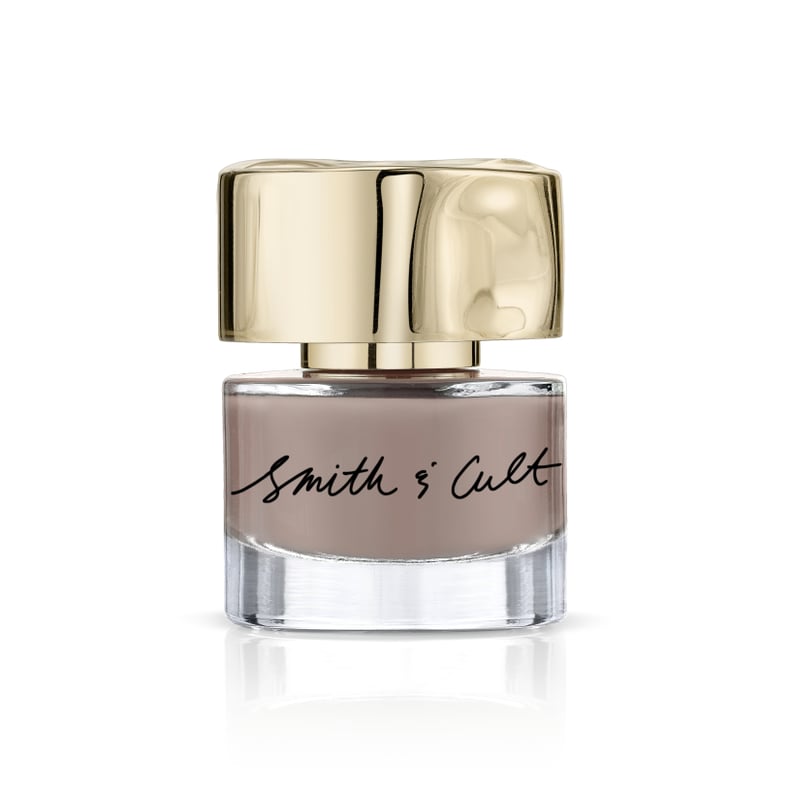 Smith & Cult Doe My Dear Nail Polish
"Doe My Dear is an opaque, dove gray taupe. It's an ode to my lovely friend Stephanie. Ever since she watched the movie Her, she has dedicated an unhealthy amount of time entertaining the idea of dating an IOS system (I totally get the appeal). She needed to analyze other aspects of her potential relationship, but an IOS would likely be more emotionally available and prone to commitment than the man-child she is currently hyper focusing on. She keeps singing, 'But with you my dear, I'm safe and we're a million miles away.' She's like a little doe-eyed deer."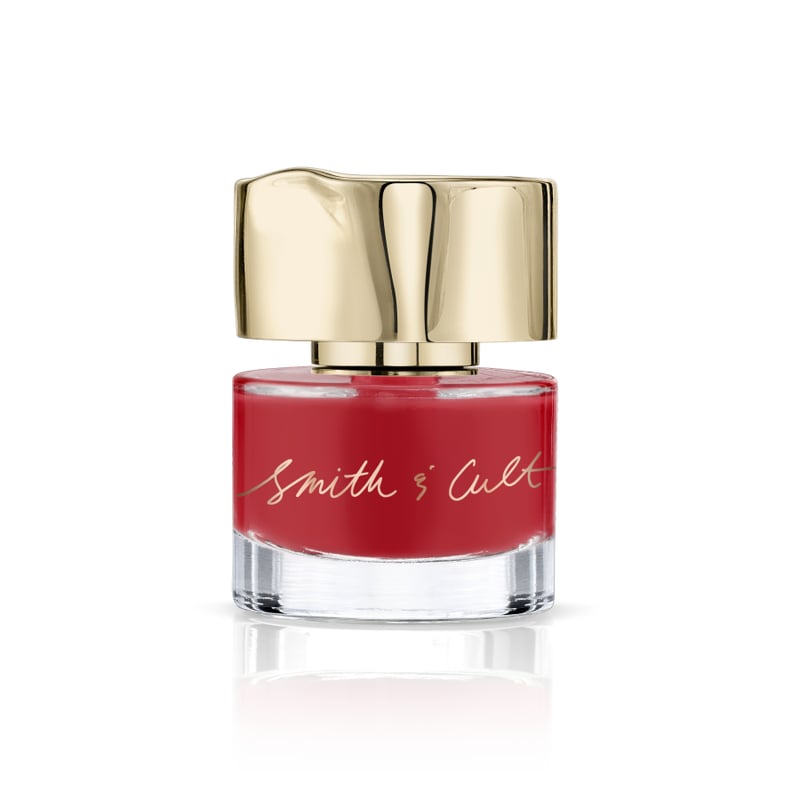 Smith & Cult Kundalini Hustle Nail Polish
"Kundalini Hustle is a poppy red that evokes the image of Humbert's most beloved muse, Lolita, while she discovers nail lacquer for the first time (not to mention other things.)"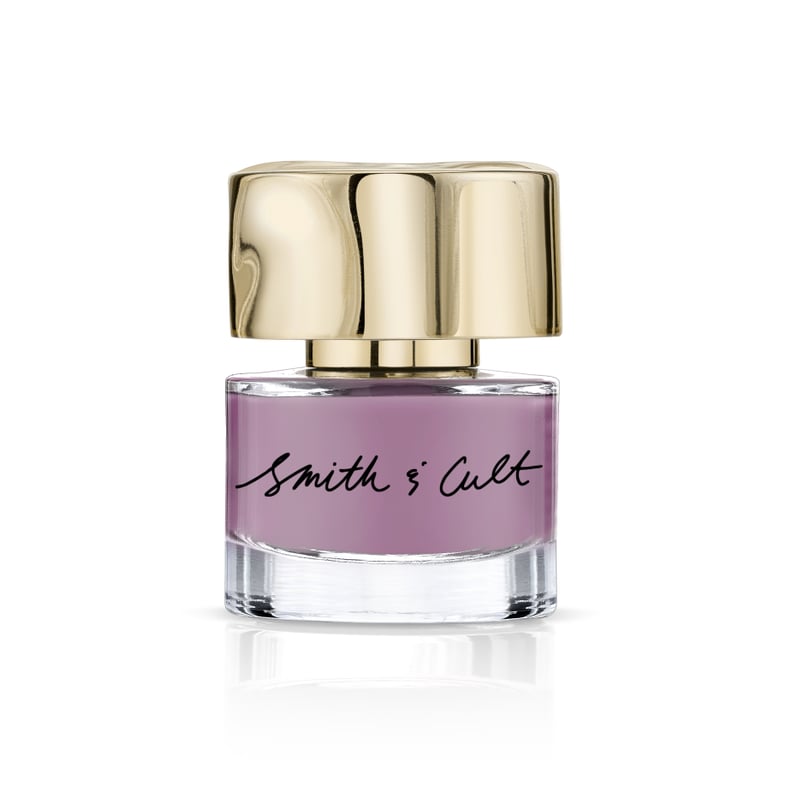 Smith & Cult Fauntleroy Nail Polish
"Fauntleroy is an opaque, muted lavender. The last time I had the desire to be invisible, my venue of choice was a gay karaoke bar in Koreatown. I was disturbingly inspired by a young Asian man who exclusively sang Prince songs. Just 5'3," he was slight, had a skip in his step, a slight lisp, covered his mouth when he giggled, whispered everything slightly scandalous, and loved the color purple. His entire get up was made of this velvety lavender material, and I knew it was going to be the perfect nail shade."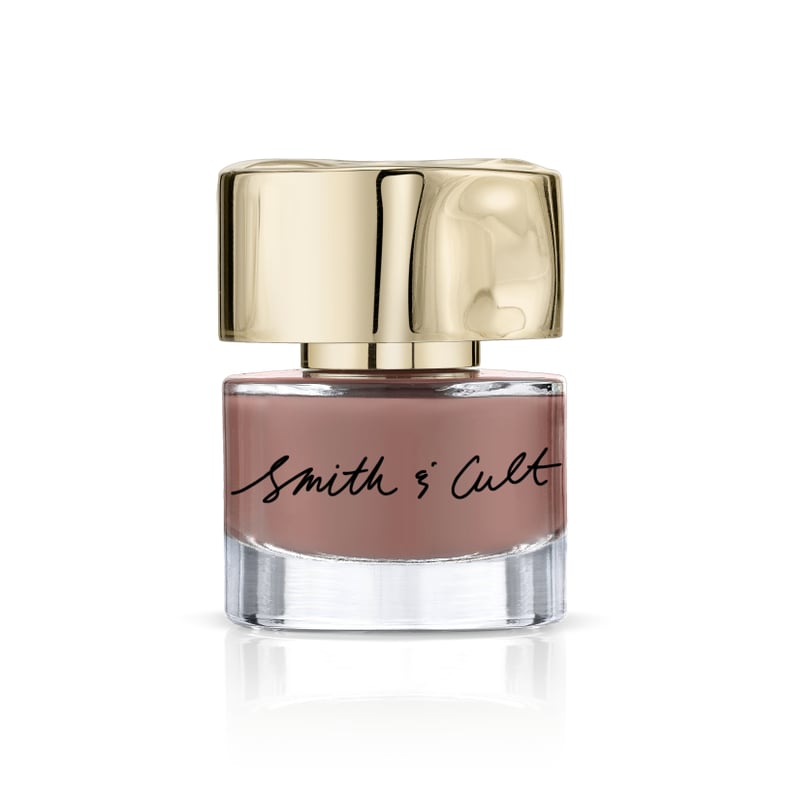 Smith & Cult Feathers & Flesh Nail Polish
"Feathers & Flesh is an opaque, caramel beige shade. Timeless, effortlessly alluring . . . I daydream about Jane Birkin's artfully unkempt hair, black minidress (bra optional), trademark flats, with slightly smudged eyeliner. Her 'I just threw this on' look would take me two hours to achieve, possibly two decades."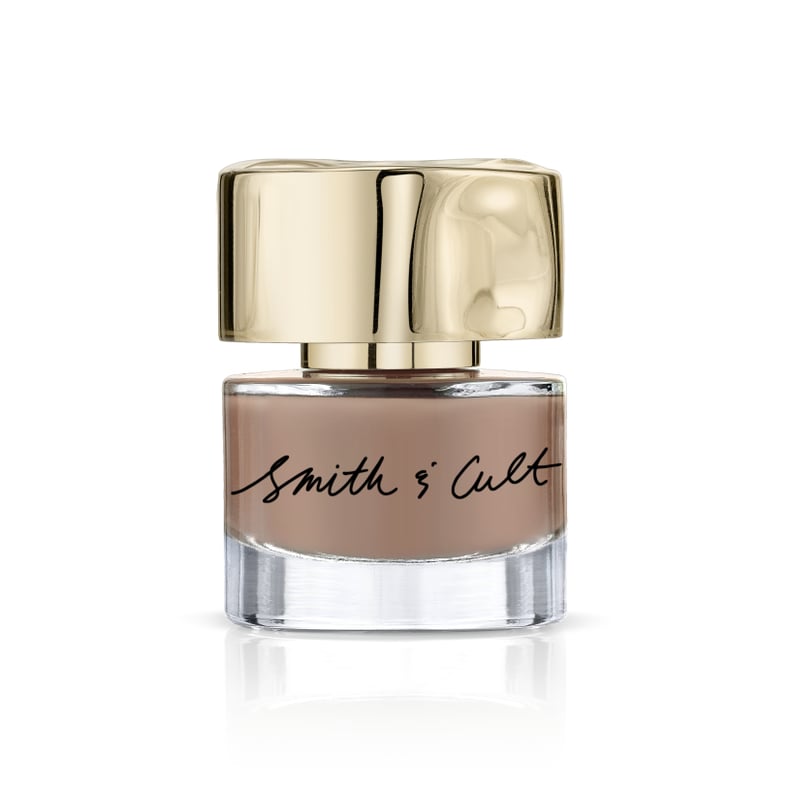 Smith & Cult Honey Hush Nail Polish
"Honey Hush is an opaque, tan beige. This hue dominated my world, inclusive of my nail beds, the day I turned my phone off, spent the day in bed and privately gorged on Twinkies. I listened to 'The Water' by Feist on repeat, which became slightly aggressive. Her voice is so beautiful and ethereal in this song, it descended me deeper into my post hostess mental abyss. I needed a dose of quiet with a shot of riot. Was having trouble finding inspiration for a few days, but Honey Hush was the miracle that emerged from the darkness (OK, I must calm down — me so crazy)."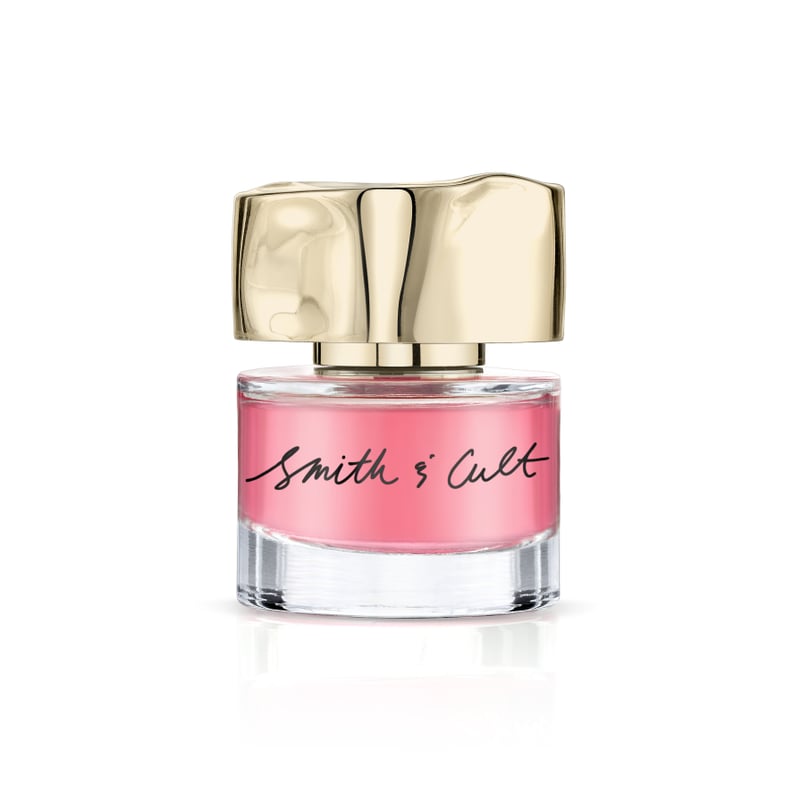 Smith & Cult Base Coat Nail Polish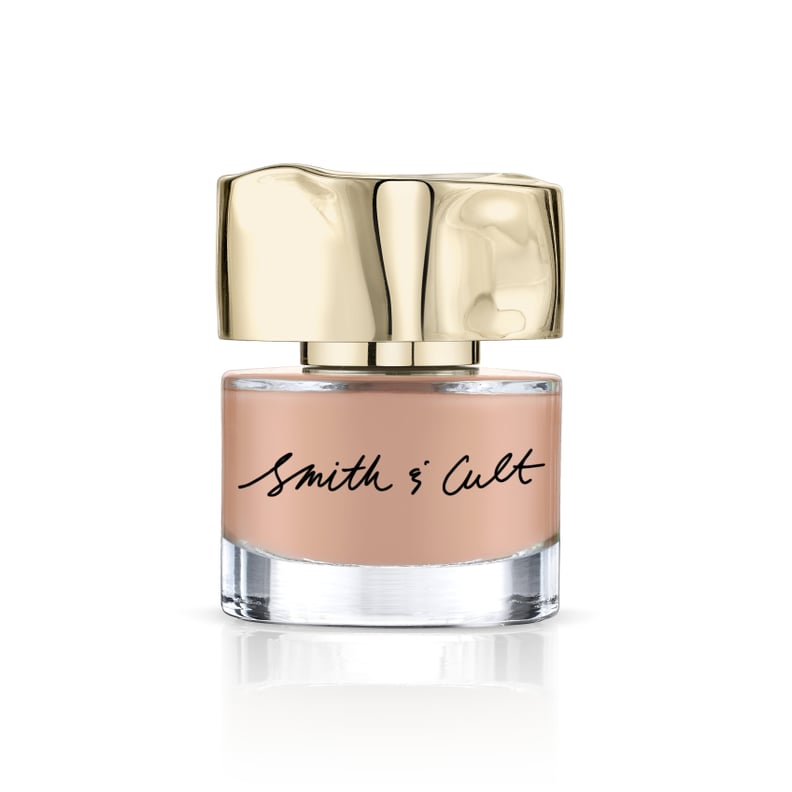 Smith & Cult Ghost Edit Nail Polish
"I love Ghost Edit, a semisheer, pale, nude pink. Speaking of, I'm convinced there's a ghost in my house. He's between 30 and 40, but age is hard to decipher with otherworldly spirits. Sometimes I hear him pacing — always around 5 a.m. Once I felt his hand on my back (wishful thinking?). It's beyond creepy, but curiously I've yet to ask him to move out. This seems to be a reoccurring pattern with men . . . hmm . . . P.S. I think he really likes my nails."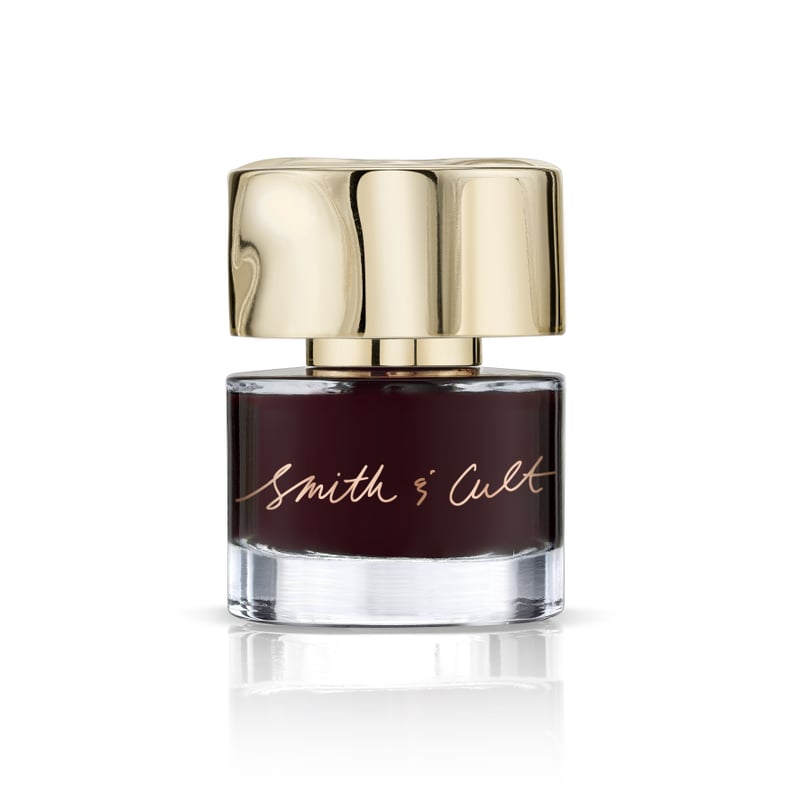 Smith & Cult Lo-Fi Nail Polish
"Lo-Fi is a rich opaque, espresso brown. I have a picture of Diana Ross circa 1977, taped up in my bathroom for sexy-ass fashion-beauty inspiration. Her hair is wet and slicked back. Her rolled-up-sleeve white t-shirt is tucked into high-waisted gray acid wash jeans — cheekbones and attitude for days. Such a stone fox, and she's literally wearing Lo-Fi! Needless to say, I live for this shade."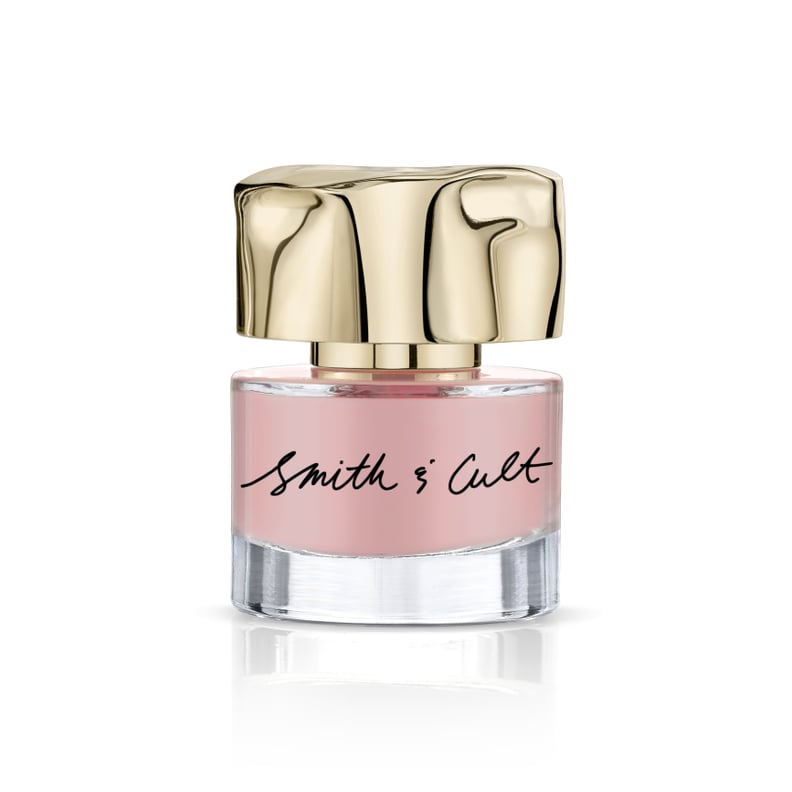 Smith & Cult Pillow Pie Nail Polish
"Pillow Pie is a semisheer, powdery pink that is a tribute to my one true love: lazy, useless Sundays. Utterly indulgent, I do this every week. I'm stuck in bed until I have no choice but to get up or die. Pressure to go to brunch, a sample sale, whatever . . . nothing can sway me from my beloved, soft wonder world of blankets, pillows, and magic coziness. "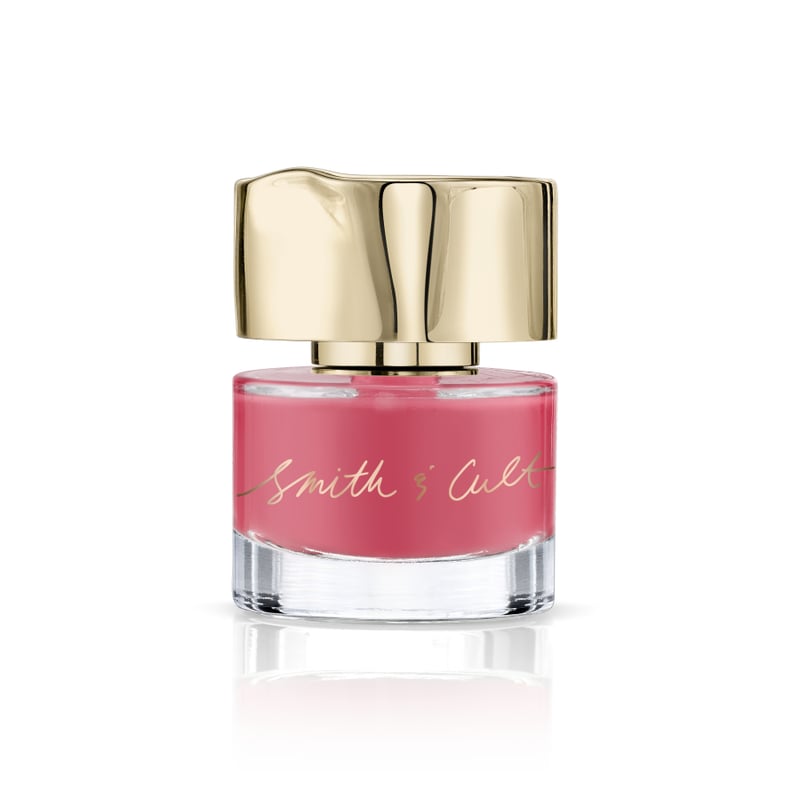 Smith & Cult Plastic Beach Nail Polish
"Plastic Beach is an opaque, guava pink. It has a rooted sense of femininity in the terrain of purchased plastic body parts in the City of Angels. These Celestial cyborgs created using a wide range of the finest organic polymers by worshipped local celebrity surgeons have inspired me — I'm scared!"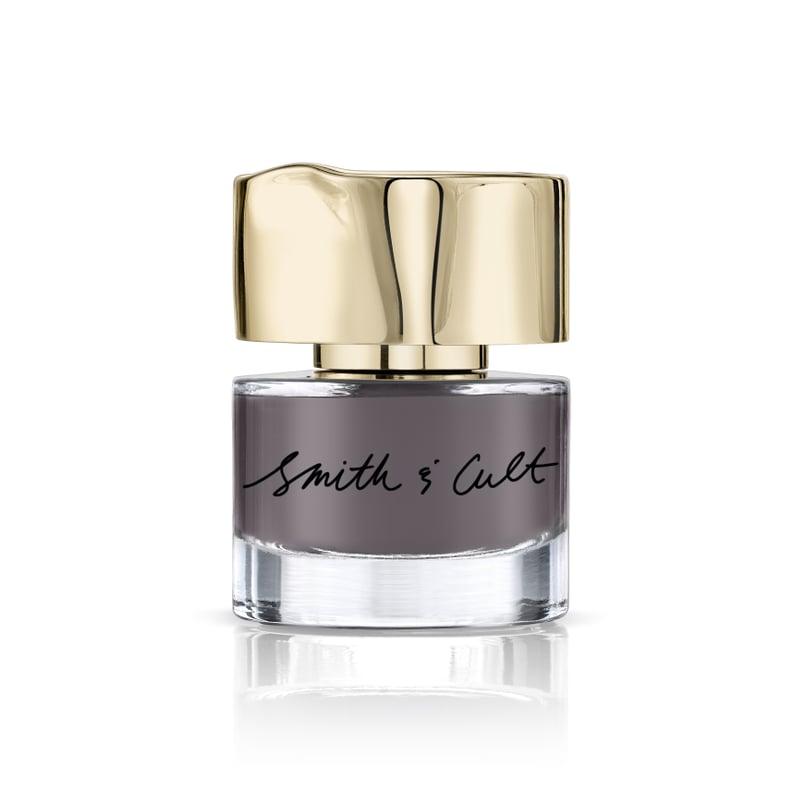 Smith & Cult Stockholm Syndrome Nail Polish
"Stockholm Syndrome is an opaque, elephant gray. Ben's ex text invited me to a 'get together' at her apartment. Curiosity got the best of me, and I went. I stood there like a deer caught in headlights as she walked me around the room introducing me to all the different versions of me. When I asked her what this peculiar event was, she said, 'I just thought it would be great to get all of Ben's exes together and share.' When one ex started bawling, triggering two more, I made a quick beeline for the door. Driving home I thought to myself, 'what did I do when Ben left me?' I went and got a manicure with Stockholm Syndrome and was relieved he bailed."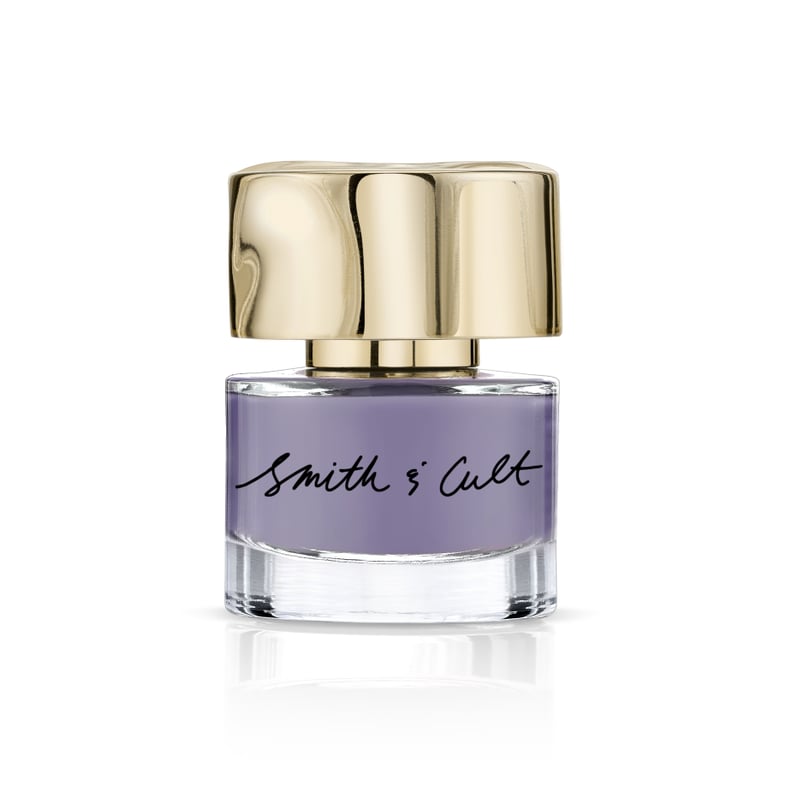 Smith & Cult She Said Yeh Nail Polish
"She Said Yeah is an opaque, muted periwinkle. After consistent lectures from Spencer, I finally caved and went to Earth Bar for a pressed juice. I know I vowed to never jump on the juicehead bandwagon, but I've always been weak to peer pressure. I stood there staring at the menu, which read more like a farmer's to-do list. I asked the girl behind the counter if she could help me decipher the choices; she stared at me like I was a stupid alien. I tried asking what seemed like the right questions to fit in, finally I just told her I liked the color periwinkle and asked if they had anything like that. She said yeah. Big mistake. Grody to the max, but the color was so beautiful it inspired me to turn juice into nail lacquer."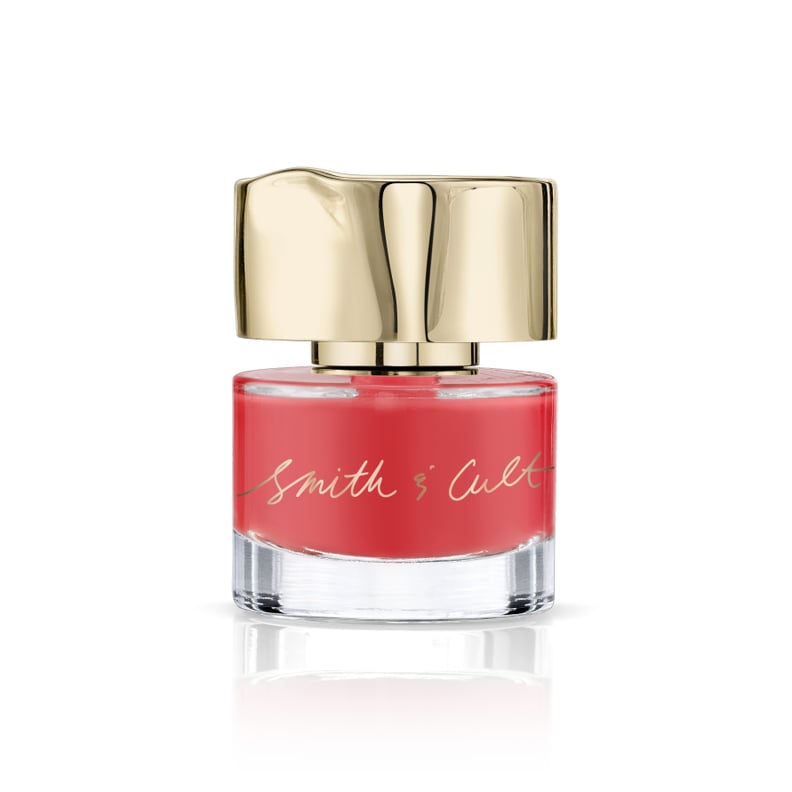 Smith & Cult Psycho Candy Nail Polish
"Psycho Candy is an opaque, bright coral which I love because: (A) it's gorgeous and (B) it literally looks like candy. Tragically, I'm addicted to this white powdery substance known as sugar (understatement of the century). When I need my fix I inhale the Salty Pimps [flavor] from the Big Gay Ice Cream Shop — dulce de leche and sea salt dipped in chocolate . . . Mmmmm. I tried to make my own and my kitchen looked like Salvador Dali tripped out on chocolate, got caught in Dorothy's tornado and then collided into Charlie's Chocolate Factory."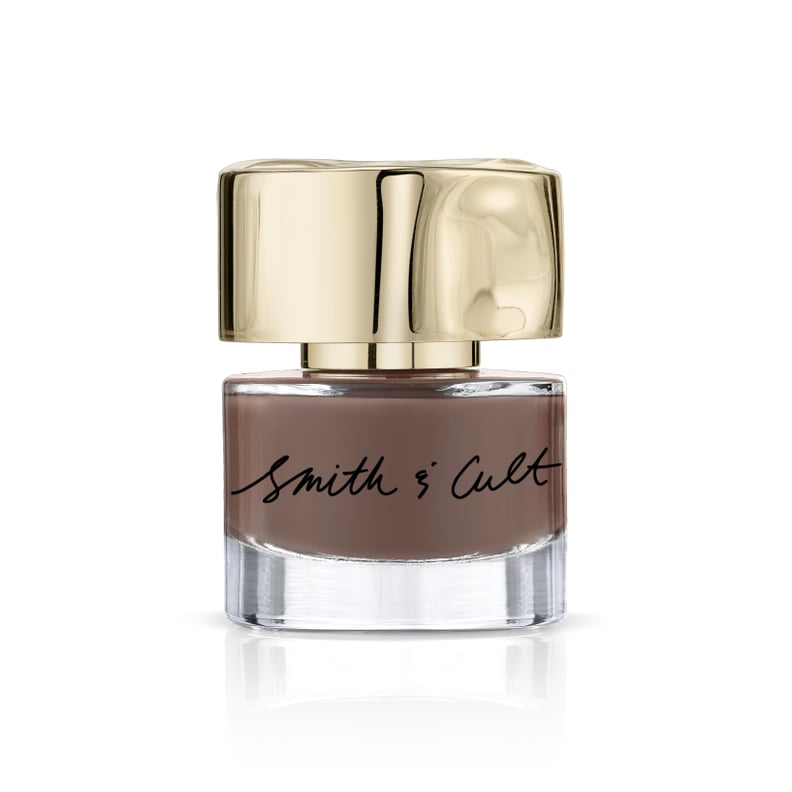 Smith & Cult Tenderoni Nail Polish
"Tenderoni is my pal Ezra's signature color: an opaque taupe brown with a touch of warmth. Head to toe, he channels a 1970s white hipster version of Ice T. Although his favorite tune is the original version of "99 Problems" (pre-Jay Z), he refers to his boo as "tenderoni." It's also 2014, and his grandparents own The Beverly Hunt Club. I hope he never changes."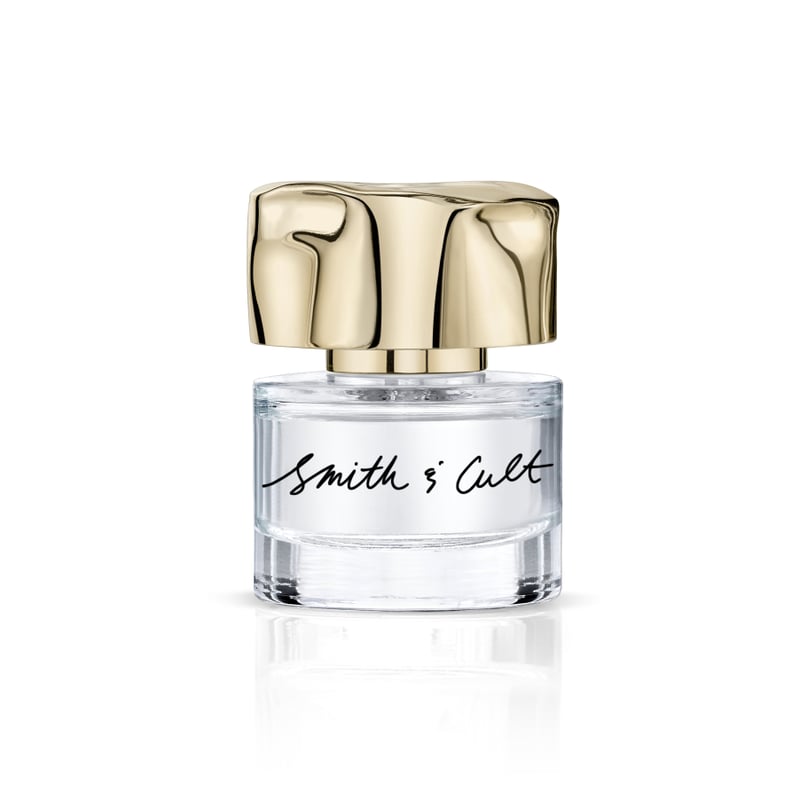 Smith & Cult Topcoat Nail Polish