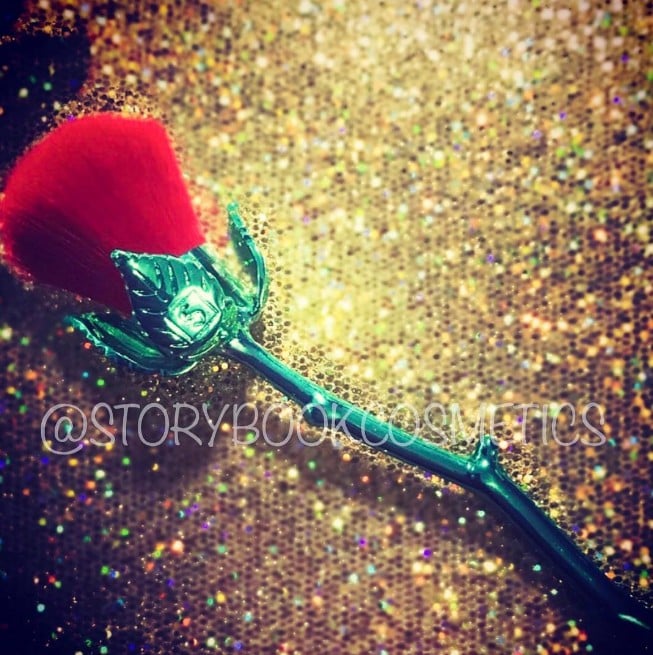 Update: Missed your chance to buy back in May? Storybook Cosmetics has announced that you can still score a rose brush. The collection will be restocked on July 24 at 2 p.m. CST. As a reminder, this bundle contains four brushes and a cosmetics bag and retails for $55.
Original story: The live-action Beauty and the Beast movie comes out on March 17, and Disney aficionados are whipping themselves up into a frenzy by shopping all kinds of products inspired by the film. This includes Gap's new kids' collection, an adorable tea set, and now, Storybook Cosmetics is giving us the gift of makeup brushes that look just like the enchanted rose. (Are you squealing as much as we are?)
The brand announced its "What's in a Name" collection late last Winter. It was inspired by Shakespeare's classic play, Romeo & Juliet, but we still think they would make a perfect addition to any Belle cosplay. Storybook Cosmetics shared that the launch would be ready by early Spring, and after weeks of suspense, their team has given us another sneak peek on Instagram.
"One more round of changes and our 'What's in a Name' original rose brushes will be complete!" the caption announced. Though the tools seem positively perfect (the handles look like real stems!) Storybook Cosmetics explained that the team plans to lengthen and darken the bristles. This way, they'll look even more like the velvety petals of a red rose, and those faux "leaves" on the brush's ferrule won't accidentally scratch the face. The team also shared that they'd be changing the bristles to a dark red ombré, making the brush head look more velvety (like petals!).
And yes, though this brush looks like it was snatched from beneath a bell jar that was hidden in the west wing, it's actually part of a bouquet of brushes. We can't wait to see the final set. (A note to anyone looking for a gift for their significant other or best friend: flowers make a lovely present all year round, hint hint!) Keep reading for more shots of the collection.