The Best Sunscreens For Acne-Prone Skin
As POPSUGAR editors, we independently select and write about stuff we love and think you'll like too. If you buy a product we have recommended, we may receive affiliate commission, which in turn supports our work.
If you're prone to acne, you'll quickly realize many face sunscreens may feel overly thick and heavy on your skin. Some can even irritate it and break you out further. We don't blame you if you're hesitant to use sunscreen in the first place. However, it's one of the most important parts of your skin-care routine, especially for maintaining skin health. Luckily, there are several sunscreens on the market formulated specifically for people who experience breakouts.
There are lightweight options in all-physical, chemical, and hybrid blends, including sunscreens from the drugstore. Some of these options are water resistant and leave no white cast, and we even found a few that are tinted to give you a "my skin but better" look. These picks are great for everyday use with elegant formulations that hydrate the skin without feeling sticky or overly greasy. If you prefer something oil-free or with a matte finish, we found a few of those options as well. Keep your skin protected every day, and shop our top sunscreen picks for acne-prone skin types ahead.
— Additional reporting by Angela Elias and Krista Jones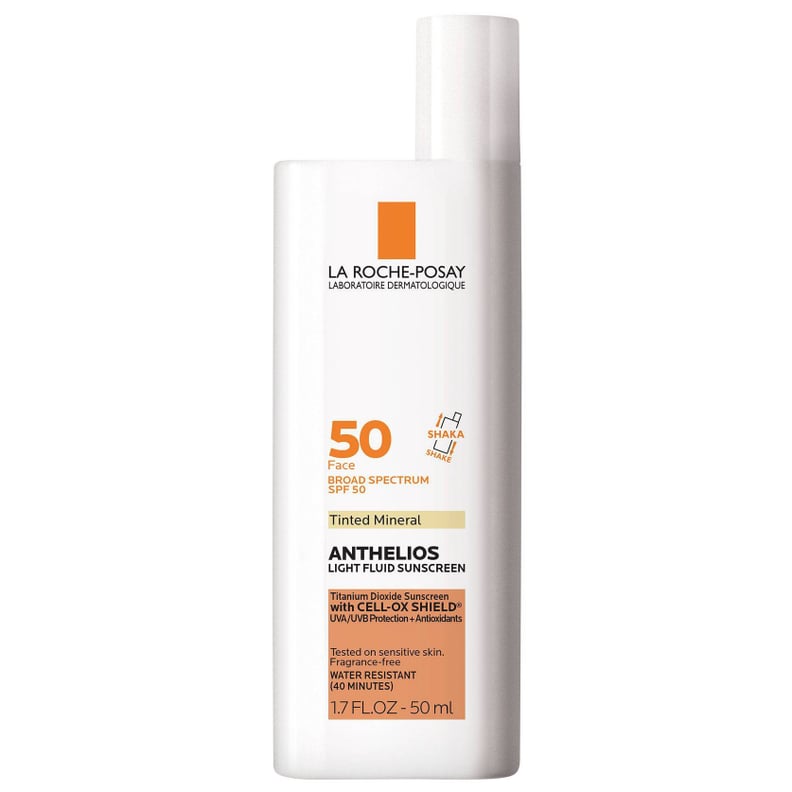 Tinted Sunscreen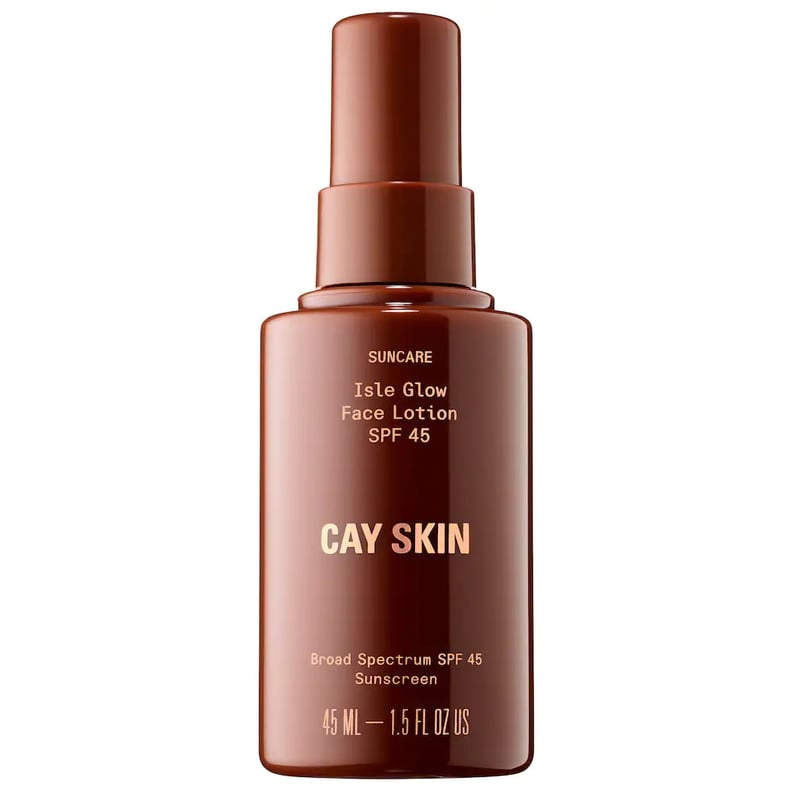 Sunscreen With Niacinamide
Cay Skin Isle Glow Face Moisturizer With SPF 45 and Niacinamide ($34)
This is a hydrating and lightweight sunscreen that's suitable for all skin types. It contains niacinamide that will help balance out the skin and curb breakouts. The sunscreen comes out tinted in a nude color and blends into a glowy, pearl finish that will make you look sun-kissed without a white cast. It forms the perfect base for makeup as well.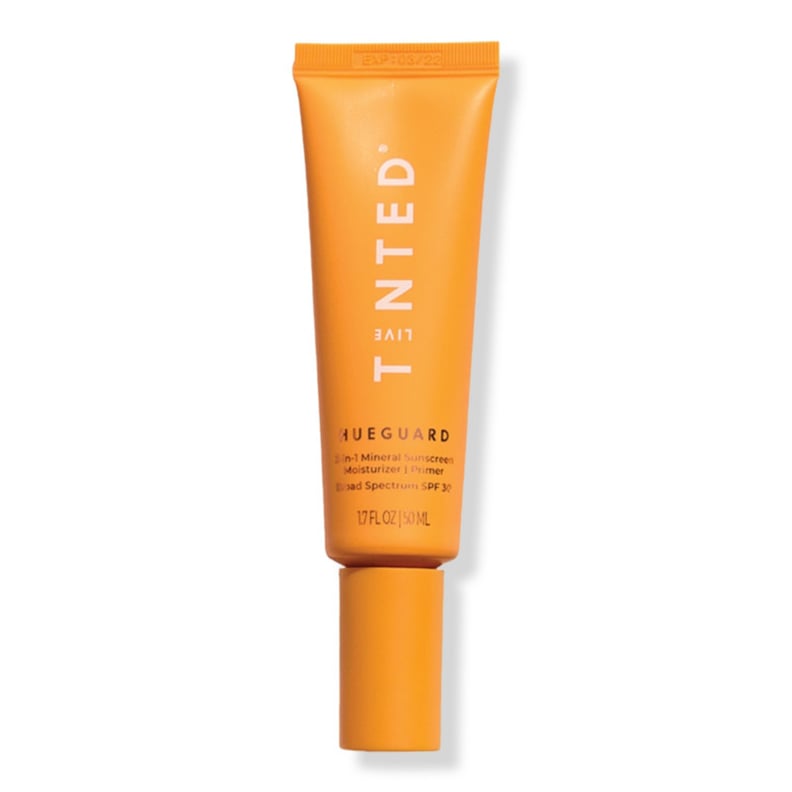 Sunscreen With No White Cast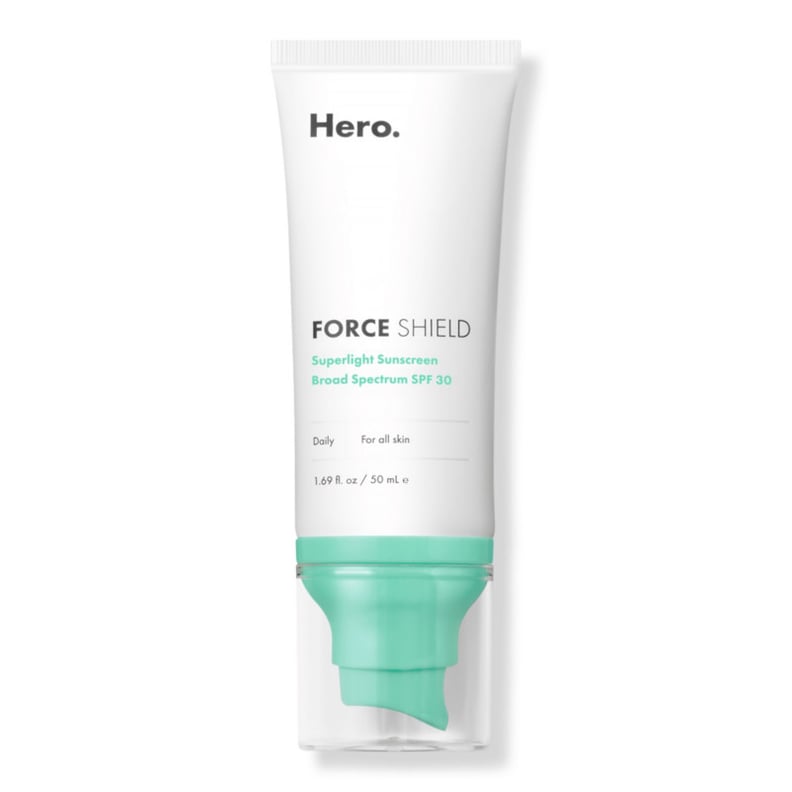 Sunscreen For Redness
Hero Cosmetics Force Shield Superlight Sunscreen Broad Spectrum SPF 30 ($20)
This sunscreen has a lightweight, breathable texture that just feels like a hydrating moisturizer. It has a slight green tint to help counteract the appearance of redness. The sunscreen is created by the brand behind the Mighty Patch, the popular hydrocolloid acne treatment, and it's noncomedogenic. The sunscreen has a natural finish with no white cast and won't make you look excessively shiny either.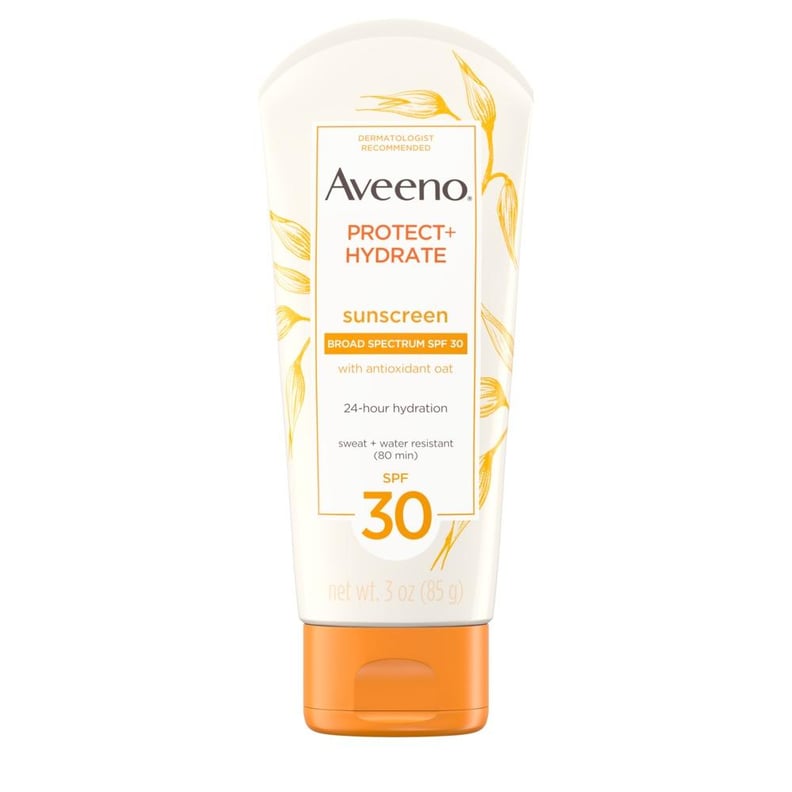 Sunscreen For Dry Skin
Aveeno Protect + Hydrate Lotion SPF 30 ($9)
This sunscreen has a moisturizing formula containing prebiotic oats, perfect for those with dry skin types prone to breakouts. It is oil-free and has a non-greasy feel. It has a chemical-based sunscreen formula with up to 80 minutes of water resistance. It's a great option for those with sensitive skin as well.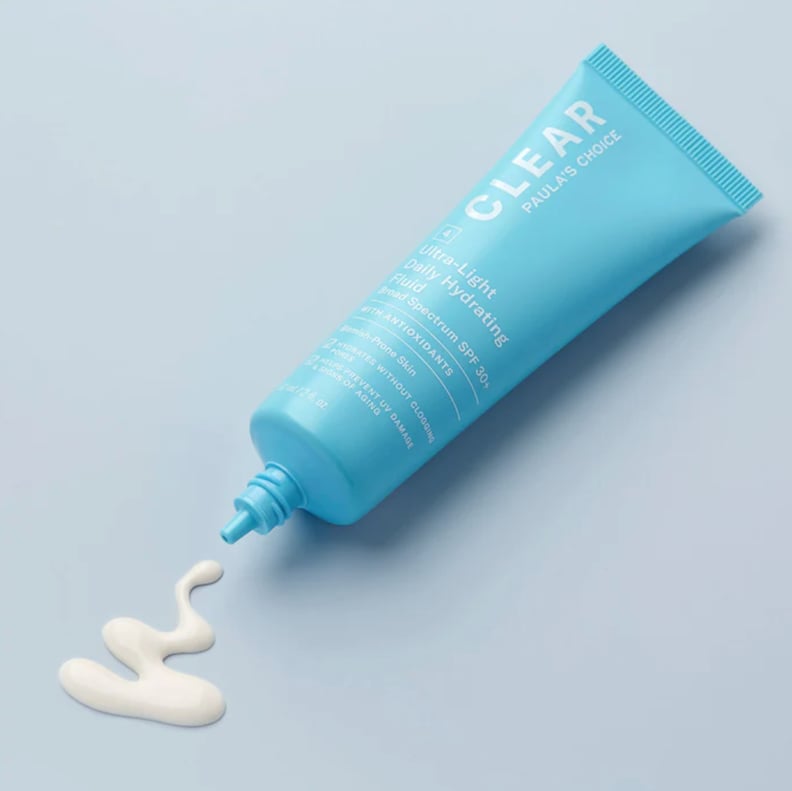 Sunscreen With a Matte Finish
Paula's Choice Clear Ultra-Light Daily Hydrating Fluid SPF 30+ ($37)
This sunscreen has a shine-free finish that absorbs excess oil and visibly calms redness caused by breakouts. It's a fast-absorbing formula that doesn't clog pores yet minimizes the appearance of them. It's a sheer, weightless formula that hydrates the skin as well.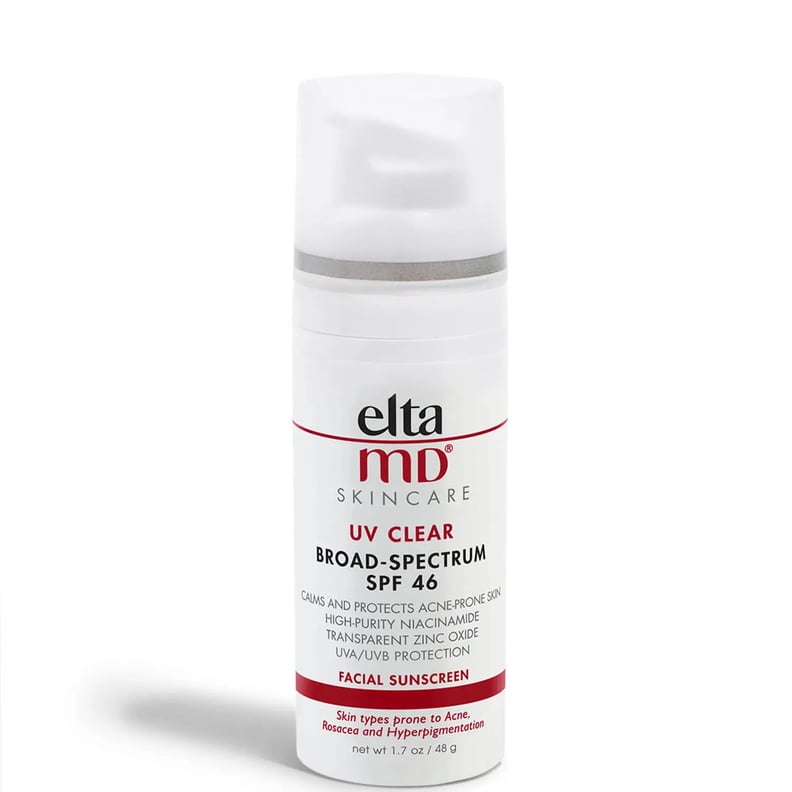 Sunscreen Recommended by Dermatologists
EltaMD UV Clear Broad-Spectrum SPF 46 Sunscreen ($41)
This sunscreen is often recommended by dermatologists as a fragrance-free formula that is nonreactive for sensitive skin types. It contains hydrating ingredients like hyaluronic acid and vitamin E, plus lactic acid to help gently refine the skin, clear pores, and reduce shine. It also has niacinamide to help keep the skin balanced. It's specifically formulated for those with acne-prone skin types and rosacea.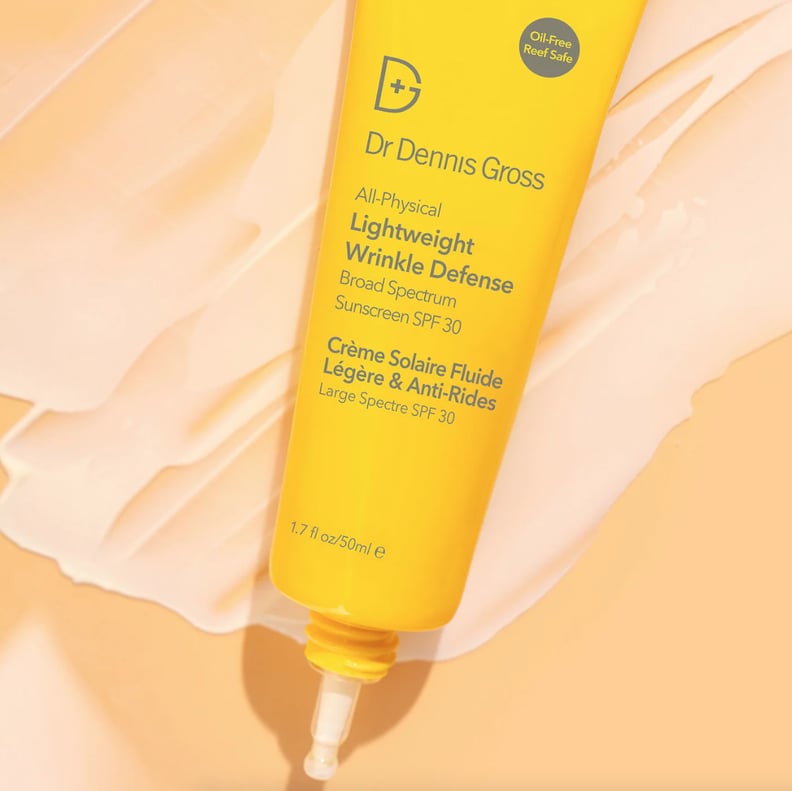 Lightweight Sunscreen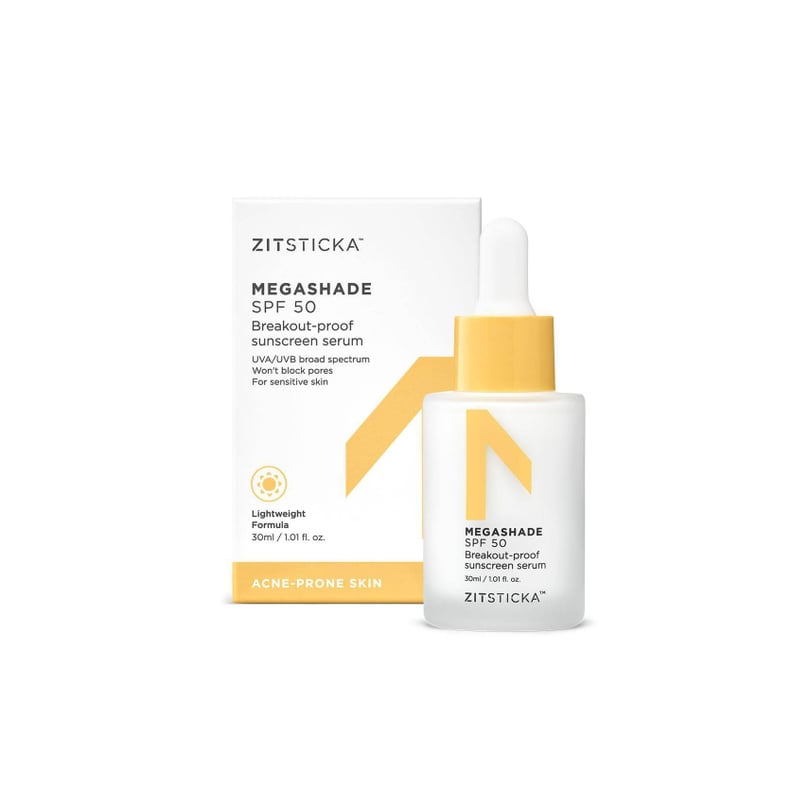 Serum-Based Sunscreen
ZitSticka Megashade Breakout-Proof Face Serum SPF 50 ($26)
If you have acne-prone skin, this sunscreen was made just for your needs. It's got a chemical-mineral hybrid formula that has an ultra-lightweight serum-like texture. You can easily blend this into your skin, and it leaves a dewy, glowy finish that works well under makeup. It's great for those with sensitive skin.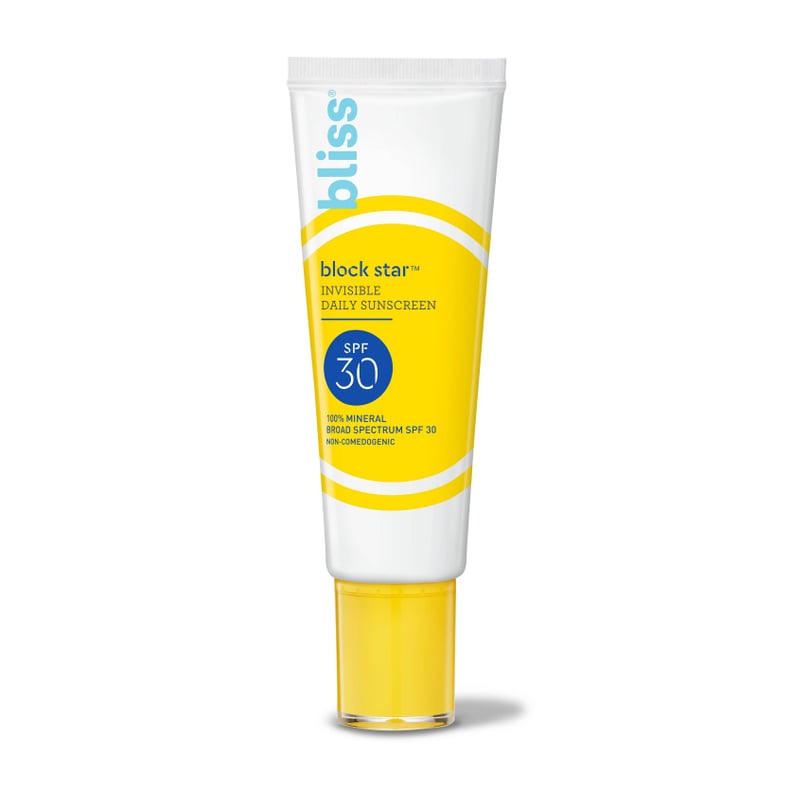 Sunscreen For All Skin Types
Bliss Block Star Daily Mineral Sunscreen ($22)
This sunscreen is an editor-favorite, loved for its lightweight and silky texture. It's a 100 percent mineral sunscreen that's great for all skin types, including sensitive. It has a slight tint that becomes sheer as you blend it into the skin. It doesn't leave a greasy texture or a chalky feel either. It's great to use every morning as part of your daily routine. You can read our in-depth Bliss Block Star Daily Mineral Sunscreen review for more details.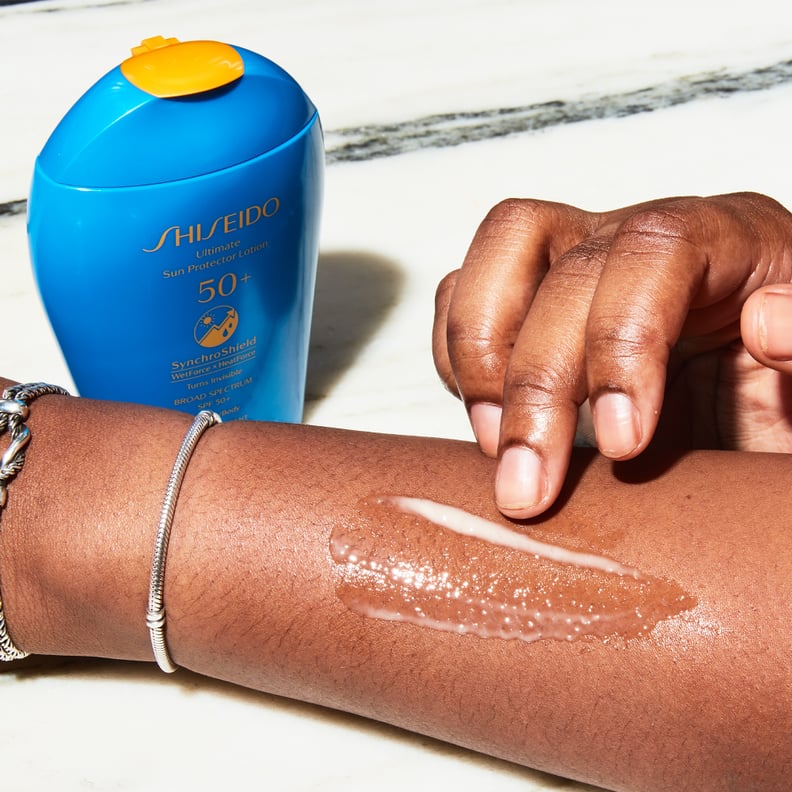 Water-Resistant Sunscreen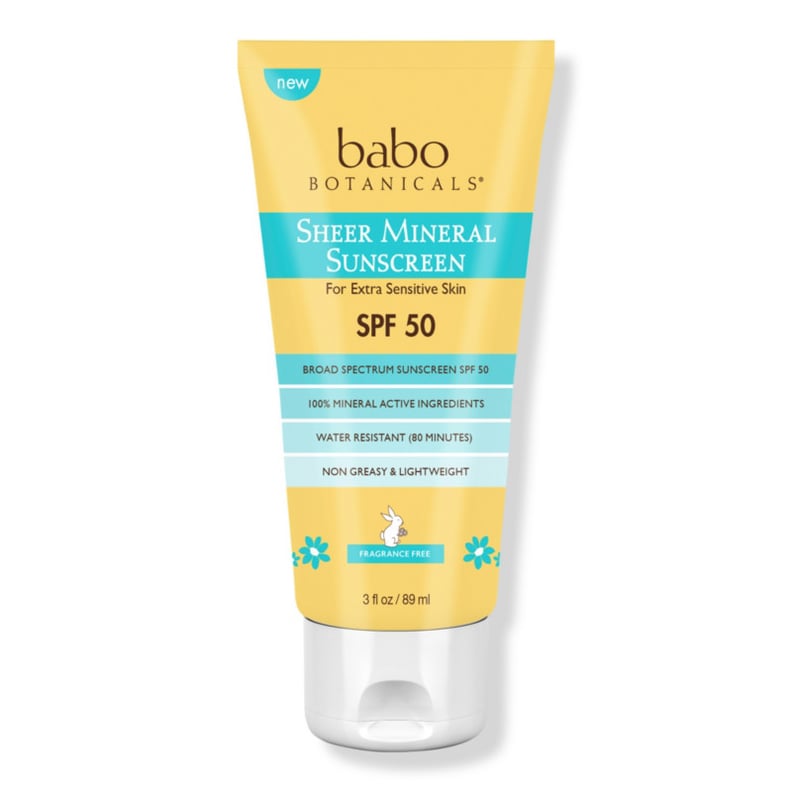 Sunscreen For Sensitive Skin
Babo Botanicals SPF50 Sheer Mineral Sunscreen Lotion ($19)
This zinc-oxide-based sunscreen is a great option for those with sensitive skin. It's formulated with moisturizing ingredients with a non-greasy and lightweight feel. It's also water resistant for up to 80 minutes.