Fjolla Arifi
I got my first tattoo on my 18th birthday at a random tattoo shop in upstate New York. No research, no sketch, and no idea what I was planning on getting tattooed permanently on my body. As I pulled up a random design from Pinterest to print, fear washed over me as I realized how unprepared I was. Along with the unfamiliar pain of getting a tattoo, the thought of aftercare resulted in anxieties over infections. When leaving the shop, I quickly googled how to take care of the small tattoo — a step I should have prepared for weeks before the lifelong commitment.
Today, I have four tattoos. Over the past three years, my collection has grown, and so has my knowledge of aftercare. My newest tattoo — a medium-size cherub — came after two months of deliberating tattoo artists, designs, and sizes.
Walking into a tattoo shop can be nerve-racking, so finding a regimen that works for you can relieve some stress. Before getting my cherub tattooed, my consultation included reviewing my sketch, placement, and establishing a perfect tattoo care routine.
When having your ideal tattoo in mind, it's important to consider the steps and materials needed to ensure a quick recovery. My aftercare included staying out of the sun, wearing loose-fitting clothes, and moisturizing. Check what works best for you and your skin. Here's what worked for me.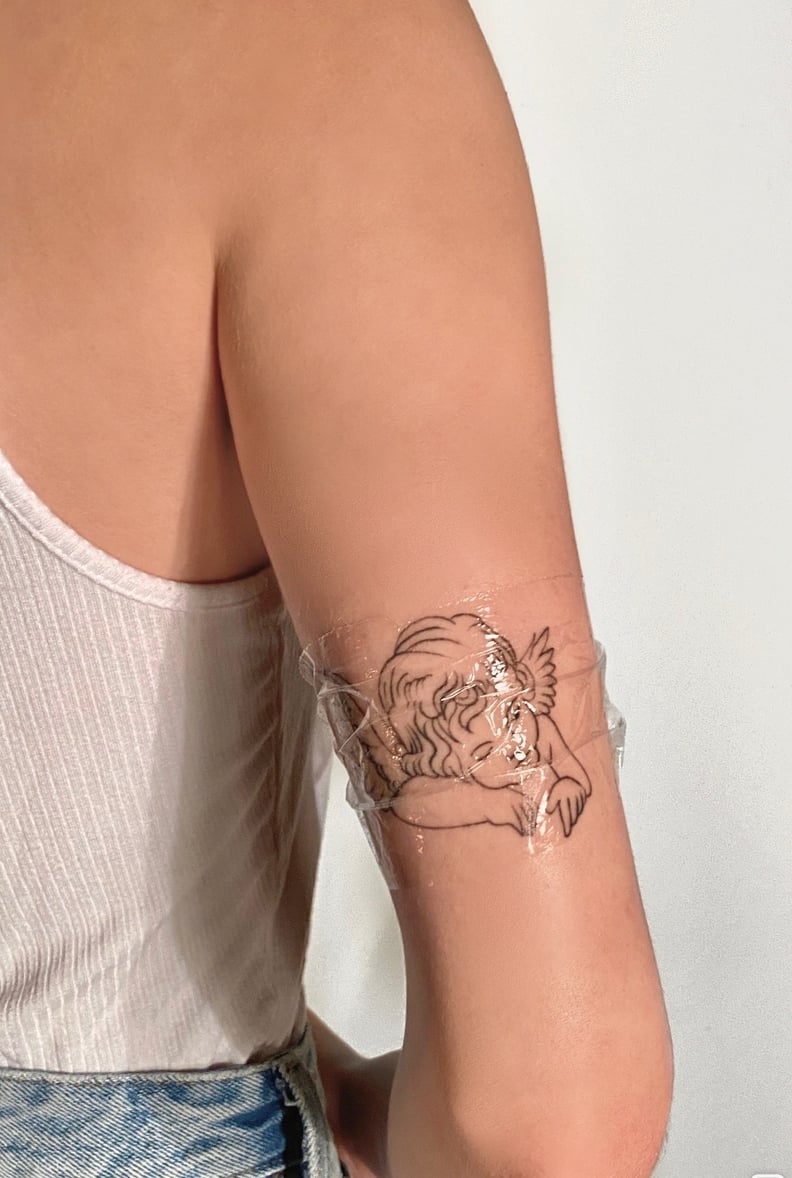 Day 1
A couple of hours after getting my tattoo, I kept on the Saran Wrap as recommended to keep in moisture. I also avoided any sun exposure until I got home by wearing a light cardigan (it's important to wear loose-fitting clothes). Under the Saran Wrap, the Aquaphor Healing Ointment ($7) used at the shop kept my fresh tattoo moisturized, as tattoos can become dry and itchy over time.
When arriving home, I noticed that ink might smudge across the wrap, so I decided to remove it before bed and apply more Aquaphor to ensure the ink wouldn't flake. I made sure to avoid any scented lotions that might irritate my tattoo. Instead, I opted for fragrance-free ointments for the first couple of days.
Overall, my skin looked a bit irritated and red — very common with a fresh tattoo — but the tattoo itself looked clean and protected.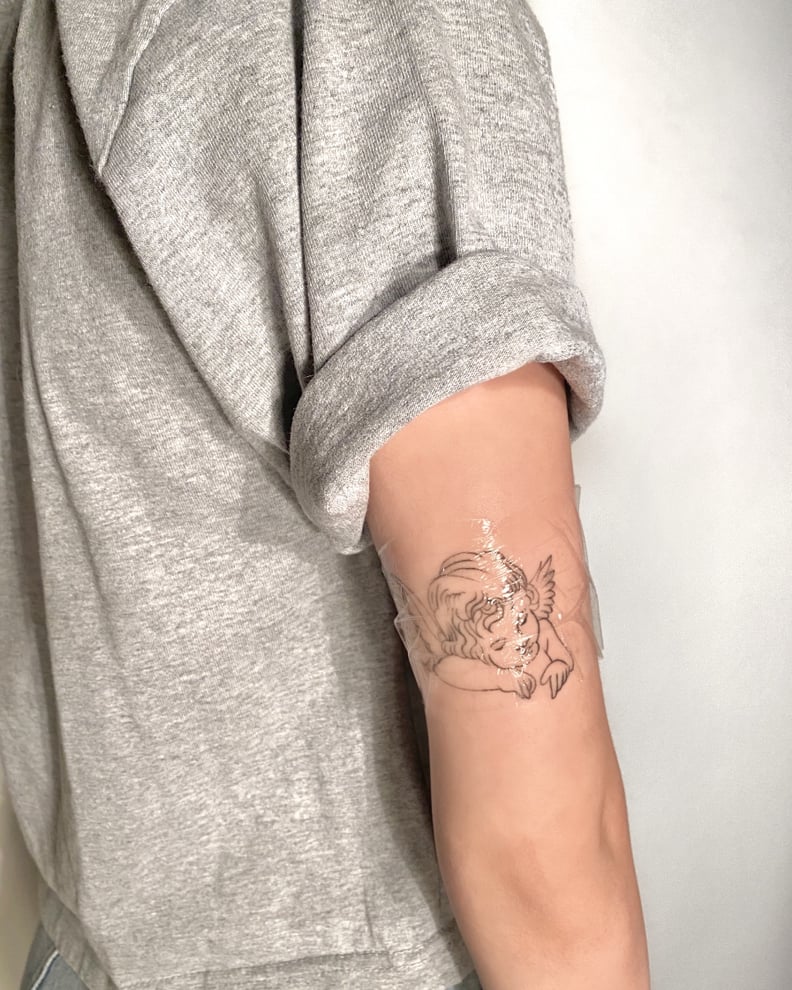 Day 2
Waking up, I noticed most of the Aquaphor had dried, so I decided to wash the tattoo with lukewarm water and Dial Antibacterial Aloe Liquid Hand Soap ($1) before applying more Saran Wrap. After washing the area, I used Cococare 100% Vitamin E Oil ($7) to help prevent the itchiness of a new tattoo as well as prevent the ink from smudging. Like the previous day, I wore loose-fitting clothing and reapplied Saran Wrap to ensure my clothes wouldn't irritate my skin.
Most of the redness from the previous day was gone, and it looked like my tattoo was healing well. Before showering, I made sure to apply another layer of Saran Wrap to ensure the heat of the water wouldn't cause dryness. I also made sure there were no bumps or scars on my skin, as this is an early indication of infection.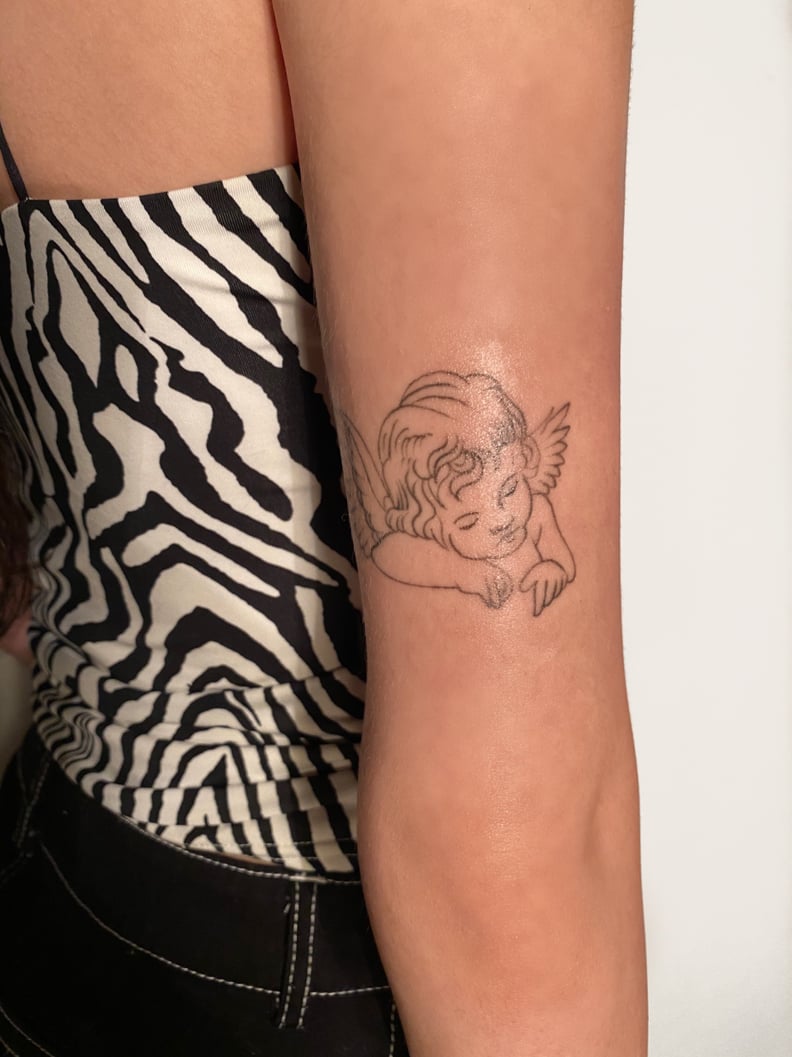 Day 3
This day, I decided to let my tattoo breathe without the Saran Wrap and applied a thin layer of CeraVe Body Lotion ($18) and sunscreen on the area instead. It's crucial to stay out of the sun during the summer when getting a new tattoo, so I brought along a light sweater to wear when going outside.
Arriving home, I washed my tattoo with lukewarm water and antibacterial soap again as well as applied Aquaphor before going to bed. The ink looked fuller and more intense compared to day one. My skin also looked hydrated as the redness seemed to be fading.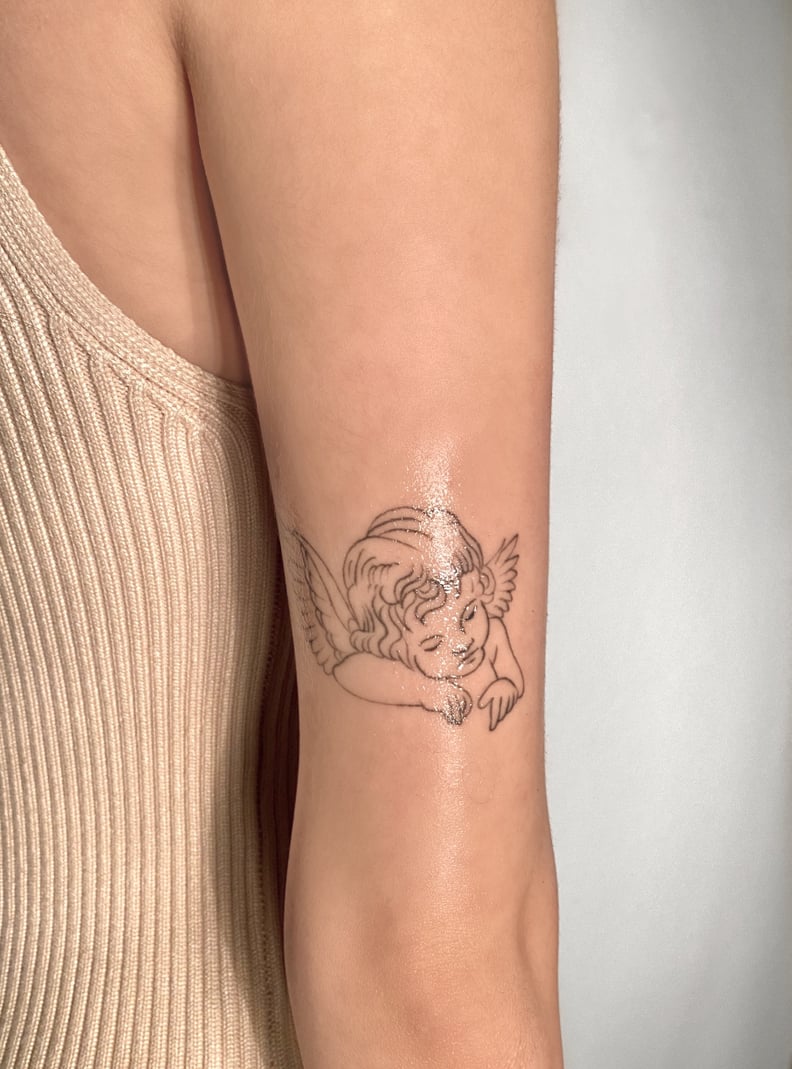 Day 4
My skin was no longer red, and the tattoo itself wasn't dry or itchy. I continuously applied a thin layer of Aquaphor throughout the day and stayed out of the sun to avoid irritation since my skin was still sensitive. I also checked for any bumps or peeling to make sure my tattoo wasn't infected. As I touched the surface of my skin, my tattoo felt smooth with no signs of discoloration or scarring.
Before going to bed, I washed my tattoo with lukewarm water and antibacterial soap as well as applied a thin layer of vitamin E to rejuvenate my skin.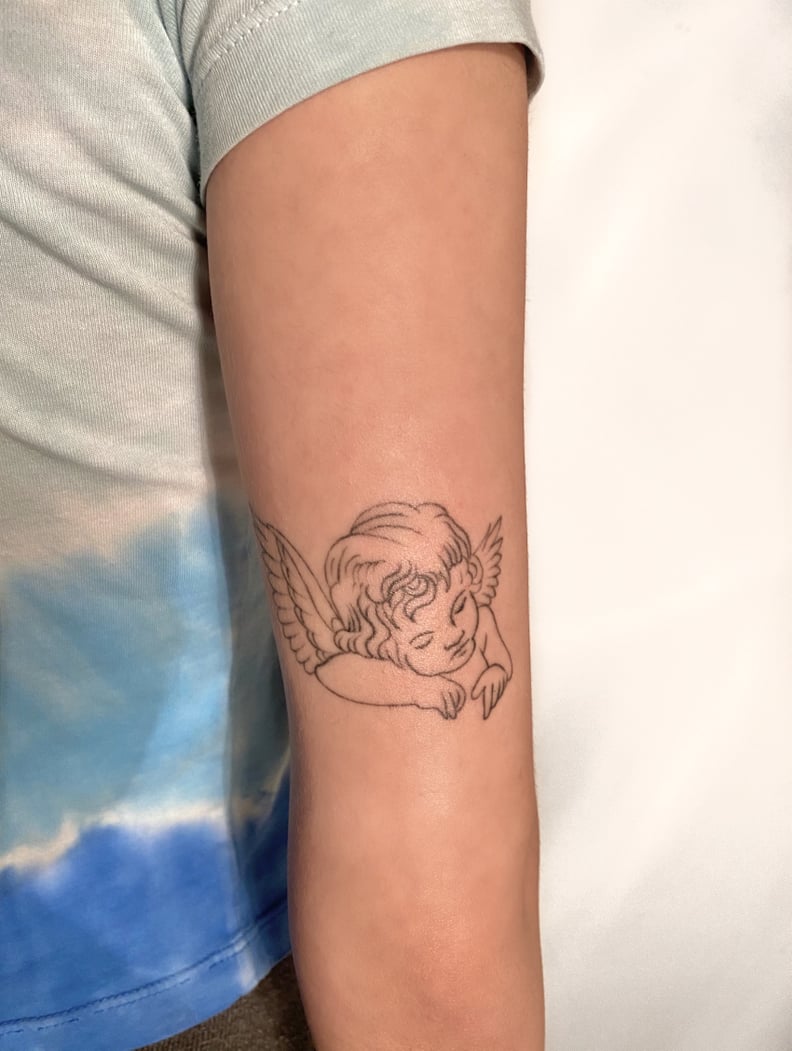 Day 5
Five days after getting my tattoo, I'd seen a large improvement over a short period of time. The redness around my tattoo had faded, as well as the tenderness across my arm.
I should expect the tattoo to peel this week, and in that case, I plan on changing my regimen to thicker, fragrance-free lotions and sunscreens.
The usual nerve-racking experience of aftercare was diminished after sticking to a regimen that fits me. Aftercare doesn't have to be trial and error; instead, find a routine that works for your skin.