POPSUGAR
/ paid content for /
e.l.f. Cosmetics
Tools to Use With e.l.f. Cosmetics Camo Powder Foundation
2 Tools You'll Want in Your Kit When Using Powder Foundation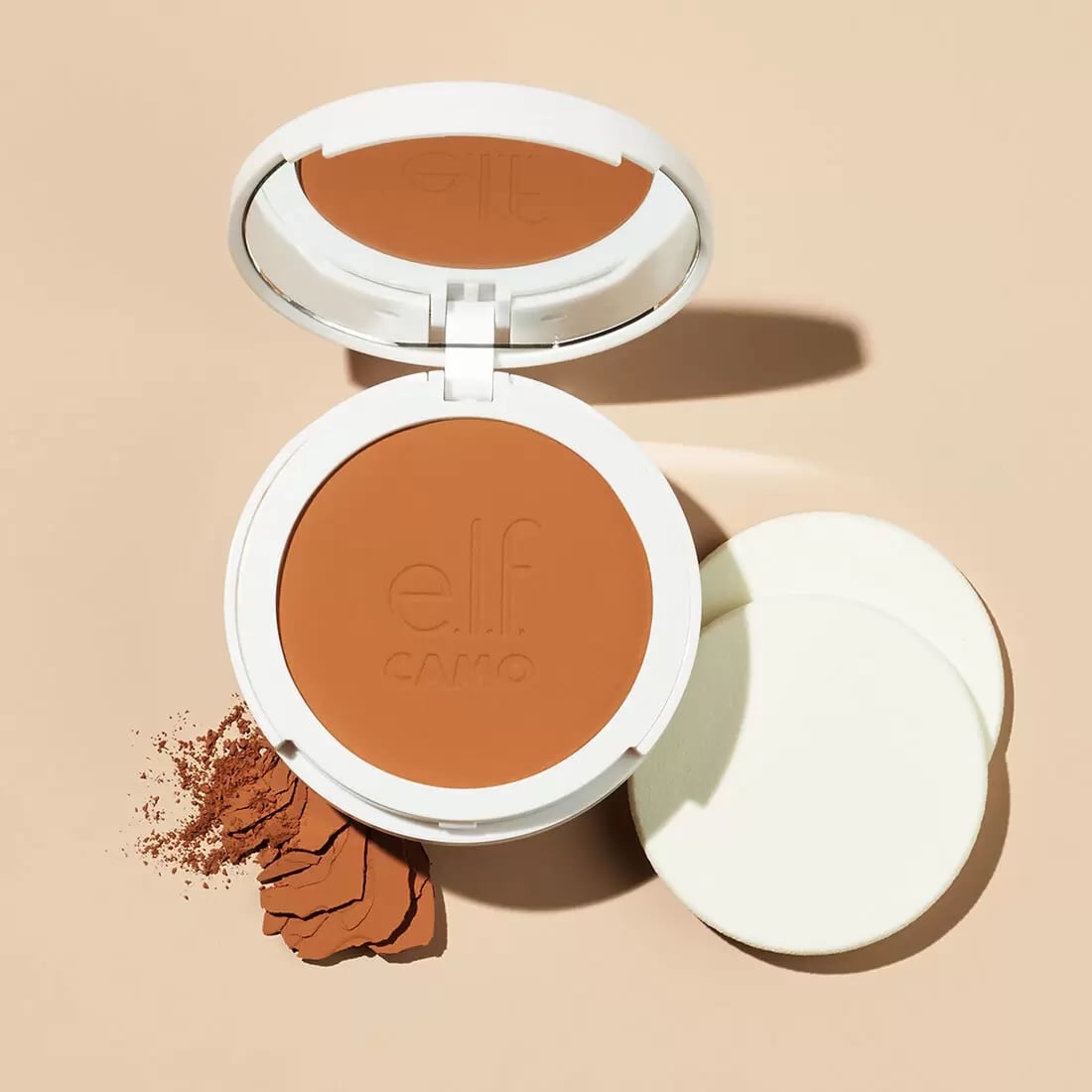 Unlike cream or liquid foundation, which can be successfully applied with just the help of your fingertips, most powder-based formulas require the assistance of makeup applicators in order to deliver desirable results.
The newly launched e.l.f. Cosmetics Camo Powder Foundation ($11), a pressed-powder formula, is one such formula that reaches its full potential when applied with certain tools.
Keep reading to learn more about the brushes and sponges you'll want in your kit when using this new product.
Powder Sponge
The Camo Powder Foundation comes with a Camo Powder Sponge, which helps streamline the entire application process. Unlike rounded, teardrop-shaped makeup sponges (typically used to apply liquid concealer or foundation), the Camo Powder Sponge is circular, flat, and flexible.
It's specifically designed to help apply and blend out the pressed powder in light sweeping or patting motions. Other makeup sponges are usually meant to be wet first and then used in light dabbing or stippling motions.
The pressed powder itself is buildable up to a full coverage, so you can keep applying the product with the Camo Powder Sponge until you've reached your desired look. In fact, a powder sponge is a great tool for a full-coverage finish.
In the event that you need to replace your sponge, you should know that the beauty brand also sells refills of the sponge.
Makeup Brushes
When it comes to applying pressed-powder foundation, the type of brush you choose can influence your final result.
A basic best practice is to first check if the brush can be used for powder-based makeup formulas. Some brushes are multifunctional, while others are specifically made for one type of product consistency. Many beauty brands also call out what types of makeup brushes are best suited for the product's application.
If you're after more coverage, consider using a makeup brush with denser, tightly packed bristles. e.l.f. Cosmetics recommends its Angled Buffing Brush ($5) for a medium coverage. Another choice is the Well People Buffing Brush ($26).
Fluffier, looser brushes, or those specifically made for powder, may be a good choice for lighter foundation coverage. e.l.f. Cosmetics calls out its Retractable Kabuki Brush ($7) for lighter coverage of the Camo Powder Foundation.
If you're using the pressed-powder foundation to set your liquid foundation or address spots where you're more oily, the same brush that you use for setting powder might do the trick.
Of course, if you already have a favorite brush for applying pressed-powder foundation, consider giving it a try with the Camo formula.
Image Source: e.l.f. Cosmetics