Celebrities Can't Get Enough of the Transparent-Nail Trend
Few beauty categories have gotten as much attention in the past year as nails. Week after week, a new viral design or style has emerged, taking over Instagram feeds and nail salons everywhere. The latest trend to materialize out of Hollywood following the 2023 MTV VMAs is transparent nails. As seen on Megan Thee Stallion, Doja Cat, Tiffany Haddish, Anne Hathaway, and many more, the manicure features see-through tips, with or without designs, that add length with a bit of an optical illusion.
As with any nail trend, your take on the see-through nail look is entirely personal. Haddish incorporated reflective butterfly decals; Megan wore the trend with lipstick-shaped tips and a gold camouflage print; Doja Cat went for a glassy amber feel with a translucent reddish polish; and Hathaway went for a pared-back look with iridescent clear extensions free of any nail art.
Ahead, a nail expert shares more about the translucent nail trend, with tips on what designs look best and how to get the look.
What Are Transparent Nails?
"This kind of trend goes by many names, like crystal nails or glass nails," Eunice Park, research and development manager at Aprés Nail, tells POPSUGAR. "[It] is essentially where the free edge of the nail is left transparent and mostly unpainted."
The look is similar to clear nails in that a majority of the base is left transparent, but it requires the application of extensions to obtain that see-through tip. It feels luxe and high-fashion, but also a little edgy and avant-garde.
"So many designs work with clear tips," says Park. You can go for all-over polish like Doja Cat did with her amber polish, allowing just a hint of the translucent nail to show through. Or, similar to Hathaway and Haddish, you can keep your nails free from most designs, really letting the clear tips stand out.
"A stoned look would be beautiful with reflective crystals over the clear tips," says Park. "A simple line over the nails would work too. The sky's the limit in regards to this style."
How to Get Transparent Nails
This isn't a nail trend you can easily DIY — unless you have the right tools. "This kind of look is only really achievable through extensions as our own nails are not transparent," says Park. Whether you go to a salon or purchase the supplies to attempt the look at home, she recommends the Aprés Gel-X extensions, which are clear. "You can quickly and easily create clear, transparent extensions that are the perfect canvas for any additional nail art."
Transparent Nail Design Inspiration
Ahead, get ideas for your own translucent nails from Instagram.
Anne Hathaway's Transparent Nails
Hathaway's translucent manicure has a pinkish purple sheen to it thanks to a sheer coat of polish.
Doja Cat's Transparent Nails
Doja Cat's nails have an amber glass feel for a take on the trend that's free of nail art and perfect for fall.
Silver Transparent Nails
These see-through nails have silver metallic designs that still let the clear extensions shine.
Purple Transparent Nails
These transparent nails are coated in an iridescent-purple polish with a hint of blue sparkle for an otherworldly look.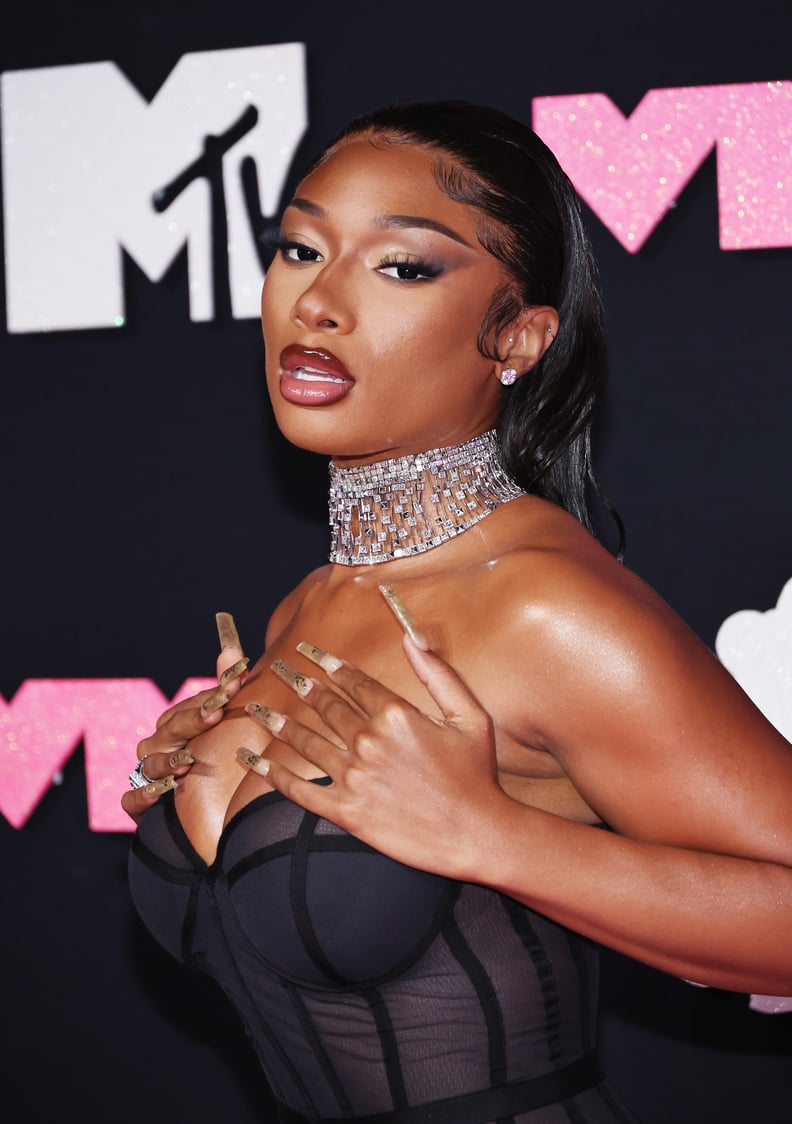 Megan Thee Stallion's Transparent Nails
Megan Thee Stallion's translucent nails have a gold camouflage pattern on the tip, mimicking a french design.
Crystal Transparent Nails
These see-through nails are decorated with foil and crystal accents along the edge, almost like a french manicure.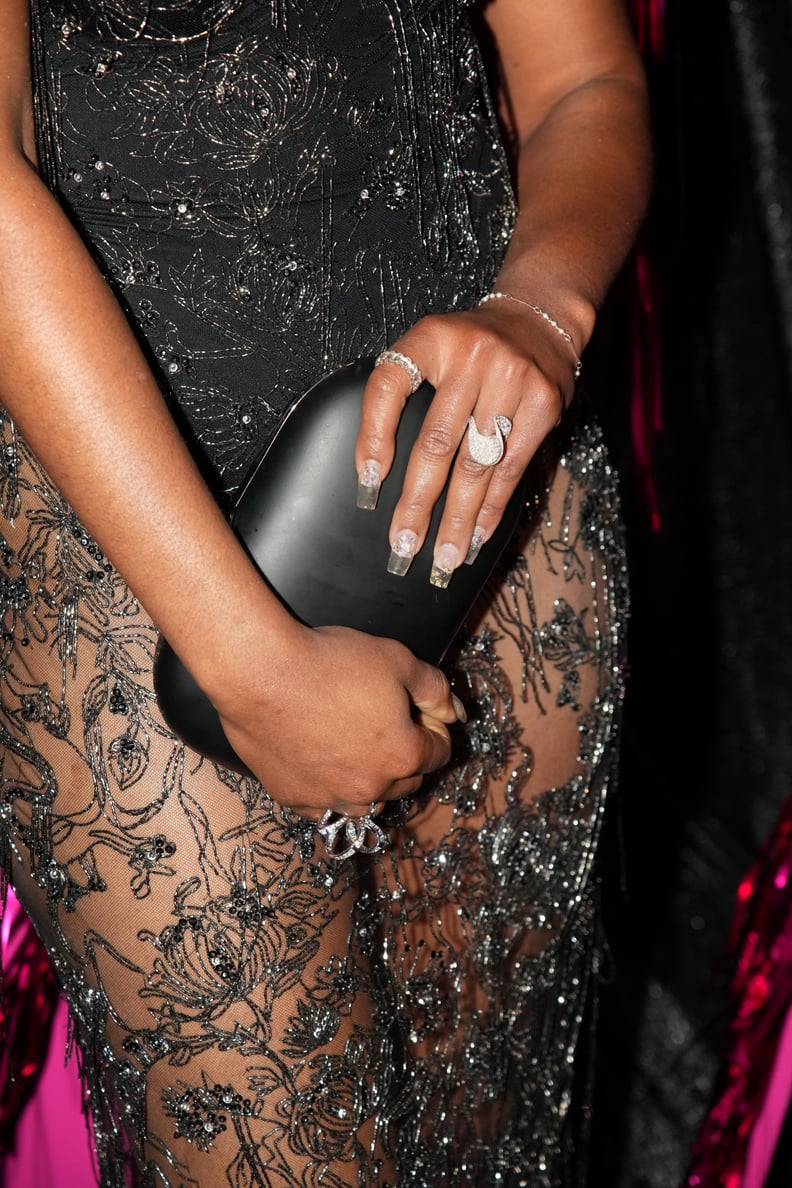 Tiffany Haddish's Transparent Nails
Haddish embellished her clear, square-shaped extensions with tiny reflective butterflies, keeping the color scheme cohesive.