If You Love Clear Nails, Read This For Manicure Inspo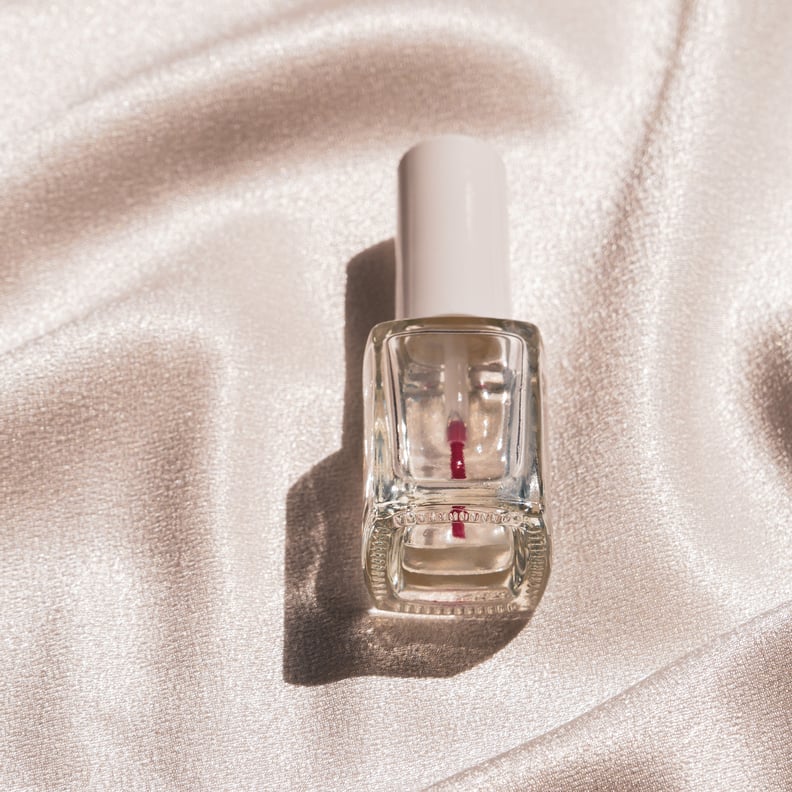 As POPSUGAR editors, we independently select and write about stuff we love and think you'll like too. If you buy a product we have recommended, we may receive affiliate commission, which in turn supports our work.
One of our favorite beauty rituals is getting our nails done. Whether we're visiting a professional salon or doing them at home, a fresh set is always something to look forward to. When it comes to nail-art inspiration, the options are endless. Sure, a couple of coats of an eye-catching polish is a foolproof way to punch up nails. But playing with clear nail designs can also make a big statement. Clear nails are very trendy, and the popular manicure is very modern — you can have your manicurist play with negative space or even use your natural nail as a part of the design.
For clear nail ideas, think: french tips, polka dots, clear nails with glitter, intricate graphic designs — you name it. The world is your oyster when it comes to a clear manicure. "Even if you're not interested in an elaborate design, having clear polish or gel on nails still protects your nails from breaking and looks very clean and polished," nail and tattoo artist Asami tells POPSUGAR. Keep reading for tips on maintaining clear nails, as well as inspiration to bring with you to your next manicure appointment.
Why Clear Nails Are a Trend
Clear nail tips are trendy because they look very modern and chic. Not using color on the entire nail has a cool vibe. We are so used to making sure every last inch of our nail is covered in polish that keeping part of the nail color-free feels like a fresh option.
You can go super subtle by adding just a few spots of color or take it to the next level by embellishing your clear acrylic nails. The good news is if you keep the base clear, your mani will grow out seamlessly.
How to Care for Clear Nails
"With such a pared-back look, it's essential the nails themselves have a nice shape and the cuticles are neat," says Asami. Use cuticle oil to hydrate your fingertips. Then you want to make sure your mani goes the distance. "If you choose to go with a clear nail or clear with embellishment, I recommend applying an additional coat of clear nail polish twice a week at home to keep nails looking shiny and fresh," says the nail artist.
What to Ask For at the Nail Salon
There are so many ways you can go with a clear manicure design-wise. When it comes to picking your clear formula, it can be regular polish, gel, polygel, acrylic, or dip powder. The easiest thing to do is decide what kind of clear base you want and bring inspo photos for the design. Have a few ideas at hand just in case you either change your mind or your nail tech has input as to which look they can execute best.
Best Clear Nail Designs
Clear Nails With Gold Accents
Sometimes there's no need for polish. This super chic, minimal look has just a spattering of golden studs over clear nails. You can achieve a similar look using the Sally Hansen Color Foil Nail Polish ($9) or nail stickers with a clear polish over top.
Clear Nails With Beach-Inspired Design
Why not bring the beach with you everywhere you go? Pick a different sea-inspired design to top off your clear nails.
Clear Nails With Color Shapes
Of all the clear nail designs to choose from, this one is a favorite. This artful look has a cool combo of colors and shapes — and it all totally works. If you want to achieve a similar matte look, try using the OPI Matte Top Coat ($12) on top of your design.
Clear Nails With Colored French Tips
No need to choose one color with this clear nail design. A pretty pastel mani that flows from the tip to the side of each nail will not only go with a bunch of outfits but also grow out gracefully. To get a clear glossy look, the Plant Magic Super Gloss Top Coat ($10) is our favorite choice.
Clear Nails With Textured Dots
Bubble-like dots may not be as enjoyable to play with as real bubble wrap, but they give these clear nails a textured bonus.
Clear Nails With Animal Designs
You don't have to go abstract. Great for animal lovers, this look lets you paint your favorite dogs and cats over top of clear nails.
Clear Nails With Planets
This clear nail design features colorful, abstract planets.
Clear Nails With Evil Eye Design
Look great while warding off bad spirits with this clear nail design that incorporates evil eyes of different sizes and shapes. If you're looking to strengthen your nails, try using a clear top coat like the Nature Strong Natural Origin Top Coat ($13), which will also give you a high-shine look.
Clear Nails With Puzzle Piece Design
This clear nail design has so many great things happening — the mix of light and dark polish, the painterly shapes, and of course, the unique use of negative space.
Clear Nails With Swirls
This design on clear acrylic nails is stunning. Pick a trio of colors and then play with solids on a few nails and a negative space design using all the shades on the rest.
Clear Nails With Bubbles
This clear nail design adds bubbles for a fun 3D effect. The addition of acrylics makes it even more of a standout.
Clear Nails With Lines
For those of us who crave a simple set, this clear nail design features two lines on each hand.