POPSUGAR Photography | Kyley Warren
POPSUGAR Photography | Kyley Warren
As POPSUGAR editors, we independently select and write about stuff we love and think you'll like too. If you buy a product we have recommended, we may receive affiliate commission, which in turn supports our work.
Among the many resolutions I set for myself this year, one of the highest priority ones was to simply take better care of my skin. This meant not only investing in more high-quality beauty products, but also making more of an effort to wash my face every night (even on the evenings when I'm too exhausted to function) and, of course, being more diligent about wearing sunscreen. But despite my best shopping efforts, I'll admit: even I've struggled to find a sunscreen that provides ample protection from the sun, doesn't clog my pores, and doesn't pill underneath my makeup. What can I say? I have high sunscreen standards.
Fortunately, whenever I've faced a beauty debacle, True Botanicals is one of the few brands that's managed to pull through and revive my skin with a clean skin-care product that's not only unique to anything else on the market, but also effective enough to deliver instant results. I, like so many other True Botanicals loyalists, have been diligently waiting for the brand to bring its magical, skin-saving solutions into the SPF market. And at long last, our patient efforts have finally paid off, as True Botanicals recently debuted its brand-new Skin Barrier Sun Shield SPF 30 ($65) — which, after nearly a month of use, I can confirm is so good, it will have you forgetting there was ever a sunscreen product you relied on before it.
Read on for my honest thoughts (or rather, hear my praises!) of the product.
What I Like About This True Botanicals Sunscreen
In full transparency, there's very little that I don't like about this product. But if I were to expand on a few of the SPF's highlights, I'd argue that the real appeal of this sunscreen is in its texture. While most SPF products are super thick and leave a heavy layer on the skin, this True Botanicals sunscreen has a silky-smooth texture that's just as lightweight (if not more!) as my liquid concealers. And while the solution is definitely less dense than other SPF products, it still manages to provide great, long-lasting coverage on my skin. After a month's use, my face (surprisingly!) looks better than ever. And considering the oily, pore-clogging reputation of most sunscreens, I'd argue that's a pretty impressive feat in itself.
This True Botanicals sunscreen is also hailed for being made up of a first-of-its-kind non-nano zinc formula, which provides both SPF and skin-care benefits — including broad spectrum protection from harmful UVA and UVB rays, along with antioxidant-rich ingredients that aim to nourish the skin, leaving it with a more noticeable glow.
The rich ingredient list also gives way to the sunscreen's indescribably clean and delicious scent. With everything from green tea water and rice extract to milk thistle, pea peptide, and bitter orange-flower distillate, among many other ingredients, I've truly never smelled anything like it (though I wish I could somehow bottle it up here for the purposes of this review!). The aroma is so decadent and fresh, I can't help but get excited when I apply it each morning — and this is coming from someone who had previously opted only for unscented sunscreens because I was so overwhelmed by that memorable SPF smell.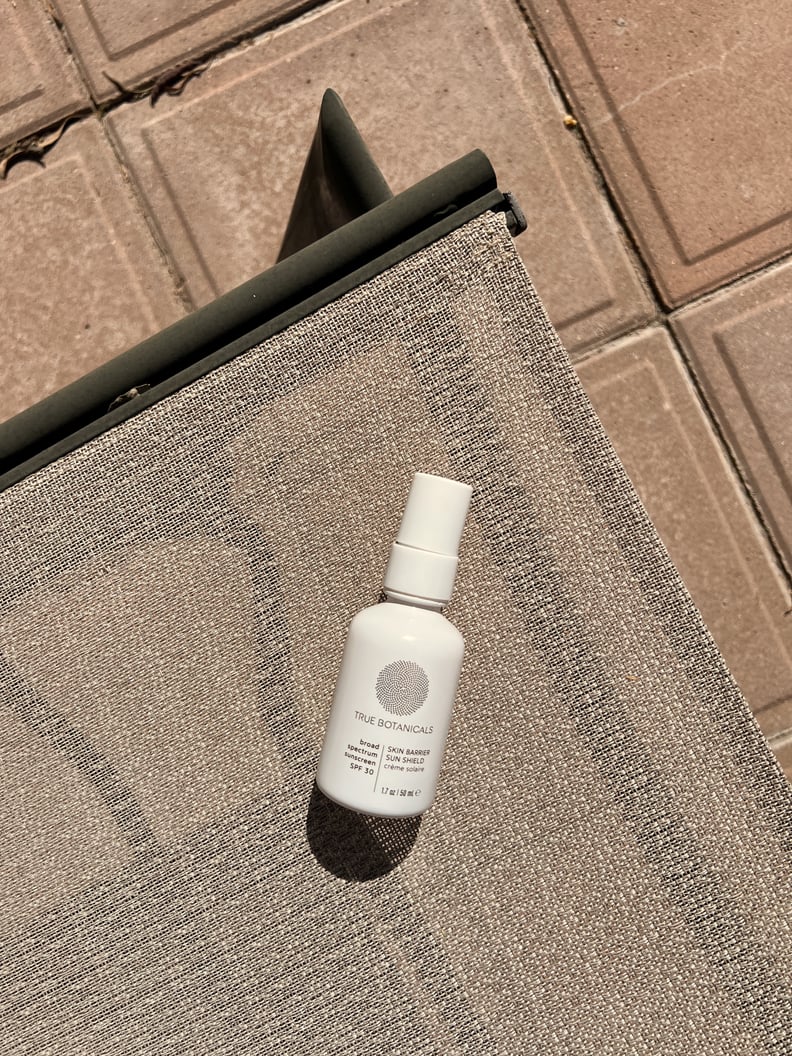 What's Worth Noting
Most notably: the price tag. If you're someone who slathers on a hefty amount of sunscreen each day or goes through even the biggest SPF bottles rather quickly, then this sunscreen might be a less practical purchase for you — especially if you're looking for full-body coverage. Because this True Botanicals solution is so luxe, I've used the product only as a face sunscreen and turned to more affordable SPF products for protecting the skin on my body. Given that sunscreen is one of the most essential skin-care products for daily wear, the formula is definitely a worthwhile investment — especially if you struggle with sensitive or congested skin.
Also, a little of this product goes a long way — which, given the higher price tag, is actually a bonus because it means you can extend the shelf life of the SPF, all while still reaping its full, skin-reviving benefits each day. The product even boasts a pump nozzle design that's as chic as it is effective — allowing users to push out a modest amount of the solution each time, all without having to worry about overcompensating with an excessive amount of sunscreen.
Who Is This True Botanicals Sunscreen Best For?
This sunscreen is ideal for anyone who (like me!) has struggled to find a sunscreen that could provide ample protection without being too heavy or thick that it pills beneath makeup — and thus inspires a bevy of breakouts. Whether you are loyal to clean skin-care products, are on the hunt for a worthy SPF investment, or simply need a starting point to test out True Botanicals's expansive collection of cult-favorite beauty products, this Skin Barrier Sun Shield is such a great place to start. Plus, with the product's lightweight yet nourishing texture, it also serves as an ideal sunscreen for the fall that will keep your skin protected from the sun (even during those deceivingly cool months) and moisturized.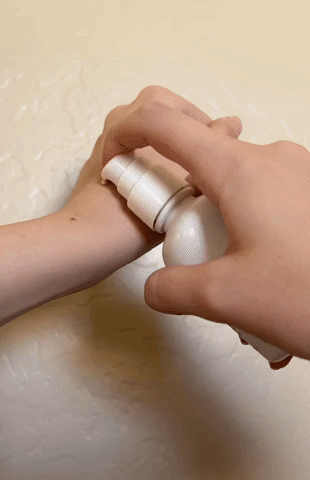 Where Is This True Botanicals Sunscreen Available?
True Botanicals Skin Barrier Sun Shield SPF 30 is available to shop at the True Botanicals website.
Additional Details
Beyond providing skin with shielded protection from sun damage, the product also aims to address fine lines, wrinkles, dullness, and uneven skin textures.
The clean mineral SPF is noncomedogenic and hypoallergenic.
Unlike a variety of other skin-care products on the market, this sunscreen solution from True Botanicals is also pregnancy safe.
Rating:
★★★★★