Victoria Percival on the Headbands For Netflix's The Duchess
How Victoria Percival's Headbands Got a Starring Role on Netflix's The Duchess
As POPSUGAR editors, we independently select and write about stuff we love and think you'll like too. If you buy a product we have recommended, we may receive affiliate commission, which in turn supports our work.
When it came to how Katherine Ryan wanted to look for her Netflix show The Duchess, the comedian was adamant that her go-to glam squad — fashion stylist Jennifer Michalski-Bray and hairstylist/makeup artist Fiona Eustace — were on board.
"It was important to take my team with me into this project. I was disruptive and adamant about that happening," Ryan told POPSUGAR before the show aired. "I don't even want to think about what The Duchess would look like if I didn't have Jen and Fiona." Another sartorial request Ryan fought hard to incorporate into the show? Those epic, haute couture-level headbands and hair accessories she wears in practically every scene, all of which were designed by one person: British accessories designer Victoria Percival, who chatted with us over Zoom to discuss her incredible work, as well as offer an intimate look into how her designs became such an integral part of Ryan's first scripted television character on Netflix.
"The head wear was quite a big deal to Katherine," Percival said. "She wanted hair accessories. She wanted chunky headbands — she had made a request for that. I listened to her talking to Grazia, and she said that the directors pushed back quite a lot on that and weren't sure about the headbands. But Katherine told them that, 'We absolutely need the headbands because this woman needs to wear a crown; she needs to be powerful, and she needs to have something that makes her stand out, and hair accessories do that.' They just add something extra, which not everyone's brave enough to wear."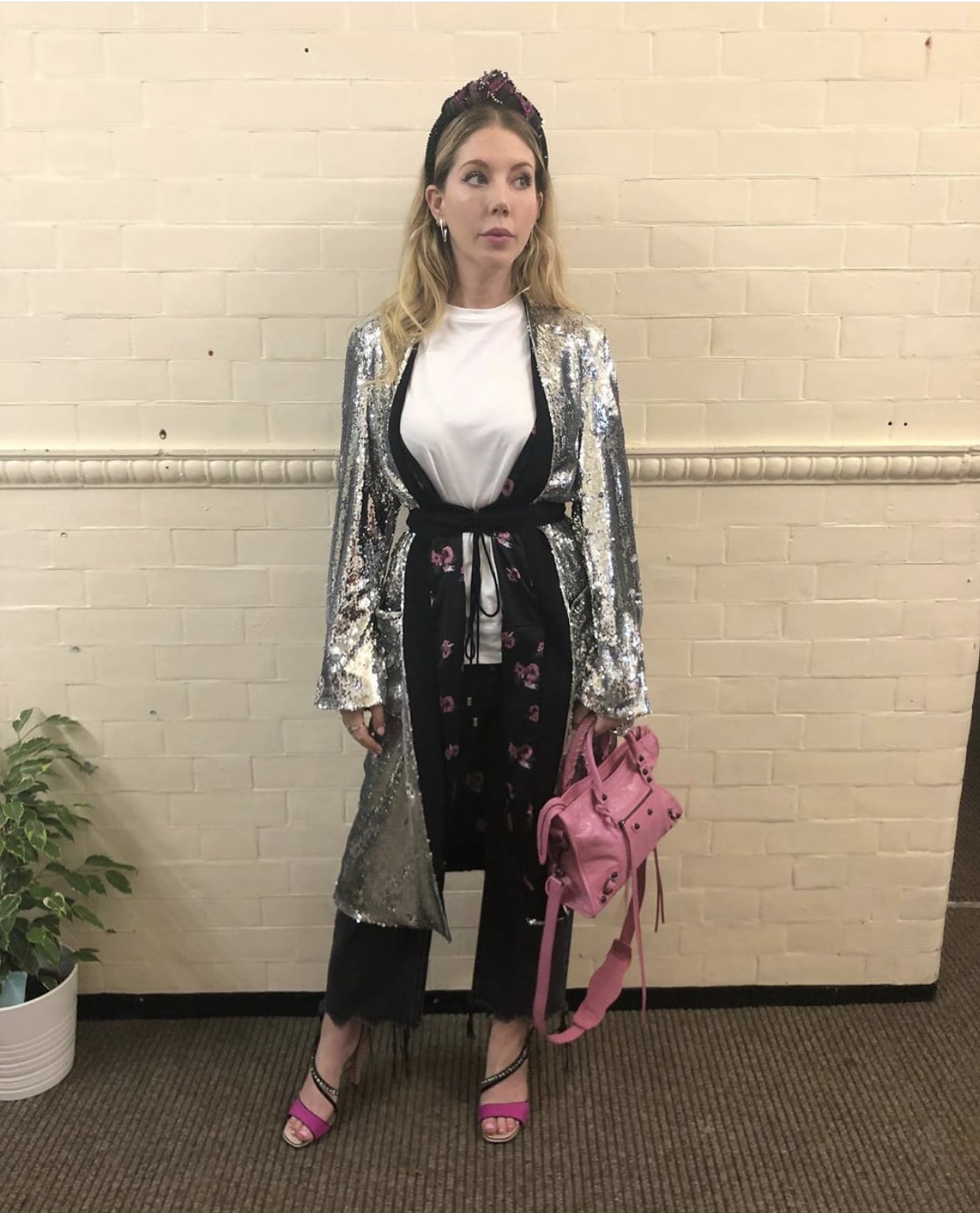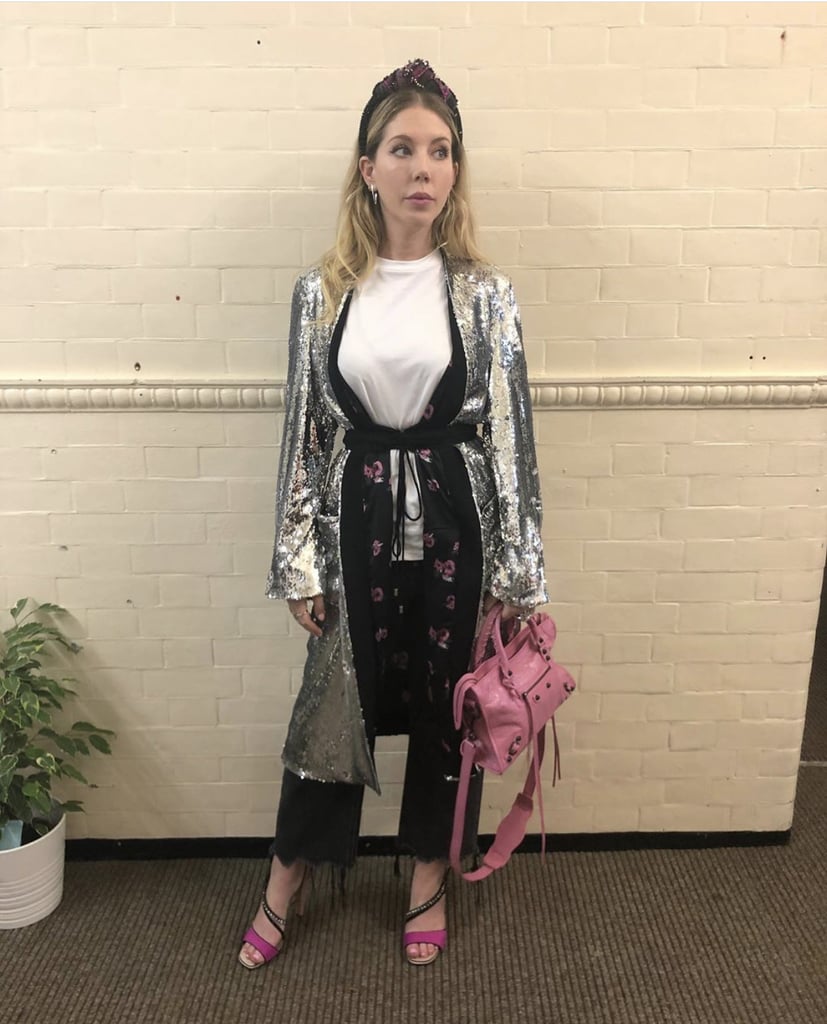 Image Source: Jennifer Michalski-Bray
This isn't the first time Ryan has worn one of Percival's embellished designs. After starting her brand in 2017, Percival reached out to the actor's stylist, Michalski-Bray, to introduce herself and her designs. "I told her how I was a big fan of her work, how I just started my brand, and how I'd love to lend her some pieces for Katherine, or any other celebrities she was styling," Percival said. "Jen got back to me immediately, but I still didn't think anything of it." It was a cold email that very much paid off. A few months later, when Ryan joined the revival of Jimmy Carr's Your Face or Mine, Michalski-Bray called in a few of Percival's headbands for the show. She sent a big box of samples, of which they used four of five. "From there," Percival explained," the relationship grew quite organically." So much so, that by 2019, Percival designed a bespoke piece for Ryan's elopement in Denmark.
Percival may have a long-standing working relationship with Ryan and her team, but creating and choosing pieces for a scripted television show was an entirely new experience for the accessories designer. "It was quite an interesting process," Percival said of what went on behind the scenes to put together each of Katherine's epic outfits. "They would send through images of the mood boards of what Katherine was wearing for each scene. We had a WhatsApp group between me and Fiona Eustace, who's Katherine's longtime hair and makeup artist, and Jen the stylist, and me, and it would be like, right: this is how the scene is, this is how we want her to be . . . and then [they would ask me], 'What do you have that will work? And if it doesn't work, what can you make and how quickly?'"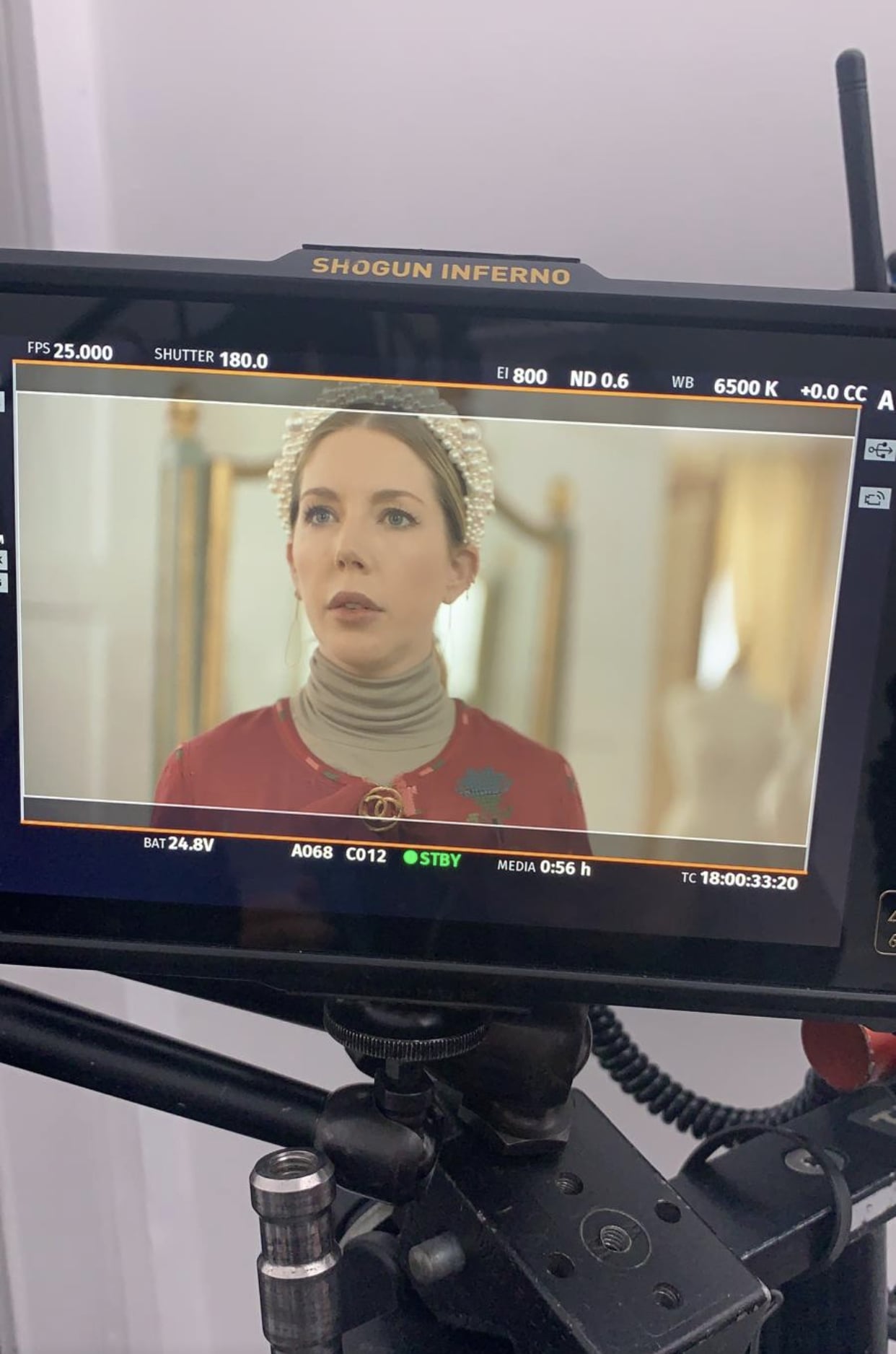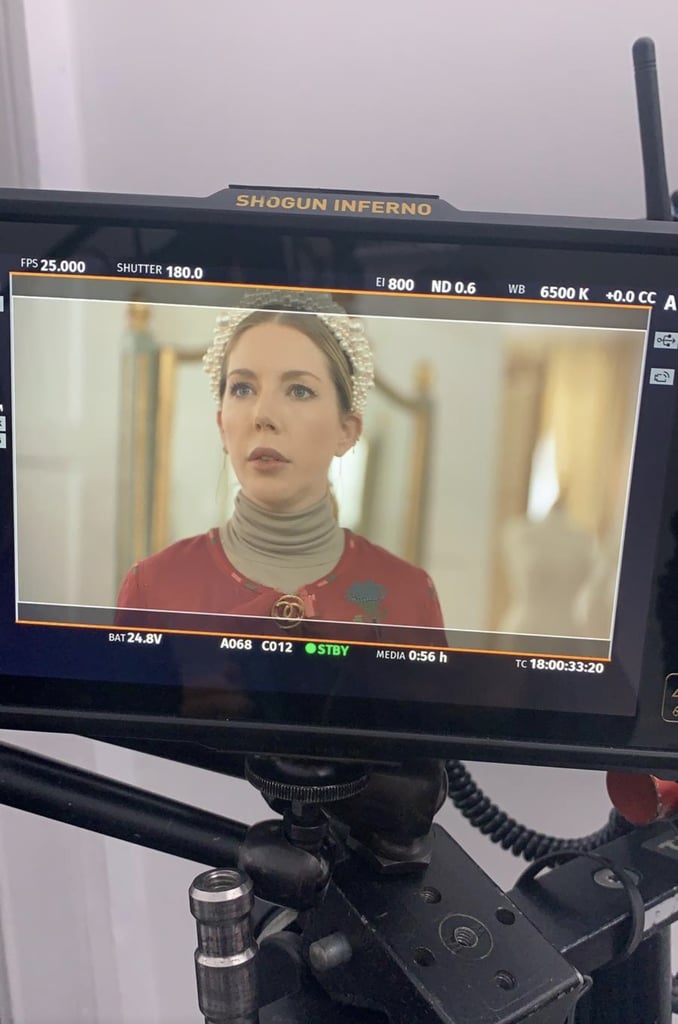 Image Source: Jennifer Michalski-Bray
The colors and the textures of the outfits had a lot to do with which hair accessories Ryan ended up wearing, but pieces were also chosen to evoke how Ryan's character was feeling in a particular scene, according to Percival. "We asked ourselves where was she? What was she doing? Is she making an entrance? Do we need something supersparkly, or do we need something a bit more everyday? It was just a very organic dialogue that happened every day behind the scenes about what [Katherine was] wearing and what colors were going to look best, but also what was she doing and how big do we want this piece to be. Should it say a lot, or should it be quieter? Do we want her to be fierce? Do we want her to be approachable?" Percival said.
The clothes dictated everything about Ryan's look in each scene, but obviously, when it comes to hair accessories, that also meant Percival needed to work in tandem with Ryan's hair and makeup artist, who was integral to all of the looks and in making sure they were both trend driven and fashion forward — even though they were filming the show a year in advance.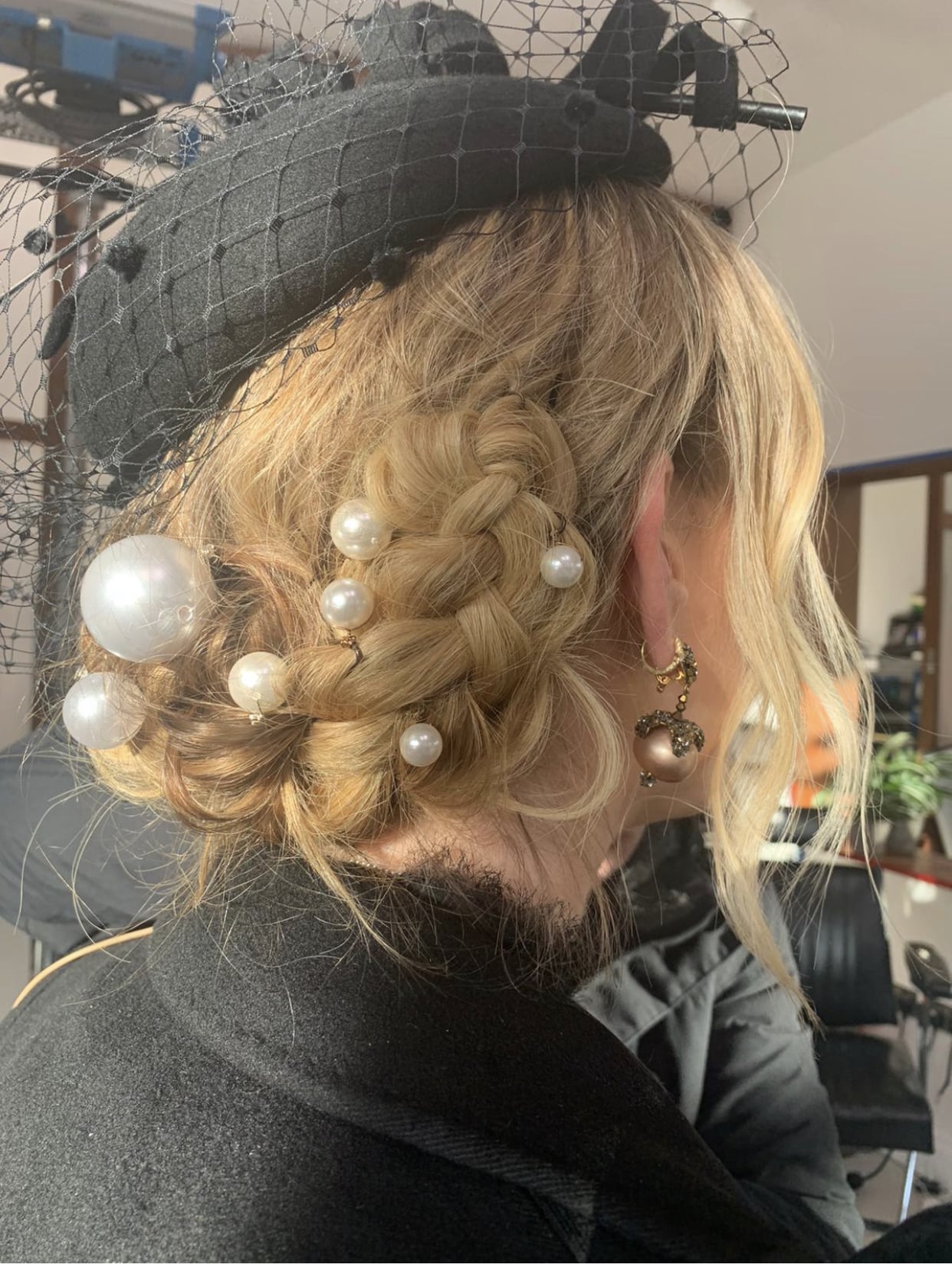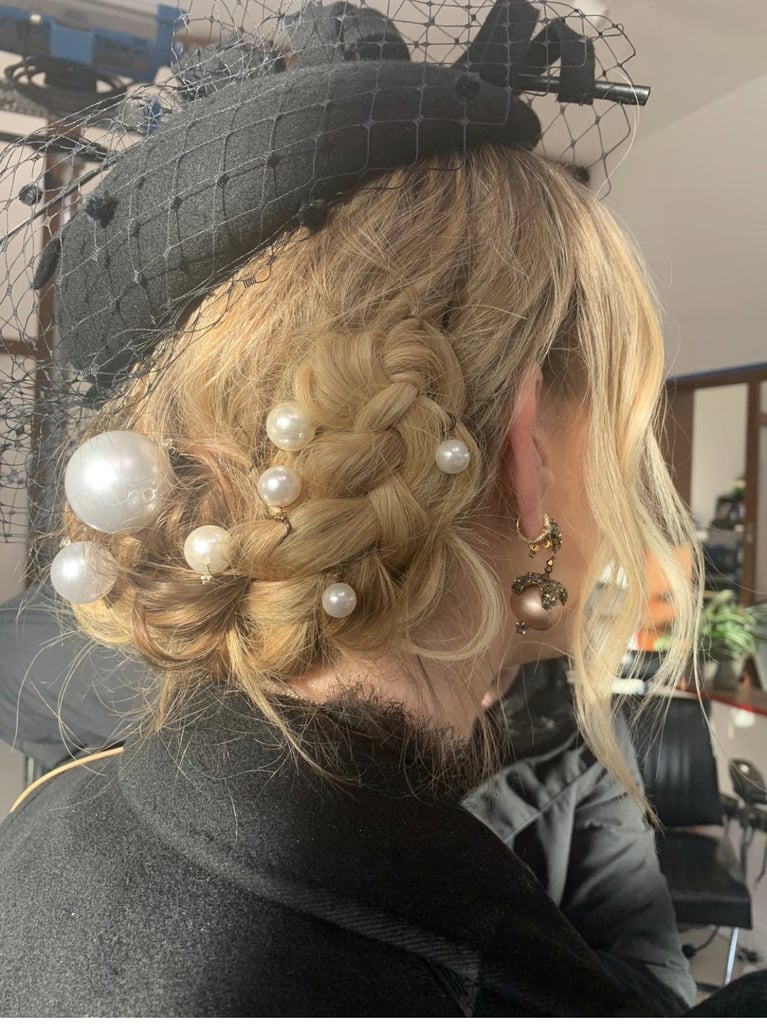 "Fiona would send me pictures of hairstyles she was thinking of doing," said Percival. "Take for example that upside down plait with the pins through it that Katherine wears when she is in all black with a black hat. Fiona would say that she needed something in the hair that would add interest, but that also wouldn't overpower the hairstyle. So it was like we, couldn't add sparkle, because sparkle reflects light, so then you wouldn't be able to see the plait, so it was about working with texture in a manner that would work."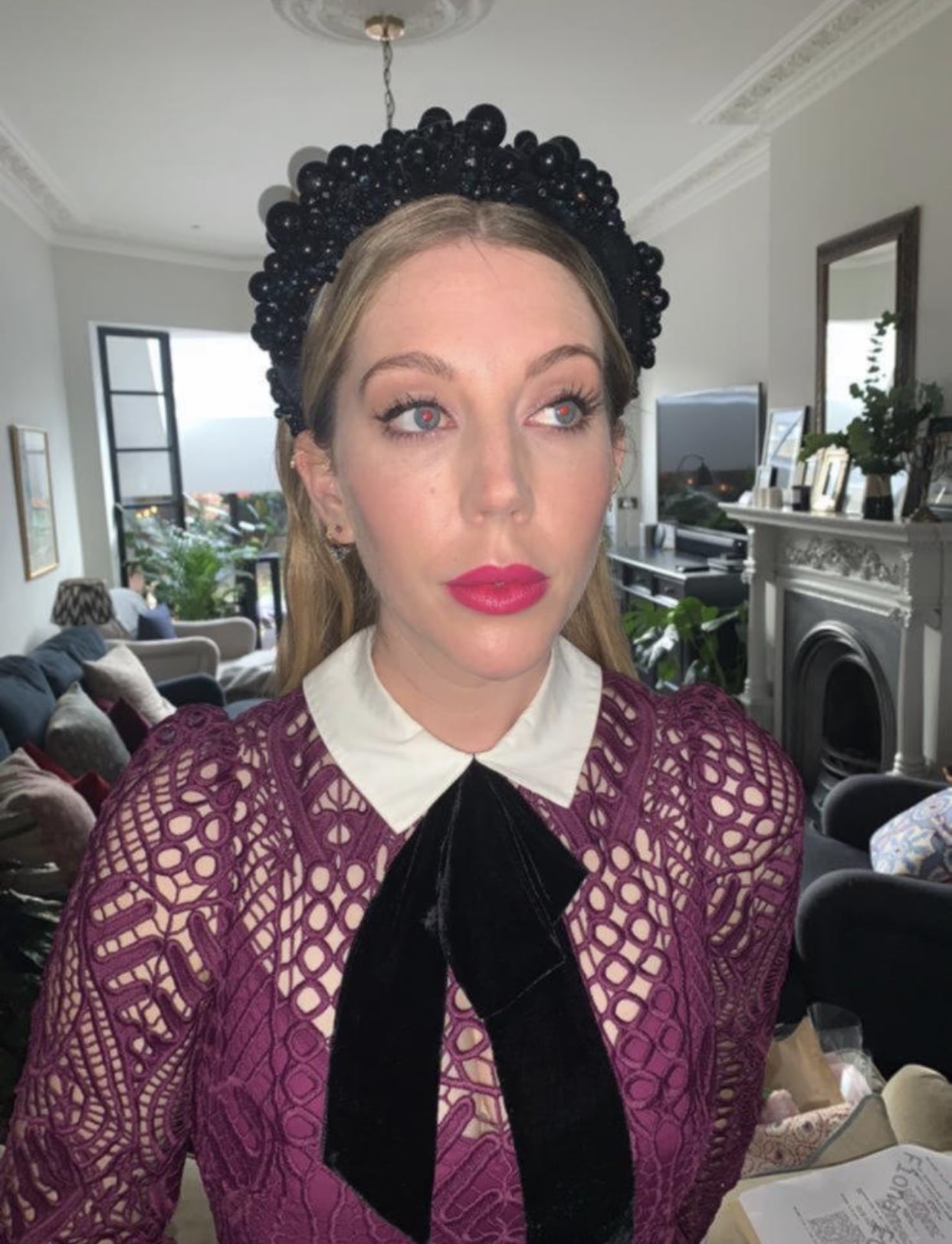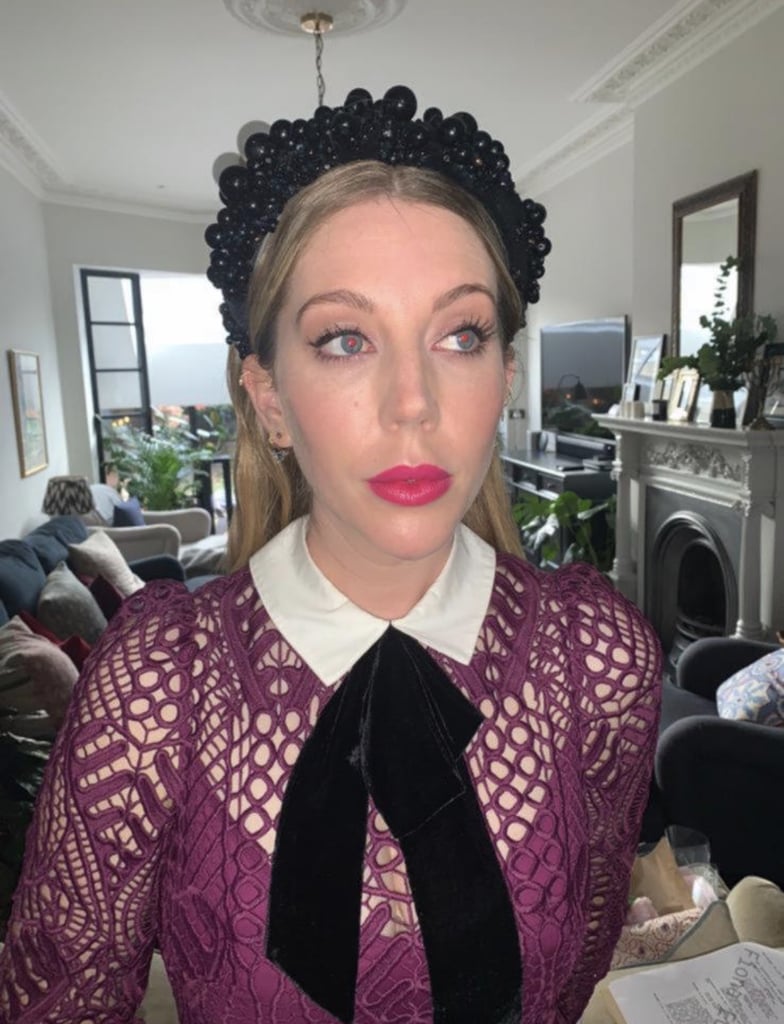 Image Source: Jennifer Michalski-Bray
While Percival sent hundreds of bands and pins and combs to be considered, about 13 of her pieces made it on screen. Basically, if you a hair accessory in there, it's probably heres. "My personal favorite from the show is probably the black headband, the Nyx Noir Band, that she wears when she's with the adoption agency along with the red tartan dress with the big bow," Percival said when asked to name the most memorable pieces she created for the show. "That's probably my favorite piece just because it's very different, texture wise, to anything I've made before. We use semiprecious stones in it like jet and black onyx, but it's not fully beaded, so it's got some bare velvet, and then it's got clusters of different sizes. It requires a different technique to the rest of the pieces, and it's quite fun to make."
"The Rainbow Halo (shown below) is also a pretty special piece, the one that she wears to dinner with Evan," Percival continued. "This piece takes about 19 hours to sew. And you see how many different layers and sizes of beads you've got going on — it has lots of different elements in it. It has gilded flowers, which we have to hand paint, and then the butterflies go on, and then the flowers go on, and then the beads go on, and then another layer of beads go over the top to cement it all."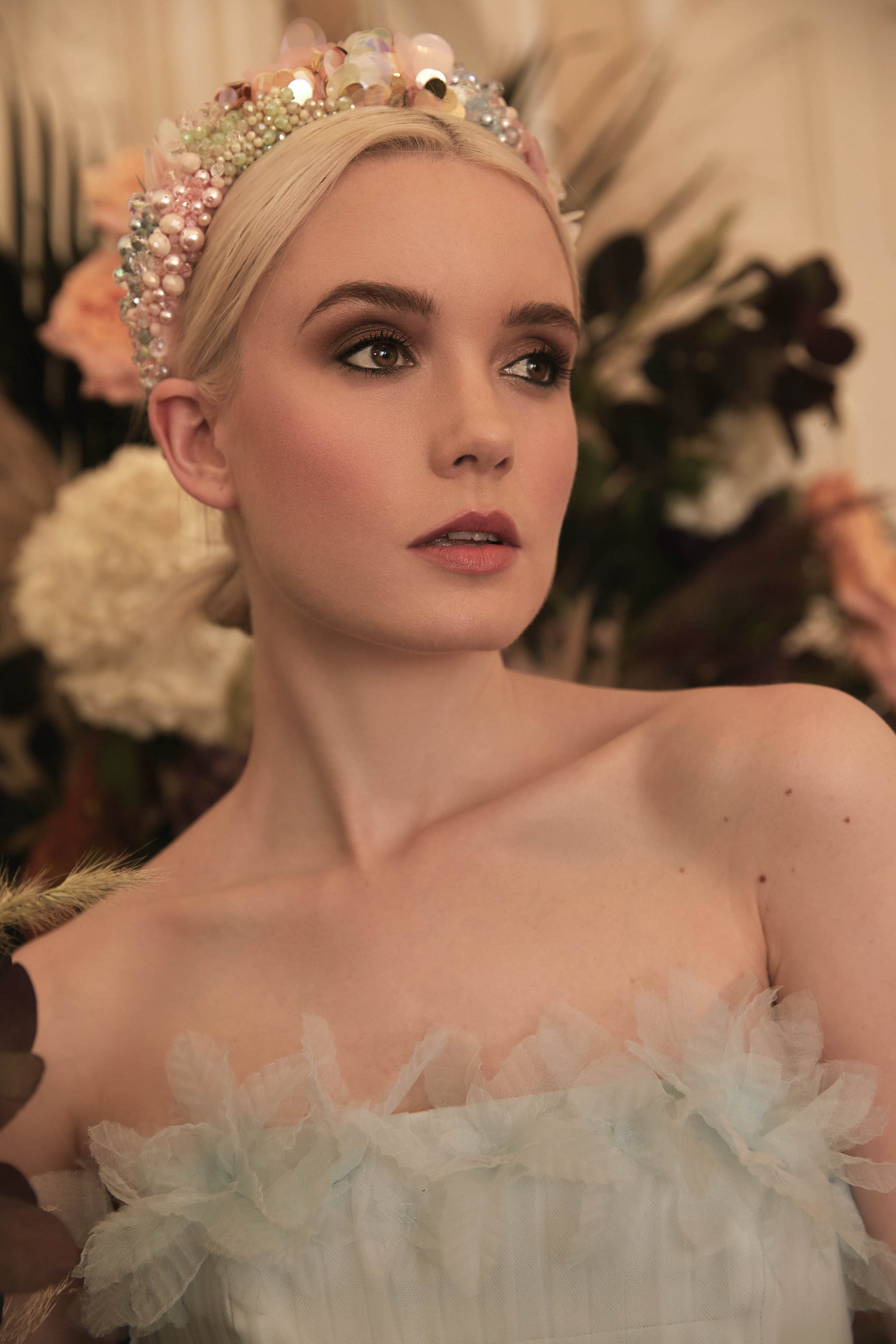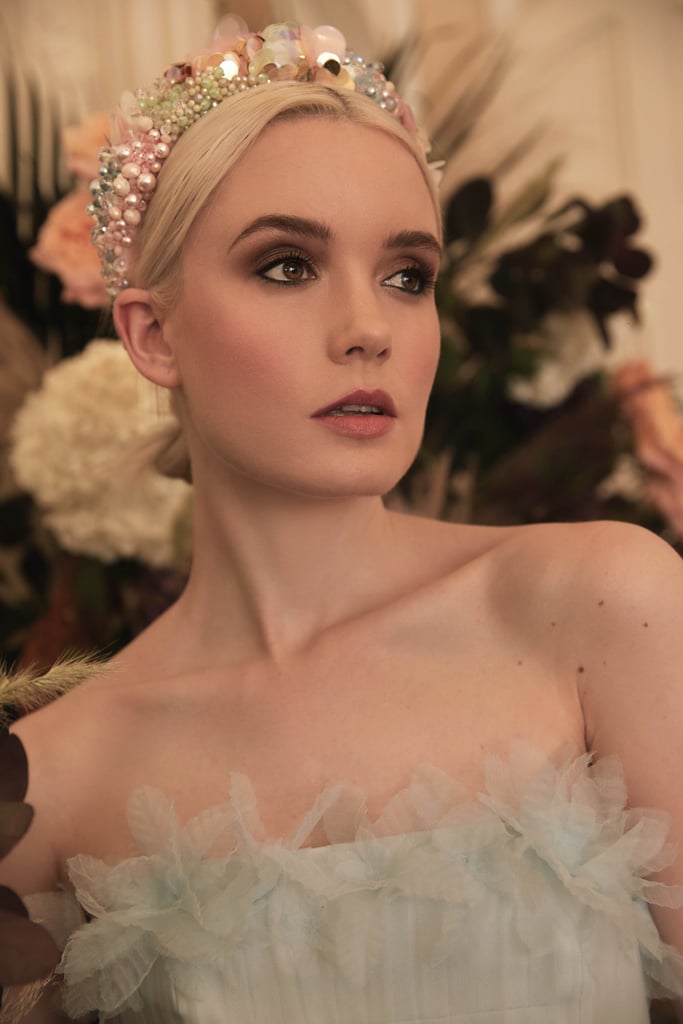 Image Source: Victoria Percival
But even with all of the late nights — all of Percival's headbands are hand embroidered by her and her team of five in the brand's studio in Buckinghamshire using invisible nylon thread — and last-minute deadlines, Percival relished every minute of it. "I loved being part of that creative process, of being involved in designing a look from start to finish and seeing it come alive. That's what a really amazing stylist does so well, is they can just take a script and make it come alive, and to be part of that was great. And it's so fast paced that there was no time to second guess. I mean you feel really tired afterwards. And I was up till three o'clock in the morning sewing sometimes, just like, 'Oh my God.' But it was really exciting to be part of that, and know that it was going to look fierce when it was all put together."
"With a great headband, you can pop that on with a jumper and go down the pub, and it just makes you feel polished and finished and extra without having to dress up everything."
Part of the success of the the styling in The Duchess — apart from the luxe prints, loads of sparkle, and that cheeky p*ssy jumper — was the relatability of it all. Scene after scene, many of us found ourselves wanting to shop Ryan's closet, or even copy a full look. And while a good majority of us have nothing to get dressed up for at the moment, taking a cue from Ryan and her glam team and finishing off your look with a statement hair accessory is a great way to add a little something to your outfit and make you feel all dressed up — without really getting dressed up. "Generally our fashion has become much, much more casual," Percival said. "But I think with a great hair accessory, a great headband, or a great sparkly hairpin, you can pop that on with a jumper and go down the pub, and it just makes you feel polished and finished and extra without having to dress up everything."