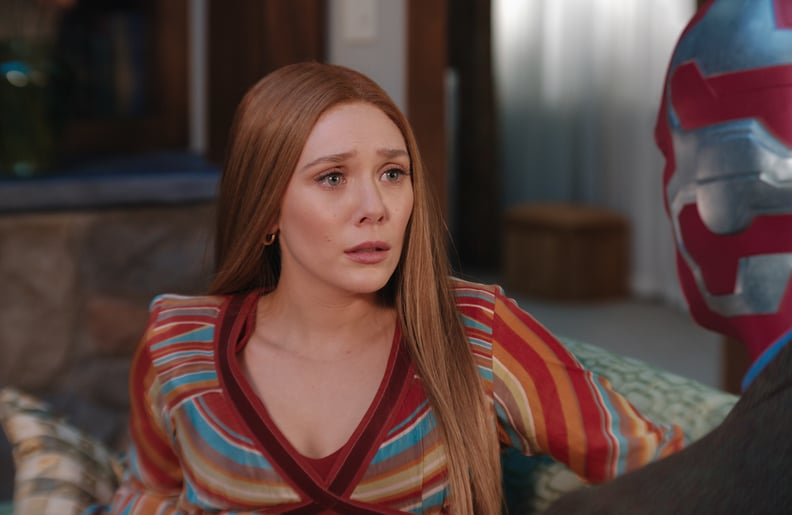 Disney+
Disney+
The finale of Disney+'s WandaVision dropped on March 5, and we can't help but marvel (wink, wink) at all of the amazing hair and makeup looks that Wanda Maximoff, played by Elizabeth Olsen, wore throughout the show's nine episodes. As Wanda took us from the 1950s all the way to the present day, no detail was spared. From the costumes and all the nail colors and shapes that Olsen wore, they thought of everything when creating the decade-inspired looks.
Each alternate-reality sitcom episode shows Wanda in a completely different look, each crafted by makeup artist Tricia Sawyer and hairstylist Karen Bartek. In an interview with Elle, Bartek said the process felt "like a tiny movie shot in one day."
Ahead, get a closer look at all of the amazing beauty looks that graced our screens in WandaVision.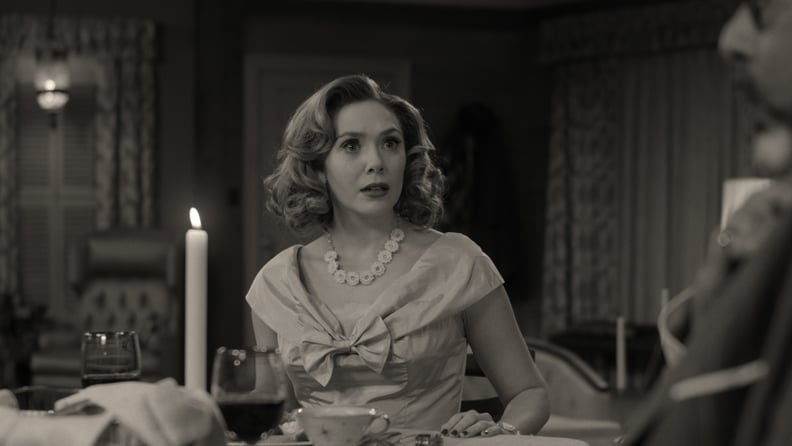 WandaVision's 1950s Hair and Makeup
We're first introduced to Wanda in a setting inspired by The Dick Van Dyke Show and I Love Lucy, with Olsen looking like a quintessential 1950s housewife. She sported a curled bob with a deep side part; thin, sharp eyebrows; and a bright-pink lip. "Her eyeshadow, to look natural, was a robin-egg blue color," Sawyer told Elle, although it was hard to see in the black and white episode.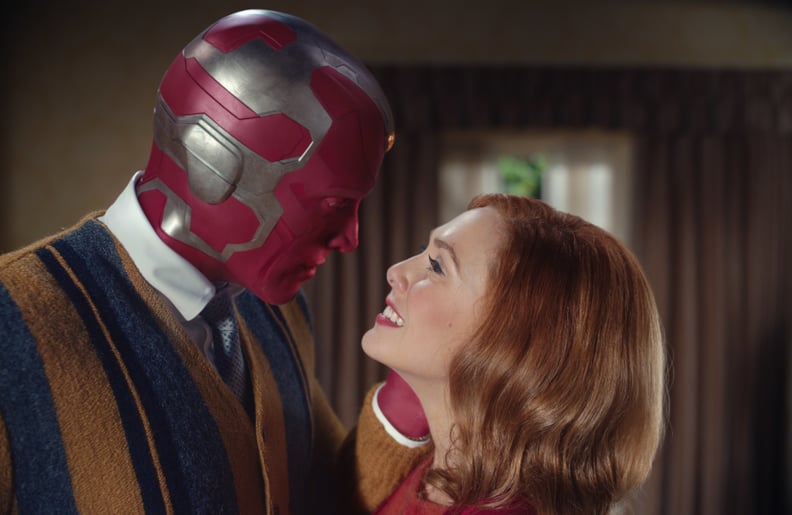 WandaVision's 1960s Hair and Makeup
The show utilized wigs, which were very common at the time, to get Wanda's 1960s flipped bob hairstyle just right. This was the first time we were shown her vibrant red hair color (the only constant with the hair throughout the series). As for the makeup, it was kept soft and natural, which matched her casual wardrobe of capris and cardigans.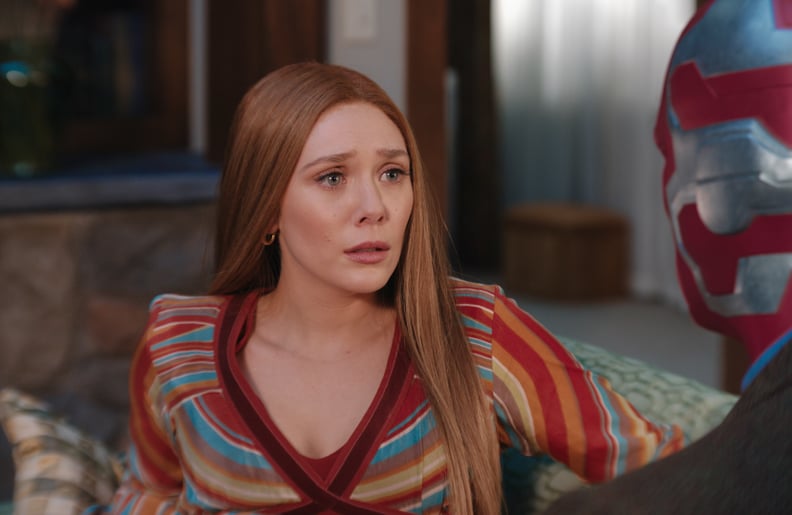 WandaVision's 1970s Hair and Makeup
Episode three, "Now in Color," couldn't have been more '70s-inspired if it tried. From Wanda's long, pin-straight hair and middle part to her soft makeup, she looked like she stepped out of an episode of The Brady Bunch. The pink lipstick she wore in the previous two episodes was swapped with a neutral peachy-brown shade that complemented her orange, blue, and brown psychedelic-print dress.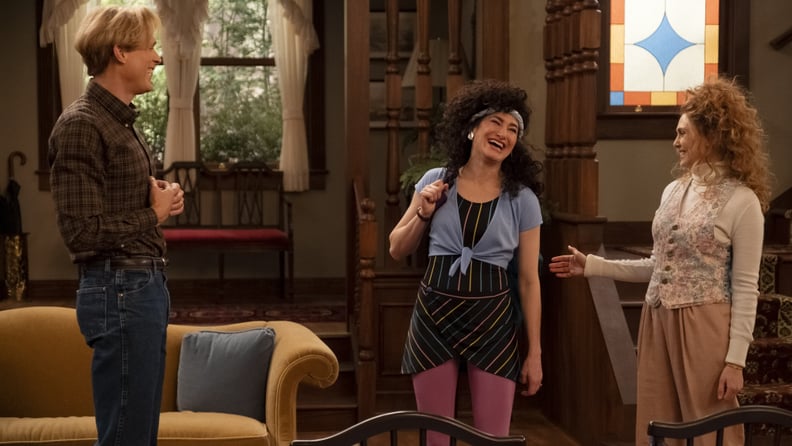 WandaVision's 1980s Hair and Makeup
Wanda's larger-than-life '80s curls were Olsen's favorite style from the show, according to Bartek. The half-up, half-down look reminded us of D.J. Tanner's favorite hairstyle in Full House.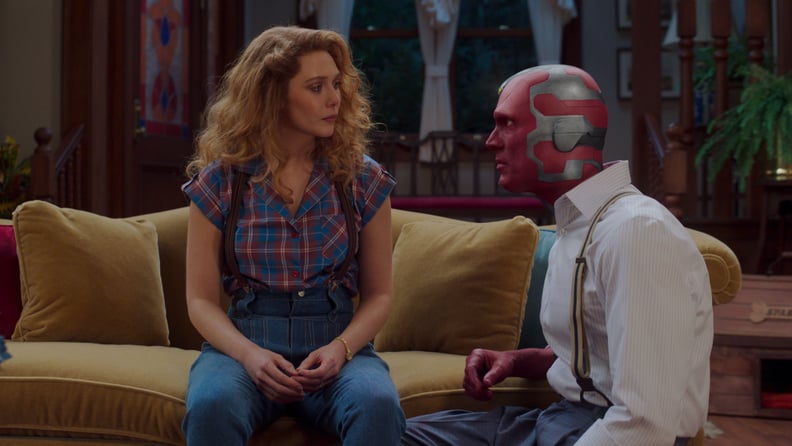 WandaVision's 1990s Hair and Makeup
Wanda's plaid button-down and high-waisted jeans outfit was unmistakably from the 1990s, and her hair followed suit. The brushed-out curls and her natural, pared-down beauty look matched the decade perfectly.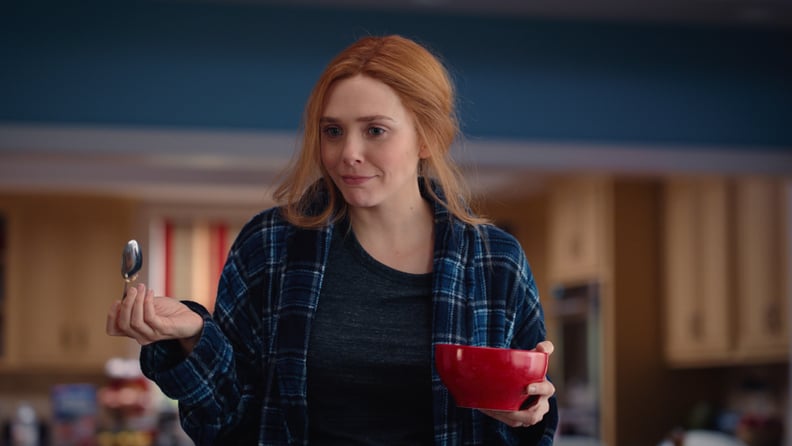 WandaVision's 2010s Hair and Makeup
Episode seven of WandaVision drew heavily from Modern Family and largely showed Wanda in her at-home ensemble: a low ponytail with face-framing pieces hanging loose and little to no makeup. Her eyebrows, which were previously on the thinner side, were filled in to match the fuller look that many of us adopted during the decade.