This Is What Your Favorite NYFW Models Are Drinking Backstage For Better Skin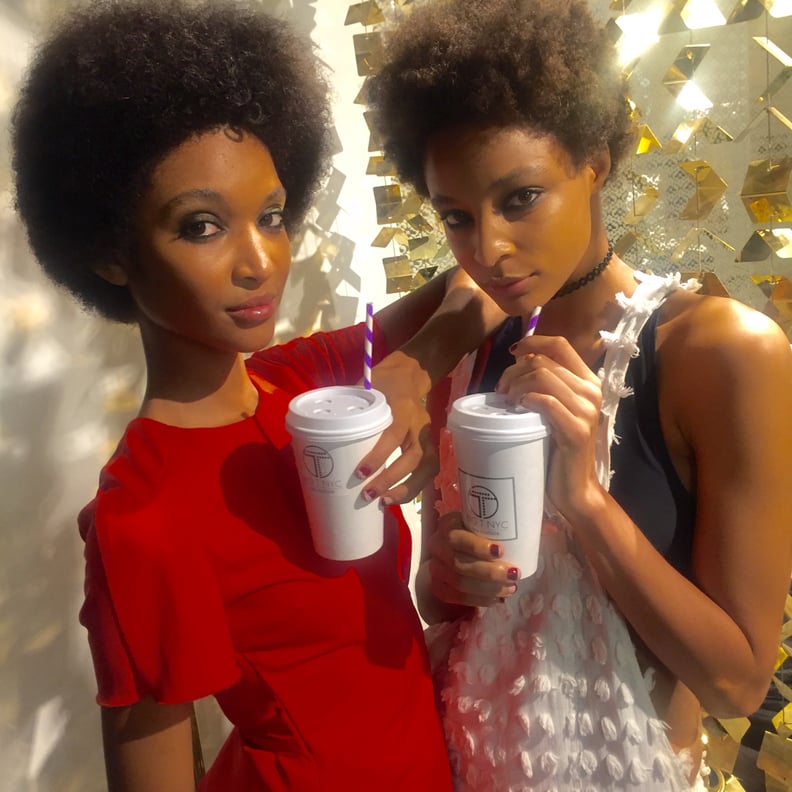 Sofia Sanoh and Brionka Halbert drinking Big T NYC at Rebecca Minkoff
Sofia Sanoh and Brionka Halbert drinking Big T NYC at Rebecca Minkoff
If you've never been backstage during New York Fashion Week, allow us to set the scene. There are dozens of frenzied stylists, makeup artists, and manicurists tending to the half-naked models that are about to prowl down the catwalk. Photographers are fighting to get the best shots of the action. Talent wranglers are ensuring everything is on schedule. And somewhere, tucked in an out-of-the-way corner, is the craft services table (aka the food).
The offerings are often quite counterintuitive to flat bellies: cookies, cheese and crackers, sandwiches, highly processed granola bars. And possibly most surprising, there are cans and cans of soda everywhere. Theresa Krier, who worked backstage managing a hair brand for several seasons, was observing the models' behavior closely.
"I noticed that models weren't drinking anything before their shows because the options were limited to water and soda, which as we know, causes bloating . . . not what anyone wants before walking the runway." she explained. Being an avid tea drinker, she saw an opportunity to address this unmet need. She then founded Big T NYC, a line of chic organic teas and tisanes.
She officially launched the brand backstage at Fashion Week then made it available to the public. "We've partnered with designers every season since then to keep models hydrated, focused, and zen before the show," Krier told POPSUGAR. Big T NYC has been consumed behind the scenes at Tracy Reese, Rebecca Minkoff, Nanette Lepore, Misha Nonoo, and more. Fans include actresses Holland Roden and Nikki Bella, designers Tracy Reese and Rebecca Minkoff, and plenty of models, including Zazoe van Lieshout, Alexandra Richards, and Leomie Anderson, who declares that the drinks make her skin glow.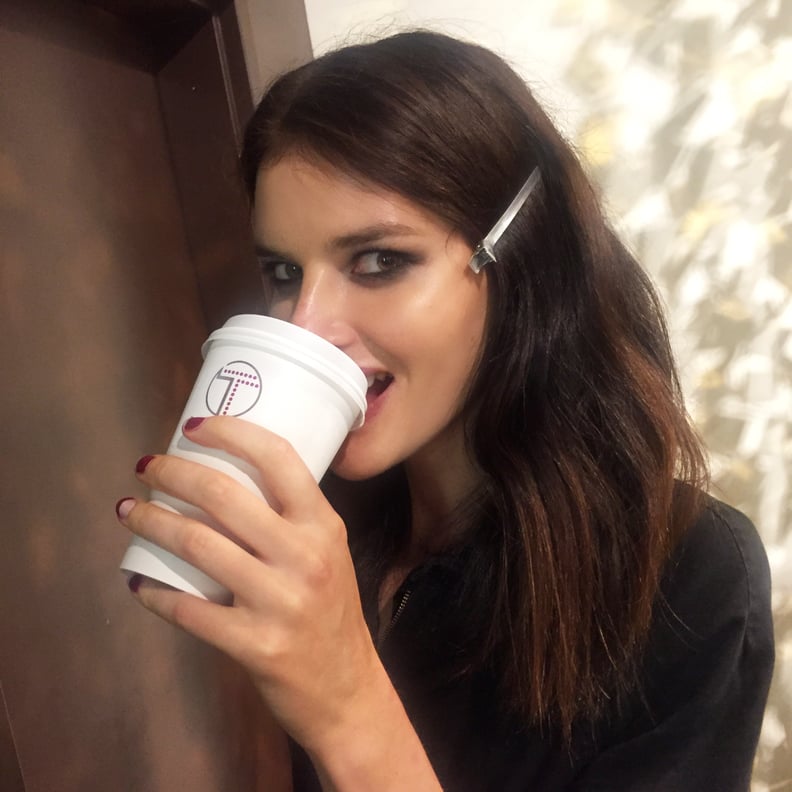 Krier consulted with Dr. Sesha Patel, a physician at New York's Mount Sinai Medical Center, to ensure that her "Nude" line of teas and tisanes so that the teas are tasty, but also offer legitimate health benefits. Each one is organic and unblended. ("If teas aren't organic, you're practically drinking those pesticides from the leaves," Patel said.)
Haute Body ($14), an organic green tea (and the company's bestselling blend), features EGCG, a powerful catechin and antioxidant that has been shown to raise metabolic rate, thus burning fat. Tell-Tale Glow ($14) is a fruity white tea blend containing goji berries, currants, elderberries, and rose petals. This powerful antioxidant-rich cocktail leaves skin protected from free radicals, keeping it healthy and luminous. The Clean Slate Pu-erh Tea ($14) naturally incorporates lovastatin, a compound that lowers cholesterol, and can reduce overall body fat.
While the celebrity teatox trend has proven to be bogus — and largely unsafe — traditional teas like Big T NYC have long been known to naturally detox the body, while consistent hydration clears skin. Considering that models' complexions really do look that flawless in real life, putting the kettle on for a steaming cup is about to become an essential step of our beauty regimen.