What Are Thread Lifts? Here's Everything You Should Know
If you keep up with all of the latest and greatest cosmetic surgery procedures, you may have heard about thread lifts. Contrary to how the name sounds, this nonsurgical treatment — or "tweakment," as we like to call it — doesn't involve a needle and thread, nor does it involve external stitching of any kind. It's a minimally invasive procedure using small hypodermic needles loaded with absorbable sutures (think internal dissolvable stitches) inserted into the skin that dissolve naturally within a few months. Similar to dermal fillers, there are a few different kinds of thread lifts out there, but they all have the same key benefit: to boost collagen.
This may sound complex, but the procedure itself is pretty quick. Ahead, experts dive a little deeper into thread lifts and answer all of your burning questions, like exactly how they work, how long they last, and who's a good candidate for them.
What Are Thread Lifts?
There are three main types of threads that can be used: polydioxanone (PDO), polylactic acid (PLA), and polycaprolactone (PCA). The first option developed — and still the most common choice today — is PDO threads, which are made from a synthetic absorbable material often used in surgeries. "[They] are dissolving surgical sutures that are thinner than a strand of hair [and] have a very high degree of predictability and safety," Lynn Bartels, an aesthetic nurse practitioner at SkinSpirit, tells POPSUGAR. These threads deliver immediate results and have a mild recovery time.
Then there's the heftier thread option, called PLA threads, which are a combo of polylactic acid and the surgical sutures in the light version. Once inserted, the injectable tells skin to create more collagen. "These new collagen cells are what is going to hold your lifted look for 12 to 18 months," board-certified dermatologist and brand founder Dennis Gross, MD, says. This type of thread takes up to two years to dissolve.
Lastly, you have PCA threads, which are the newest option made from "bio-absorbable, monofilament suspension threads of synthetic origin" and work longer than both of the options mentioned prior.
During a thread lift, you'll feel a needle prick into your skin, but there's no cutting or slicing. "Overall, it's a quick and easy appointment," Bartels says. The threads dissolve slowly over the next six months, all the while leaving behind collagen in its place by superficially triggering fibroblasts in certain areas. "The way they're placed depends on the location and goals. There's an art to placement, and a consultation is required to determine if the patient is appropriate for treatment, to decide on the number of threads needed, and to determine how many visits will be needed to achieve desired results."
All three thread types serve a slightly different purpose, depending on your desired results. PDO threads are a good starting point if you want to do a test run to see how you like the procedure before opting for something more long term. As with any other cosmetic surgery procedure, it comes with its share of perks and pitfalls.
The Benefits of a Thread Lift
A thread lift can deliver fast results, but it's important to have an understanding of what the procedure can and can't do. The main benefit to threads is the collagen boost you get while they dissolve, but they're also good for adding mild volume, reducing fine lines, and doing some tightening. "Everyone who's looking for a slight correction to prevent laxity and lines is a safe candidate," Bartels says. "It's like putting a mesh hammock of support under the skin, which is both corrective and preventative."
Threads do have some limitations. For instance, they're not a substitute for a face lift, and with that in mind, they don't possess extreme tightening or lifting capabilities. "The treatment is not great for people with very thin skin or for people without enough laxity or drooping," Dr. Gross says. "It's a step above injectables but a notch below a facelift."
New York-based plastic surgeon Melissa Doft, MD, adds: "Threads do not have the ability to change volume." Depending on the type of threads, you'll get six to 12 months out of the procedure before the threads need to be redone.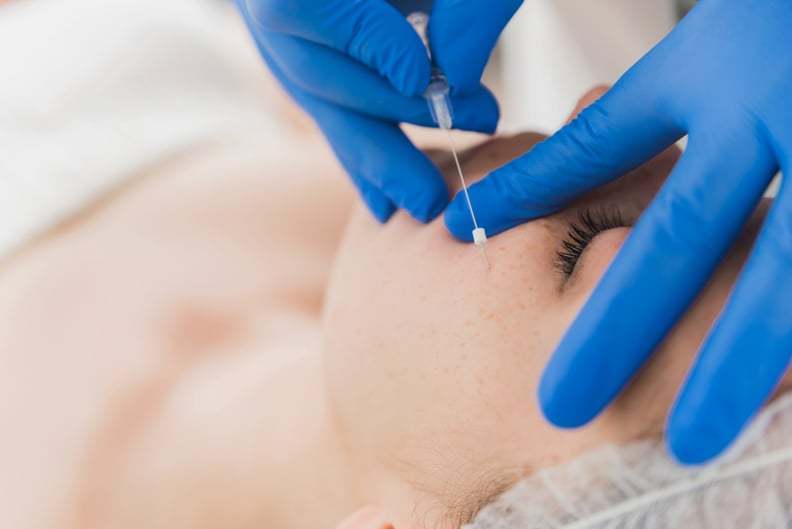 Recovery Time and Side Effects of Threads
There is minimal to no downtime following a threads procedure. "The patient may have small amounts of swelling at the entrance points of the threads, but almost never bruising," Beverly Hills plastic surgeon Suzanne A. Trott, MD, FACS, says. Bartels adds, "Patients might also experience tiny zingers or twinges caused by the nerve stimulating the nerve endings, but this resolves after a few weeks."
In the days immediately following your lift, you'll need to sleep on your back for a couple of nights with your head elevated. You'll also be required to only eat soft foods and not open your mouth too wide for a couple of days.
Can Thread Lifts Be Removed?
Before committing, many people wonder if thread lifts can be removed after they're inserted. The short answer: no, they cannot be. This is why it's best to start with the option that only lasts four to six months.
Can Threads Be Combined With Other Cosmetic Procedures?
If you want to try threads to stimulate collagen but still want to keep getting your other cosmetic procedures, like Botox and filler, you're in luck. Threads are compatible with both. "And the benefits can be enhanced by heat-based devices like IPL [intense pulsed light], Fraxel, Ultherapy, and ResurFX immediately or shortly after inserting," Bartels says.
How Much Do Thread Lifts Cost?
"From a financial perspective, thread lifts aren't exactly a cost-saving solution," Dr. Doft says. The procedure can range anywhere from $1,500 to $4,500. To determine whether it's worth it, she recommends you consider the lifespan of your threads.
— Additional reporting by Jessica Harrington