As Jenny Bui, the "Queen of Bling," owner of Nails on 7th, and manicurist to Cardi B prepares to paint my nails, her husband Billy takes off my weeks-old polish. "He supports me all the time," Bui tells me. "If I didn't have him, I wouldn't have what I do today." I can attest: Mr. Bui is an excellent hype man, and he came to our appointment toting Jenny's nail arsenal so she wouldn't have to.
What Jenny has today is nothing short of a bonafide bling empire (blingpire?). But it didn't come easily. The 49-year-old Bronx-based manicurist escaped the Khmer Rouge genocide in her native Cambodia and has paved her way as a nail artist since the early '90s. "I went to cosmetology school, but then I saw how hair is hard to do," she said. "It's too much of a process." One day, she went to a nail salon. "It looked so easy, so I practiced on myself. I learned from myself. Nobody taught me."
One day in 2013, a 20-year-old Cardi B (real name: Belcalis Almanzar) came in to Jenny's salon. She'd been in previously to get her nails done by Jenny, but the artist had been unavailable. "My husband said, 'Baby, this is the second time she's been here,'" Jenny recalled. "My husband didn't know who she was, but I took care of her. When I take customers, I don't look at how you dress, or if you're rich or poor. I don't care. As long as you favor my work, I love it."
On that first trip, Cardi definitely favored Jenny's work. "She loved it," Jenny said. "She screamed, 'Oh my God! In my whole life, I never had a nail like this.' And then after that, she kept coming to me."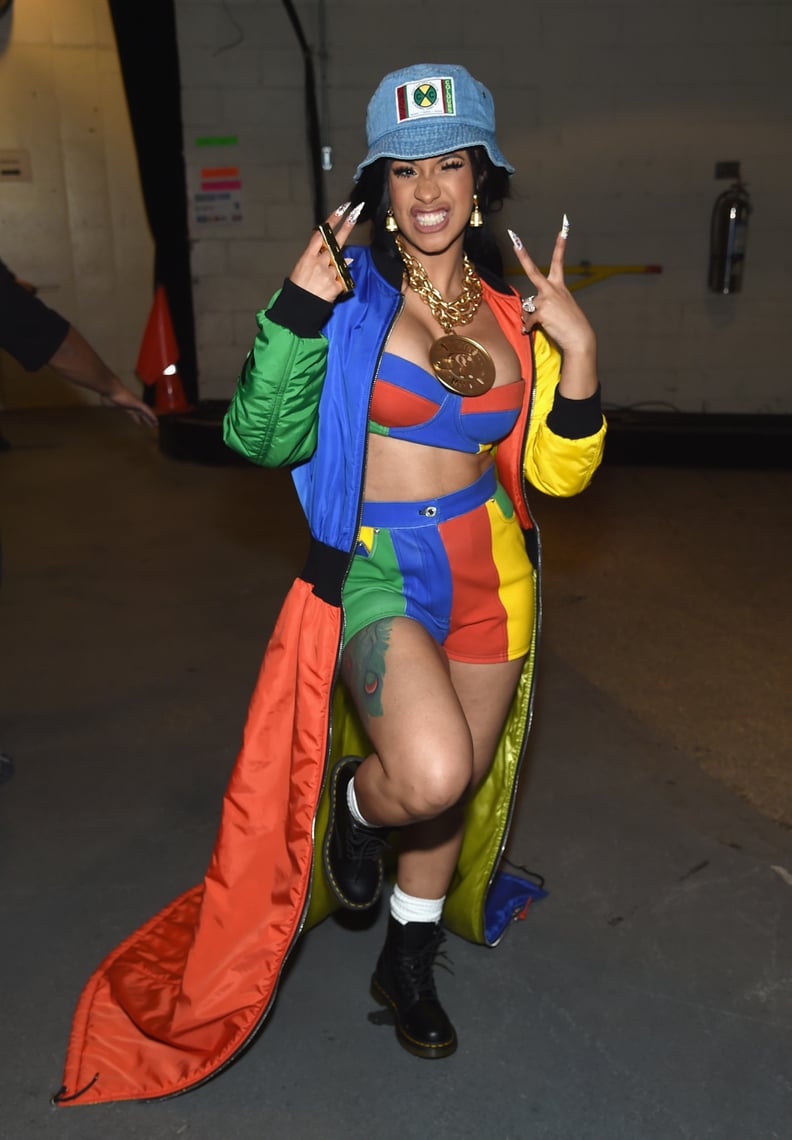 A lot has changed in the past few years: the former stripper is now a Grammy nominee with songs like "Bodak Yellow" and "Bartier Cardi" earning both critical and commercial acclaim. She's also an expectant mother at the age of 25, something Jenny saw coming. "Back when I first started doing her nails, she said, 'Oh, I want to be pregnant when I'm 25, 26,'" Jenny explained. The nail artist also knew way before any of us did. "Cardi told me when she first got pregnant, because she says I'm her second mom," she said.
Since Jenny's fame is so tied to Cardi's powerhouse rise to rap domination, her career directly parallels her surrogate daughter's. But such recognition means less time with her biological children. "My life is busy, and I don't have time for my family. I feel so bad for my two little kids [age 9 and 11]," she admitted. However, they don't seem to mind all that much.
Jenny recently asked her children if they were "mad" because she worked too much. "They said, 'No, Mommy. You're famous,'" she laughs. "When they go to school, their friends say, 'Oh, my god. Your mom is so famous."'
"I don't look at how you dress, or if you're rich or poor. As long as you favor my work, I love it"
Despite her newfound recognition, the artist revealed she's faced her fair share of discrimination. "Nails are my passion, but sometimes people are nasty," Jenny said. "People used to tell me, 'Eff Chinese people,' or 'I want to send you back to China.' I always told them, 'I'm not from China.'" When she got cursed out, Jenny would often swear back. "If you say something nasty with me, I will say something nasty with you," she reasoned.
Racism came from her bosses, too. "The people that own the salons treat us so badly, especially if you do pedicures. They think you are their slave," she explained. That impacted her work: "Sometimes, I wouldn't care about the customer, because I was getting treated so badly." She persevered because of her family. As she said, "I had to support my kids, so I stayed strong."
And she did it all with 2-inch nails — because women are strong, y'all.