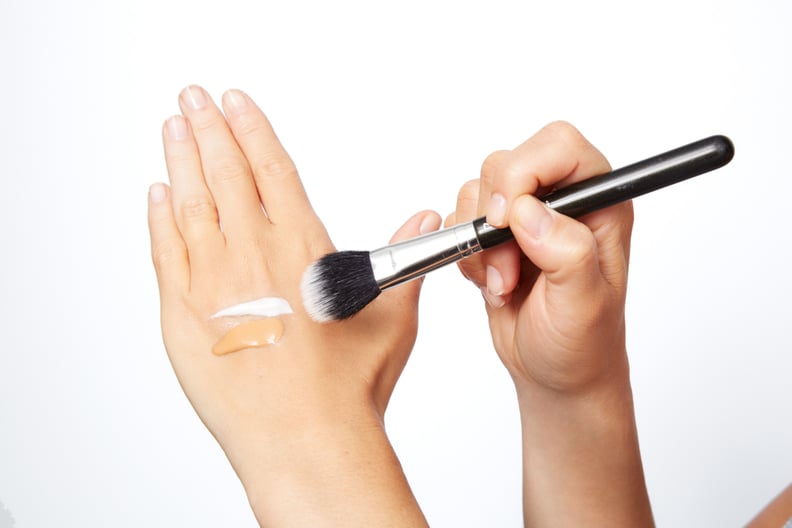 POPSUGAR Photography | Benjamin Stone
POPSUGAR Photography | Benjamin Stone
Let's stop beating around the bush. Here's the deal: you have imperfections but you don't want people to see them. Foundation was invented millions of years ago for this very purpose. If you are going to wear foundation, then for God's sake, just wear it. Go for it, there's nothing to be afraid of.
I'm a makeup artist, and at least once a day, a client sits down. She asks me to do her makeup and if I can remove the foundation that she put on that morning. More often than not, there is no visible sign of foundation on her skin. When I say "no visible sign," I mean that I can see every flaw on her face. Dark spots, redness, and blemishes are on full blast to the naked eye.
"You have foundation on?" I will ask gently as I pretend to be wiping off her makeup.
"Well, I just use a tiny bit, and I mix it with my moisturizer," or "I just use my fingers to apply it in spots," are two of the answers I receive most often.
As soon as I suggest using a proper moderate-to-heavy coverage foundation, the client will often become tense and back away from me while clutching a hand mirror. She will tell me nervously how she doesn't like a lot of makeup and doesn't want to look like a clown.
Thankfully, I no longer have feelings. I can no longer get offended by clients who are not familiar with modern technology in makeup, so I proceed as though they have said nothing.
I am confident that what I choose will most likely be a great solution. Not only because I am a superstar makeup artist, but more importantly, because the real "makeup people" (the ones in the labs creating the makeup) are quite brilliant. The technology that is used in today's cosmetics is the most innovative and impeccable stuff we have seen in decades. Let's use it.
I know that many of you are afraid of that dreaded "line" of foundation on your jawline. That line that we have all seen on our poor friend who is wearing the wrong shade of foundation. It screams "I am wearing too much makeup, and I don't know what I am doing."
We want to look flawless but we don't want the world to know that we have spent our morning covering up our flaws. This is extremely attainable these days.
The most obvious choice is tinted moisturizer. First, for those of you who are handcrafting your own concoction by mixing your foundation with your day cream each morning, stop the madness. There are many great tinted moisturizers on the market. The great people, behind the curtain, have done the work for you. These products will even out skin tone, give a little bit of coverage for redness, and give your face a healthy glow and a nice dose of SPF.
The best one is Laura Mercier's tinted moisturizer, hands down. I have worked for this brand for 12 years, and I can probably count on one hand the number of people I have applied it on that haven't loved it.
If you are in the market for a traditional foundation, the world is your oyster. I can safely say that almost every brand — even drugstore brands — has something pretty decent to offer. It is simply a matter of finding the one that works for you.
If you are oily and petrified of liquids or creams touching your skin (for fear of breakouts), I get it. You, more than any other, need coverage, because chances are you have blemishes or pores that need covering. A powder foundation is your friend. However, tread lightly. If you aren't careful, you will go to your nearest department store and leave with 15 pounds of mineral powder on your face.
While you might feel "covered," one doesn't want their mineral powder entering the room before them. Nothing says "I have bad skin" like an inch of powder foundation. My favorite is IT Cosmetics CC+ Airbrush Perfecting Powder. It provides sheer to full coverage, skin care benefits, and SPF 50! Most importantly, it looks natural and you can still see that your face is actually made out of human skin.
If you want to achieve a dewy look while simultaneously covering anything unseemly, then walk yourself over to the Armani section of your department store. Armani Luminous Silk Foundation is the king of foundation. It is so glowy and perfect, you won't even recognize yourself. This formula provides the coverage that we all want and makes our imperfect skin look like porcelain glass.
To be sure that you will feel comfortable, let's think about your application practices. While fingers are okay, let's be honest about how well our fingers work. Are we in a rush? Is the lighting bad in our bathroom? Are our children late for school and we don't have time for perfect finger blending? Do we have early signs of arthritis in our finger joints?
There are many reasons we might benefit from a tool. If you are wearing a tinted moisturizer, then that tool should be a good, quality foundation sponge. If you are wearing a true foundation, then try a foundation brush.
DO NOT tell me you are applying your foundation with a "blender." "Blenders" are for "blending." Use a foundation sponge or brush to apply foundation. It will work faster than your fingers and create an airbrushed look to your skin. An added bonus is that you don't have to wash your hands afterward, which also saves all that $64 Armani foundation from going down the drain, literally.
When you decide to live life on the edge and apply your foundation all over your face, as it is designed to be, you will find a fabulous person looking back at you in the mirror. You will be ecstatic that you embraced foundation.
We have so much to worry about these days. We can stay up all night worrying about our jobs, our kids, our cholesterol, health care, Russians . . . Let's not worry about foundation.