1 Real Girl Confesses Her Biggest Beauty Blunders Ever!
As POPSUGAR editors, we independently select and write about stuff we love and think you'll like too. If you buy a product we have recommended, we may receive affiliate commission, which in turn supports our work.
I'm sure you all know the Disney classic Beauty and the Beast, but for me, beauty is a beast. My whole life I've struggled with not only the concept of beauty but executing beauty methods that seemed to come so easily to other girls. From poorly dyed hair to a yearlong makeup rut to my permanently drawn-in brows, I've made more beauty mistakes in my life thus far than most women do in their lifetimes. It's a miracle I haven't shunned the outside world and taken up a hermit's life.
But, the infuriating paradox that it is, beauty keeps me coming back for more. I've had enough successes that I want to learn more and keep improving, even if that means hitting a few roadblocks along the way. Plus, there's something innately addictive about beauty products — the combination of our consumer culture and my love of anything colorful and in a palette keeps me going back to Sephora to buy the next shiny new iteration.
All I can hope today, and going forward, is that I've learned a thing or two about my past mistakes and I'll never repeat them again. Keep reading to see my worst beauty blunders throughout life.
Fake It Till You Make It
Some hair will not grow back, and it's usually not the hair you don't want. I learned this the hard way when I was 12 years old and had a bad habit of scratching my face. Yes, it's as weird as you're imagining — I would literally idly scratch my face anytime I was bored. This wouldn't have been a big deal except that it caused my eyebrow hairs to fall out, which at first I thought was neat (I wasn't the sharpest 12-year-old, what do you want me to say?), but then I realized that I was losing those nice arch shapes. While some of my classmates were starting to talk about plucking their eyebrows, I had already eradicated the need.
Fast-forward a few years and now I'm a blossoming teenager — hormones raging like whoa — trying to win the attention of the opposite sex. Guess what I wish I had? Yup, eyebrows. What a sad statement that was right there. But because of my careless actions as a preteen, I now had incredibly sparse, barely there eyebrows at a pivotal time in my life. In an effort to solve this problem, I used brown pencil eyeliner to fill in my brows. I'm not sure if eyebrow powder was a thing back then, but if it was, I wasn't well-versed enough in makeup to know of its existence. The result of my pencil trick were pretty fake-looking arches that were at least three shades too light for my hair color, but it was better than not having any at all.
Today, I've become wholly reliant on eyebrow powder — I especially love Anastasia's Brow Powder Duo ($23) — and refuse to leave the house without it. The powder effect is softer and therefore more natural than a pencil, and when I use it to fill in the areas where my arches should be, it actually looks like I have real eyebrows. Friends and boyfriends have expressed shock that my brows are drawn in, and that (almost) makes the awkward years of penciling them in worth it.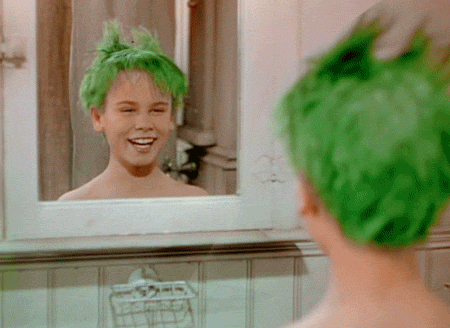 A Bleach-and-Dye Double Whammy
When I was 13, I went through a punk phase, which has never really ended . . . at least not internally. While I'm no longer shopping at Hot Topic, I still mosh with the best of them at a Buzzcocks show. Back in my punk prime, however, I had the entire look down: Doc Martens, plaid skirts, and band patches on my hoodie. The one thing that I was missing — the one thing that I so desperately wanted — was rainbow dyed hair.
I remember perusing Slacker, a subculture boutique on the South Side in my hometown of Pittsburgh, and coveting the extreme hair dyes in every color. My favorite color was Manic Panic's Shocking Blue shade ($12), which, despite stern warnings from my parents, I purchased one day to complete my rocker look. But there was one major obstacle I had to tackle first: I had to bleach my hair in order to dye it that vibrant shade of blue. The following account tells what might be the most hairbrained scheme in history.
Instead of going to a professional, I used a combination of hydrogen peroxide and Sally Hansen Creme Hair Bleach For Face to lighten my locks. I thought, "Hey, if it works on female mustaches, it should work on hair, right?" Not so much. The combination did lighten my hair, but the mixture was not strong enough to actually bleach it, nor did I have enough of it. What I ended up with was an uneven swath of orange-tinged hair. It was not cute. But I had already come this far, and I was not going to give up my dream of having (partially) blue hair.
So I pressed on with dying my hair with Manic Panic's Shocking Blue, and I'm sure you can guess what happened next. Because science doesn't make exceptions for people, no matter how hopeful they are, the orange color of my hair mixed with the royal blue dye to create a muddy green shade. If this color had a name, it could have been dubbed Oscar the Grouch. Despite the epic failure of a dye job, I wore that green swatch of hair with pride for a few weeks until it washed out.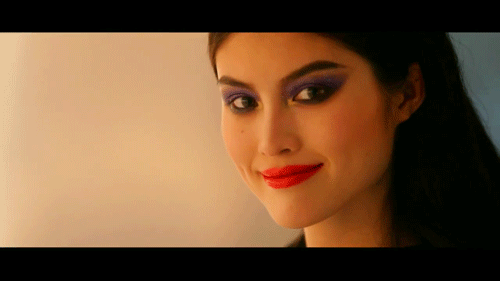 Purple Eye Shadow Every Day
As a typical Asian-American with old-school Asian parents, I wasn't allowed to wear very much makeup in high school. (The hair dye episode nearly got me deported.) So I had to find sneaky ways of obtaining products without my parents forcing me to return them. One year, I asked my best friend to get me the most elaborate makeup set ever for Christmas. Expectation: this. What I got: this. OK, so I had a couple purple shades to work with; I was determined to look beautiful with this little set.
What that translated into was me wearing purple eye shadow every day my whole freshman year of high school. And because I already had quite the arsenal of lipsticks, I would pair my purple eye shadow with the most offensively clashing shades, like bright red, deep brown, and pastel pink (the latter combination made me look like an 8-year-old spokesperson for bubble gum).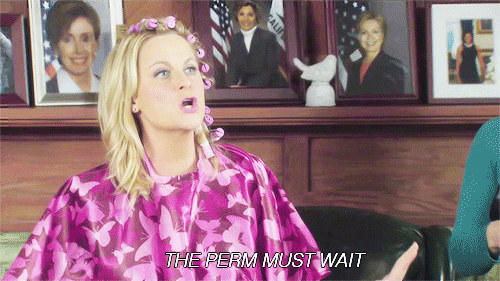 The '80s Are Back
During high school, I gained a wealth of knowledge about hair and makeup, but it wasn't enough to prevent me from trying the unspeakable in college — a perm. It was the Summer after my freshman year, and I had had enough of my straight strands. Inspired by my friends who had wild, tousled beachy waves, I naively thought that my Asian hair could achieve the same wavy quality. At that time, body waves weren't too big yet in my town, so I went with the old-fashioned perm, which had already built up quite the bad reputation. I went ahead anyway.
The treatment that I got could have come out of an '80s magazine spread: smelly solutions, metal rods, rollers, and a big cap under a heated dome. It shouldn't have been any surprise then that the end result could have come out of an '80s magazine spread, too. I walked out of the salon with coils so tight my waist-length hair was now almost at my shoulders. Naturally, I felt like panicking, but what was the point of that? Instead, I looked to Keri Russell, Minnie Driver, and even Diana Ross for inspiration. What that really meant was: a lot of updos.
Luckily, after a few weeks, the curls loosened a bit, and I looked more AnnaLynne McCord than Troy Polamalu. After a month or two, I started to really love my curls — my favorite aspect was that they always added instant volume and my mane was never, ever flat. After a lifetime of stick-straight hair, having curls was certainly a breath of fresh air — at least after the initial "Wow, I look like Carrot Top" shock.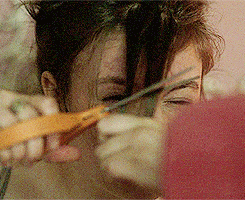 DIY Haircut Gone Wrong
As if the blunders of my first punk phase weren't enough, I went through a second punk phase in college, which came just as my perm was growing out. I always did have a tendency to swing from one extreme to the other throughout life — not just with looks, but with boys, jobs, everything. This time, instead of dying my hair — because now I was wise enough to realize that required a trip to the salon and mucho dinero — I decided to give myself a haircut worthy of praise from my newfound biker friends. Clearly, I was not wise enough at this point to realize that rocker pals don't really care what hairstyle you have.
Armed dangerously with a pair of cheap drugstore scissors and, even more dangerously, my ambition, I took to my hair like a hiker with a machete chopping his way through the thick Amazon jungle. First I trimmed my bangs absurdly short, as if I had a phobia of anything touching my forehead. Then I gave myself "layers," which technically were layers, but they were like the Wild West of layers. There was no rhyme, reason, or flow to the way they were cut. Some pieces in front were longer than the ones behind them; some extremely short strands lay next to really long ones. Basically, it warranted shaving my head, which I was very tempted to do — believe me.
But the beauty of hair is that it grows out, so I patiently waited for it to do so and headed to a salon to get a more professional punk cut. That may be somewhat of an oxymoron, but I didn't care. I just wanted to have a look that made sense again. These days, the only thing I cut myself is my bangs, and now I exercise a lot of restraint. I err so much on too long that my bangs are often just that — too long. But hey, at least that's better than having forehead stubble.