As POPSUGAR editors, we independently select and write about stuff we love and think you'll like too. If you buy a product we have recommended, we may receive affiliate commission, which in turn supports our work.
You know how that Aladdin song goes: "Arabian nights, beneath Arabian moons. A fool off his guard could fall and fall hard," . . . and in our Halloween-obsessed world, get attacked by zombies! Well, maybe that's not the exact lyrics, but this Halloween, we've taken Princess Jasmine to the dark side. The undead side, as a matter of fact. This royal would fit in just as well on the set of The Walking Dead as she does in the Arabian Desert.
With the help of resident makeup artist Faina Rudshteyn at the Make Up For Ever boutique in NYC, we made Jasmine over. In the process, we snagged essential 3D makeup tips for any gory Halloween costume (like use cotton balls to make your wounds gush). But we still maintained that classic cat eye Jasmine is known for. She may be a zombie, but she's still a princess!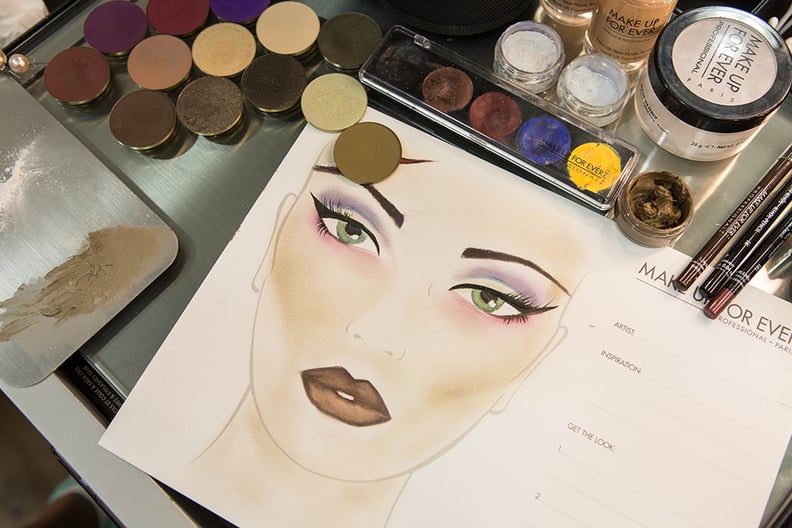 The Inspiration
Here's a look at the face chart Make Up For Ever created just for POPSUGAR Beauty!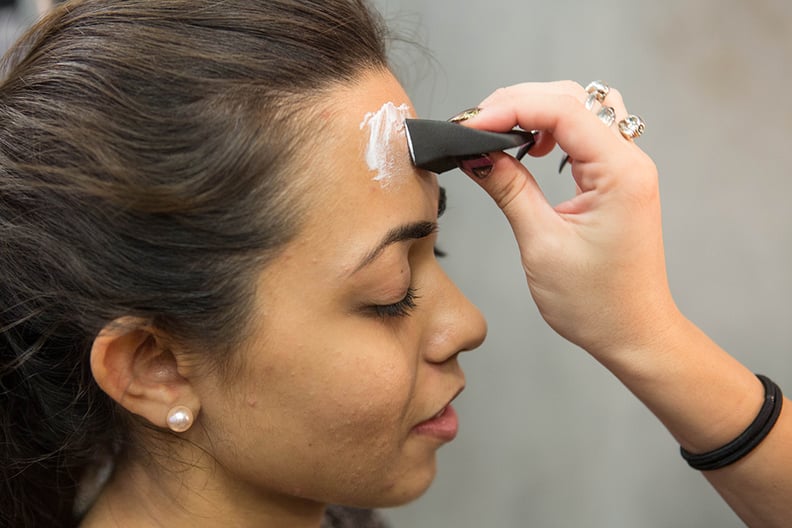 Apply the Adhesive
To create the 3D gash on the forehead, you first need to apply an adhesive. Pros-Aide Adhesive ($24) is the extrastrength glue professional makeup artists use to bind fleshy effects to the skin.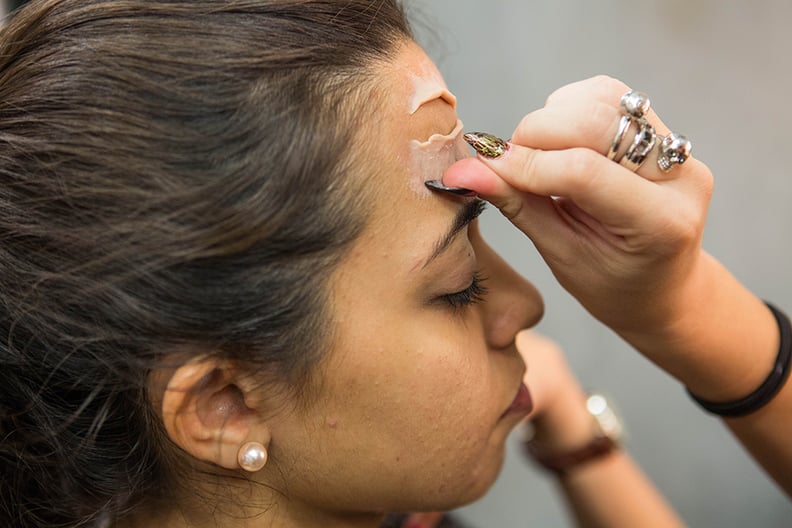 Apply More "Skin"
The skin-like product is called Natural Plasto-Wax ($12). It molds similar to putty, so you can place it on the skin then stretch it to create the desired effect. In this case, you want to create a liplike shape that will become an open wound.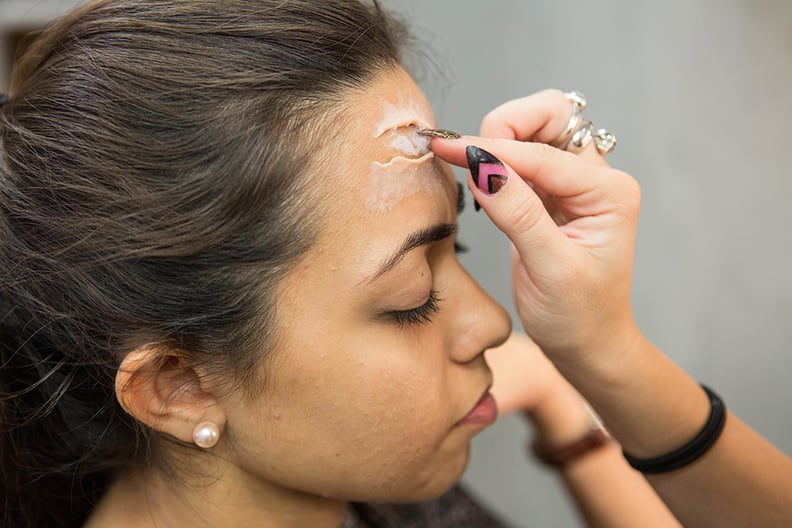 Add Texture to the Wound
Break up a cotton ball and place the pieces inside the wound to give it that infected texture. Seal it all in with another layer of Pros-Aide cream and loose powder. That way your 3D art won't melt while you work on the rest of the face. It also creates a smooth, nonsticky surface for your makeup brush to work against.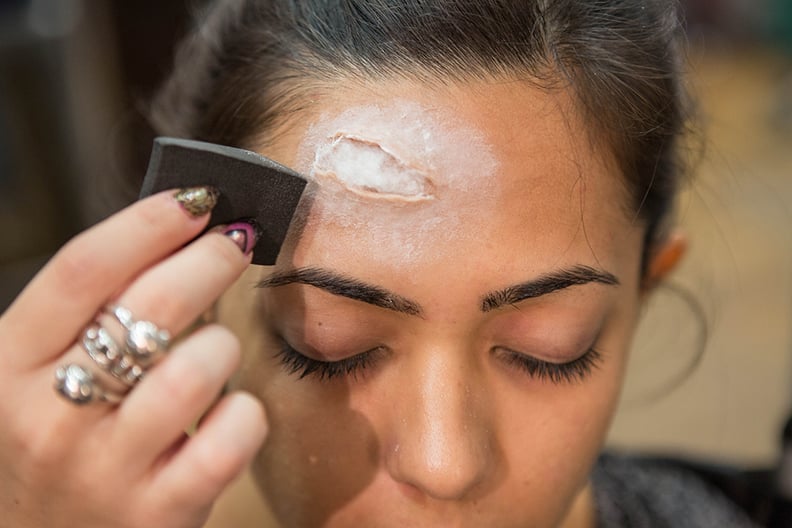 Seal the Wound
"It starts to break apart with the heat of the body," said Rudshteyn. "Even if you do mess up and things start to fall apart, that is OK because that is what really happens to zombies. So it's all a part of the look."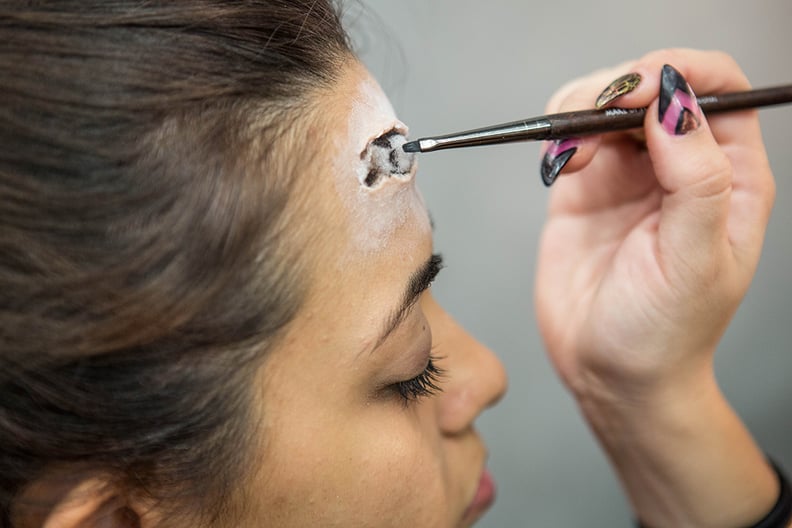 Add Color to the Infection
With a stiff liner brush, apply a black paint like Make Up For Ever Flash Color ($19) to give the wound depth. Eventually you will add fake blood over the top, but the black gives the open sore a congealed effect.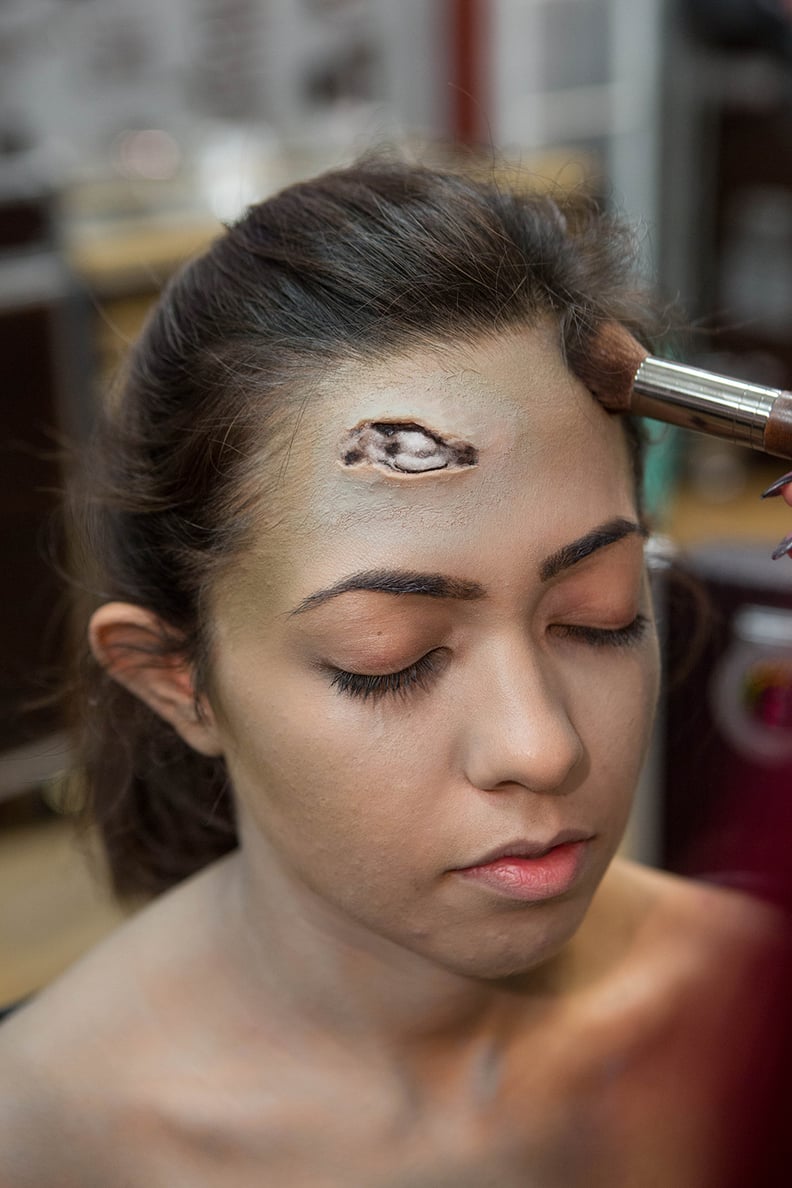 Go Greige
The undead lose their blood flow, giving them a gray appearance. At home, you can use gray paint mixed with a drop of your own foundation shade to get the washed-out appearance.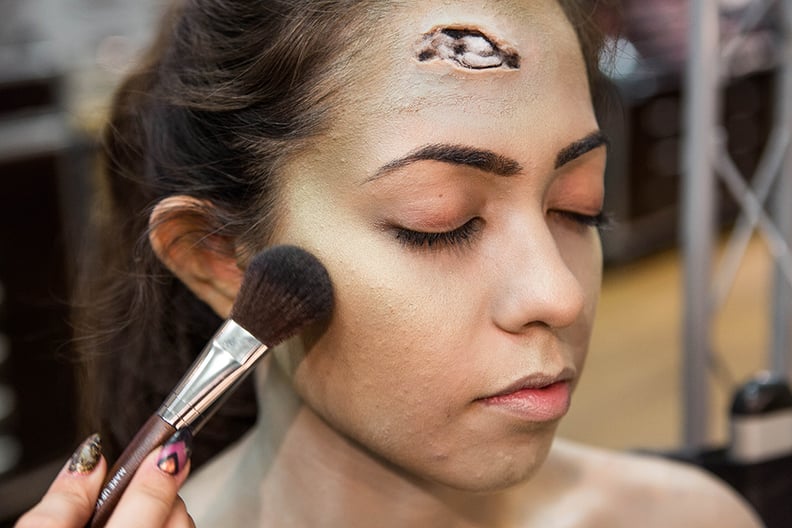 Contour and Highlight
Despite the gray skin color, you still need to contour and highlight. Contour the cheeks, jawline, and temples with an olive green color. Then brighten with an iridescent gold and brighter green shade down the nose, on the Cupid's bow, and across the cheekbones.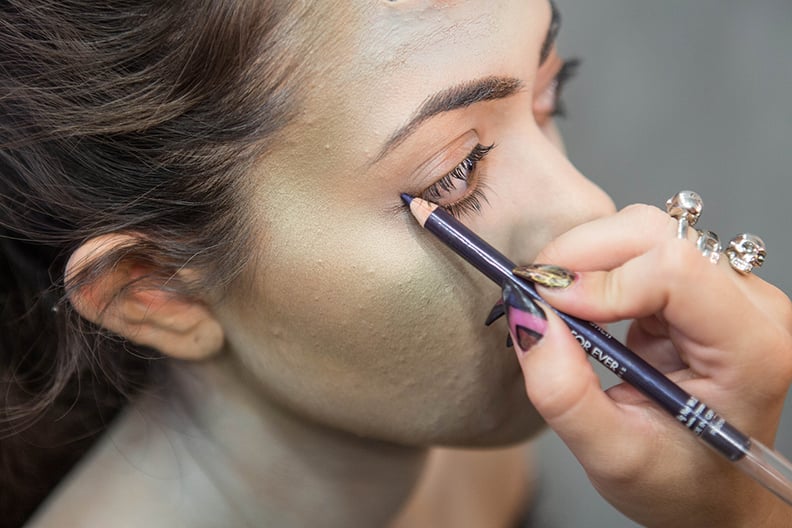 Create the Wing
Even though we've made Princess Jasmine into a zombie, she still has to have her classic cat eye. Start by marking your flick on both sides with eyes wide open. This technique makes sure each angle is symmetrical from the start.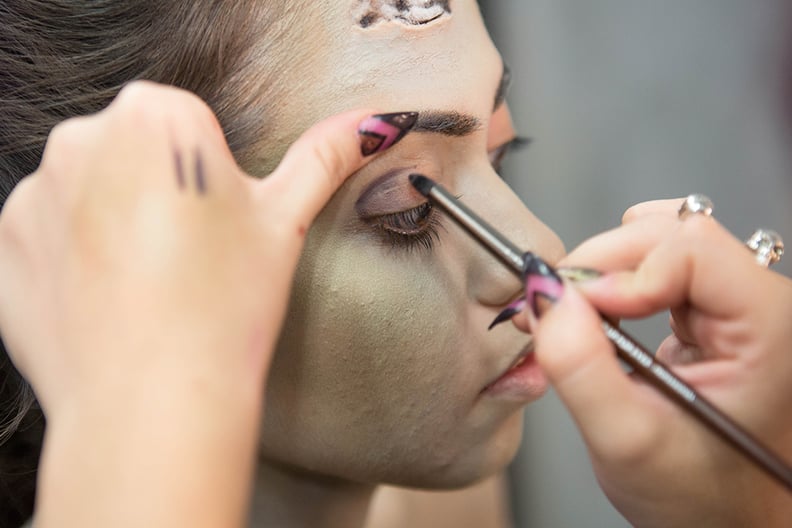 Start a Smoky Smudge
Using a purple kohl pencil, apply product in the crease, and smudge it at the outer corners.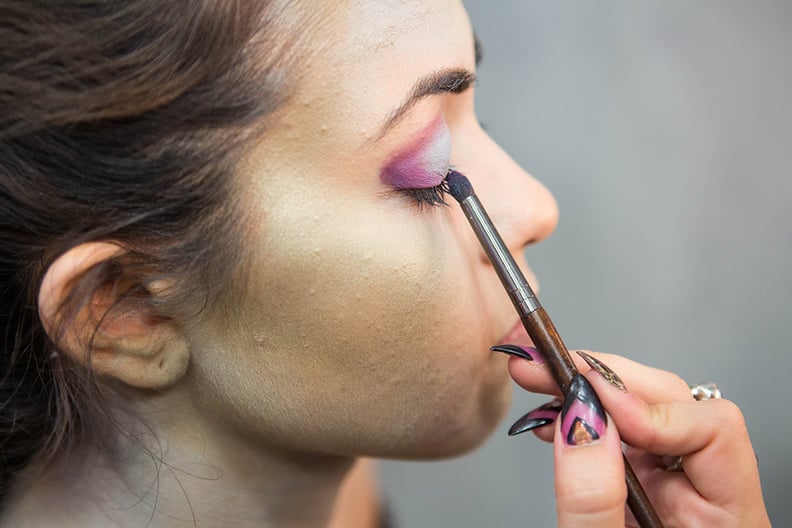 Play With Color
Pile on a bright purple shadow over the liner at the outer corners. Then add a punchy teal shade on the center of lids and inner corners to match Jasmine's blue costume.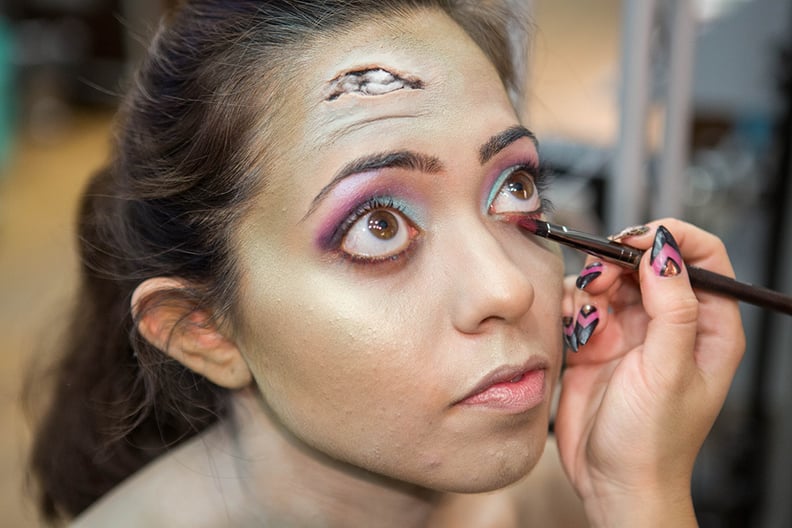 Make Dark Circles
Next, apply a dark burgundy waterproof eyeliner on the bottom lash line, and smudge it with the brush. Then apply white eyeliner in the waterline to make your eyes appear extra large. "To make eyes look sunken in, you want them to look irritated but not very red, more like dark circles," Rudshteyn said.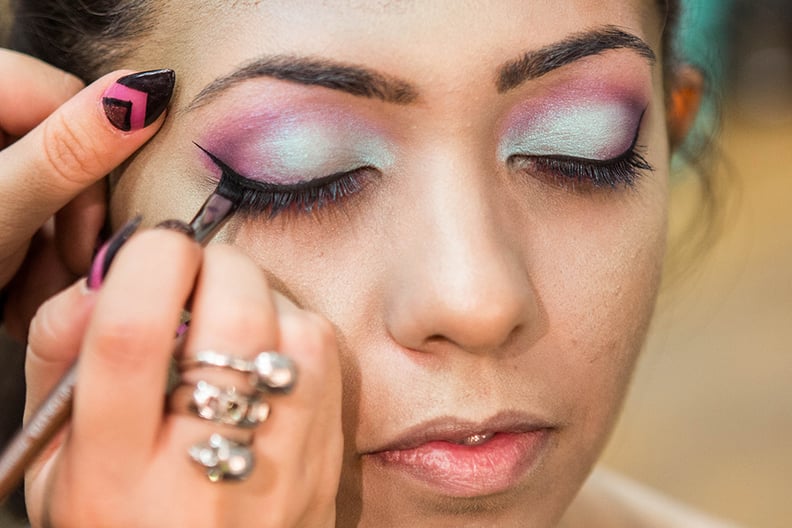 Draw Winged Eyeliner
Just like with the shadow, you want to mark the winged eyeliner on both sides with eyes open first. Then sweep the product from the outside inward, using an angled brush like Make Up For Ever Brush No. 172 ($21).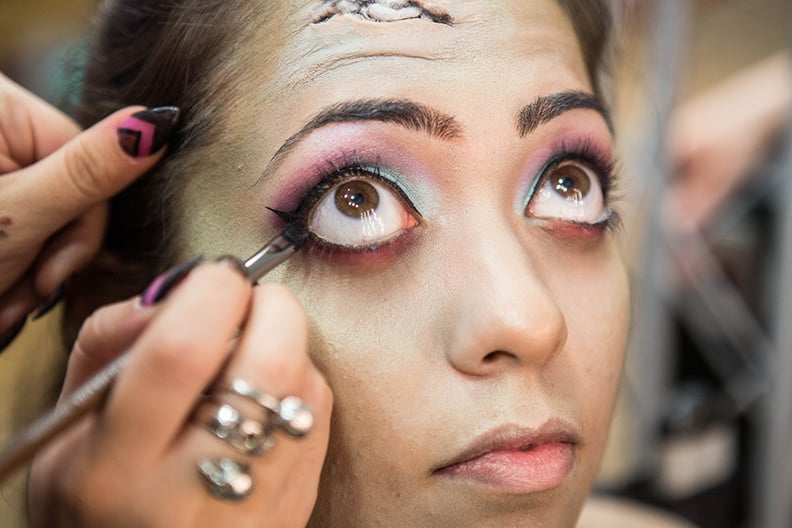 Apply Mascara
Make sure to bring the wing back around to the bottom lash line, too. Finally apply mascara to the bottom lashes, followed by the top lashes. Doing bottom lashes first ensures that your mascara won't stain the gorgeous eye makeup you've already finished.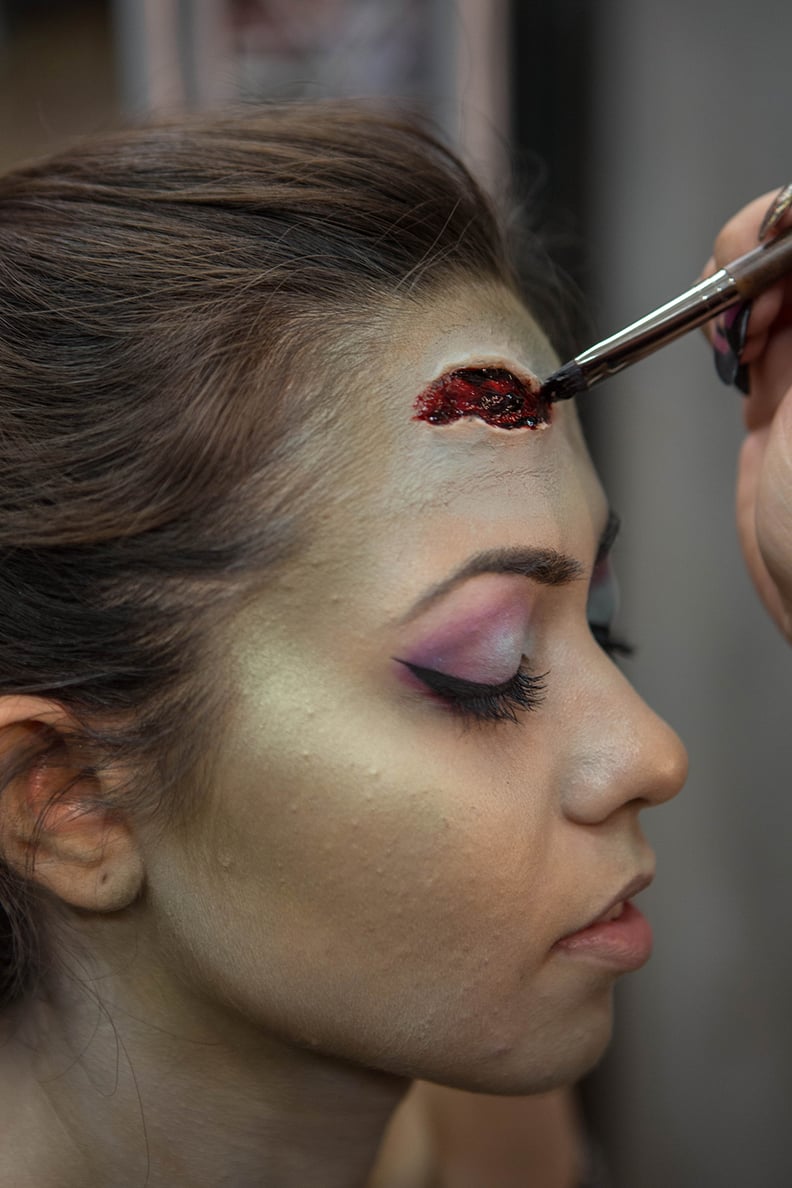 Bring On the Fake Blood
Go back to the wound and apply congealed fake blood like Make Up For Ever Thick Artificial Blood ($26). You also want to add dabs to the outside.
"Put your finger in it and slap it around, so it looks like an irritation," said Rudshteyn. "If you make a mistake on the face makeup, you can go over it with the blood and a finger to make it look more irritated. Blood fixes everything!"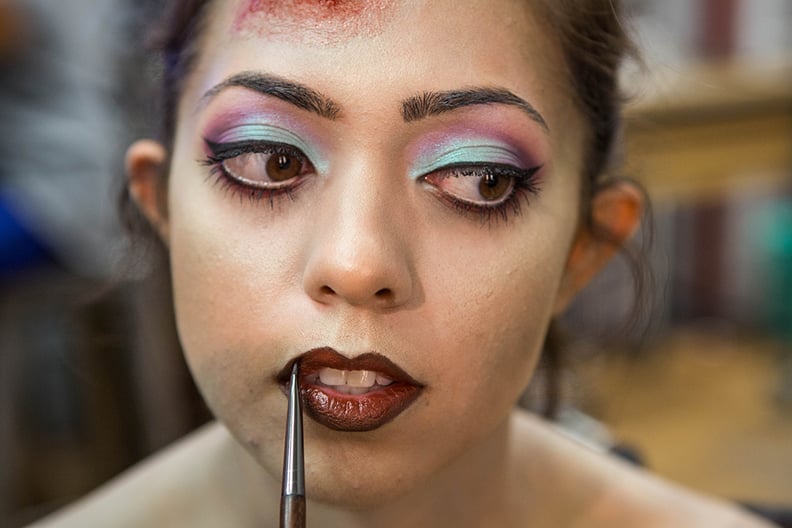 Add a Brown Lip
Line the lips with a dark brown kohl eyeliner pencil. Yes, eyeliner! The smudgy texture works on the mouth just as well as it does on lids. Then top it off with Make Up For Ever Rouge Artist Intense No. 47 ($20), a muddy brown hue.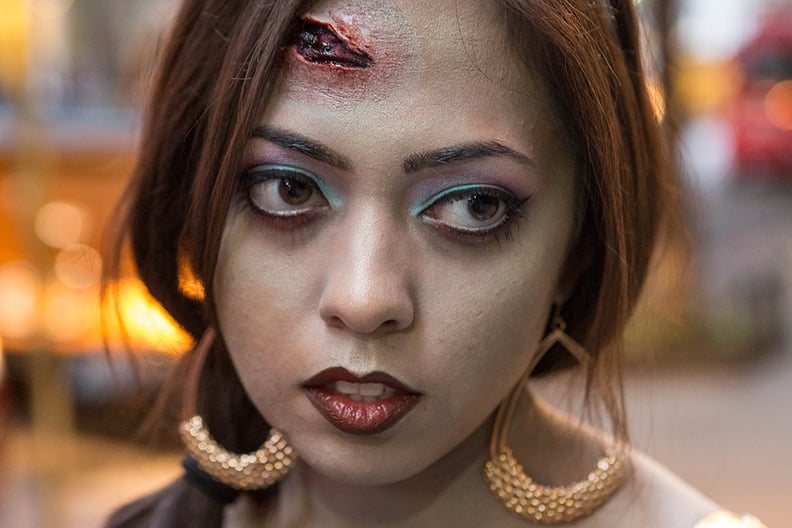 The Finished Look
We added oversize gold hoop earrings to mimic Jasmine's jewelry.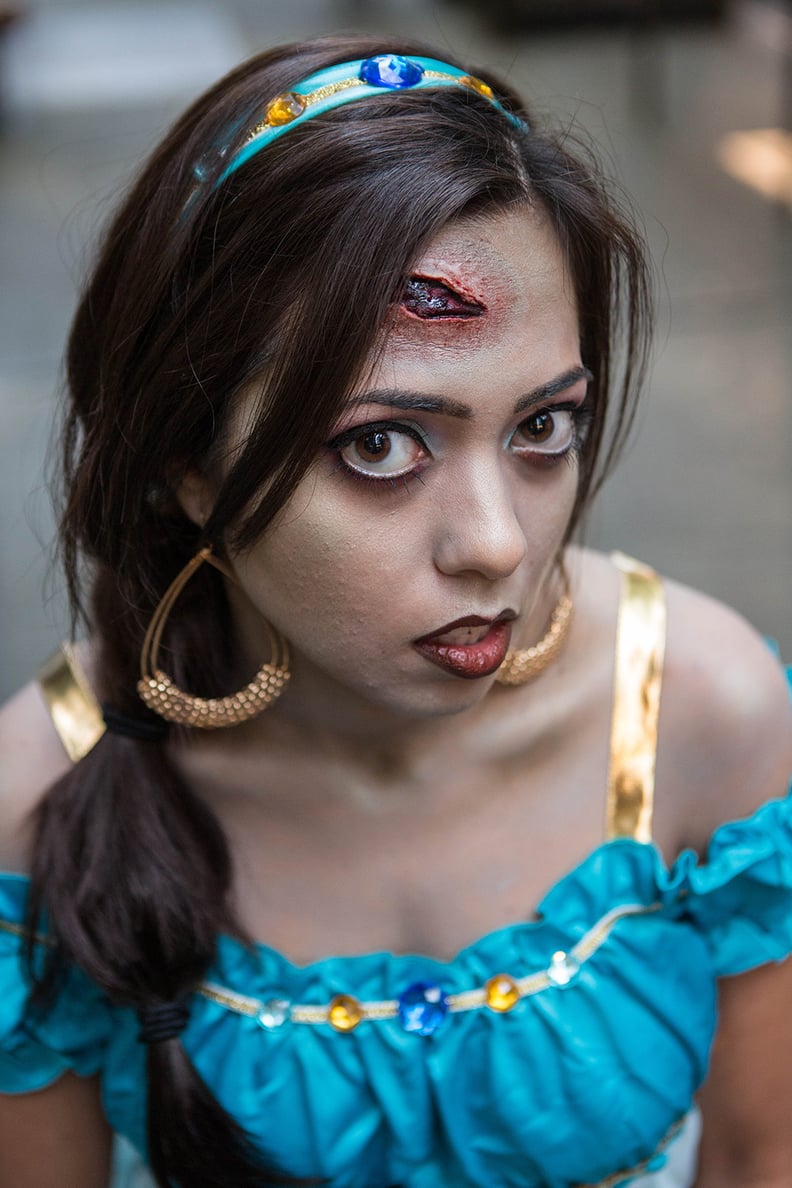 The Finished Look
Instead of using a full wig, you can add an 18-inch LuxHair Circle Extension ($99) to give your natural ponytail more volume. Tease the tail. Then divide the pony into three parts with rubber bands. It doesn't have to be perfect — she's a zombie, after all.