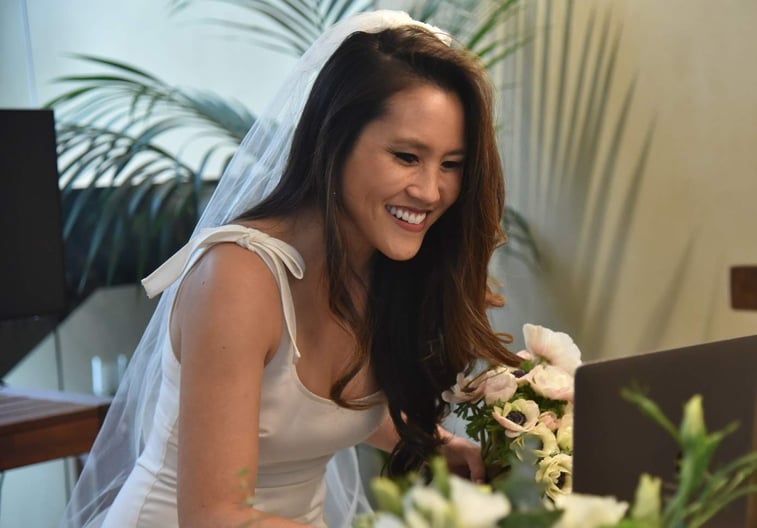 Courtesy of James Isbell
Courtesy of James Isbell
When Ashley Yuki and Tim Alexander met through a mutual friend three years ago, they couldn't have ever guessed that same friend would act as a virtual officiant for their Zoom wedding on April 4, 2020. The couple got engaged in May 2019 and immediately started planning their wedding — the nonvirtual version, that is. They had decided on a beautiful location in Palm Springs, a happy medium for both wedding parties, and had every last detail set.
"We were really looking forward to just getting everybody in a place that we loved for the weekend and celebrate," the groom told POPSUGAR. "We had it all planned — a perfect dream wedding." Then, an unprecedented circumstance occurred: COVID-19 flipped their plans completely upside-down. "March is when I think things started to start feeling more serious with COVID-19 in the States," Yuki said. "That's when we started to question whether or not we'd have to adjust our wedding plans. The first two weeks of March felt like a year. It was so uncertain."
They made the decision to postpone the formal celebration until next year and notified their guests 30 minutes before the CDC issued the guidance restricting events of more than 50 people. The idea for a Zoom wedding came later.
"We didn't actually make a decision about April 4 until about a week ago," Yuki said. "We really struggled with whether or not it was even appropriate to be celebrating anything. But we really wanted to get married. We didn't want to wait a year." The idea for a virtual ceremony came into their minds naturally, "but it seemed kind of crazy," she said. Only a few days before April 4, they got serious about the idea.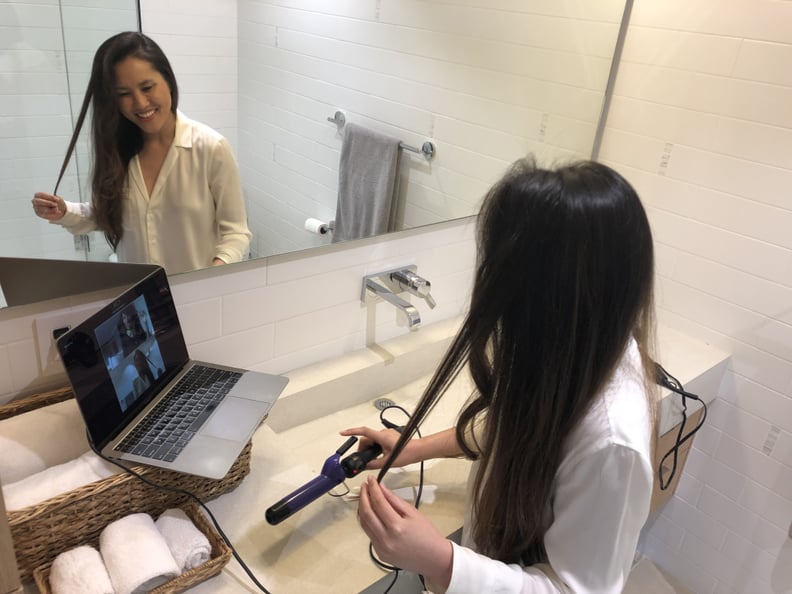 "We had just had 4/4/2020 in our minds," said Alexander, who had gotten the date embroidered on the inside of his tuxedo in Yuki's handwriting. "I kept thinking that date would mean something to us. We didn't want it to pass without recognizing it in some way." With the encouragement of friends and family, they moved forward with the Zoom ceremony.
Among many, many other things, doing her own hair and makeup for her wedding was not something Yuki had originally planned for. Many brides dream of feeling taken care of on their special day, but not being able to have a professional help with her hair and makeup forced Yuki to take matters into her own hands. "I definitely am not a pro," she said. "I have no background in any sort of cosmetology, so doing my own hair and makeup was definitely a wrinkle I didn't expect for our wedding weekend."
That's where Nioxin artist Diane Stevens came in.
"I have no background in any sort of cosmetology, so doing my own hair and makeup was definitely a wrinkle I didn't expect for our wedding weekend."
In all of her years of experience, Stevens had never done something like this before. "This is my first virtual wedding, but you know what? It makes so much sense," she said. "Brides like Ashley, they had to make different arrangements for their weddings right now. And virtual hair tutorials make the bride feel like she's gotten some extra pampering and some extra attention."
The bride's two requests for her hair: volume and for the curls to hold. Stevens's role in the ceremony was to guide Yuki through her wedding-day hair tutorial. "I definitely wanted my hair down and curled, regardless of if I was doing it myself or not," Yuki said. "Thank god I didn't want to have an updo."
The day before her wedding, Stevens (who is accustomed to teaching other hairstylists how to do bridal hair, not first-timers) hopped on a Zoom call with Yuki to go over her wedding-day beauty prep and to give her a step-by-step tutorial. "We wanted to go through a practice first," Stevens said. "She was holding the iron, and I was holding the iron." Some of Stevens's tips included when to wash her hair (the night before), how far away to hold the hairspray bottle (six inches), how to use a thickening spray to add some grit and texture to the hair, and how to clip the curls while they cooled to ensure they lasted all night.
"I had to go into her world," Stevens said. "I knew I wanted her to feel confident about her hair. I wanted her to feel beautiful. It's important for people to have that extra confidence, especially for a bride."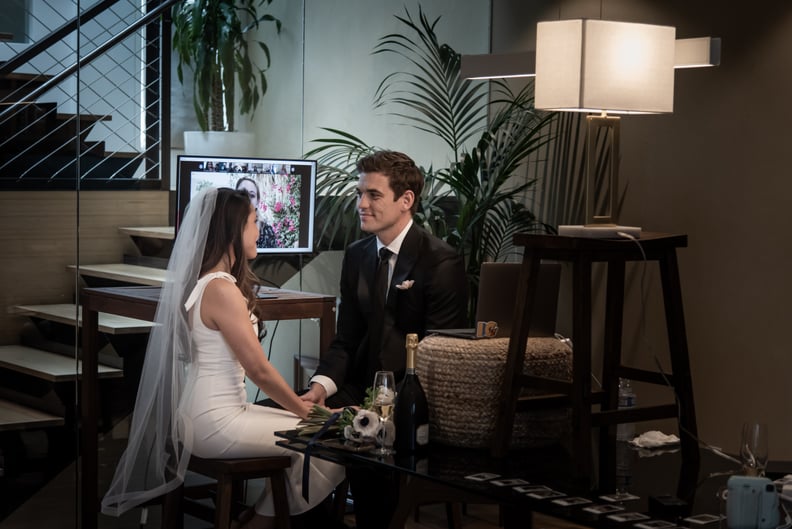 While it was helpful for Stevens to give her personalized tips based on Yuki's specific hair type, makeup tutorials were sufficient for her virtual bridal makeup. "I wanted my makeup to look natural," she said. ("But glamorous," Alexander added.) "There are just so many great makeup tutorials online these days," Yuki said. "I had no shortage of good tips."
Alexander played the important role of photographer during Yuki's DIY bridal beauty journey. While it was not what either of them had in mind for their big day, they didn't seem the least bit bothered by the rather large hiccup in their plans. "If you could have seen Ashley's face first of all, when she was going through the tutorial," Stevens said. "She was so happy, and her then-fiancé was just videotaping her and taking pictures. I see why they want to still go ahead with their wedding — they're so in love."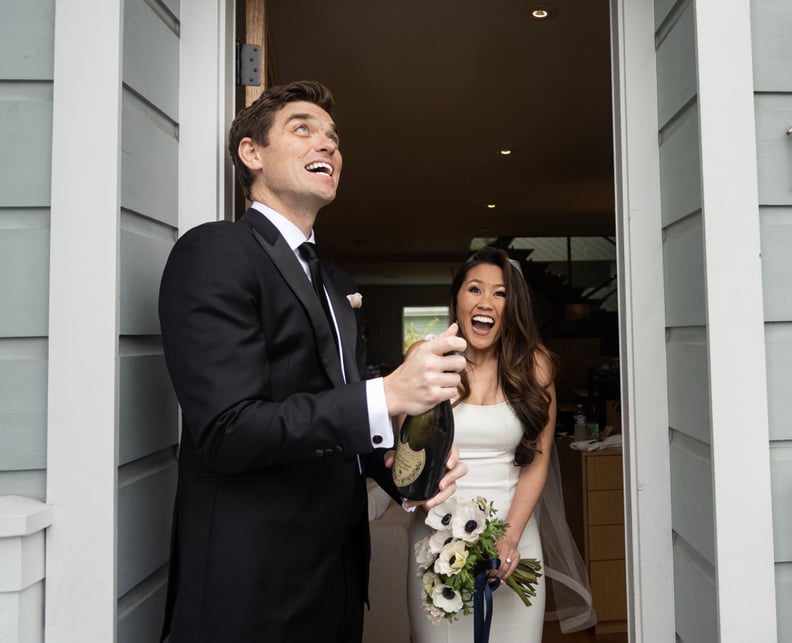 As for the actual wedding day, it wasn't just the bride and groom who showed up dressed to the nines. "[The guests] all got dressed up," Alexander said. "They did really nice things for us on the day of our wedding, like sending us bottles of Champagne and flowers. Everyone just really embraced the whole concept. Even afterward, we got so many great compliments from everybody about how nice it was to step away from all the negativity in the world and the struggle that everyone is facing right now, that we're all facing."
See more of Yuki and Alexander's virtual Zoom wedding photos ahead.