Amy Schumer Talks About Body Positivity Interview 2017
Amy Schumer Doesn't Give a F*ck If You Love Her Body, but Thanks Anyway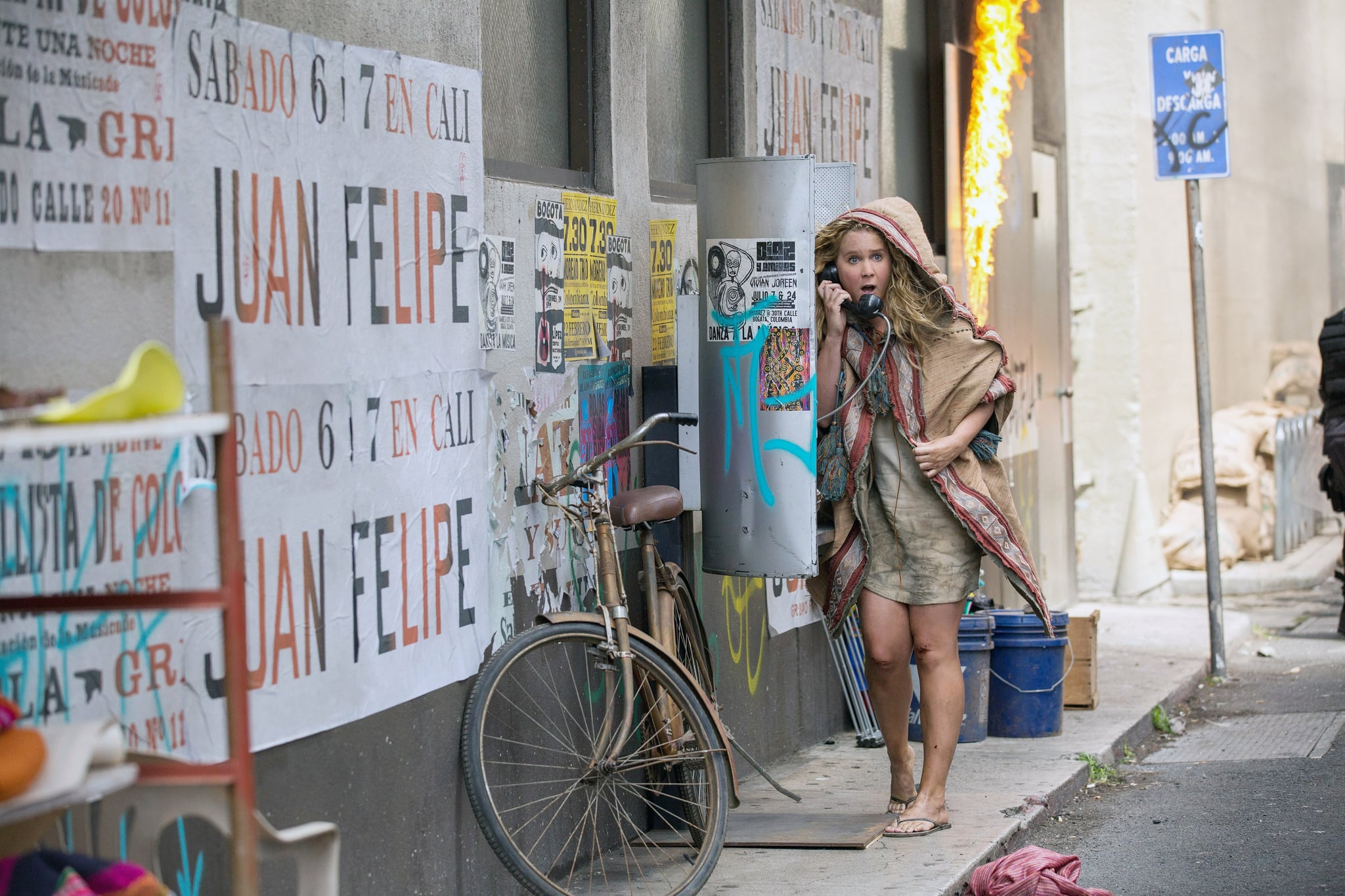 Amy Schumer and I are together sitting on a couch in a dimly lit bungalow at the Fairmont Hotel in Santa Monica. I've had two mimosas, because who says no when someone offers you a mimosa, and then offers you another mimosa? Amy is wearing what her publicist refers to as "comfies," which I quickly understand to mean she's decked out in a soft navy blue tracksuit. Despite her laid-back look, she still has fresh hair and makeup from all the on-camera interviews for Snatched, her new mother-daughter comedy with Goldie Hawn.
You might be tempted to think Amy Schumer is tired of talking about her body, but it seems like she's only just begun to make it a greater conversation. The topic is so prevalent in her life that she brings it up in her new Netflix stand-up Amy Schumer: the Leather Special, which dropped in March: "I tweeted a photo of myself wearing just underwear," she says during the special, referring to her nude Annie Leibovitz shot in the 2016 Pirelli calendar. "And that's when I learned the word you don't want people to use when a nude photo of you goes viral: brave." But there's an ulterior motive to her being vocal about self-love and body confidence: it's not just about her. "With body confidence and stuff," she tells me, "it's never been something for me to get over. It's been something for me to help other people get over."
"I look in the mirror and I know who I am and I feel beautiful and I feel strong and sexy."
This remarkable sense of humor about the way people react to her body and self-acceptance has emerged in different ways since Amy's career surged. Part of it comes through transparency on social media, as a way of helping other people see the same strength in themselves. She posted about thigh chafing ahead of the Met Gala in 2016: "I think I look strong and healthy," she wrote in the caption of a bathing suit snap on Instagram, also calling out body-shamers on the web. Even in interviews — like her appearance on The Ellen DeGeneres Show in December — she's not afraid to broach the topic. "I look in the mirror and I know who I am and I feel beautiful and I feel strong and sexy," she told the host.
And when it comes to her Comedy Central show Inside Amy Schumer, she's managed to bring focus to these kinds of issues, whether it be with the boy band jam "Girl You Don't Need Makeup" or a commentary on body shaming in the clothing industry. Amy's confidence comes from more than just having a sense of humor about the issue or not being afraid to spotlight it. From what I can tell, she doesn't let other people affect the way she sees herself.
As Amy tells me, we're "all going through some sort of a journey" to love ourselves. Everyone's got their fair share of baggage and hang-ups about they way they look. I myself have spent the better part of the last 10 years trying to love my stretch marks. "You have days where you're like, 'I am a lump of garbage and I should be on a curb,'" she says. "Every year you look back, and you're like, 'I was so great then and I was stressing about how I look, I just want to get back to that at this point.' You know you're going to feel like that year from now." As soon as I've brought up the topic, she cuts to a recent controversy that shouldn't have been a controversy: a cover shot for InStyle magazine, on which she wore a white one-piece swimsuit.
"I felt great that day. I feel good in a bathing suit."
"It's funny because me being on the cover of a magazine in a bathing suit, some people look at it as a statement. They say, 'What were you saying with that?' I felt great that day. I feel good in a bathing suit." The internet flared when a swimsuit designer by the name of Dana Duggan left a nasty comment on the magazine's Instagram: "Come on now! You could not find anyone better for this cover? Not everyone should be in a swimsuit." Many voices rose to the surface to support Amy, and at the same time, her original intentions ring true: she's owning herself on the cover of a magazine, and it's someone else that has to come to terms with that.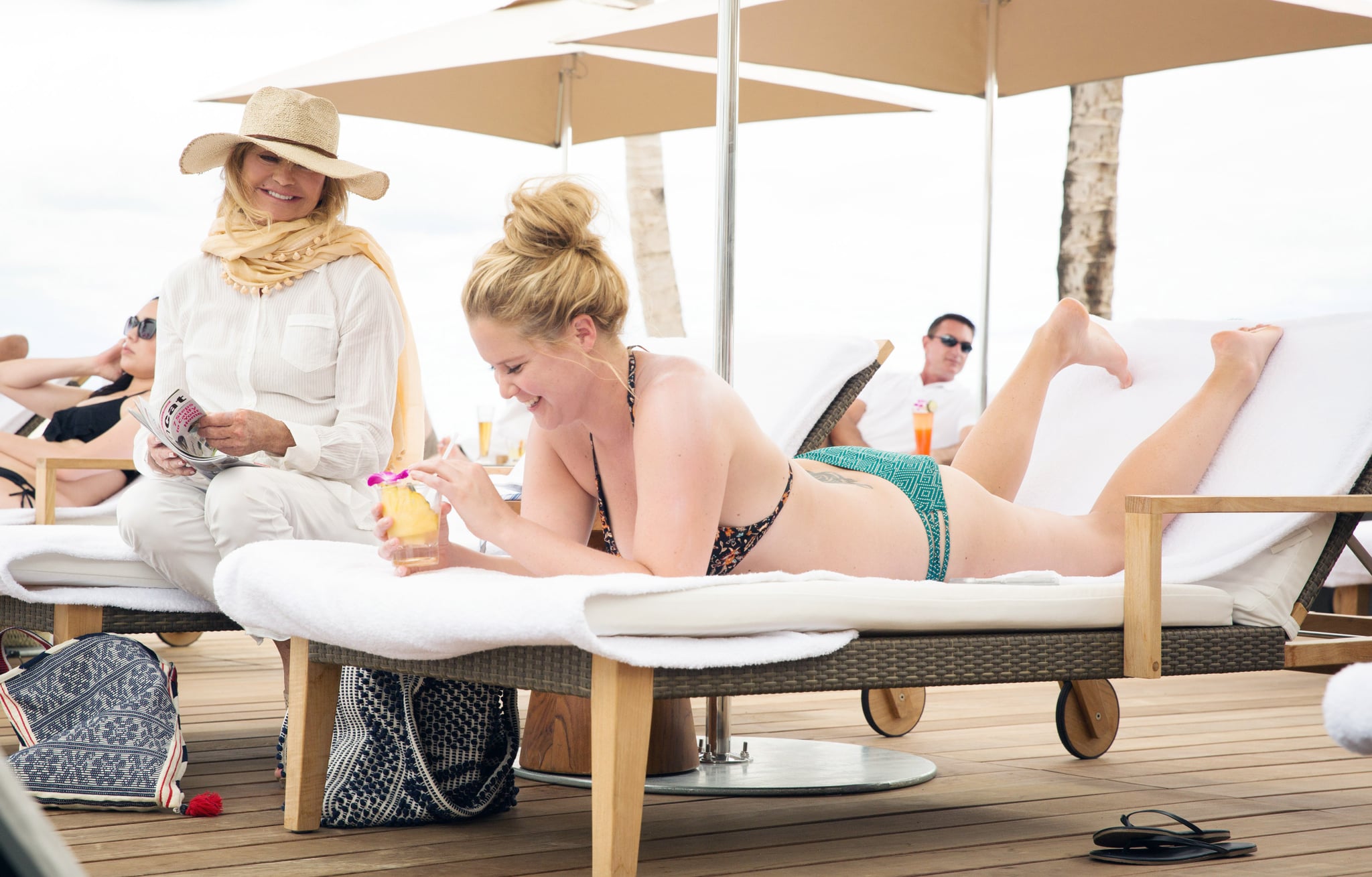 Amy also sports a swimsuit in Snatched; in one scene, she lounges by the resort pool with her mother in a mismatched bikini. "In this movie, when I see myself in a bikini, I'm not cringing. I look fine," she says. "I think people are either into me on camera or not. They're not wrong if they don't like seeing me on camera. They're not right either, it's just your preference." She continues: "If you want to go see movies with people who look like what we've come to know a movie star looks like, then that's your choice and I understand. I prefer amateur porn to watching the overly produced stuff."
"Same," I say involuntarily.
She nods. We're on the same page. "But there's a market for both."
There's another component of the conversation we're missing. As her career has grown, Amy hasn't just felt the brunt of criticism from body shamers.
"When it comes to the internet, you've faced some pretty severe blowback recently," I venture.
"Recently?" She laughs a little. I'm talking about the new army of trolls hiding behind a veil of internet anonymity. Mostly coming from a space of pitiful misogyny, this alt-right army has attempted to organize and kill buzz and ratings for her projects. Recently, they attempted to tank her Netflix special. Amy quickly addressed the haters on Instagram. "I thank you trolls so much," she wrote in the caption. "It fills me with hope and power to see you all furiously posting so as always accuse me of whatever lies you want. Call me a whale. Call me a thief and I will continue to rise and fight and lead. I know who I am."
"How do you tune it out?" I ask.
"I'm just making a commitment to myself to be authentic."
"It's all about how your friends and family feel about you," she confesses. "The people that I really care about, their opinion can see the truth. The people who have decided that they're like, actively against me and organizing against me, they already made their decision. I'm not trying to win them over. I'm not trying to win everybody over. I'm just making a commitment to myself to be authentic." She does admit that she's not totally immune to the hate. "When there's a lot of it coming at you, I'm not desensitized to that . . . but it just rolls past you."
Amy goes on to cite the Beatles when explaining why none of this really matters in the long haul. "I just watched that Beatles documentary [The Beatles: Eight Days a Week], and John Lennon said that comment about the Beatles [being] bigger than Jesus. And people were just, like, burning their albums and were so mad. But you don't think about that when you think about the Beatles." She pauses. "Not that I'm the Beatles."
There's no telling where Amy's career will go, or how we might look back on it decades from now. I imagine there will be more movies, stand-up specials, and bikini-clad magazine covers. Regardless, it was her last words to me that really set the stage for her legacy: "Your work and who you love will stand the test of time."