Amy Schumer's Makeup Music Video | Spring 2015
Amy Schumer's Viral Video Proves Guys Don't Understand Makeup
As a lifetime cosmetics fanatic, I've dated plenty of men who told me that I'd be "so much prettier without makeup." Perhaps you're familiar with this patronizing refrain. The best part is the commentary from these same guys when I skip several steps of my beauty routine. "Are you sick? You look so pale." "What's wrong with your eyelids? I can see all these little veins." (I no longer have any of these gents' phone numbers, obviously.) I've come to accept that guys just do not understand makeup. I mean, come on! So many dudes think Kim Kardashian is gorgeous because of her "natural beauty look." Meanwhile, makeup aficionados know that level of perfection takes several hours, 15 different makeup brushes, awesome genes, and the precise, steady hand of a heart surgeon.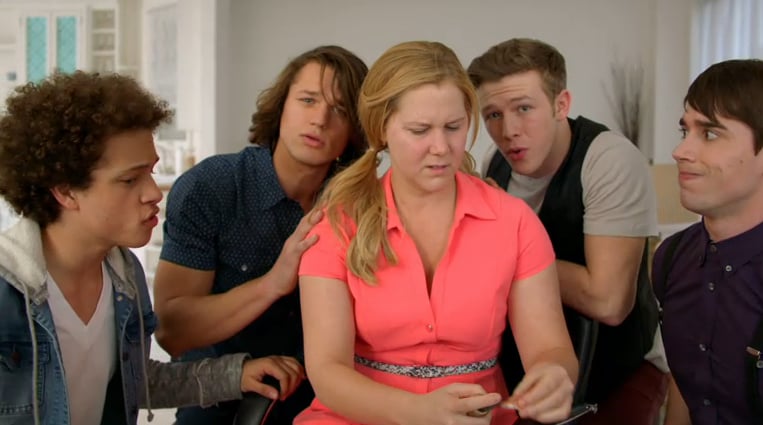 The always hilarious Amy Schumer took this popular trope and made it even more comical with a One Direction-esque music video, "Girl, You Don't Need Makeup." In it, a suave boy band shows up at Amy's house before she heads out, convincing her that she's naturally beautiful and to wipe her complexion clean. But once she shows off her new, fresh-faced look, the guys look horrified, singing that they've kind of changed their mind on this makeup thing and that she'd be "the hottest girl in the nation with just a touch of foundation." "I didn't know that your lashes were so stubby and pale," they remark. "Just a touch of mascara, and you'll look female." The video continues with Amy putting on more and more makeup, with the guys advising her to think of a clown and work her way back.
While the video is funny, it's a poignant reminder that self-love and self-acceptance are much more important than any beauty tutorial. Amy asked her Twitter followers to tweet barefaced selfies with the hashtag #girlyoudontneedmakeup and promised to retweet. The hashtag quickly went viral, to which Amy responded, "We are all different and beautiful. Let's waste no time stressin' 'bout looks."
In honor of Amy's birthday, watch the video and feel empowered by your beauty routine — no matter how long (or nonexistent!) it is.